Development/Chatbots/Guide
• 20 min read
Chatbot Development: The Complete Guide for Business in 2022
Chatbot development is a complex process. But if planned correctly, it can become a piece of cake. When starting chatbot development, the main thing is to break this process into clear steps and go by them one by one. So, here we tried to make your life easier and created step-by-step instructions for chatbot development.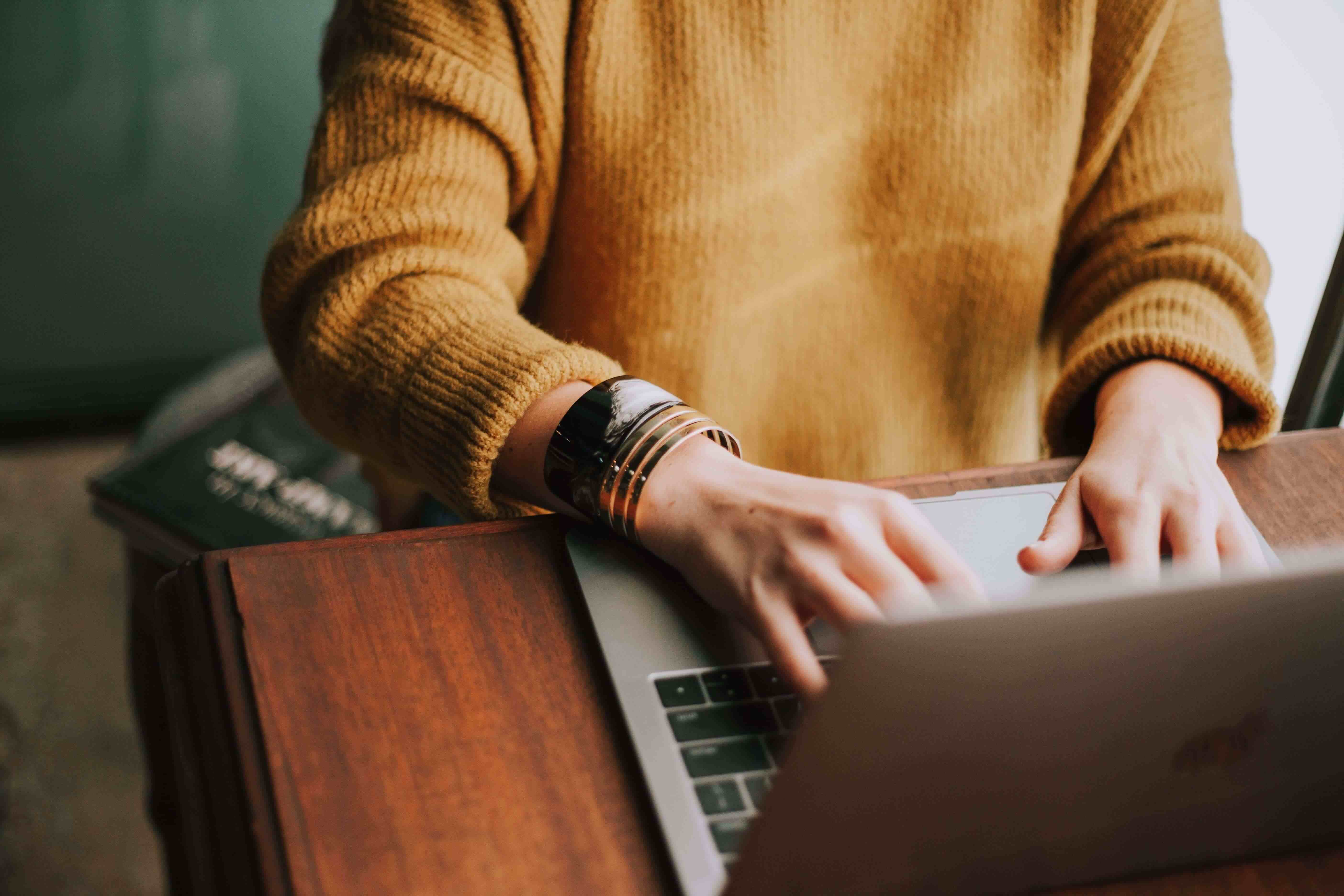 Chatbot development refers to a set of activities dedicated to designing, deploying, and supporting a computer program that automates repetitive and time-consuming processes (like frequently asked questions in support or lead qualification). It may include a different number of stages based on how complex the goals for the chatbot are. (Make a chatbot that keeps the user in mind: these six unspoken rules will help you to avoid common mistakes that other companies have experienced and build a helpful, engaging, and easy-to-follow chatbot experience for users.)
Below, we covered detailed instructions on how to get started with chatbot development from scratch – no matter if it's a simple chatbot or a custom solution. 
Chatbot development process steps:
Understand if the chatbot is the right fit for your company
Define the chatbot goal or goals
Define areas that the chatbot can take over
Choose channels and languages
List the integrations
Choose the right chatbot vendor or chatbot platform
Create a detailed chatbot roadmap and project requirements
Think about security
Create a chatbot persona, design a chatbot flow, and a logic tree
Start with building a POC or MVP
Start building the full version of the chatbot
Add integrations and connect must-have tools
It's time to scale!
1. Understand if the chatbot is the right fit for your company.
Chatbots are a good idea if:
Your team performs a lot of routine and repetitive tasks
You receive a lot of questions on the same topic
You are looking for ways to cut customer service costs
You have multilingual customers
You have multichannel customer support
Your customers reach out to you outside your working hours and you want to provide 24/7 support to them
You want to upgrade your marketing efforts
You want to help sales with lead generation and qualification
You want to stand out from your competitors
You want not to fall behind the competition
"If you're looking to improve your business sales, customer service, and marketing campaigns, chatbots can play an important role in improving these key areas. For example, when doing marketing automation, chatbots can support scheduling, reminders, bookings- all can be done via Facebook messenger with a chatbot. If you want to improve your customer service support system, you can have a website chatbot or a Facebook messenger chatbot that offers interactive 24/7 support. Lastly, people are more likely to purchase if they're able to contact your business!"
Knowing the ROI, you can make a better decision whether the chatbot development is worth investing for you or if you should use human agents.
"Chatbots can complete tasks much faster than humans. For instance, they can answer repetitive questions, track visitors to the website and suggest options, generate numerical reports, screen candidates, add new subscribers to the mailing list, schedule appointments, and many more."
2. Defining the chatbot goal or goals.
So, now that you know whether you need a chatbot or not, let's move further into chatbot development planning. 
You need to understand the reason for implementing a chatbot. Stop for a second and ask yourself two questions: 
"Which problem would the chatbot solve?"
"What will exactly a chatbot be doing?"
The best way to create a chatbot's goal is to use SMART goals. A goal can be: "The chatbot should automate 30% of customer service requests about products and our policies in the first 3 months after implementation".
Also, think about metrics to measure success at the end.

Choose measurable metrics with more precise numbers that can be analyzed. For example: "By implementing the chatbot, we want to reduce average ticket resolution time from 4 minutes to 1 minute 10 seconds by April 2021".
3. Defining areas that the chatbot can take over.
You need to analyze and list current time-consuming and routine processes.
Usually, the best areas for chatbots are client-facing processes that are repetitive. For example, customer service, technical support, sales processes like lead qualification and evaluation. A good fit are also HR and recruitment processes.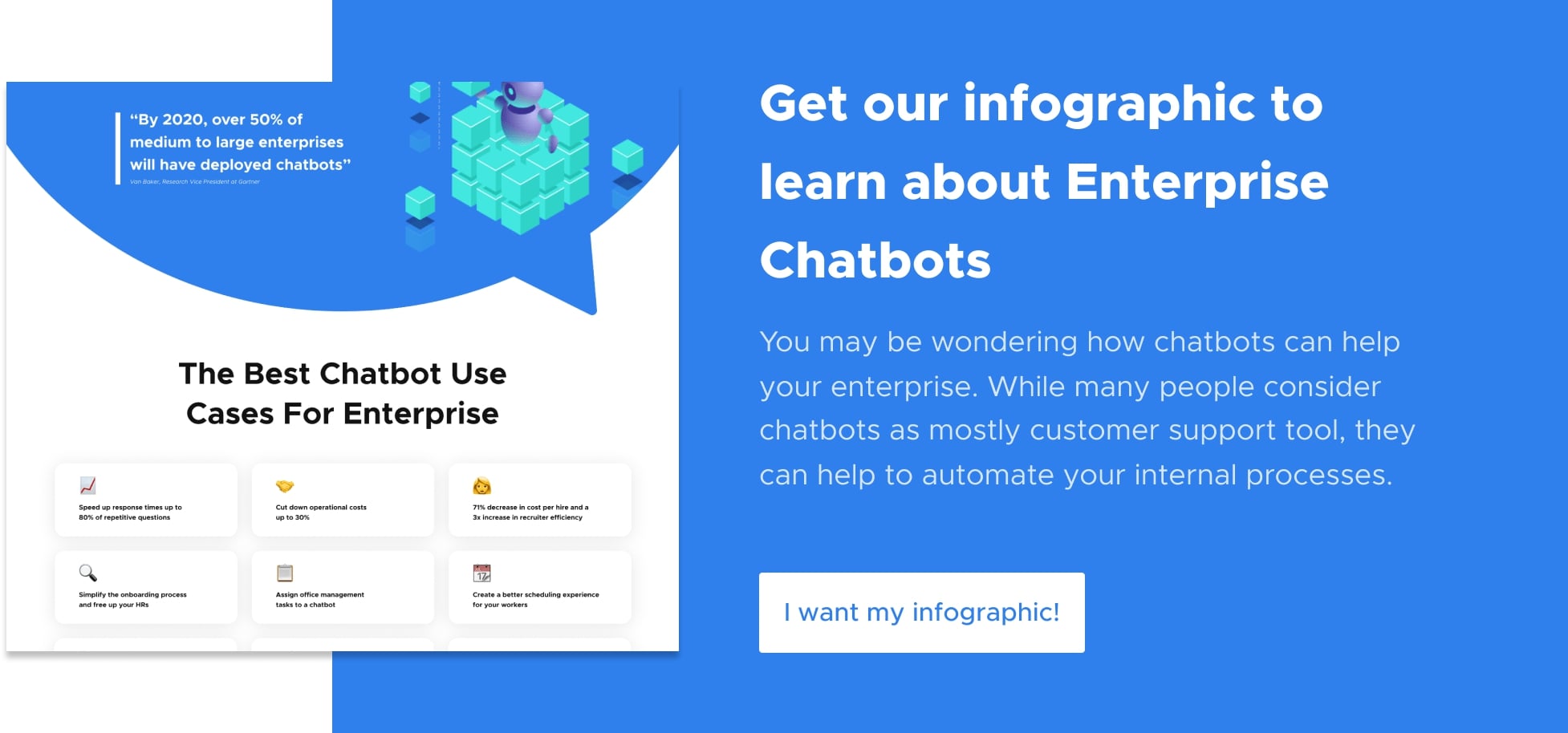 "The first main area for chatbot automation is lead generation. Next is answering FAQs, where your bot instantly responds to common customer questions 24/7, saving you time. The third is a product recommendation. Your bot can quiz users on their preferences, then suggest items from your store that will suit them."
Let's focus on the customer service side as it has a lot of FAQs that are a great fit for customer service automation.
We'll start by defining the main customer intents when contacting your customer service.
To do so, we create categories with the most popular customer requests on the same topic.
Let's say you've collected the data about popular customer requests and noticed that most of the interactions are about a delivery date. You can group in one category "Delivery info" requests like:
"When will my parcel be delivered?",
"What is the delivery date?",
"When I will receive my order," etc.
Define a few main categories, and let's move to the next part of this step.
Take a look at the list you have created, then evaluate each customer intent/category on the list. You can assess processes based on:
Ease – how easy do you think it will be to automate these customer requests?
Importance– how important for you to automate these customer requests?
Time – how much time do you think this will take to automate?
Impact – what impact will it have on your business/customer service if you automate this category with customer requests?
But, you can choose other metrics that are important to you.
Ease – 5 points,
Importance – 5 points,
Time – 4 points,
Impact – 4 points.
So, the "Delivery status check" gets 18 points.
Do this with every process on your list and then choose for automation those with the highest scores. 

4. Choosing channels and languages.
At this step, there are a few more questions you want to ask yourself:
Which communication channels do you want to automate? Website, WhatsApp, Facebook, or all of them?
Which languages do you want to automate with the chatbot?
Before answering these questions, you have to consider a few things: 
Is it reasonable to develop a chatbot for the volume of customers coming from this channel and speaking this language?
Is the volume of customers from this channel / speaking this language growing or decreasing?
Will you support this channel in a long-term plan?
It's also good to evaluate each of these channels the same way you evaluated areas for automation. Use metrics like:
Ease of automation,
Strategic importance,
Requests volume,
Impact of this process automation.
Create a list of languages and platforms. This will be useful for the 6th step. 
5. List the integrations
Spend some time to consider and write down possible integrations for your chatbot.
This could be something like:
CRM ( e.g., Hubspot, Zoho, Salesforce, etc.),
Calendar (Google Calendar, etc.)
Payment systems (e.g., Stripe, PayPal, etc.),
Maps (Google Maps, Apple Maps, etc.)
Cloud storage tools (e.g., Dropbox, Google Drive, OneDrive, etc.),
any other business software that your company is using.
And again, you can evaluate each of these integrations the same way you evaluated areas for automation, languages, and channels. Use metrics like "Importance" and "Impact" of integrating these tools with the chatbot. "Ease" and "Time" metrics might be out of your expertise, so you can skip them or leave them for the chatbot development company to fill out in the future.
6. Choosing the right chatbot development company or chatbot platform
You can use a chatbot builder or hire a chatbot development team to consult and create a prototype. Both options are useful, and which one to choose depends on the type of chatbot you want, your business needs, money, and time.
Simple marketing, lead generating, and sales chatbots with limited functionality can be built using chatbot platforms. Consider the chatbot development team if you want a more complex chatbot with many features, integrations, languages, and channels.
If you have a minimal budget and timeframe, it might be better to use a chatbot platform. However, if you have the budget and are looking for a chatbot as a long-term opportunity and addition to your business, you should consider a chatbot development company. 
To develop a prototype yourself, you can use chatbot builders. 
Chatbot building platforms are a great option if you need a fast and cheap prototype. Usually, these platforms work in drag`n`drop mode, where no programming is required. There are many different chatbot builders, but the most popular are:
Manychat,
Chatfuel,
Flow XO,
Drift,
Tidio,
Tars,
Intercom,
Mobile Monkey.
BotsCrew also offers a chatbot platform where you can start on your own and add custom features with our development support. But if you're looking for a simple bot with no plans to scale, this option may be a bit pricey for you.
When developing bots using builders, you can face some troubles due to the limited possibilities of platforms. Most of these builders focus on marketing and have a small range of customization and functionality.
You should note that most platforms don't provide support and maintenance for a chatbot. So, using platforms to create a chatbot prototype, probably you'll need to train, upgrade, customize, and set up the bot yourself.
"Choose a platform that offers plenty of learning resources. For example, a blog, comprehensive help docs, Youtube tutorials, and a highly rated support team. You should also select software that is reliable - like the Chatfuel platform with its 99.9% uptime. Finally, the platform you choose should also have proven results, like case studies"
Also, you may struggle to scale and customize your prototype to a complex secure chatbot. Most likely, you will need to start over and rebuild the chatbot from scratch. So, in the end, it will cost you lots of additional time and money resources. But, if you need a simple marketing or sales chatbot for your website, platforms might be a good fit for you.
The other to do chatbot development way is to reach a chatbot company and assign all the work to them. Instead of spending your time with builders, you can contact professionals to develop the prototype and then scale it to a full chatbot solution.
Hiring developers is more expensive than using chatbot platforms. But, this can save time and enable you to add custom features to the prototype. 
If you don't want to screw up with choosing a reliable chatbot development company, consider these things: 
1. Check the vendor's main and services.
You need to think about the future and be sure to choose a company that provides a full chatbot development cycle from ideation to post-release training. What will happen after the chatbot has been created? Will you need chatbot marketing or post-release training? If yes, then make sure that the company provides these services. 
2. Research their target industries and areas of expertise.
Ensure that the chatbot development company you choose has experience in your industry and knows your business's specifics. 
3. See if they have a platform or admin panel to manage the chatbot.
An admin panel will make your life easier because you will alter, train, and manage the bot by yourself. Even though you'll still need developers for significant changes like adding new languages, channels, integrations, etc., if you need to make a small change like the bot's wordings, you'll be able to do it yourself. 
4. Discuss integrations with the current software ecosystem.
Nobody wants to change the whole array of different tools. You need to ensure that the company will help you connect all your current platforms and tools with the chatbot.
5. Ask who owns the code.
What if this chatbot development company shuts down or your contract ends? Make sure that, in any case, you'll have access to the chatbot – either deploy the chatbot to your servers or check if the vendor will provide you with all the custom code in case something happens.
6. Check if the company works with your channels and languages.
Some channels like WhatsApp require specific expertise, so ensure that the company you choose has experience with the platforms you want to cover. The same with the languages, not all companies offer multilingual products and services, so check if they will create a chatbot for you in different languages.
7. Check feedback and testimonials.
Of course, check what others say about this company. Are there any familiar big names on their client lists? Check out their project portfolio.
7. Creating a detailed chatbot roadmap and project requirements
Usually, you build a roadmap and requirements together with your chatbot vendor. The chatbot development company has more experience and knows exactly what needs to be included in the roadmap, in which order, and how much time this takes.

At this stage, you need to:
Discuss and set clear Key Performance Indicators (KPI's),
Set milestones and deliverables,
Discuss time and budget estimates of the chatbot development,
Discuss your involvement in the whole chatbot development process,
And also, discuss your future communications with your chatbot vendor: How often will you have calls? Demos? What communication channels will you use? Etc.
If you want to create your requirements, don't overthink this part. When creating the chatbot development requirements, focus on bot use cases and user stories.
You can start creating a chatbot development plan by defining the use cases. Think about what you want the chatbot to assist with. Describe all the necessary functionality of your chatbot. It's like writing what a bot will be able to do.
For example:
A bot will be able to answer the user about the availability of the product.

Next, think about bot user stories. Describe how you see your chatbot from the user side by completing the sentence: "As a user, I can..".
For example:
As a user, I can ask him a question about working hours.

Tip: try breaking down the bot user stories into smaller chunks. Think about what will bring value to the user, what are their goals and needs. Try putting yourself in the user's shoes to understand what they want to get from a chatbot and what they want to achieve.
"Poor chatbot experiences are usually the result of businesses that focus on solving their own problems instead of the user's. This perspective can result in chatbots that are one-way information bombs and fail to offer the chance for real, helpful dialogue."
8. Think about security
Consider high-security standards and data encryption for the chatbot. Also, you need to consider Privacy Policy, GDPR, HIPAA, or other compliances. 
"Cybersecurity is essential in protecting our privacy, rights, freedoms, as well as digital and physical safety. But it is not only the individuals who need protection.
Our infrastructure has also gone online and thus, became vulnerable to digital attacks and data breaches. The incidents involving the leak of personal information are becoming more frequent. There's also a growing awareness of political interference and state-sanctioned cyberattacks. The importance of cybersecurity is without any doubts a major matter of public concern."
"Cybersecurity is incredibly important and marries with ongoing privacy concerns will continue to be important in 2020 and the future. ManyChat is GDPR and CCPA compliant. Our partners, like WhatsApp, continue their tradition of privacy by maintaining full end-to-end encryption, so cybersecurity and privacy is important to both ManyChat and our partners."
9. Creating a chatbot persona, designing a chatbot flow, and a logic tree.
You need to know your chatbot's audience to build a relevant bots flow, tone of voice, and vocabulary.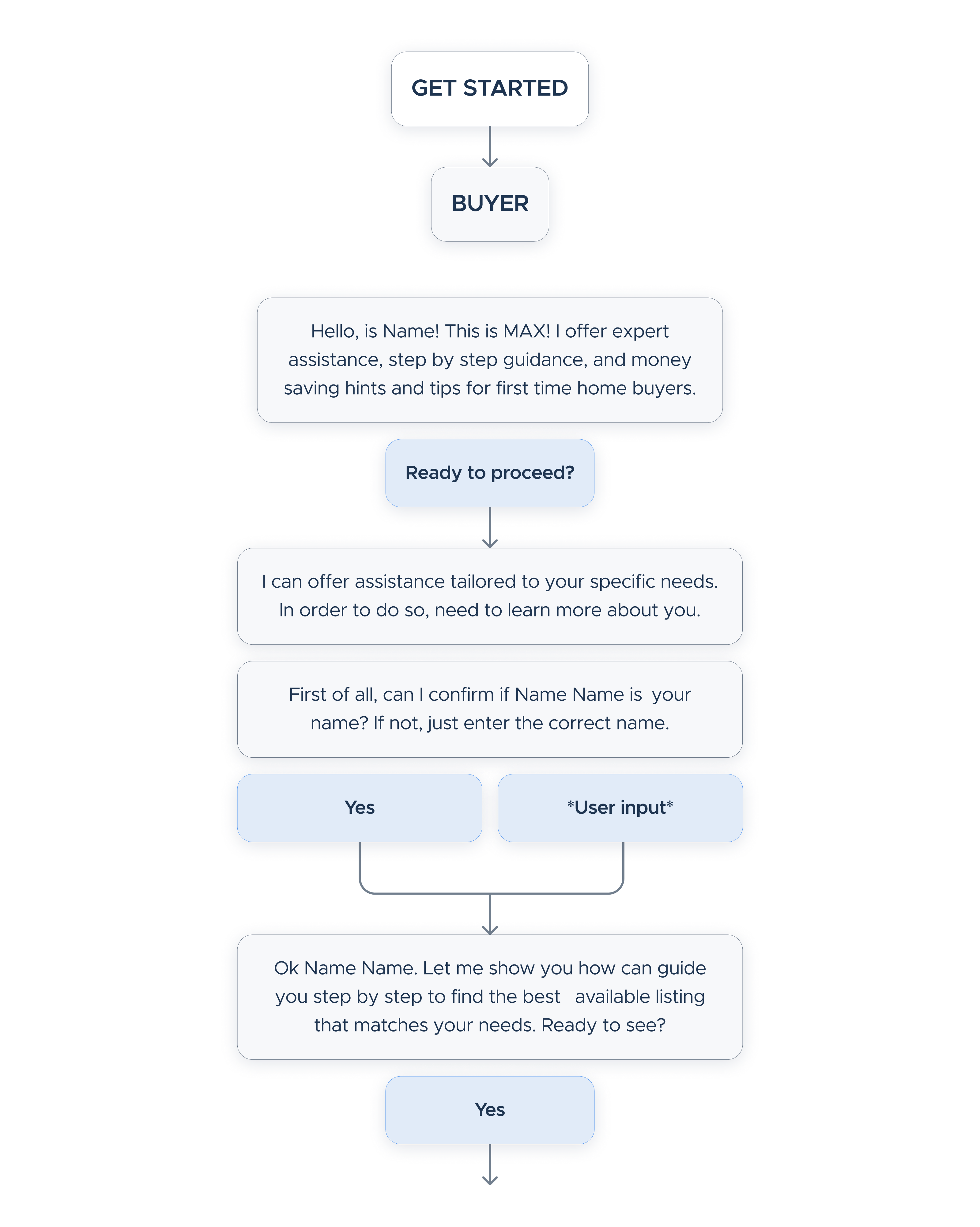 Usually, if you are working with chatbot development companies, they will help you form your chatbots flow, persona, and logic tree. The only thing you require is to collect and answer the most common questions you want the chatbot to cover. 
Talk to your customer service agents and sales team – ask what questions they get the most often,
Review call logs and scripts, email chains,
Analyze FAQ pages, knowledge base,
Check your @support or @info Inbox for repetitive requests,
Check your Social Media to find customer questions.
Think about what are the most repeating questions and issues your clients stumble upon. 
If you are working with the chatbot development team, collect these question-answers pairs, and provide them to the vendor. These Q&A pairs will be a base for the chatbot flow. 
However, if you are creating the chatbot yourself using a platform, you need to consider which questions, words, phrases your chatbot has to understand. And it's better to be specific and collect as many ways of saying the same thing as possible to train the bot.
For example, the customer can ask the bot about your working hours in many ways: "What are your working hours?", "When does your shop close?", "When does your shop on 5th Avenue start working?" etc.
Write down as many variations of words and phrases of specific customer requests as possible to train your bot. The more variations you train your bot with, the smarter it will get and the fewer mistakes it will make with real users.
When you have settled with the main part of the flow – Q&As, there are other conversational elements you need to consider: 
Greeting – to say hello or start a conversation.
Introduction – explain to the user what the chatbot does and why, and explain how to interact with the bot.
Error – when the chatbot doesn't understand or fails to complete a request.
Additional resources – sometimes, it's good to provide further information in links to helpful articles and guides.
Feedback – to ask if the chatbot was useful and understand where there is room for improvement.
Conclusion – a clear end to the conversation.
"Create a bot script as if you're talking to your friend. Make it humanized and authentic. Add in the language and tone your brand carries. It can be fun. So if you're one to add some emojis in your conversation with friends, might as well add some into the bot script."
10. Start with building a POC or MVP
Start small – then scale.
The best way to create a successful project is to create a POC (Proof of Concept). Set goals and expectations for the POC, build it and then do user testing with small focus groups or actual users. 
If you achieve the set goals and expectations with your POC, you can scale. If you don't reach the desired outcomes, you need to sit down and analyze what went wrong, where, and why. You need to think about how to improve and optimize your POC.
The best way to test a chatbot is to have a conversation with it and pay attention to things like:
Bots flow – is the chatbot's dialog logical, correct, and smooth? Does the flow make sense from a user side? Is it understandable and comprehensible for the users?
Conversational User Experience (CUX) – is the chatbot flow well structured? Is it engaging to talk to a bot? Does it use emojis, buttons, gifs, images, and understandable for a user wordings? Is the chatbot persona appealing?
Speed – how fast does the chatbot respond?
Accuracy – are all the chatbot answers correct and accurate?
Fallbacks – what will a bot do when he doesn't understand the user? What will the chatbot answer? Or where will a bot redirect?
There are a few options on how to find users for testing.
One way is to ask your co-workers to join the testing and analyze their interactions with the chatbot. Remember that your staff can be biased as they are familiar with specific terminology, your company, services, etc., and how they interact with a bot can differ from your chatbot's audience. 
Also, you can involve your real customers in the beta testing of the bot. You can ask your most loyal clients to join the testing. Or, as an example, you can engage your current clients to chat with the bot for a reward like a discount or a coupon if applicable. 
Another option is to use crowd testing. Some sites help connect with real testers. For example, you can go on Reddit and find beta testers in subreddits like TestMyApp. Or use a website like BetaFamily. You can also set up testing sessions on UserInterviews, where you can choose the audience more precisely. 
And remember, the more people interact with your bot, the more training data you will get to prepare your chatbot for different use cases.
11. Start building the full version of the chatbot
It's always good to learn from your mistakes.
After your POC has been tested, analyze and iterate to make your solution deliver the best results.
Fallback rate – check how often and where the chatbot didn't understand the question and provided a "Sorry, I didn't get it" type of answers.
Check the session durations and calculate the avg. session duration. If the session duration is very short, it often means that the chatbot isn't engaging or helpful. However, if you have a concise flow or minimal functionality, this isn't the best metric to consider.
Analyze drop-offs – how many users dropped off? Where they dropped off and why?
Goal Completion Rate – how many successful engagements users had with your chatbot? For example, if your bot use case is scheduling a meeting or buying a product, how many users did that?
User satisfaction – if you have a feedback feature in your chatbot, check how users rated your bot.
Understand what needs to be improved, changed, or added, and do it. Or ask your vendor to do it. 
12. Adding integrations and connecting must-have tools
Some tools have native integrations. It means you can connect specific tools in a few clicks without coding. Commonly, small tools connect with giants like Salesforce, Zendesk, etc. But it's not always the case that the giants connect with one another. You'll need a custom integration or a 3rd-party integration tool for these cases.
The systems you want to connect need to have an open API (application programming interface). It is valid for 90+% of the cases. However, you should think first about how you'll use it because there is no need to integrate every tool. Choose a hub where you want to have all the data, and then incorporate your tech stack with this hub. 
There are 3rd-party integration tools like PieSync and Zapier. But with a large volume of data points, it is always more cost-effective to build an in-house integration (if native integration is unavailable).
13. It's time to scale!
Technology and chatbots, especially, are not a set and forget a thing. You should continuously review, analyze, and improve your chatbot. 
It's also good to build a simpler version first and then scale your solution based on the customers' demands and needs.
So, expand your chatbot capabilities, add new channels, languages, and integrations. Keep improving your solution and make it even better.
Usually, together with our clients, we have plans and goals set for future upgrades and new versions of the chatbot. While it's okay to scale your product when you feel the need for this, it is always a good idea to picture your solution in 12-24 months. 
Summing up
Okay, so we went through the chatbot development process, and as you may notice, the critical component here is to create a good plan and find reliable vendors. Try going by these steps one-by-one and not do everything at the same time. 
Good luck with your first chatbot project!