Legal/AI/Chatbot
• 5 min read
AI Chatbot for Australian Law Firm
How Ailira revolutionized the legal industry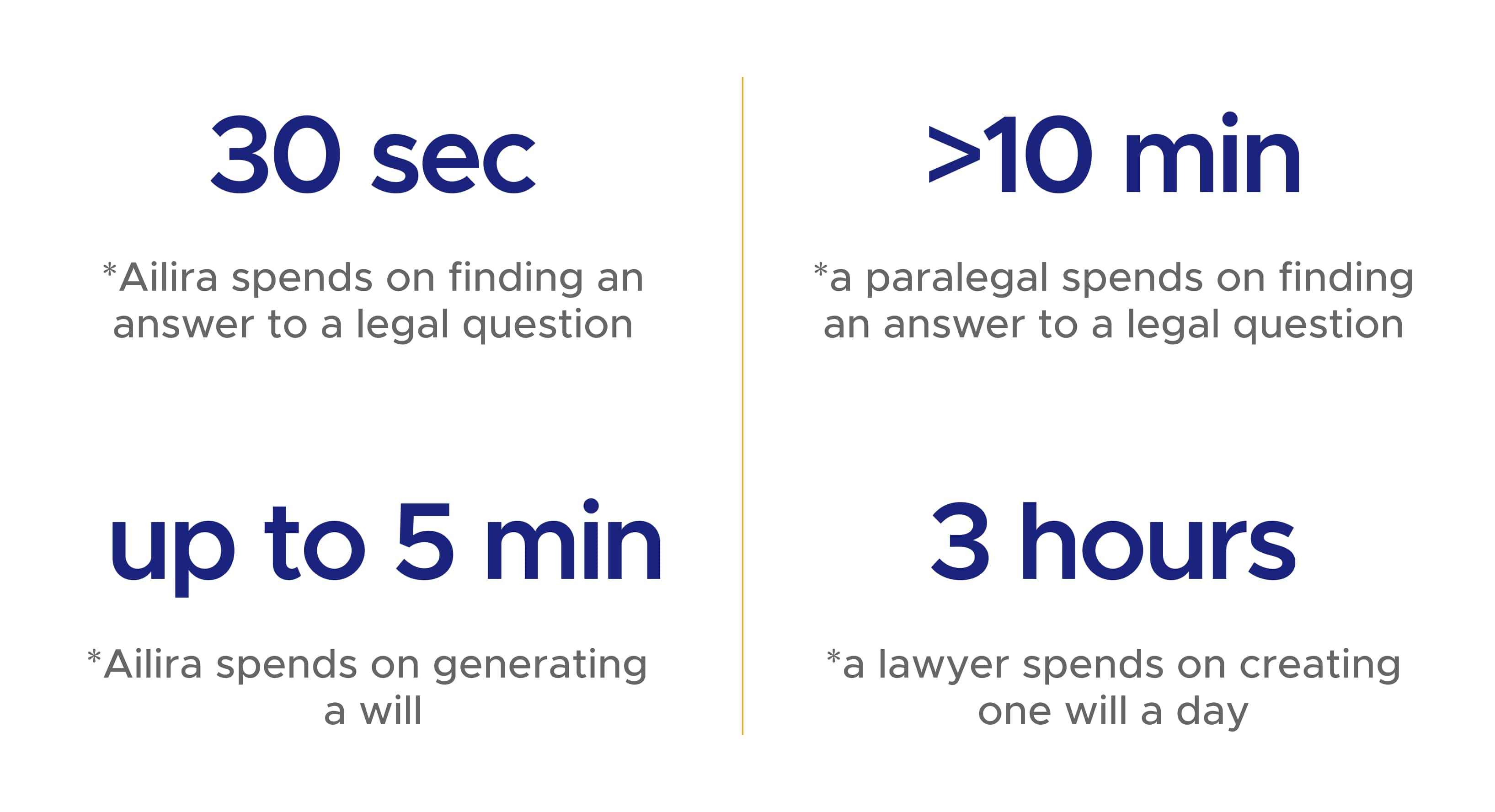 Cartland Law is an Australian law company specializing in tax law and commercial law related to tax and businesses. They resolve problems, dispute tax, and provide advice and documents to lawyers, accountants, advisors, and businesses.
The major problem that Adrian Cartland, the founder of Cartland Law, saw in the law industry was that lawyers were spending a large portion of their time performing frequently repeated tasks. He had an innovative vision for the legal industry – to merge legal information research and the automation of documents.
Adrian wanted to create a tool that would eliminate tasks that don't necessarily require lawyers. So, they would have precious work time for meeting with clients, сollating evidence, and researching law case studies.
BotsCrew developed a powerful Artificially Intelligent Legal Information Research Assistant – Ailira. This is a chatbot with great NLP abilities and an understandable design that makes it very easy to use.
The chatbot generates legal documents fast, precisely, and much cheaper than a lawyer could. It understands natural language and responds in plain English with relevant legal answers.
The solution is divided into b2b and b2c business models. In both cases, the chatbot answers legal questions, finds and generates legal documents.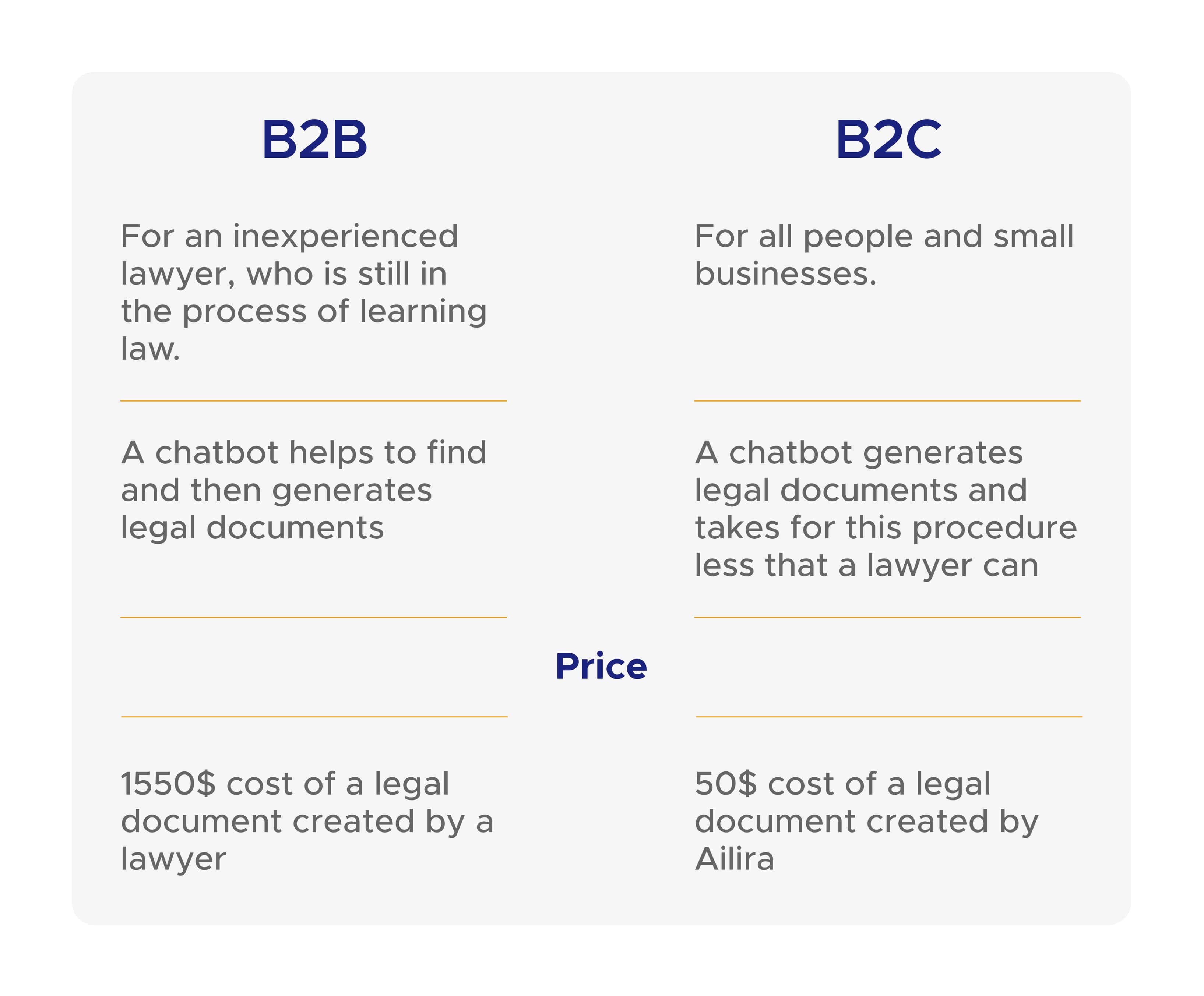 Besides, in the chatbot it is possible  to connect users with a human lawyer. Suppose you would like a human lawyer to review documents or information generated by Ailira, or you wish to discuss something more complex. In that case, the chatbot can book a meeting for you to speak to a human.
Adrian Cartland already had a chatbot beta version that he wanted to expand. It was a button-based chatbot that could answer simple questions. For the new version, we decided to create a tool that would cover two law issues – Generating a Will and Creating a Business. As they are the most popular and common documents.
Cartland Law wanted a chatbot widget for the website, but BotsCrew suggested a Messenger chatbot too. In 2016, Facebook was growing in popularity every day and had millions of users, making it an excellent channel for reaching large volumes of people.
Adrian liked the suggestion, and after a discussion, we decided to create both. Thus, the BotsCrew team has prepared a redesign for Ailira Webpage and implemented it together with the widget.
Our UX designer created a chatbot design that would be intuitively understandable for every user. We focused on making Ailira simple, fast, and easy to use.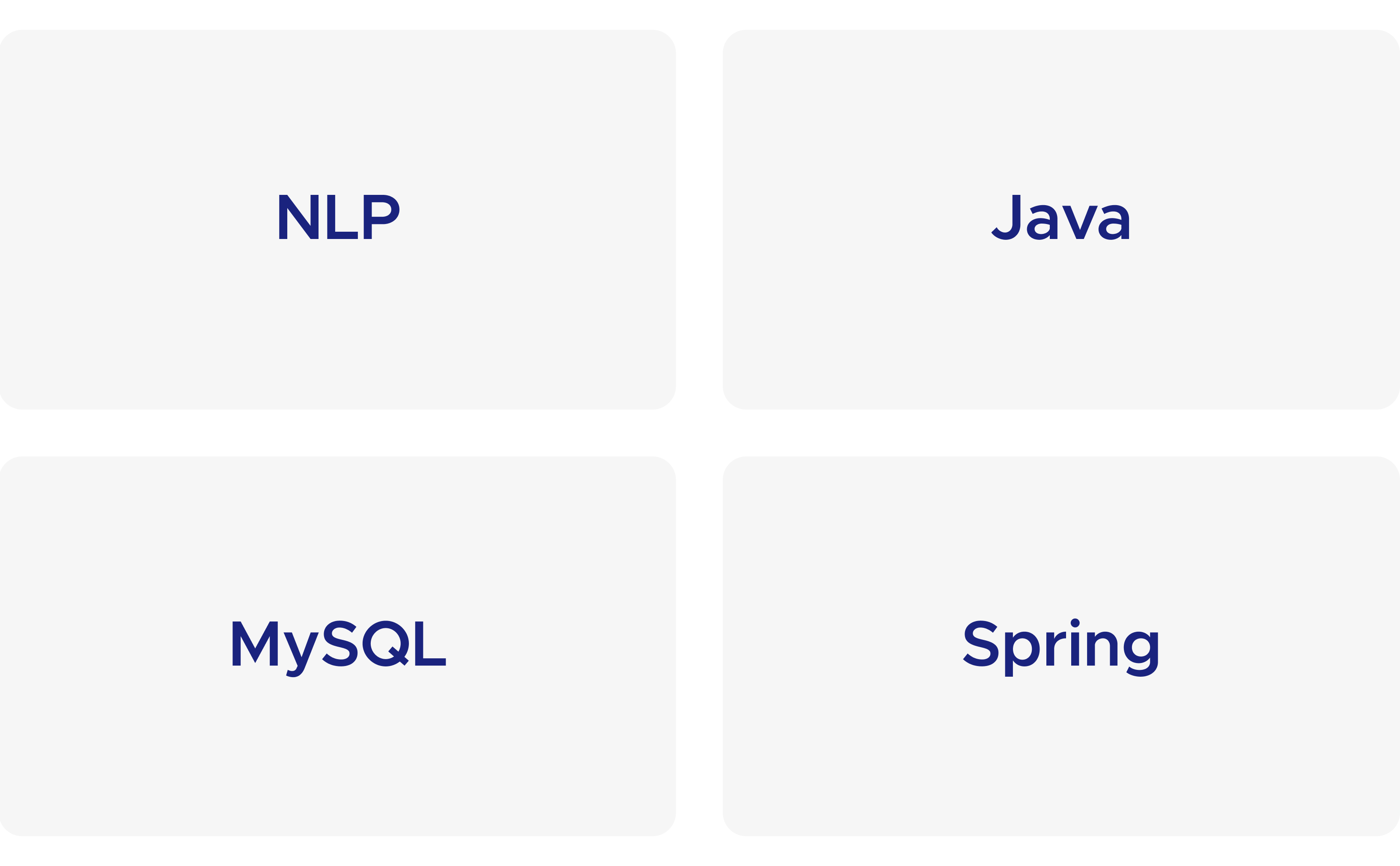 Support and ongoing improvements
To create an even more sophisticated solution, we have also implemented an Admin panel. The Panel helps analyze the conversations with the chatbot and improve its NLP.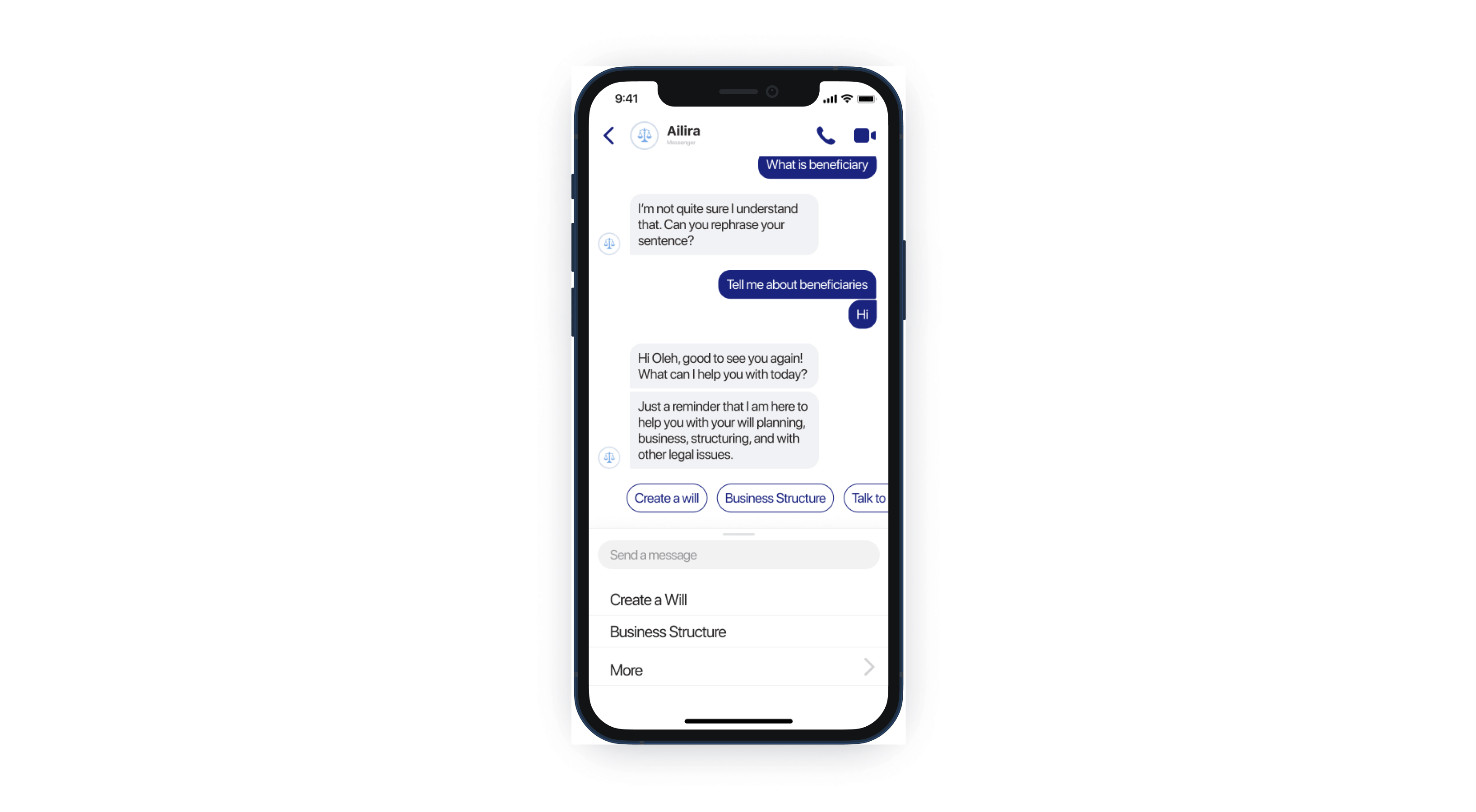 Together with Cartland Law, BotsCrew created a powerful tool to help young lawyers and clients with business ease their way with legal documentation. BotsCrew updated Ailira's capabilities and NLP to cover more and more aspects of the law.






"You'll be in safe hands with BotsCrew. The team has an excellent client understanding and creates value by looking for ways to meet and improve on the project's intent."
5 steps to start working with BotsCrew
1) You book a call/ fill out a form;
2) We send you an email to confirm our meeting;
3) On the meeting we discuss: your chatbot idea/question, examples from our previous clients with similar case, possible KPIs, budget and outcomes. You will know if your chatbot idea worth the shot;
4) After the call, if you want to proceed with BotsCrew, we send you a detailed Proposal with prices, solution description, timelines, KPIs;  
5) If everything sounds good for you, then we start creating your chatbot!