E-commerce chatbot for WhatsApp
This chatbot case is under NDA. However, we were so excited about the results that we still want to share something. You may find it beneficial in understanding how chatbots can solve the rapid growth in support requests. No names, but real customer service numbers and strategy.   
Client:  NDA

Technology:  BotsCrew Bot Framework, BotsCrew platfrom, Dialogflow
Industry:  E-commerce
Messaging platforms: WhatsApp, Web widget
Platform: iOS/Android, BotsCrew Enterprise Platform
Integrations: SAP, SalesForce
Introduction
Our client is the international leading supplier of commercial equipment in Europe. With 1000 employees on board, they offer more than 25.000 products and count more than 350.000 global customers in 180 countries so far. The company provides all kinds of equipment for restaurants, bars, hotels, laboratories, and retail food markets.
Сhallenge
Our client's company is growing 20+% per year—great news for the company. But the increasing number of clients means growing numbers of customer requests.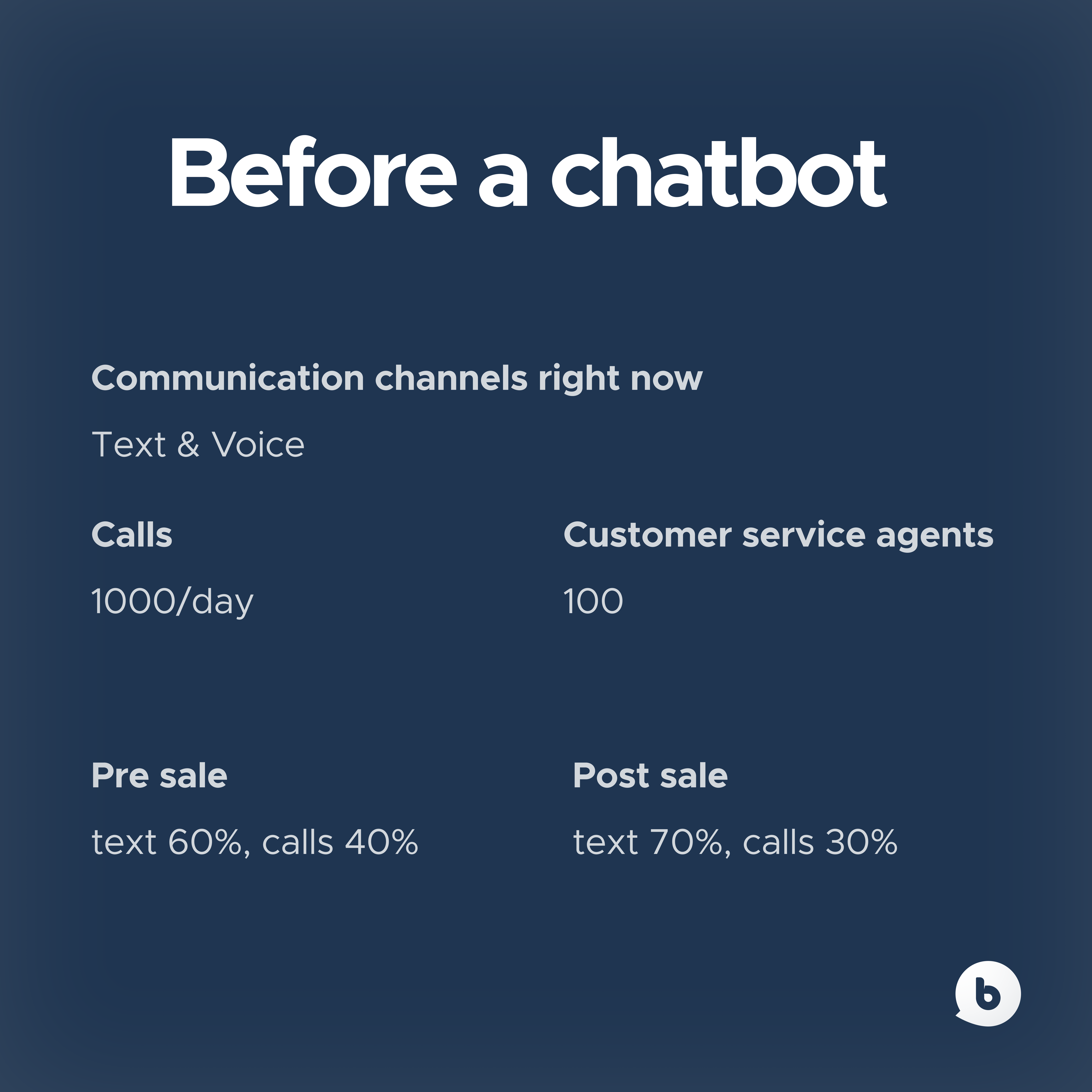 For the best customer experience, they had to hire more and more customer support agents. But still, they struggled to keep up with different messaging channels and manually cover many requests. Even though the company introduced Salesforce to manage the requests in one place, they had trouble integrating all of the messaging channels. So our client's team had to manually add the conversations from the channels like WhatsApp to the CRM.
Their CMO knew that there should be a better way. As every strong marketing leader, he heard about the power of AI and chatbots. As a result, he "Googled" for the best chatbot development companies and found BotsCrew.
Problems always seem easy from the outside. And we know it. So instead of just "consulting," we prefer to get our hands dirty for our clients. To better understand the company's goals, we jumped on a plane to visit our client in Germany for a 2-day personalized workshop.
We listened, observed, and collaborated with the client's team trying to discover their day-to-day pitfalls and needs. It gave us an inside look and feel of the company, which you'll never get over the phone.
In two days, we found that they have:
The chat support waiting time is 5h per day;

The text support resolution time starts from few hours to days;

The call support resolution time durates from 4 to 10 minutes;

Above all, they were tracking records in CRM from WhatsApp, Web, FB Messenger platforms manually and have multilingual customer service agents.
Solution
After our research, we understood that they could use a chatbot to automate on average 15% of their customer service requests in just 3 weeks:
Automate 10-15% – presale queries

Automate 10% of post-sale support queries

0 seconds waiting time and just a few minutes to resolve the issue.

No manual records. WhatsApp, web, and FB Messenger conversations are automatically tracked in a CRM.

Automate 50% of support queries in 12 months.

Automate multilingual support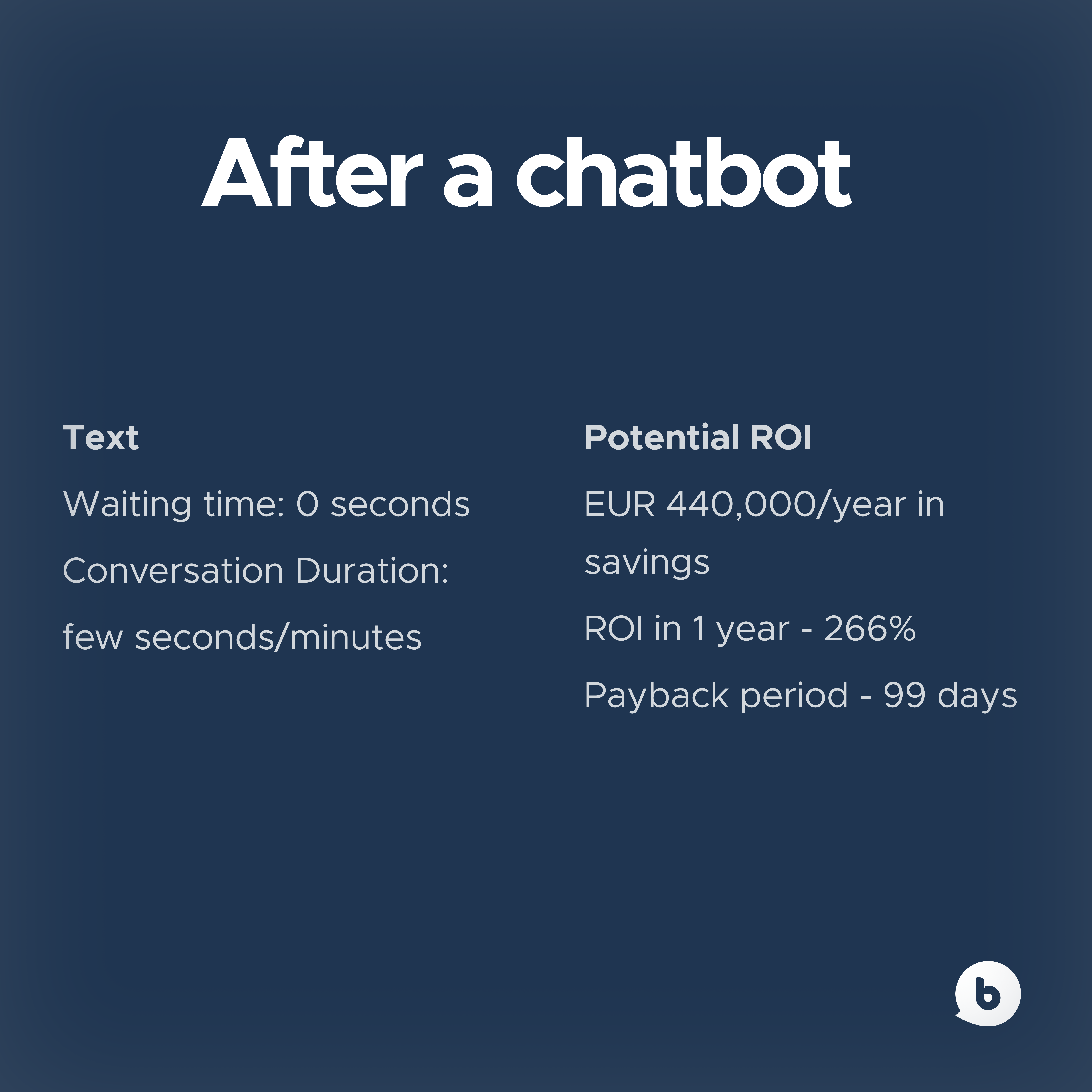 Development
We started by analyzing customer service requests. We highlighted pre-sale and post-sale inquiries that can be fully automated and grouped the most popular queries. Then, we estimated how many of them could be handled by a chatbot. The next step was to calculate potential savings and ROI and create a demo version of a bot. We presented the prototype to our client's team to show how the chatbot would look and work, and they loved it.
Together we discussed their business expectations, needs, and problems and created a roadmap for the project. So, we buckled down and moved on to the actual chatbot development.
We decided to start with a multilingual WhatsApp chatbot that would be integrated with their CRM – Salesforce. The chatbot would cover around 20% of customer support requests in 4 languages: English, German, French, and Dutch.
We began building the chatbot on the BotsCrew Chatbot Platform that allows starting building and testing WhatsApp bots right away in a Sandbox. We chose to use our Platform as it enables us to create, update, train, and analyze the chatbot's results on the go with a simple interface. Also, it will let the client's marketing team send targeted broadcast messages to their customers, measure results with in-depth statistics, and customize the conversational flows. The Platform is great for non-coders as it is possible to make changes without developers.
At the same time, we began working on getting WhatsApp business approval and API access. Getting WhatsApp business approval can be tricky for companies. As we have lots of experience with WhatsApp chatbots, we were able to get the approval within 3 business days.
By the time we finished the chatbot, we had the approval from WhatsApp and were able to launch on the platform without waiting. We integrated the chatbot with Salesforce and SAP so that every client would be automatically added to CRM with the right customer information service ticket and agents assigned.
We were able to achieve these results due to great communication with the client's team. Together we were holding demos every 2 weeks and had daily stand-ups to track our progress and make changes on the project based on the results. The client's team took a big part in our discussions to ensure that we all are on the same page with the chatbot development.
Results
As a result, we created a multilingual WhatsApp chatbot that handles 7 languages, including Polish, Turkish, and Arabiс. Also, the chatbot automates 20% of customer service requests. The chatbot allows clients to receive answers in a few seconds, and resolve their issues in only a few minutes.
Our client runs on the BotsCrew chatbot platform that allows the company to easily edit, train, and check chatbot's results on the go. With no extra coding needed.
Also, the chatbot is integrated with Salesforce and SAP, which saves a lot of time and money by reducing manual work. The leads and conversations from WhatsApp, FB Messenger and web automatically are added to our client's CRM.
We are currently working on the next version of the chatbot. It will cover more requests and languages to bring our client even more results and savings.