Automating customer support: Take care of low-value queries with a high-value chatbot

GsmServer is a multi-range international online store that sells different electronics as well as digital products. They wanted to free up customer and technical support from repetitive queries. Moreover, simplify the customer experience for faster, easier, complete resolutions that will increase self-service. 
For these reasons, we created a website chatbot, called Basky Bot. You can download the short version of the case study. Also, below there is a longer story on each step towards the development of Basky Bot with comments from our client.

Even a fleet glance at the GsmServer main menu bar will provide you with a clear idea of the wide product range they have.
Every website visitor may find something that fits their demands perfectly: from telecommunication-related technological solutions, digital products, accessories, and spare parts for cell phones to various electronic components, repair, or service tools.
If you hesitate about products, then their sales managers and technical support specialists are ready to answer your questions.
Since its establishment in 1998, GsmServer has managed to gather a great team of young professionals. All ten people from customer and technical support are highly-educated, intelligent, and multilingual. They speak English, Spanish, Ukrainian, Russian, Portuguese, German, French, Polish, and Chinese.
We aim to build long-term business relations with our customers through innovative marketing tools, excellent service, user support, quality warranty, and diversified product lines.  GsmServer
And they have been successfully achieving it during all these twenty-three years. 
So, why did GsmServer decide on… chatbots?
Actually, we didn't have any particular issue. The idea to add a chatbot on the site was for the sake of the company's professional brand. We have been in e-commerce for ten years and have always tried to be a modern store. Bots have become fashionable. We realized that we would also like to have a chatbot. 

Nadiya Vrublevska, Organisational Development Director
Challenge or the GsmServer road to chatbots
Despite being an online shop, GsmServer had a solid team of developers. So firstly, they created a chatbot on their own – Steve.
Steve was filled with lots of data and answers because he had to remind the GsmServer real agent –  well-informed about the company's products specialist. 
However, the chatbot was quite rigid; he responded with many links when asked about the product. And it was difficult to train him.
Steve worked when there were no live agents because we did not want to lose any clients. But we understood that this chatbot has no value.

Nadiya Vrublevska, Organisational Development Director  
Nevertheless, during one and a half years, Steve was proudly welcoming the GsmServer website visitors.
And, surprisingly, even being useless, people texted and texted Steve.
We work all working days, around the clock, we have night shifts, but we do not work on Saturdays in the afternoon and Sunday. We never thought it was a problem for the client until we saw a huge number of dialogues with Steve. What's more, we've seen that even during agents' working hours, Steve handles quite a few requests. Why? Well, agents can become unavailable, leave chats, take breaks, etc. We realized that if there are so many requests, we need to provide better service. 

Nadiya Vrublevska, Organisational Development Director  
After googling, research, comparison, and discussions, Nadya came up with six vendors, eventually cutting the list with just two. Her company had a few criteria on whom they wanted to collaborate with.
At the outset, the main sampling criteria was the pricing policy and reaction rate. It was important to them that the team quickly responded to their requests, immersed and learned about the product. They didn't want to pay much because it wasn't some kind of must-have.
We understood that we need a very specific chatbot, many will have to dive into various details. That's why we needed to know how much the company is ready to delve into our business, to listen to what we do. And not to offer a solution they make for others – because we are not a typical e-commerce store.

Nadiya Vrublevska, Organisational Development Director   
And BotsCrew was on the shortlist. 
I liked your presentation, the fact that you came to show us the benefits of the chatbot – it made it much easier for me to sell within the company. Also, the part about what can be automated after the Discovery phase was beneficial. We really were not sure even before signing the contract whether we would do it. It was not a choice of many vendors – it was rather a choice to build or not. 

Nadiya Vrublevska, Organisational Development Director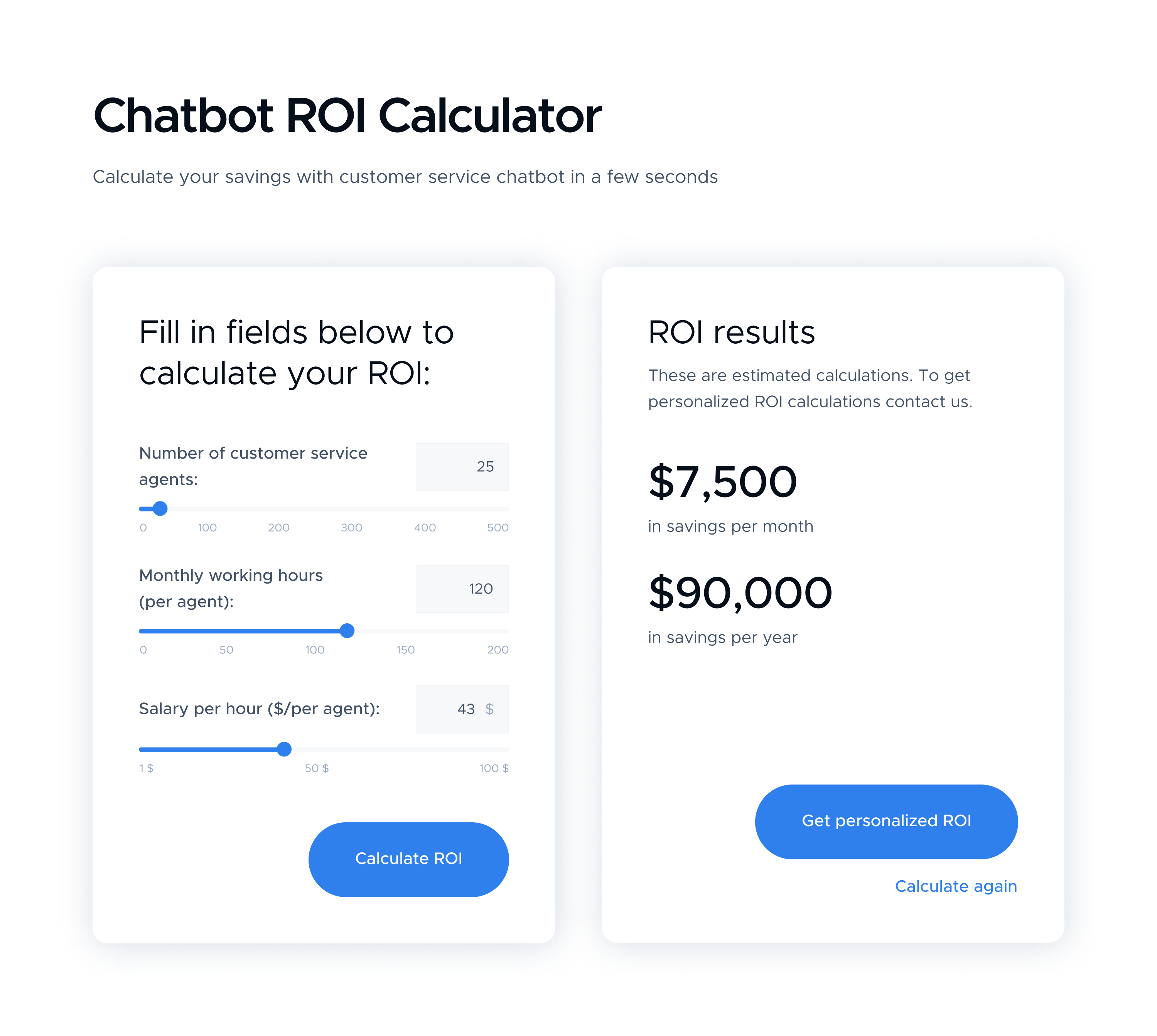 You can calculate your savings with a customer service chatbot here.
In the beginning, GsmServer thought that they needed to improve the quality of the chatbot's answers. It would be a purely advisory resource: a client will ask questions, and a chatbot will respond.
However, there is a reason why we start the development process with the Discovery phase – sometimes, the assumptions might be wrong. So, we asked them to unload a huge array of dialogues of their live operators with customers.
And yes, as we expected, they never did it themselves. The company had access to the 1,000 dialogues accumulated over many years, but they never analyzed them. Nadya told us that instead, they analyzed on a purely human basis by discussing with the contact center team about what people ask most often. Yet, it was never statistically accurate. These were rather inquiries that interested contact managers, but these were not quantitatively predominant inquiries. 
It was very valuable for us. And an interesting place for me. I have been working for the company for 11 years, and we never-never-never knew that statistically, the number one query was "Check my order status."

Nadiya Vrublevska, Organisational Development Director   
It turns out that 33% of the dialogues their customer support team answer the order status.  So they copy the order number from the chat, look for it on the GsmServer platform, see what the status is there, and then write whether it is in progress, deleted, or delivered.
And these people speak Spanish, Portuguese, Chinese, French, Russian, all highly paid, highly professional employees, who are hard to find, who work 24 hours a day.
For me, this copy-pasting was a point after which it was difficult to let go of the situation. We had never discussed it at meetings. For our agents, it was background work, so they didn't even pay attention to it.

Nadiya Vrublevska, Organisational Development Director   
So GsmServer had a problem. Only not with clients or chatbots, but with processes.
It was strange for us that it was necessary. Because our customers can log into their account on our website and see the status of orders there, it seemed to us that this need was met. But they have behaved differently than we thought.

Nadiya Vrublevska, Organisational Development Director   
So, how did we solve this problem?
The Discovery phase took us only one week. We identified the most popular requests based on existing conversational history analysis and discussions with the client.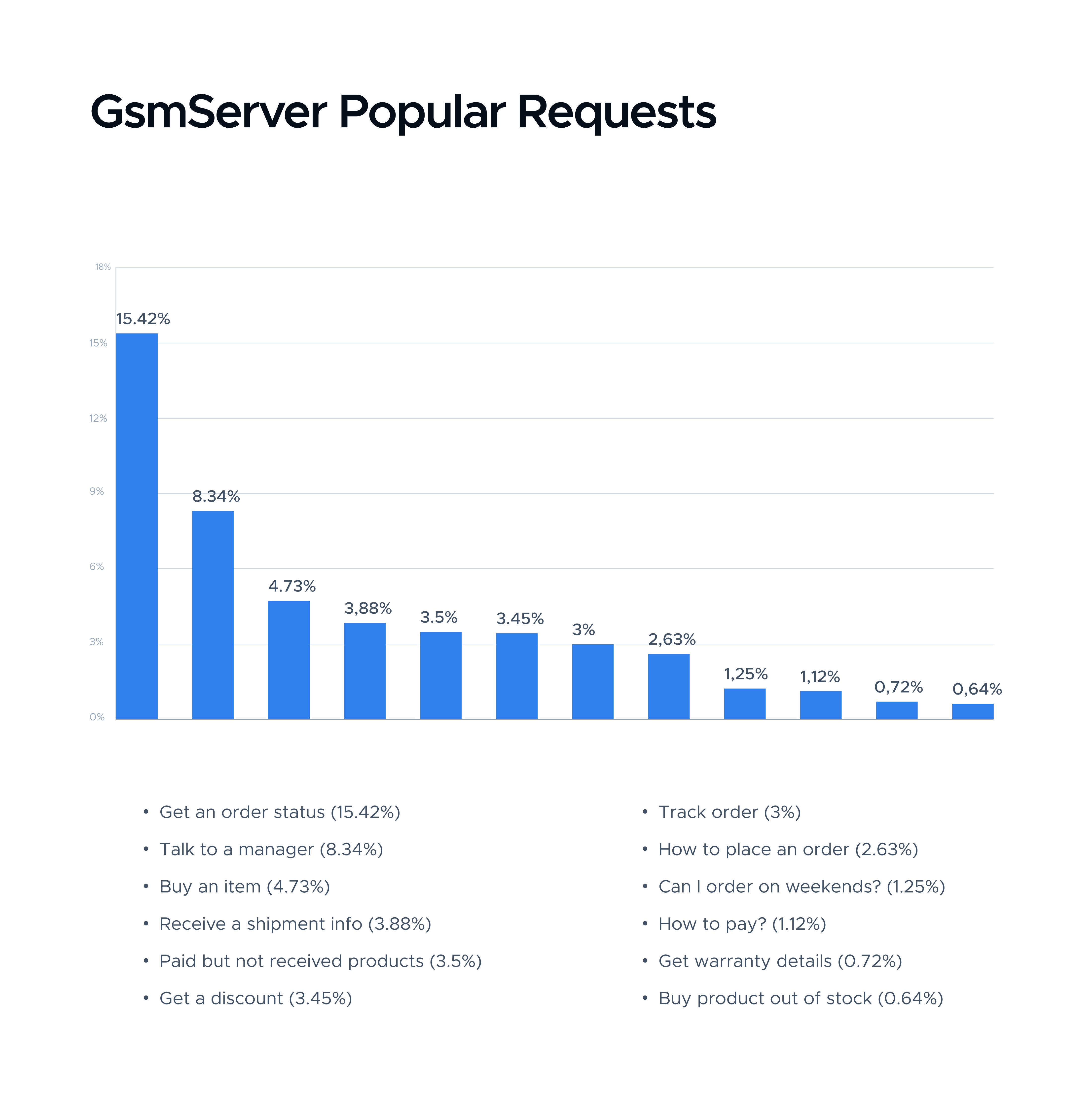 Then we suggested what the future solution should look like. In short, this would be a website chatbot that answers general and more specific questions about products, provides information about orders, and helps customers buy items. Also, it easily connects them with a real human if you don't get your answer. 
Knowing that they already had a chatbot, we understood that starting with POC wasn't the smartest decision. We proposed to jump to more complicated project stages and scale what was done before. That's why the GsmServer chatbot had only two phases: MVP and post MVP.
So in 6 weeks, GsmServer would have a viable solution that would automate 50% of customer requests.
Challenges of building the right chatbots
The development process was simple and smooth. There were just a few integrations: their website to magnify user experience, Chatbase to track chatbot performance, and Livezilla to connect customers and live agents.
The conversational design was far more complicated.
Based on the most frequent cases and questions from previous chat history, our conversational designer prepared a diagram architecture of how users will receive the information using buttons and typing their questions.
But the most crucial aspect was the creation of the chatbot persona and its tone of voice.
GsmServer is a multi-range international online store; most of their customers aren't native English speakers. Typically they avoid long and complicated sentence constructions. So we received very clear instructions on what the content should look like.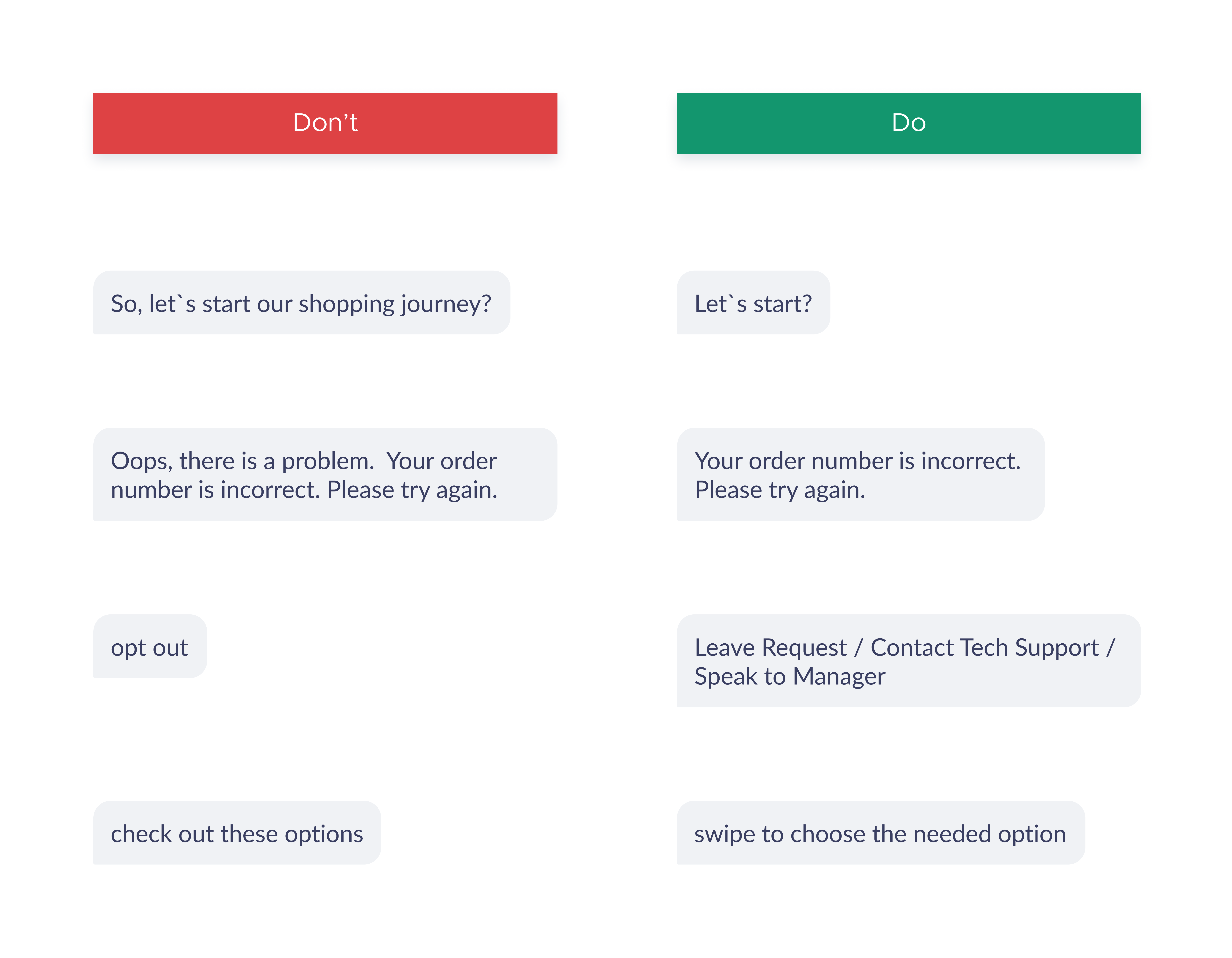 We understood that our clients care deeply about customers, their success, and their feelings. So we just need to automate their already successful communication strategy.
For that, we chose a diagramming tool called Lucidchart. This tool allows our client to quickly leave comments and change content, notifying us about the needed updates.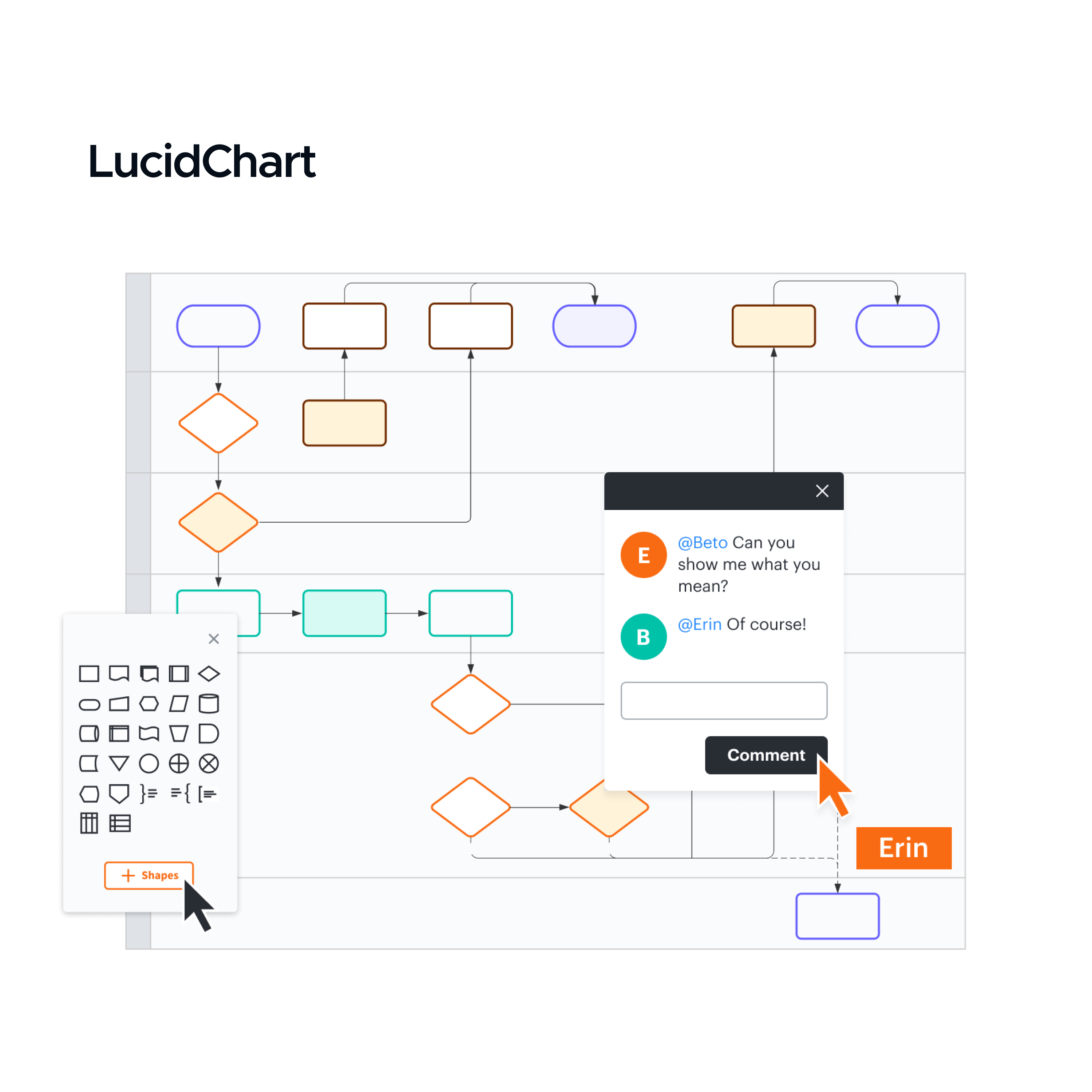 Moreover, when we finalized all the content and transferred it to our Platform, we did a couple of workshops with the client to show how they can update content on their own.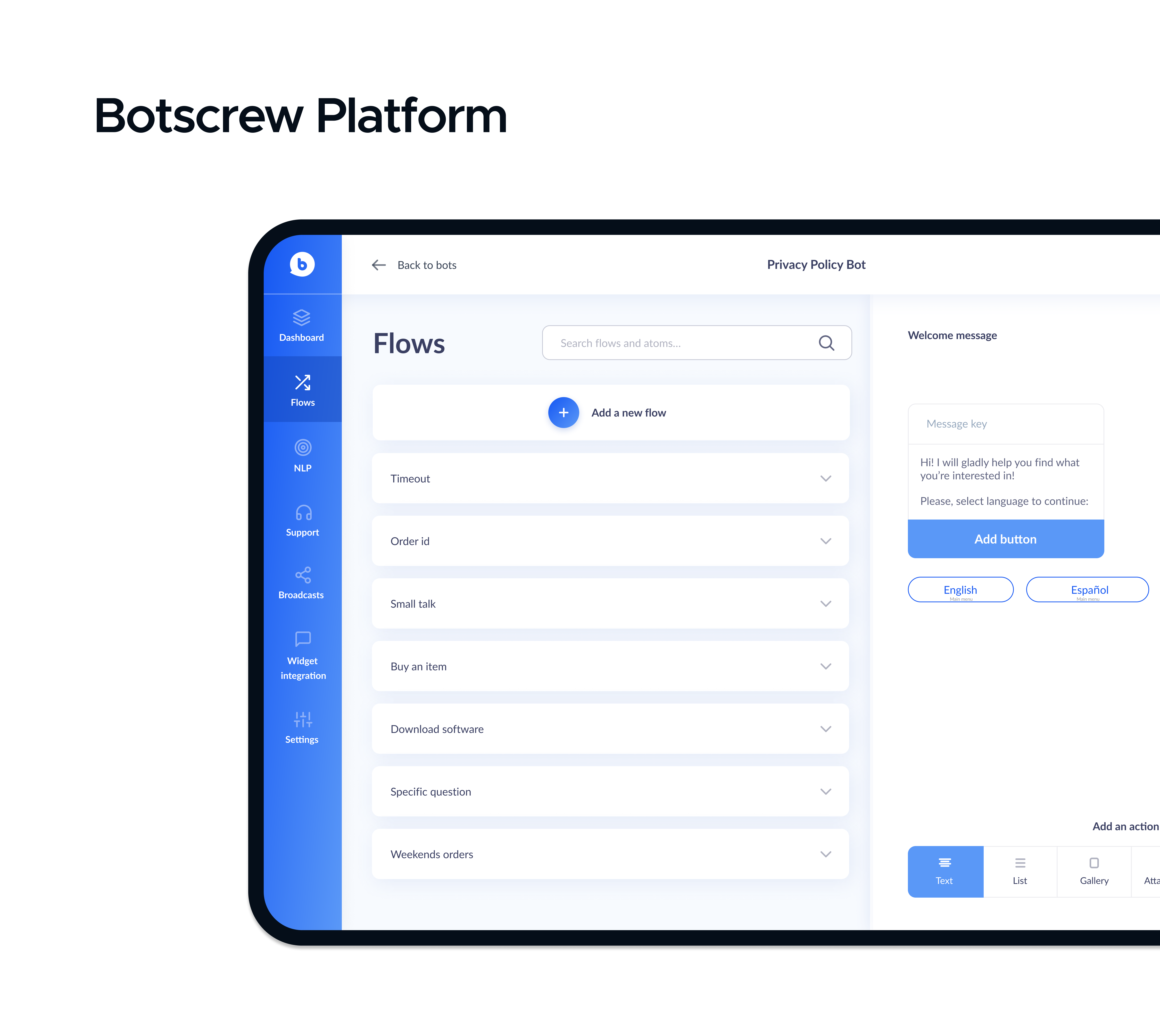 Smart automation doesn't start with code or even conversational design.
Firstly, you have to talk to people.
Of course, the team was afraid that chatbots would replace them. But in reality our plan was different. Fortunately, we did not have to reduce the number of people during the coronavirus, but we had a difficult three months. Although we did not set such a goal, we realized that with the bot, we could significantly reduce the team and serve customers with it. 

Nadiya Vrublevska, Organisational Development Director  
At that time, GsmServer had a goal to free up their highly qualified support managers from these futile tasks. Then they could have an opportunity only to advise clients in complex cases.
For us, the chatbot's value was obvious: instead of a person with higher education and qualifications, sitting and copying the order status – they can call customers who have not bought from us in the last year or two, ask why, find out the reasons or organize any other marketing or sales activities. We still have enough work to do, so becoming more efficient is the number one priority. 

Nadiya Vrublevska, Organisational Development Director  
Results
We launched the chatbot in March 2021. We did not want to scare buyers, thus the chatbot widget is in the lower right corner, while on top, there is a button "Chat with us" to talk with an agent.
Despite knowing where the chat with an agent is, regular customers click on the chatbot as well. Of course, new customers choose a chatbot because it is more visible, and people have got used to chatbots. But regular customers choose a chatbot consciously.
The results were both promising and unexpected. After six months, the chatbot automated 72.28% of all customer requests. That means the chatbot covers 30% of all chats on the GsmServer website.
It was a big surprise to me. We did not promote this chatbot in any way. And that is half a year passed, with no promotion from our side, nevertheless – 30%

Nadiya Vrublevska, Organisational Development Director  
Additionally, a chatbot works out an interesting pain point for customer support managers – password recovery.
GsmServer sells physical as well as digital products, like Octoplus. In both cases, you have to create an account. One is on the GsmServer website, and another one – on the digital product site.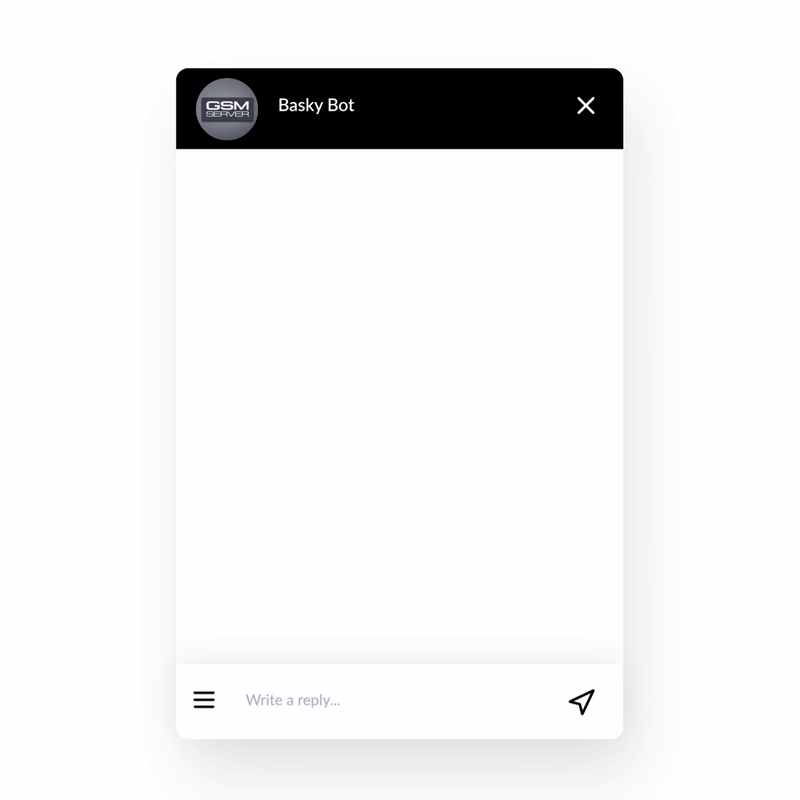 Life became much easier for us because we used to explain all these steps in the chat. It was so confusing and complicated to explain quickly. There is a benefit to a chatbot: we can immediately branch out instructions because sometimes people just write that "I forgot my password," and it was necessary to first clarify which password exactly. Thanks to the bot, we can route customers; before, it was pretty challenging to do via live chat. While in the bot, with the help of buttons, it's easier to display on the branch what the user needs to do. This is such very fresh feedback, and we did not anticipate it initially because we did not even think that such a problem existed. 

Nadiya Vrublevska, Organisational Development Director  
What's next?
Currently, we are in the post MVP stage, so we are making some minor changes to the widget that will facilitate the website experience when chatting with a chatbot. And we are working on two significant improvements. The first big one is the Spanish version of the chatbot. The second big one is improving the Buy an item flow.
The chatbot's name is Basky Bot. We formed it from a simple word and item – Basket. We aim that GsmServer very soon will improve the customer journey to purchase.  We covered the issues that distracted their agents, and now their main goal is to sell through a bot.
Chat with Basky Bot here.
You can download the short version of the case study below.