A reliable partner in your chatbot
development journey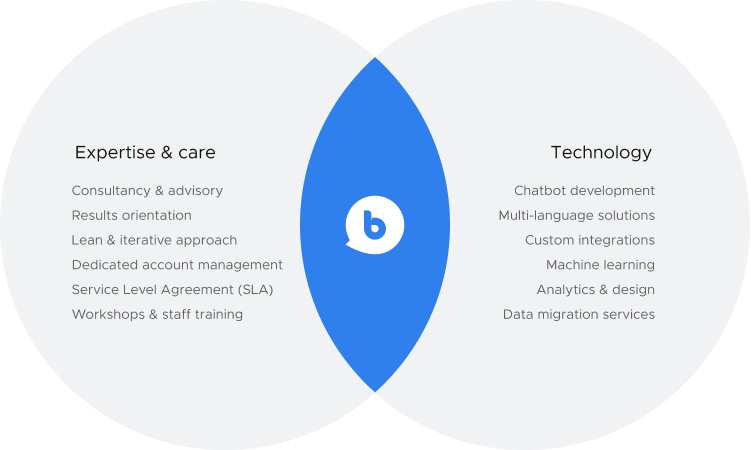 The chatbot development journey starts here:
Step 1
You have your brilliant chatbot idea
But you don't really know if it's technically possible and what to do next. So the best thing is to find a reliable partner who's been there many times. And you're on the right track here.
Step 2
We turn your idea into a roadmap together
We offer a discovery phase where we learn in-depth about your business needs and goals. Then we build a roadmap for at least 12 months, prepare a dataset, chatbot personality, and everything to properly start with chatbot development.
Step 3
You guide your organization through change
We hold daily sessions with you during the discovery phase to learn about your business and goals. We match with what is possible from the technical side, so you know exactly how it will work and why we are building a chatbot this way.
Step 4
We're good to go with a Proof Of Concept (POC)
We hold a kick-off, agree on the system architecture, the scope for the POC. We set our goals and KPIs to measure success. We deliver the POC within 2 months with BotsCrew Platform.
Step 5
You crush it with a POC
And we're good to go for our bigger goals. Didn't crush it? No way we're leaving you there. We analyze and iterate to make our solution deliver the results we've committed to.
Step 6
We build an MVP
We agree on goals, estimates, deliverables, and your involvement. We deliver working product demos biweekly and keep everything lean and predictable for you.
Step 7
We're good to scale
We knew where we're heading since the discovery phase. So we have everything set up for our ambitious goals and we're ready to go. No surprises and obstacles. No building from scratch.
Important things you should know
You own your data
You can host solutions we build for you on your servers
You're not tied to a vendor
You have a simple UI to make instant changes and train your chatbot
Your IT & Development team will bless you
We integrate our solution into your tech stack and provide an open API
You always know where to go
You have a dedicated account manager throughout our partnership
We help with data transition
You can easily move from an old solution you're no longer happy with
We value safety & security
High security standards & data encryption
Continuous support and Service Level Agreement
Compliance with GDPR, HIPAA, and others
People say
"BotsCrew displayed the utmost professionalism, providing updates whenever required and mitigating time-zone dependent scheduling issues. Customers can expect comprehensive support, even post-delivery."
Pricing
Prices depend on the complexity of the project, so here are some rough estimates of what to expect
BotsCrew Platform license
Why should I pay for custom development and a Platform license?
+
BotsCrew Platform provides an intuitive interface to improve your bots, train them, use live chat, and many more. We invested in it as we've seen a huge problem Enterprise companies faced - being tied to a vendor/developer for tiny changes. In our way, we build a bot for you and fully adjust the Platform to your solution. So you have a simple way to manage everything.
What if I decide to cancel my Platform subscription?
+
You will no longer be able to use the Platform, but your chatbot will work as previously. You will be able to make changes and train your bot via code.
Can I get one service without the other (i.e. only custom development or only Platform license)?
+
Yes, you can. If you want us to build a chatbot for you and then maintain it with your own resources, you are free not to buy the Platform license. On the other hand, you can buy a Platform license without customization and build simple bots on your own.