Use Cases/Chatbots/Article
• 17 min read
21 Chatbot Use Cases For 5 Different Industries
In this article, we'll have a look at the 21 most popular chatbot use cases for the Retail, Travel, Education, HR, and Real Estate industries.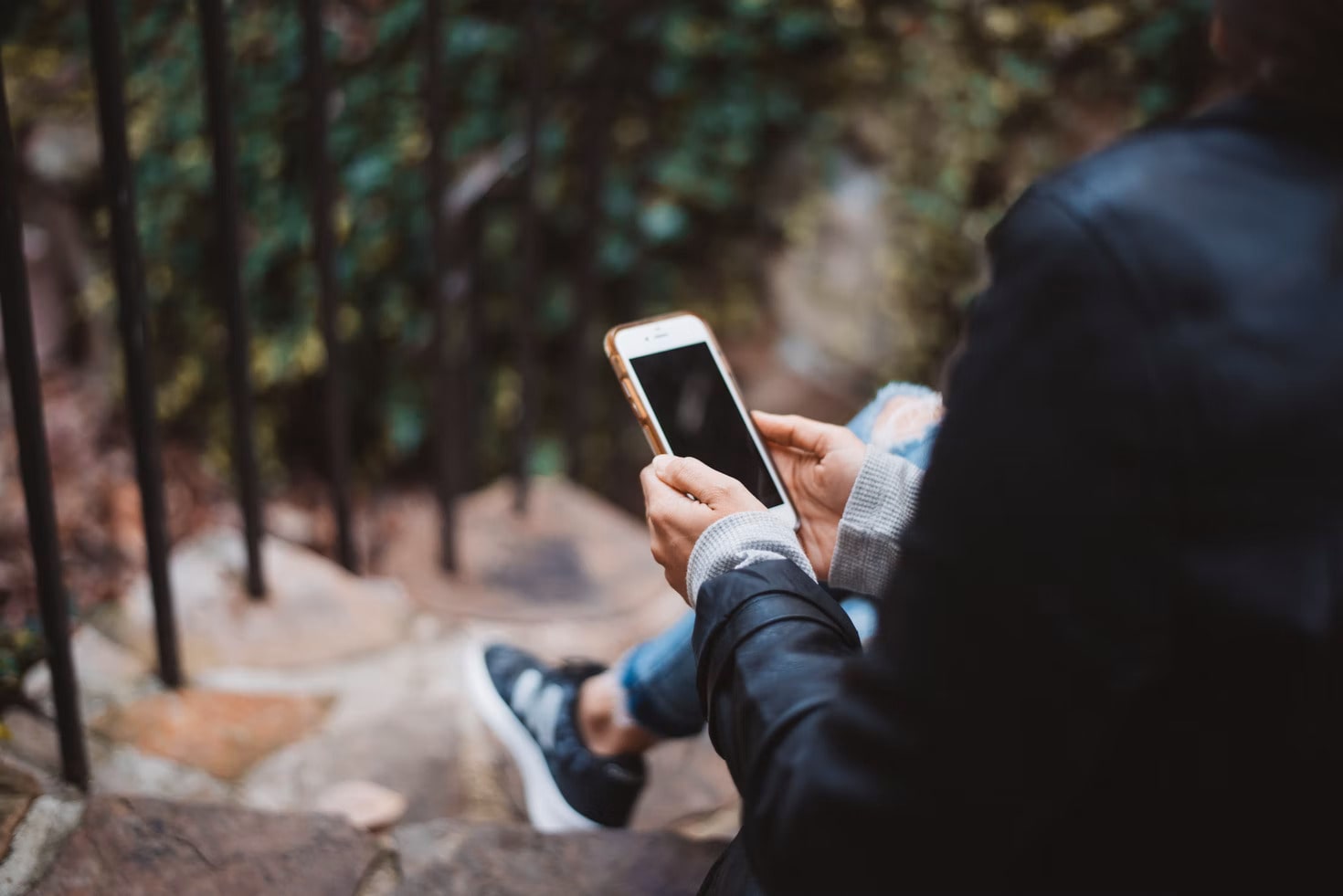 Chatbots are one of the fastest-growing brand communication channels. Every day people communicate with chatbots to get answers, book flights, order food, purchase clothes, buy houses and cars, book appointments, etc. In the last 5 years, chatbots' functionality went way beyond what it was at first. The NLP and AI in chatbots have seen huge progress, and now chatbots can be found in any industry today. In this article, we'll look at the most popular chatbot use cases in 5 different industries, but first, let's look at general chatbot benefits that apply across any business.
5 main chatbot benefits
Chatbots operate around the clock, so no matter what time it is or what day of the year, chatbots are always ready to serve your customers. Many companies use a hybrid form of human and chatbot support. For example, during the day, human agents communicate with customers, and during the night or the busiest hours when human agents can handle the number of inquiries, the business can turn on the chatbot.
Chatbots have predefined answers, and this means they don't need time "think" or type in the response. They answer instantly. One chatbot can handle thousands of users at the same time. When your customer types a question or requests support, they don't need to wait in the queue for a support agent or wait while the agent figures out how to help them. Your customers get the answer in a second.
If you have users worldwide, for a better customer experience, you need to provide multilingual support. With chatbots, you don't need to look for human agents that speak many languages or hire different agents for every language you support. You can "hire" one chatbot that will speak as many languages as you'd like.
Like with multilingual support, you can use one chatbot to support your users across different platforms. You can build one chatbot and connect it to WhatsApp, Facebook, website, Instagram, or even your native app and provide a consistent experience across many platforms.
If you add up all the above, it all leads you to save time and money. With chatbots, you'll need fewer human agents, and your existing agents will spend less time on routine tasks and have more resources to deal with more complex issues. In addition, all the benefits above create a better customer experience. The higher customer satisfaction, the more your customers will spend and the more people they will tell about your company, bringing you additional revenue.
Now, let's take a closer look at chatbot use cases for different industries.
Chatbots for the Retail industry
By 2024, Insider Intelligence predicts that consumer retail spending via chatbots worldwide will reach $142 billion—up from just $2.8 billion in 2019.
Today, almost every big retail company that fully or partially operates online has a chatbot. It's no wonder. Companies like Sephora, H&M, Decathlon, Ikea, Walmart, and many more implemented chatbots a long time ago.
There are many things that chatbots can do for the retail industry. For example:
Personal shopping assistant
Chatbots can act as personal assistants for your customers. They can guide the client to the best matching product and help them find the suitable model, size, and color much faster and more conveniently than when customers are simply looking for the product on the website. Imagine someone coming to your website and knowing they need a plain white T-shirt size M. Typically, they would need to browse through the website and categories and look through different options. But, if the website had a chatbot, they could simply ask the chatbot "show me white male T-shirts sized M," and the chatbot would present them with available options matching the request. Convenient, right?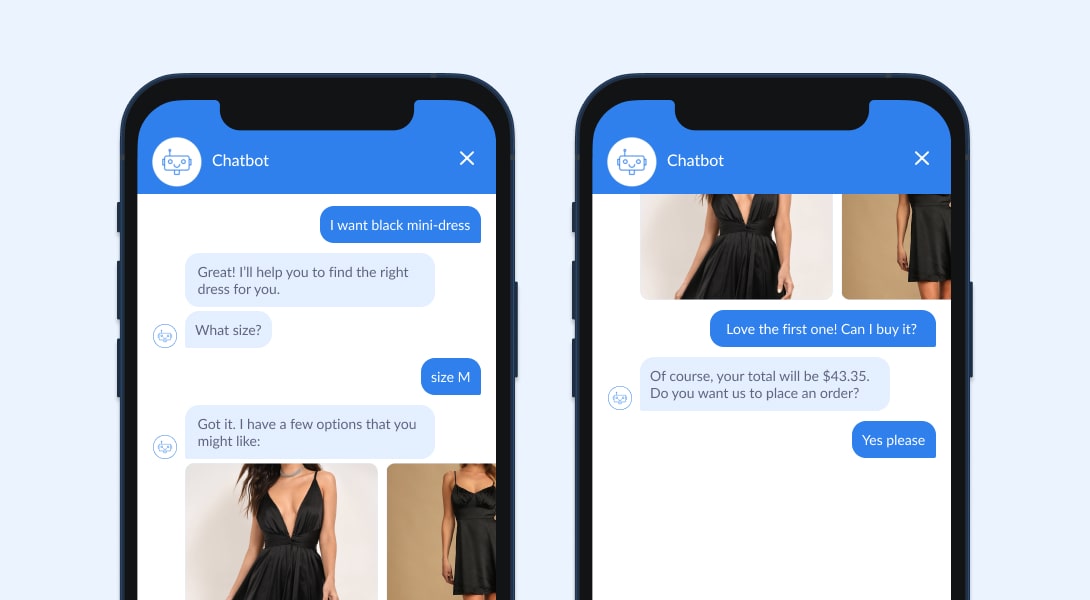 Chatbots can also provide information and details about the product. For example, a customer is looking at a face mask and wants to know the ingredients, how and when to use it, or what skin type this mask is suited for. Instead of looking this info up, the customer can ask the chatbot about it, and the chatbot can present the information in an engaging and accessible-to-read form.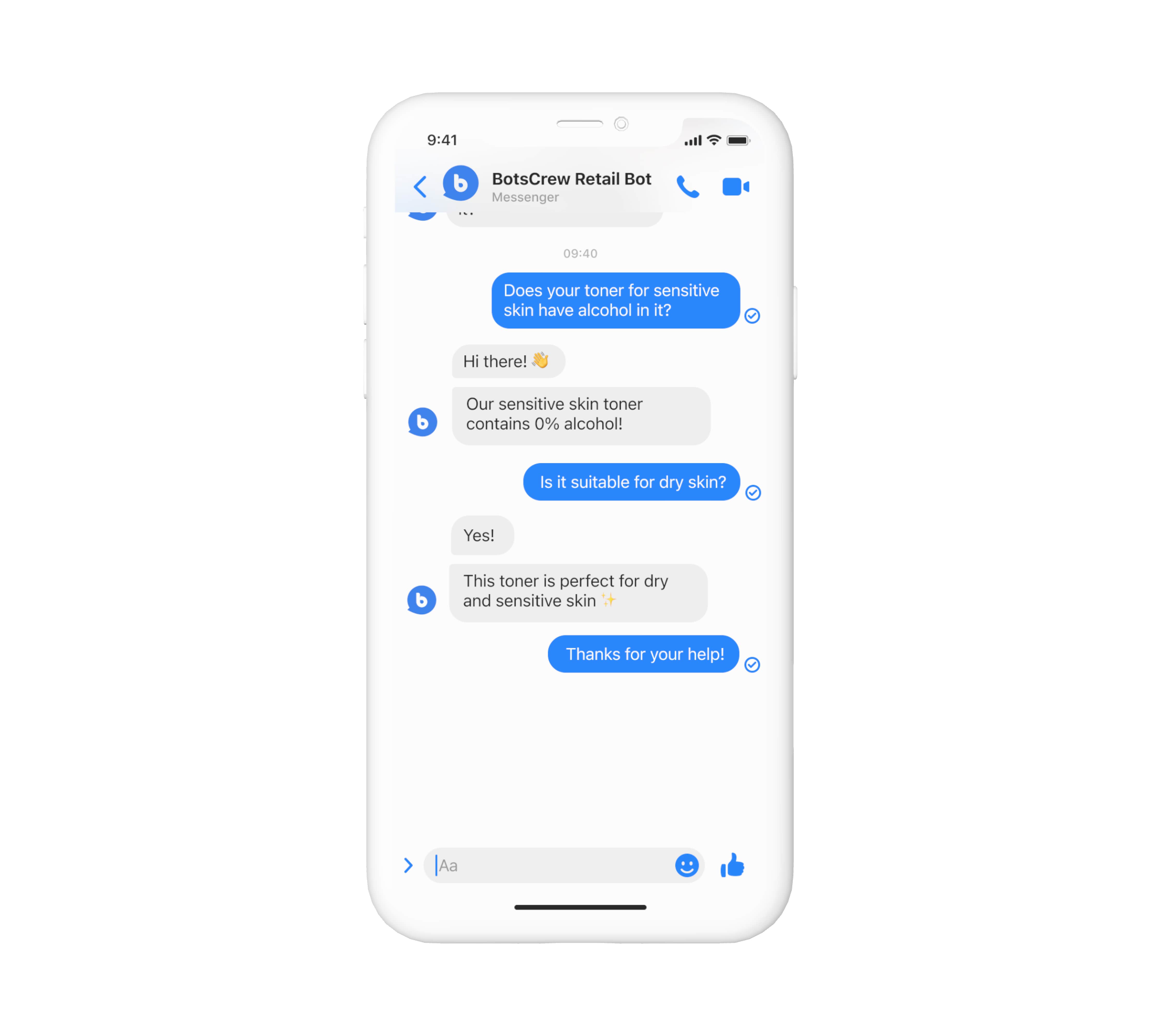 One of the most popular use cases for chatbots in the retail industry is answering FAQs. The retail industry has a lot of repetitive and simple questions and customer requests. For example, "Do you ship to Canada?" or "I have a coupon. How can I use it?", "If I order today, when will be my order shipped?", "Which delivery method do you use?" and many more. These types of requests usually can take up to 80% of the customer requests volume, and they can be covered with a chatbot in no time.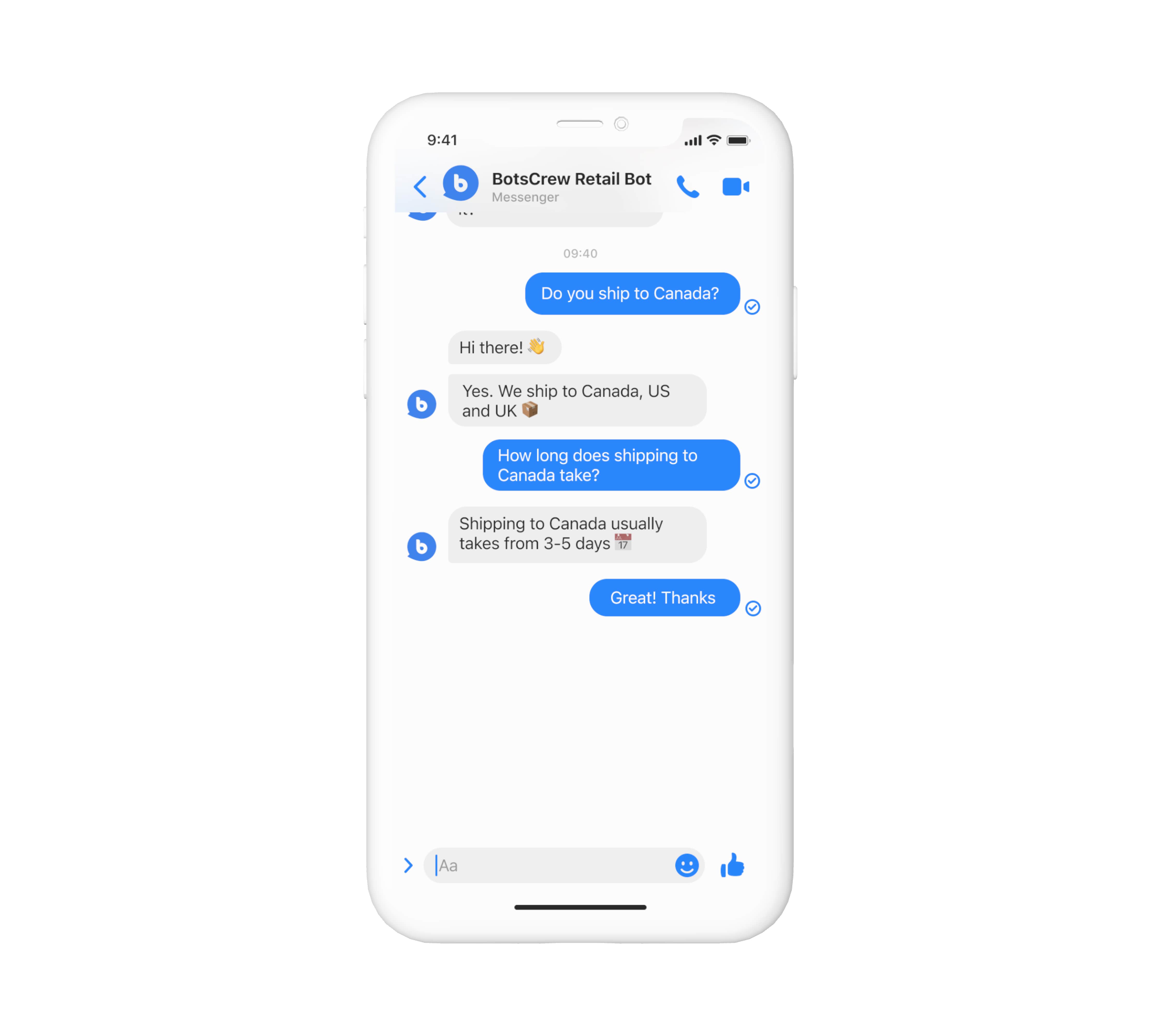 Checking the order status is one of the most popular requests retail customer service deals with. Automating only this request can help the company cut costs by 30% and more. Your retail chatbot can provide the information about delivery and order status and send notifications to the customer about the order, for example, when it has been shipped or is being delivered, etc.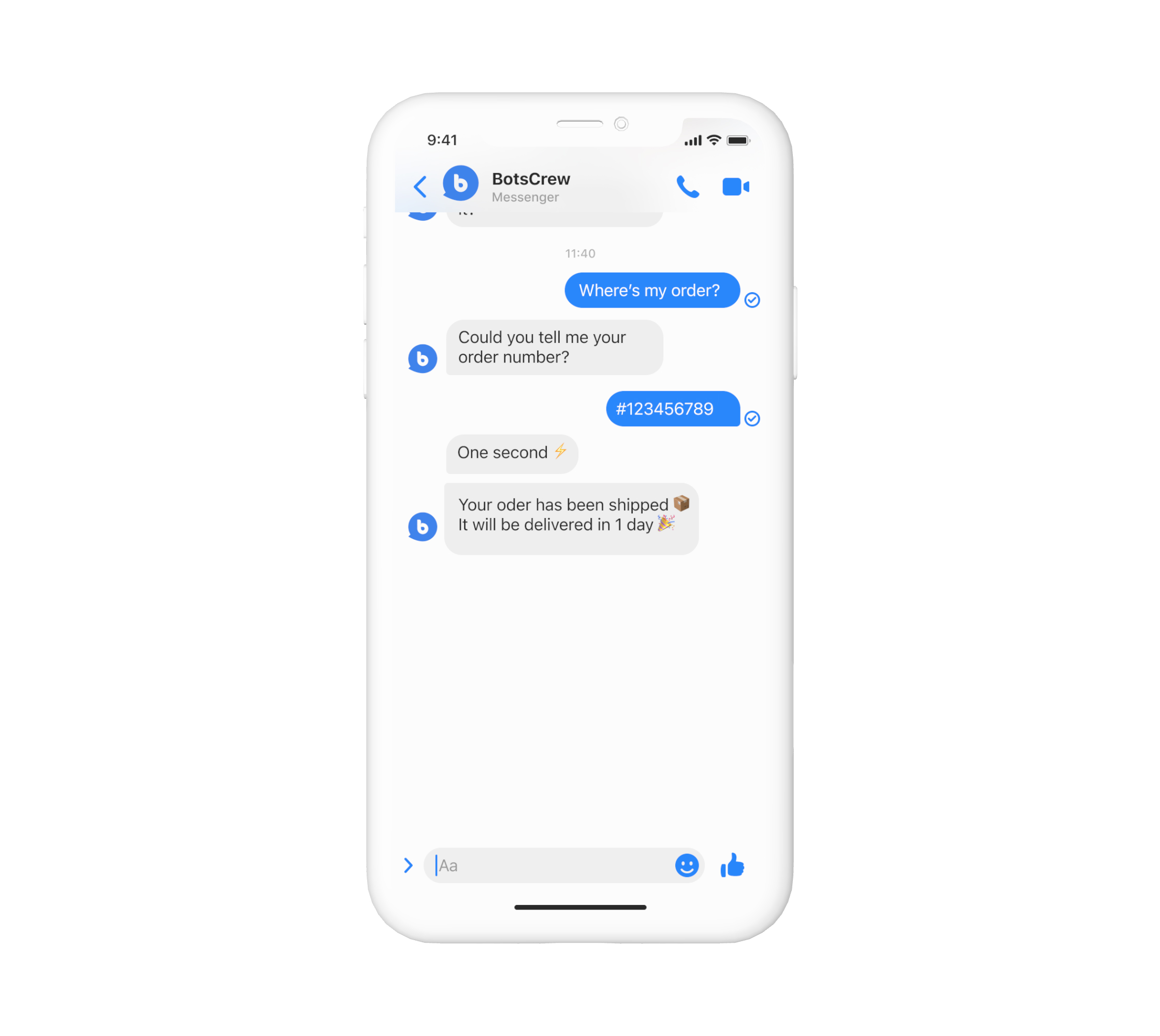 Many fashion and apparel retailers have size charts on their websites, especially if they operate globally, as sizing can differ from country to country. A chatbot can help your customers understand your sizing and fitting in a convenient and fast way. Imagine that instead of looking at huge and complex sizing charts, your customers could type into your chatbot, "I wear a women's EU 38 shoe size," and the chatbot would say, "Hey, it's 7.5 US size". Simple and elegant.
Broadcasting personalized marketing messages
Many retail companies often have different promotions and marketing campaigns. Chatbots for the retail industry can quickly help to send broadcasting messages to different customer segments or tell about your current promotions while chatting with your customers. You can segment the users by various parameters and send the promotion to a specific group of your customers. For example, you currently have a promotion on a certain tea brand. You can send a broadcast message to the customers that have previously bought this tea and may need restocking and say that you currently have 30% off this tea brand.
Real-life Retail chatbot examples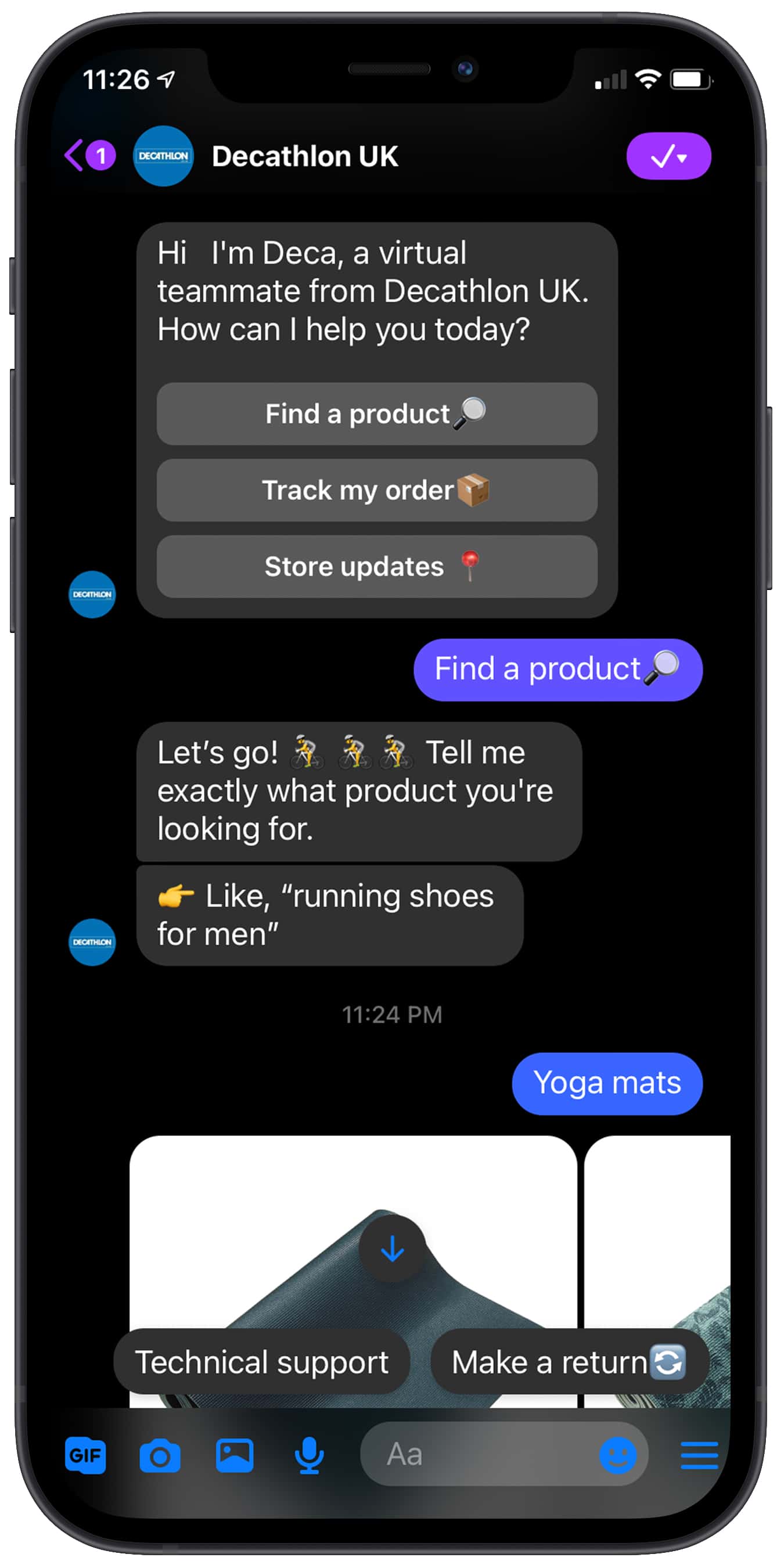 With over 1,600 stores worldwide, Decathlon aims to make sports and fitness accessible to all by providing a variety of equipment, products, and apparel for people of all ages. 
Over the past year, Decathlon UK temporarily closed its physical locations to comply with government regulations during the coronavirus (COVID-19) pandemic. As a result, its eCommerce operations experienced unprecedented growth as people purchased equipment and products to build home gyms.
Decathlon chatbot matches the brand's tone and style, and answers questions related to order tracking, returns, store locations, operating hours, and updates related to COVID-19, product searches, and technical support. Additionally, a handover protocol was included to transfer customers needing live agent support to resolve their questions seamlessly. The Decathlon customer care team could easily access a customer's conversation history which helped them provide more personalized and efficient support.
96% of customers were satisfied with Messenger (incl. 85% very satisfied)
55% increase in number of queries resolved through the automated experienced
25% increase in agent productivity in six months
25% decrease in support costs (phone channel closed)
10-point increase in overall customer satisfaction score (from 82% to 92%, including emails and live chat)
175% increase in number of people communicating with Decathlon via Messenger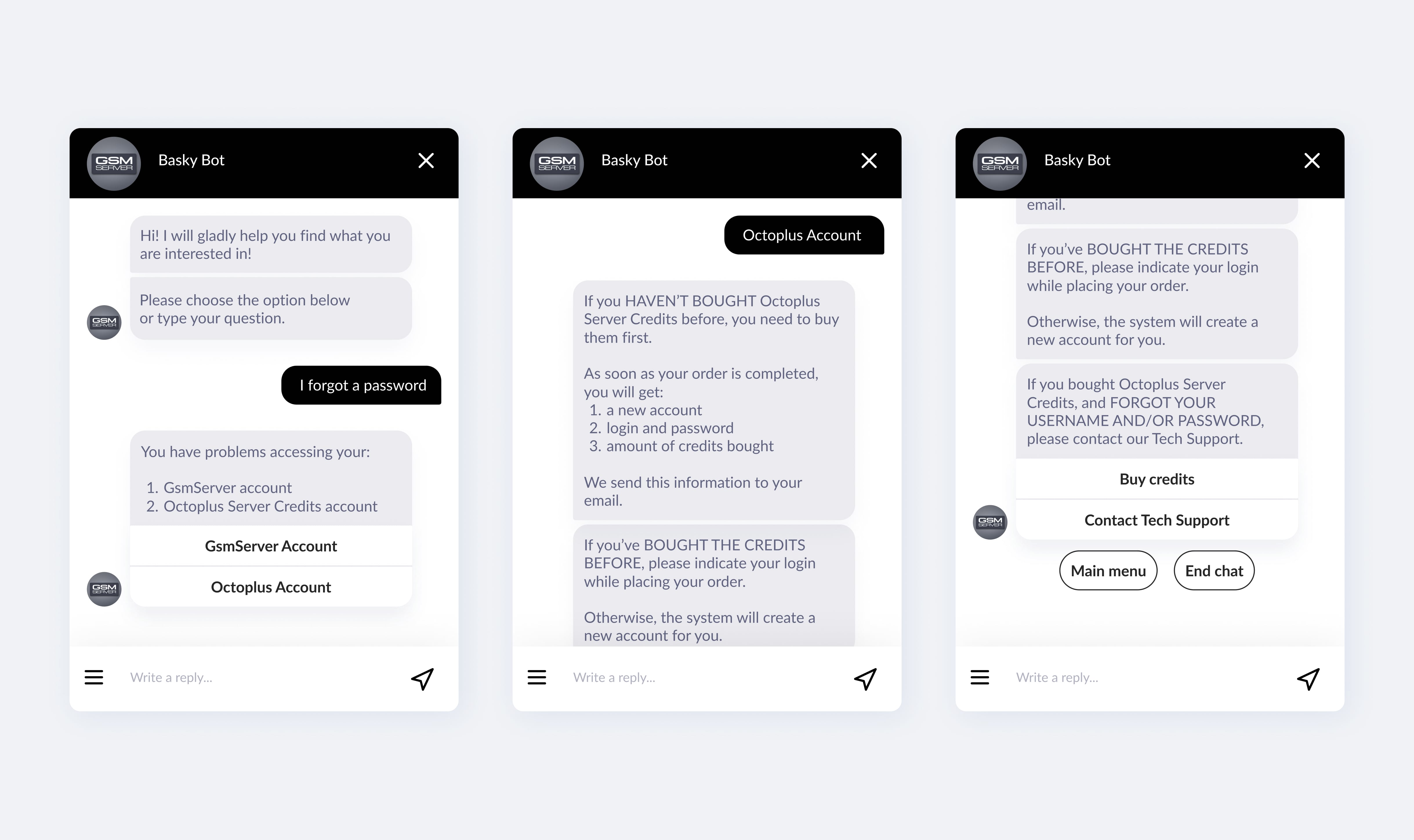 GsmServer is a multi-range international online store where you can conveniently purchase telecommunication-related technological solutions, STEM toys, accessories, spare parts for cell phones, various electronic components, equipment, repair/service tools, etc.
The customer and technical support were overloaded with repetitive queries. Like the account's password recovery, some user flows on the website were too complicated and stopped customers from quick resolutions. Besides, the team couldn't provide a personalized customer experience because it took lots of time to manually identify the customer's email, number, and previous purchase history. On top of that, the team worked only during the weekday and till the afternoon on Saturdays; on the Saturday evening and Sunday, there was no one to help, and it turned out that it did cause problems for their customers.
A website chatbot that answers general and more specific questions about products provides information about orders and helps customers buy items. Also, it easily connects them with an actual human if you don't get your answer.
1600+ chats per month
75% of all support inquiries automated with the chatbot
Travel chatbots
The travel industry is all about experience, and travel chatbots are one of the ways to improve it. Due to the chatbots' simple conversational form, they are perfect for engagement and sales purposes. Here are the most common use cases for travel chatbots:
Travel chatbots are often used to make travel bookings and reservations for flights, hotels, activities, restaurants, etc. Chatbots can help your travelers find the perfect option for them, book it and even pay for it in the chatbot. Instead of using standard website pages, FAQ sections, and confirmation pages, the chatbot can provide all the information your users may need in a fun and engaging form. For example, when booking a flight, your chatbot can tell the person in the form of friendly conversation all about COVID-19 restrictions in the particular area, tell what's allowed on the plane and what's not, tell about luggage requirements, etc.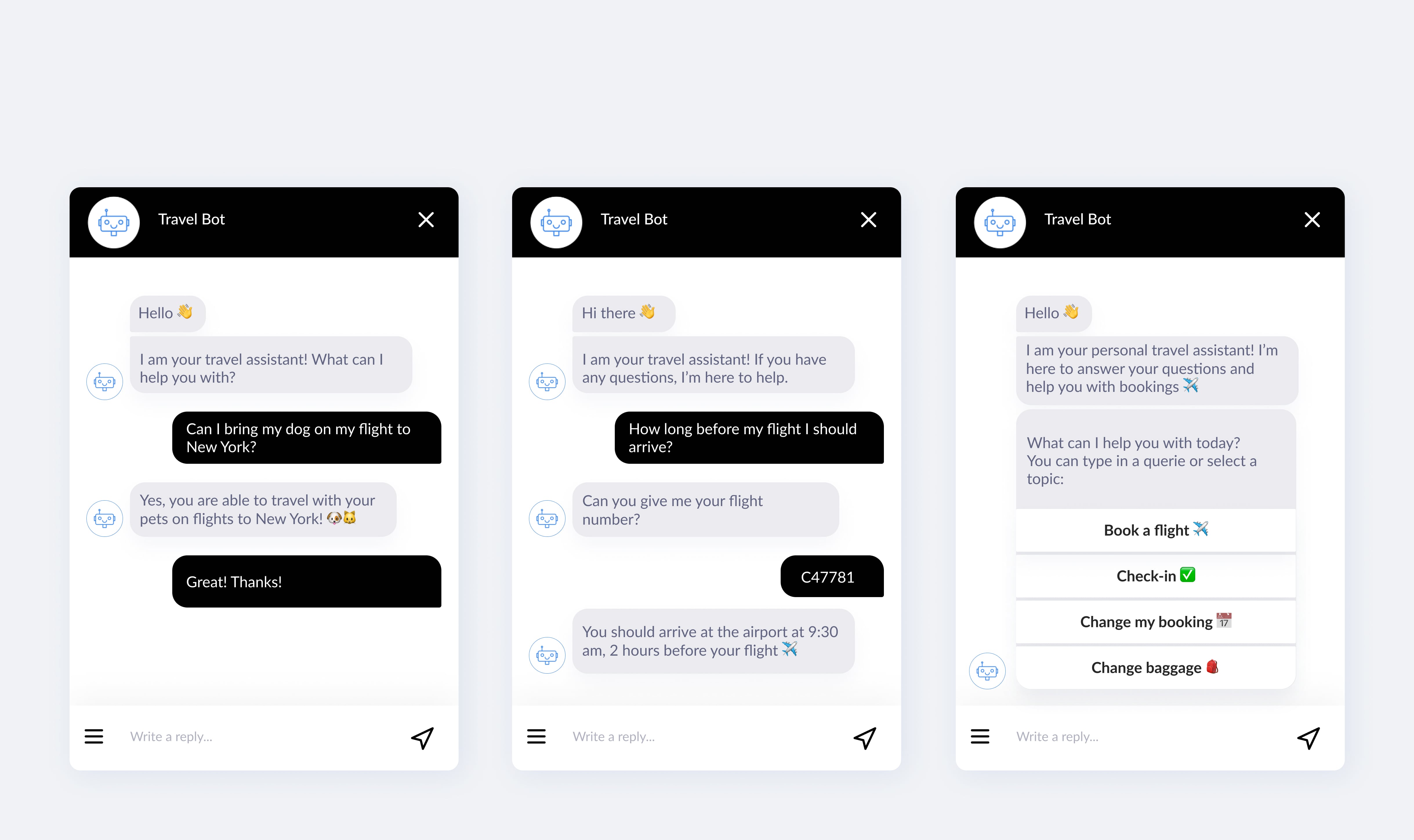 A nice touch to boost travelers' experience is sending reminders about bookings and reservations. For example, you can send a reminder about an upcoming hotel stay, remind them about the time and date when they are supposed to be at the hotel, when is the check-out time, which room they are staying in, and what not to forget to take with them, etc.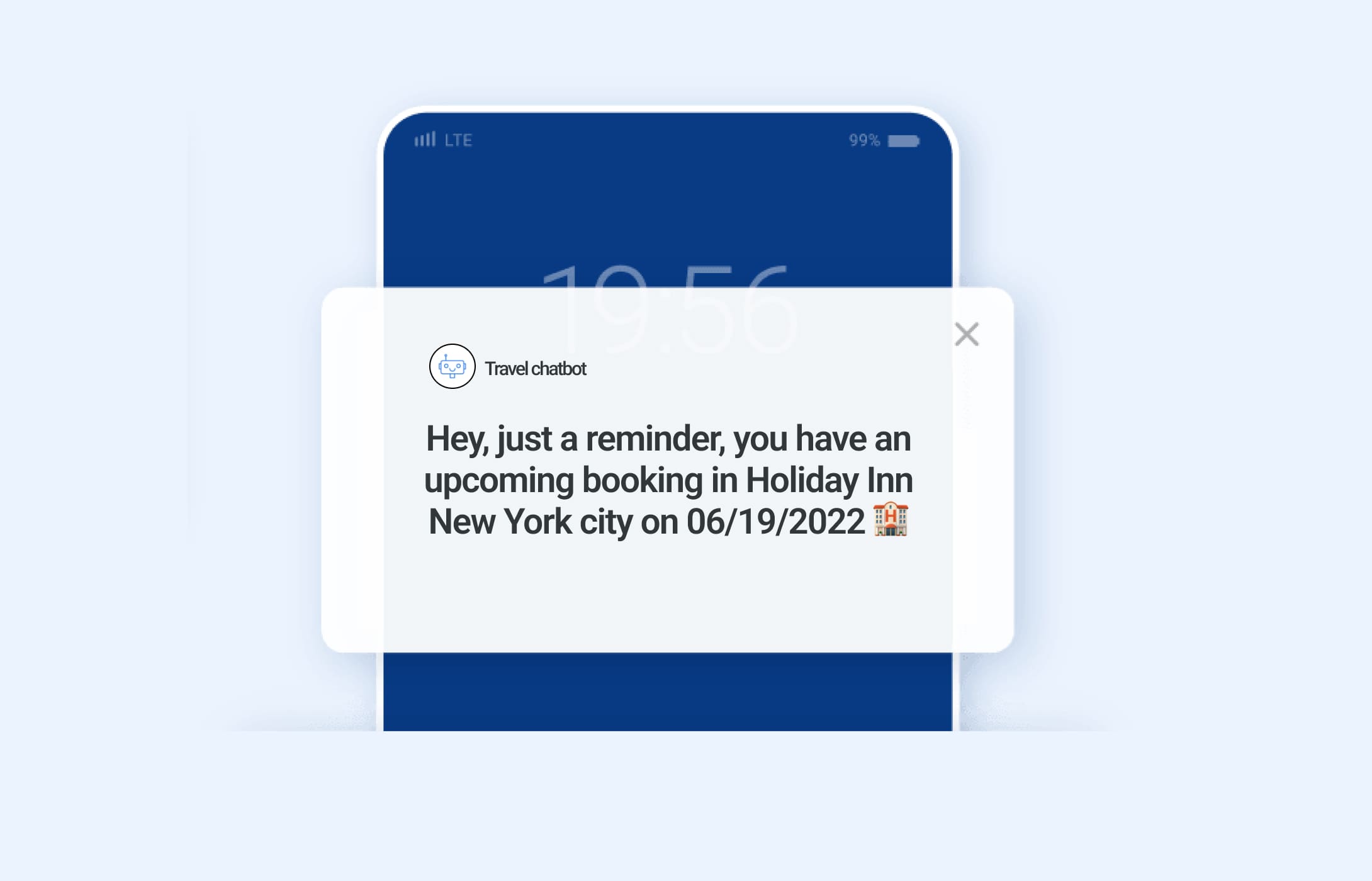 Personal travel assistant and guide
Another popular use case for travel chatbots is a personal travel assistant. You can help your travelers find exciting events, locations, museums, and attractions in the city they are traveling to. For example, our chatbot - Bean, which we created for the city of Chicago, helps Chicago tourists to navigate throughout the city and find interesting things and places for them to visit during their stay.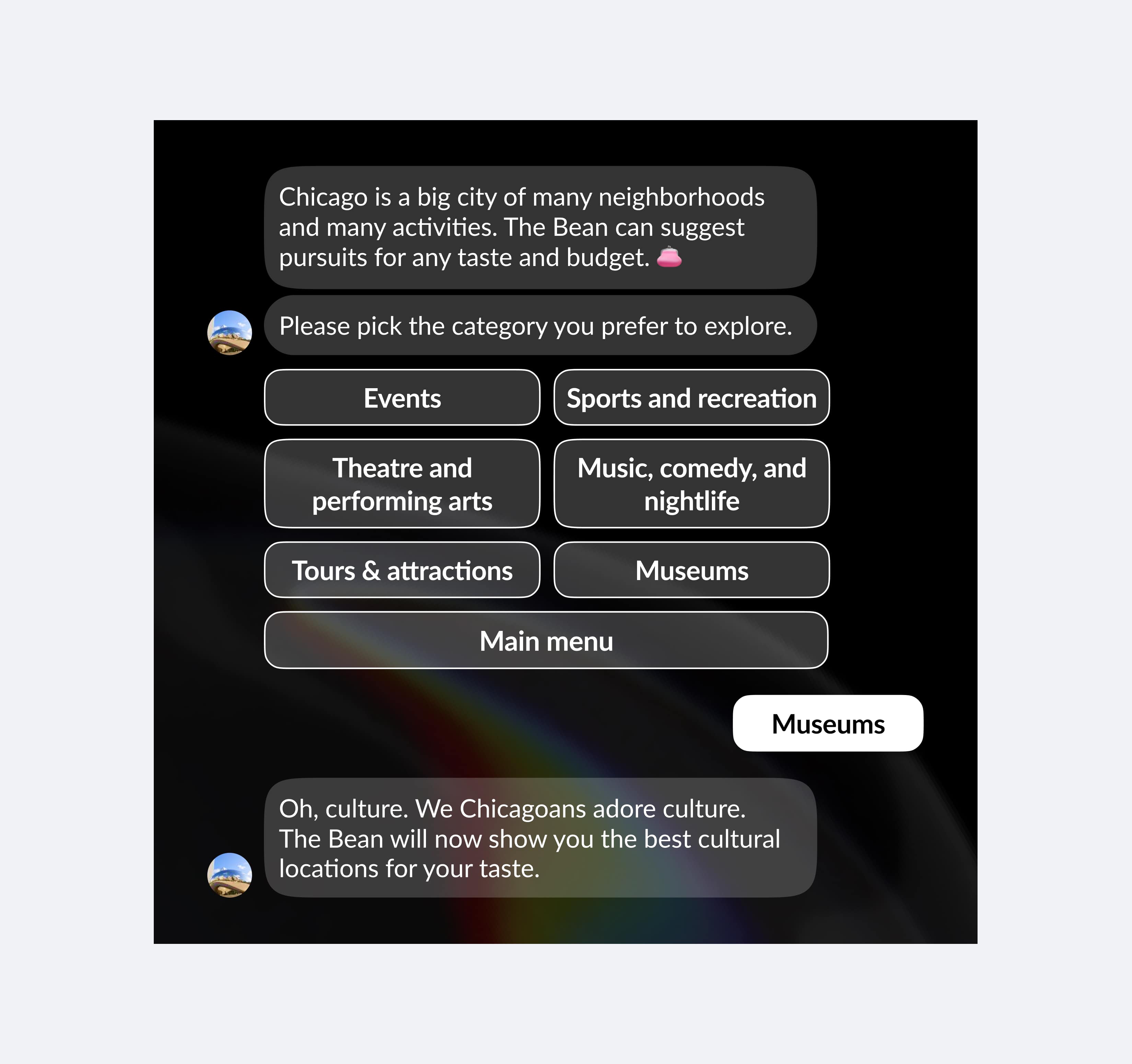 You can use your chatbot to support your travelers in different unexpected situations. For example, if a person loses their passport, you can send them instructions on what's best to do. Or for instance, if they have a medical emergency, you can navigate them to the closest hospital in the city they are staying at. Or, for example, if they have been mugged or lost their stuff, you can help them contact the local police.
Real Life Travel chatbot example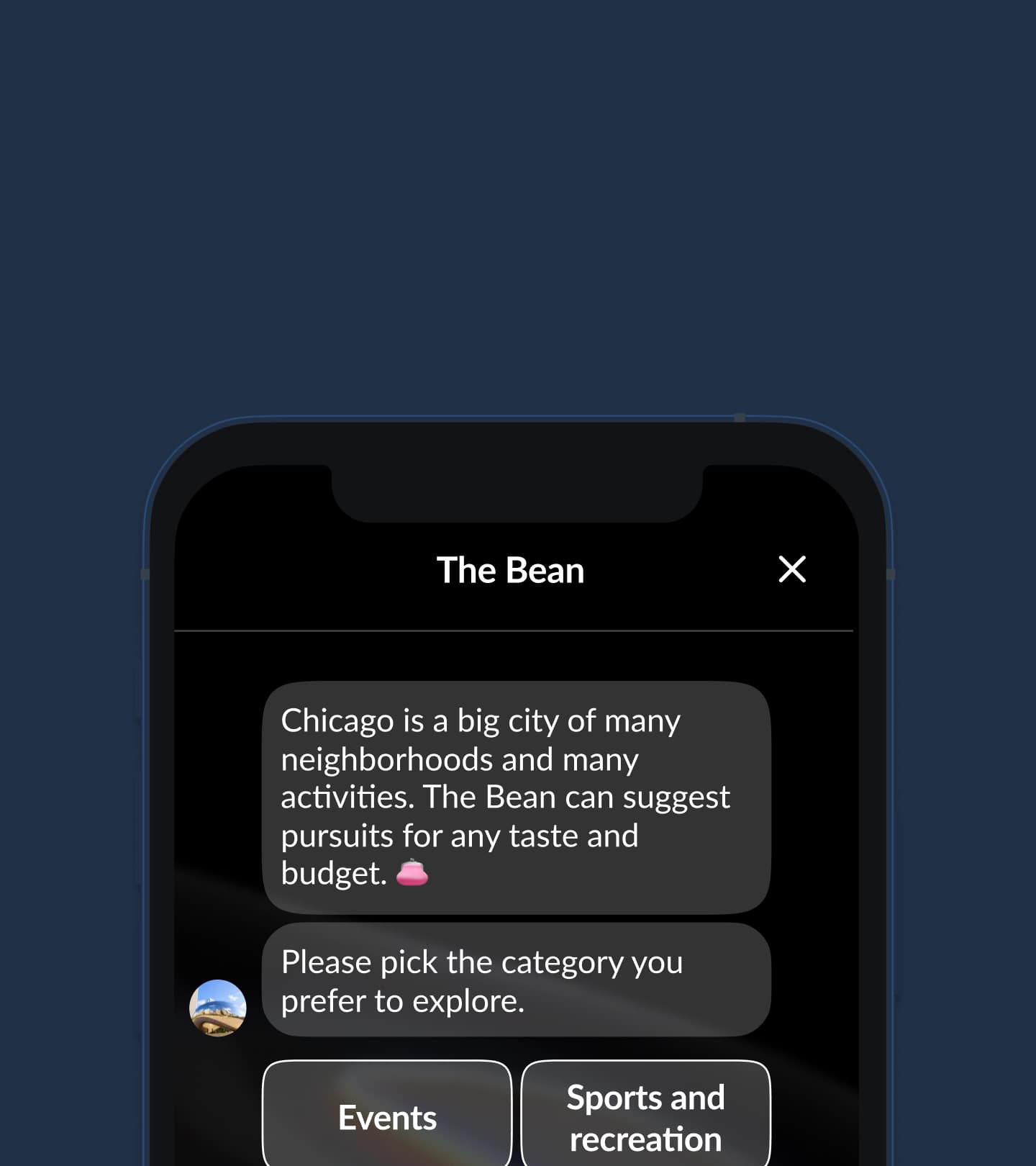 In 2021 Choose Chicago, the official destination marketing organization for Chicago realized that they needed to adapt to the new post-COVID world. They wanted to bring more visitors to Chicago, prompt travelers to visit and immerse into local cultures' experiences, and help them find information about the reopening of Chicago as quickly as possible. To do so, they studied digital solutions, like chatbots. 
Choose Chicago created The Bean - an AI-chatbot that helps answer visitors' questions, suggests new places and events and serves as a virtual ambassador of Chicago. The Bean can understand when you ask about Chicago neighborhoods, the best pizza in Chicago, local places, emergency services, restaurants, breweries, celebrities, and much more. Also, it can have a little chit-chat with you, responding to your most tricky questions like, "Do you like New York?"
22434 users from August to December 2021
75% satisfaction rate
The chatbot covers 98% of requests regarding attractions in Chicago, 87% of requests regarding Chicago restaurants recommendations, 84% of requests regarding events taking place in Chicago.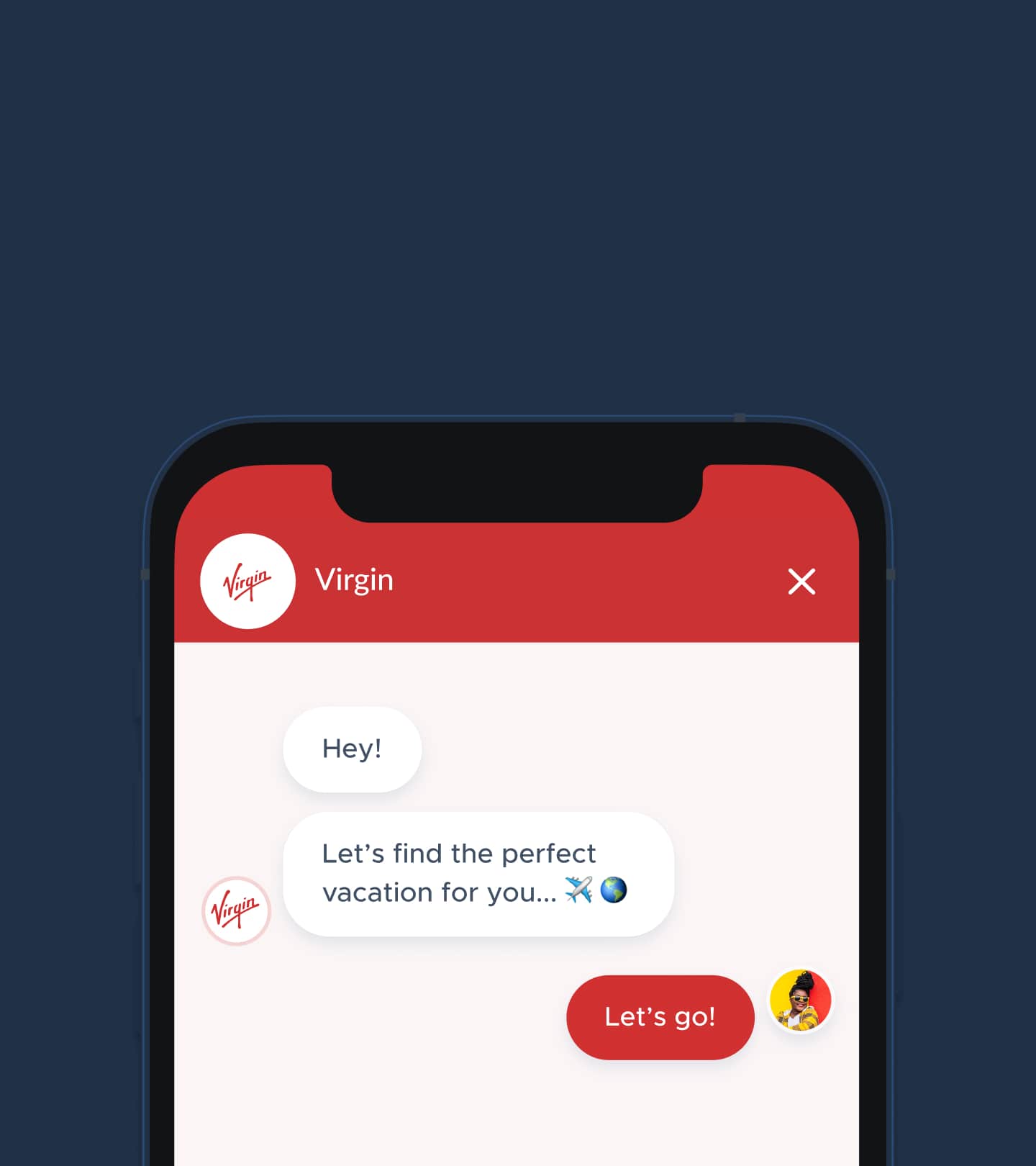 The third Monday of January is considered the most depressing day of the year. But some disagree. Virgin Holidays decided to shake away Monday's blues by focusing on the positive and fun things happening in the world. They slashed the prices of over 200 activities from its holiday packages to just 1 $ – the price of a chocolate bar. But people had to be very quick if they wanted to snap up a bargain, though, as the sale had taken place on Sunday 21st January only - so once it was gone, that's it.
To support the "Screw it, just do it" campaign Virgin Holidays created a Messenger chatbot that chats with a user, collects the required info, and then recommends the activity or destination that would be a good match for this person. Then a person can purchase the unique codes for each experience.
281 travel activities sold under 24 hours via a chatbot
Virgin Holidays received the Best Audience Engagement award for the "Screw it, Let's do it" campaign which included the chatbot.
Chatbot for education
Many progressive and innovative universities, colleges, and schools have started implementing chatbots. So, here are the most common use cases for a chatbot for education.
Do you remember the first day or even year when you entered your university, college, or school? 
Usually, students have a ton of questions and are very confused. "When will the lectures begin?", "In which room is my English class?", "What assessment do I need to do for my economy class?", "How can I apply for the scholarship?" or "What are the annual sports events taking place in the institution?" - these are just some of the questions students have during their first weeks or months in the new university or college.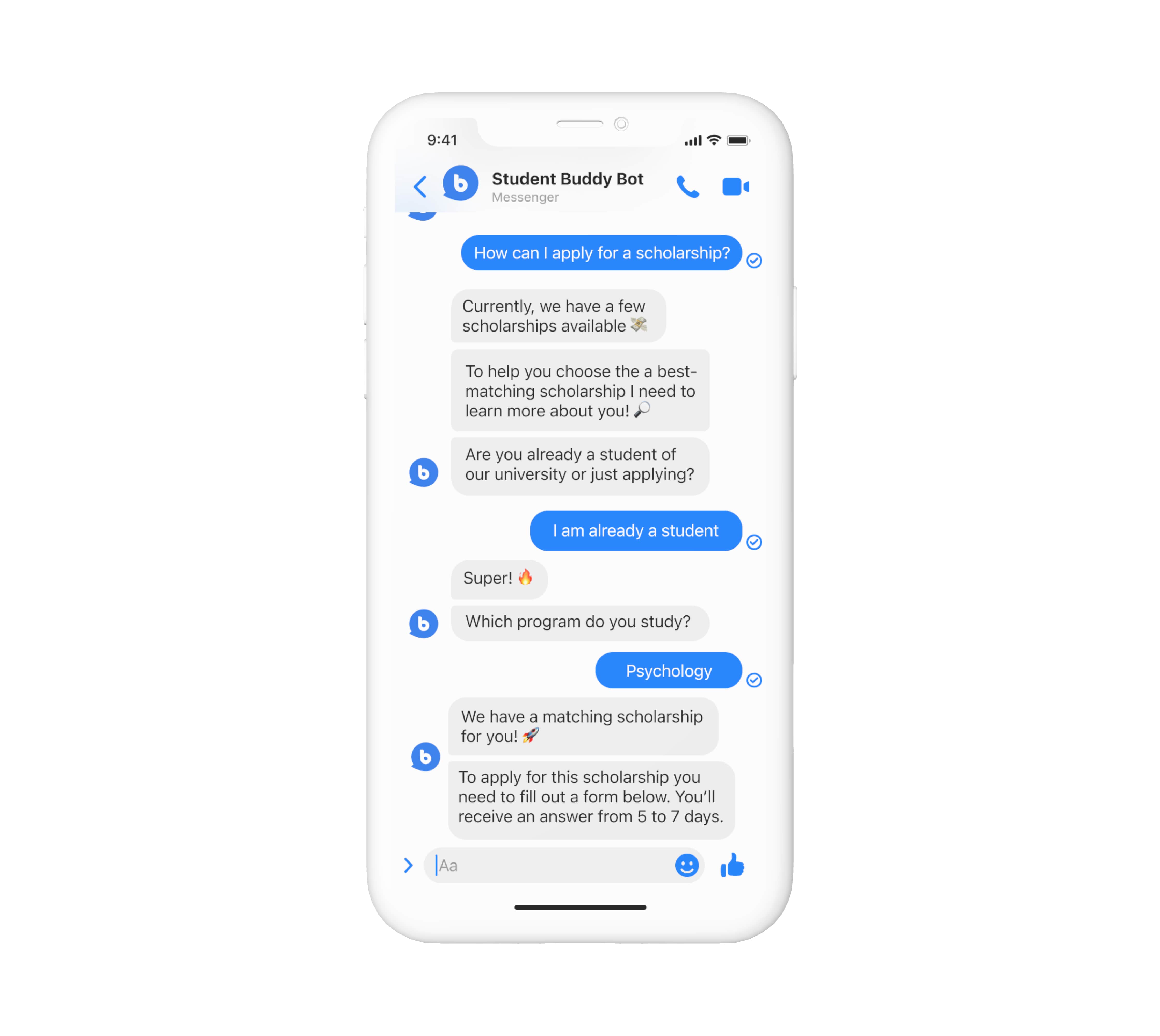 For students to onboard smoothly, you can use chatbots to answer, guide, and support your students during their first month in a new institution. Chatbot for education can provide information about various courses and events available and answer questions related to admissions, program requirements, school policies, payments, etc.
Chatbots for education can help your students to find different rooms, locations, and events in your institution. For example, you can explain to your students where they need to go if they want to join a football team or become a part of a reading club. Chatbots can help students find rooms where their lectures or exams are taking place, etc.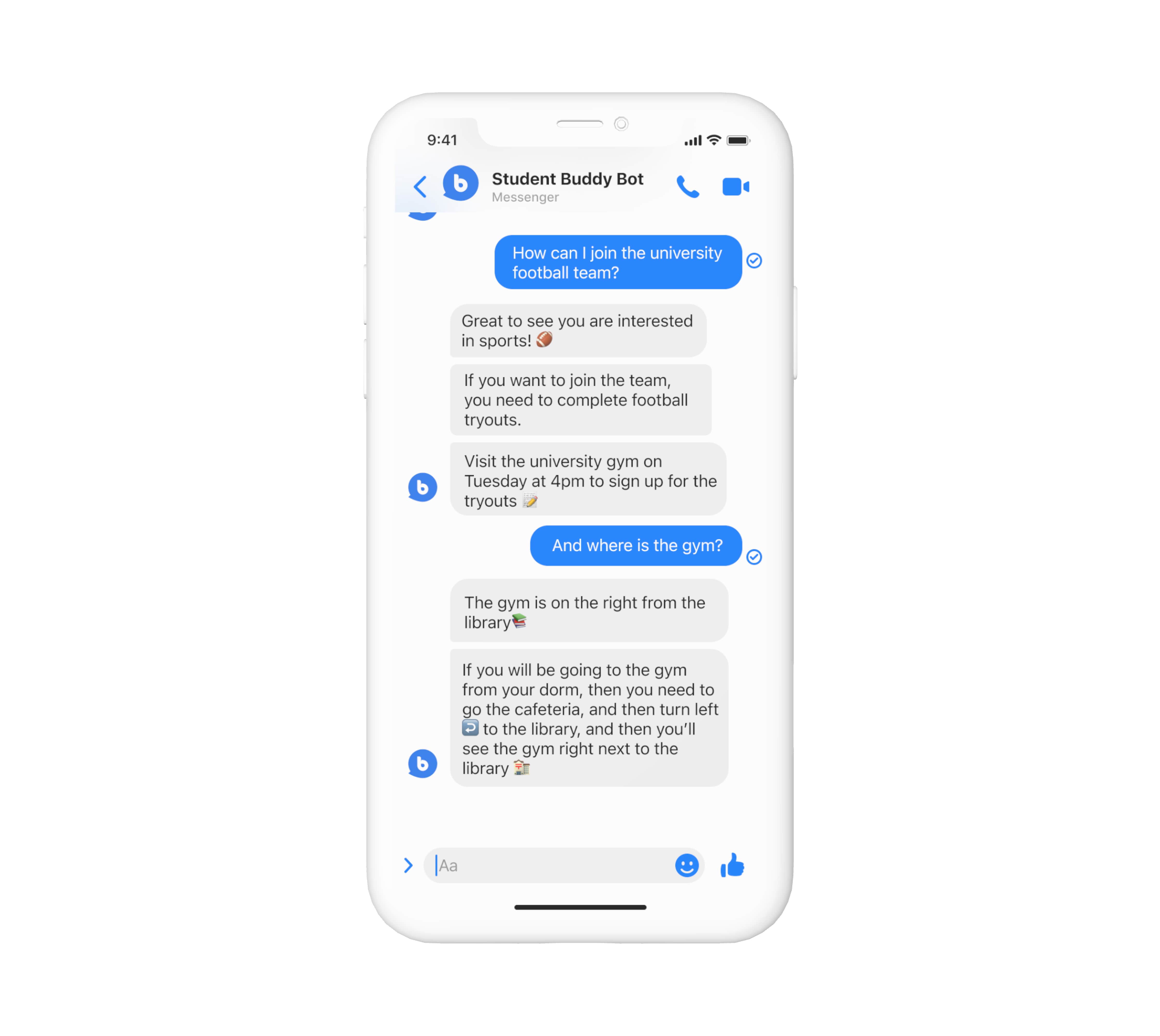 News about the institution and notifications
Chatbots can tell your students about upcoming events, for example, if a big football match is coming up or some guest speaker is coming to university with a lecture. You can even notify students about day-to-day things like, for example, that a water fountain broke, so students need to take their water bottles with them, or that the class is moving to another room because of some technical problems, etc. Chatbots are a great way to send these types of broadcasting messages to all the students or, for example, to a group of students.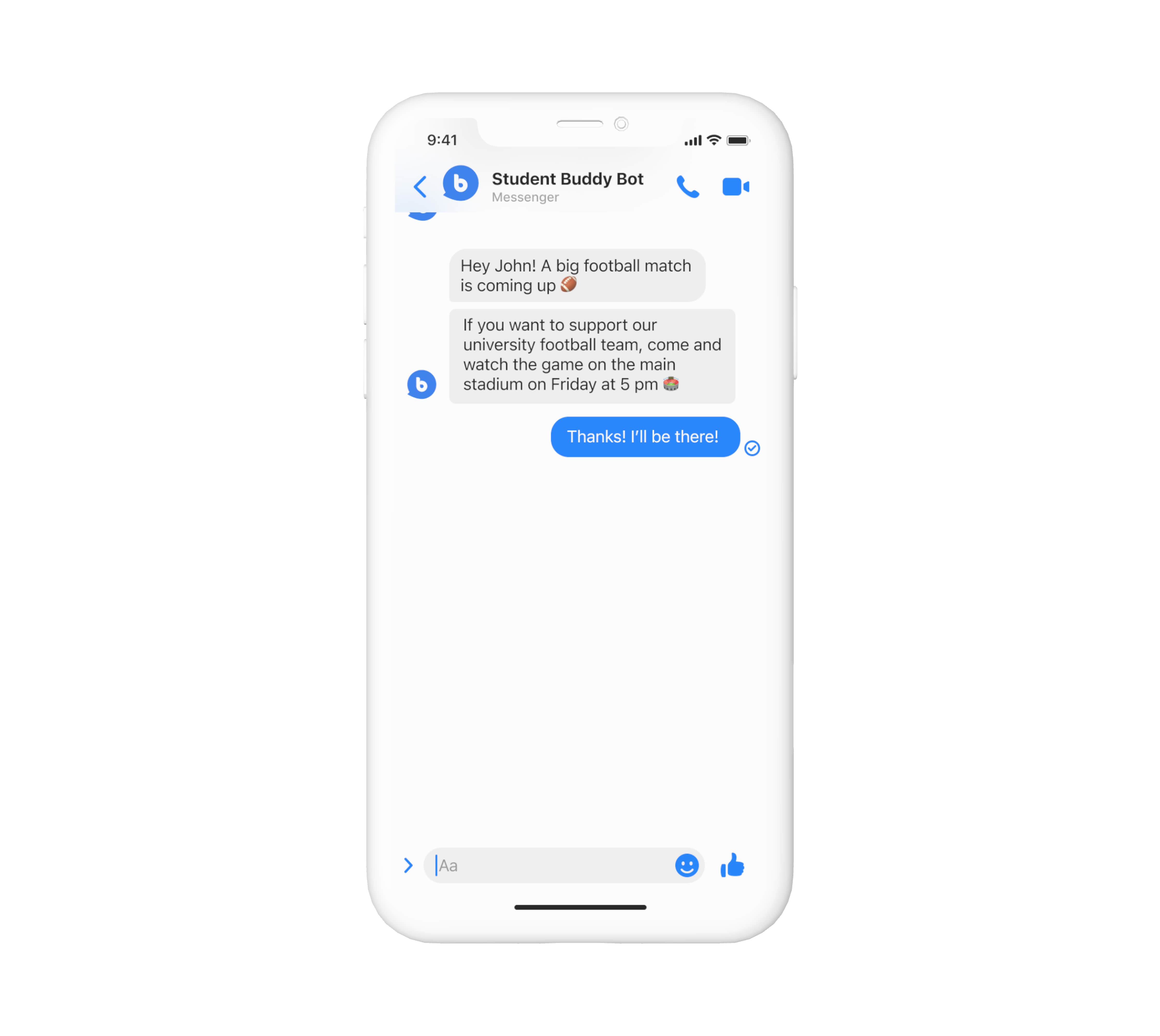 HR chatbot
Currently, HR and recruitment chatbots are on the rise. They come really in handy when you need to collect a lot of information or provide many additional details.
More companies are adopting AI-powered technologies to streamline their recruiting efforts. A recent survey found that 23% of companies already using AI-powered technology were doing so in their HR department.
Recruiters are often swamped with candidate applications. Filtering through candidates, sorting, and shortlisting can be time-consuming and lead to employee burnout.
That is why recruitment chatbot is one of HR chatbots' most popular use cases. Chatbots are a great way to collect information and make simple assessments. Recruitment chatbots are very helpful when collecting information about applicants, filling out any forms, and evaluating the candidates that match the set criteria. You can use a recruitment chatbot as a first touchpoint with your candidates. The chatbot can collect the information you need and answer candidates' questions. Many applicants have repetitive and simple questions like "What is your sick leave policy?", "How many day-offs do you provide?", "What is your remote policy?", "What benefits do you offer?" etc. The recruitment chatbot can easily cover these questions and provide detailed information about the job to the candidate.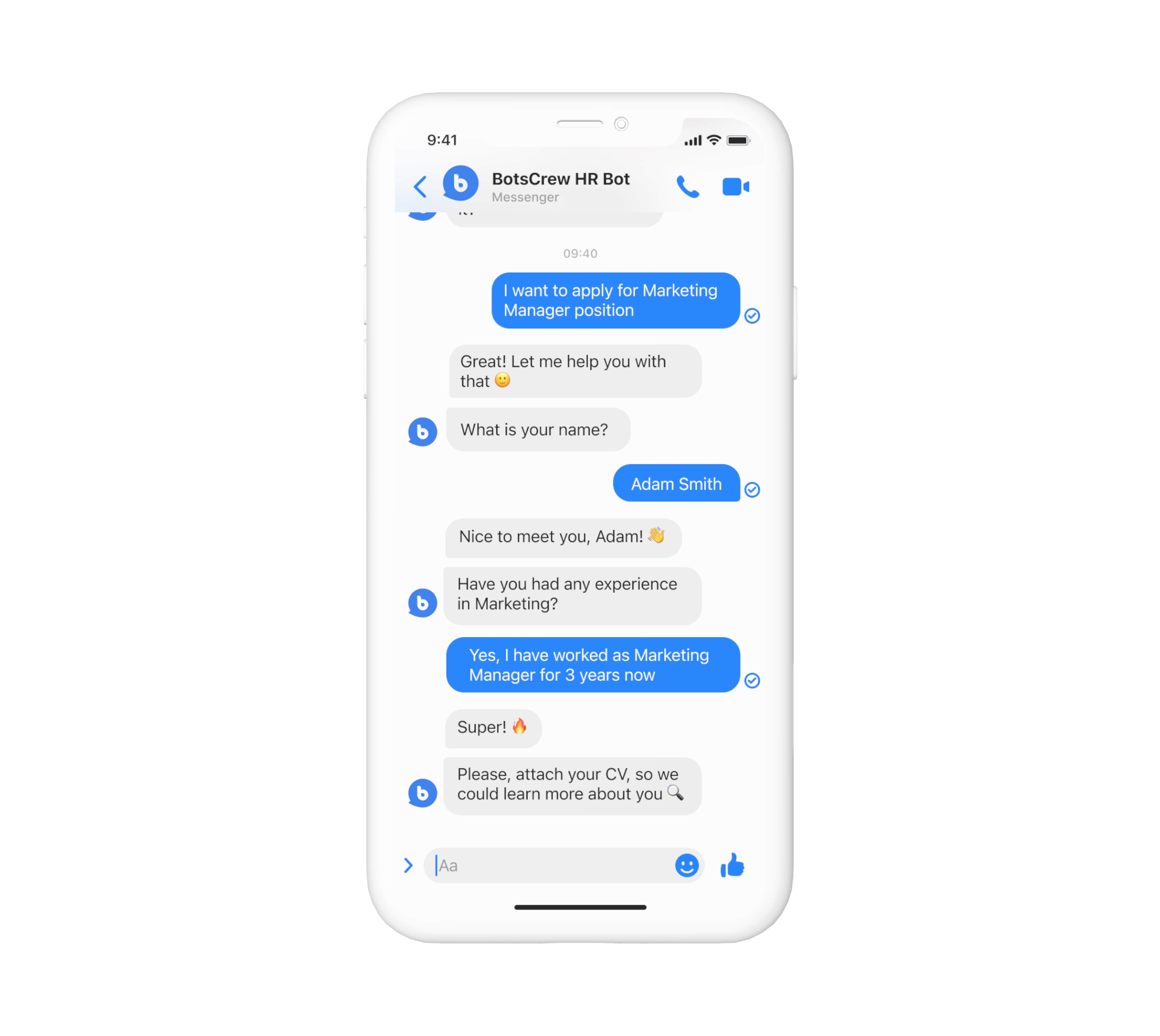 The onboarding process can be very time-consuming, especially if you hire many people all the time. Your HR managers have to spend time with each new employee, guide them through every step, check in with them, answer tons of questions and explain many details.
Using chatbots for onboarding, you can turn a tedious onboarding process into a fun experience and help your HR managers to save time. You can build an onboarding flow in the chatbot, add a gamification element to it, create regular check-ins with the new employee, and answer their questions or guide them to the right person who can help them. Your HR managers save time, and your new employees get their personal digital onboarding friend.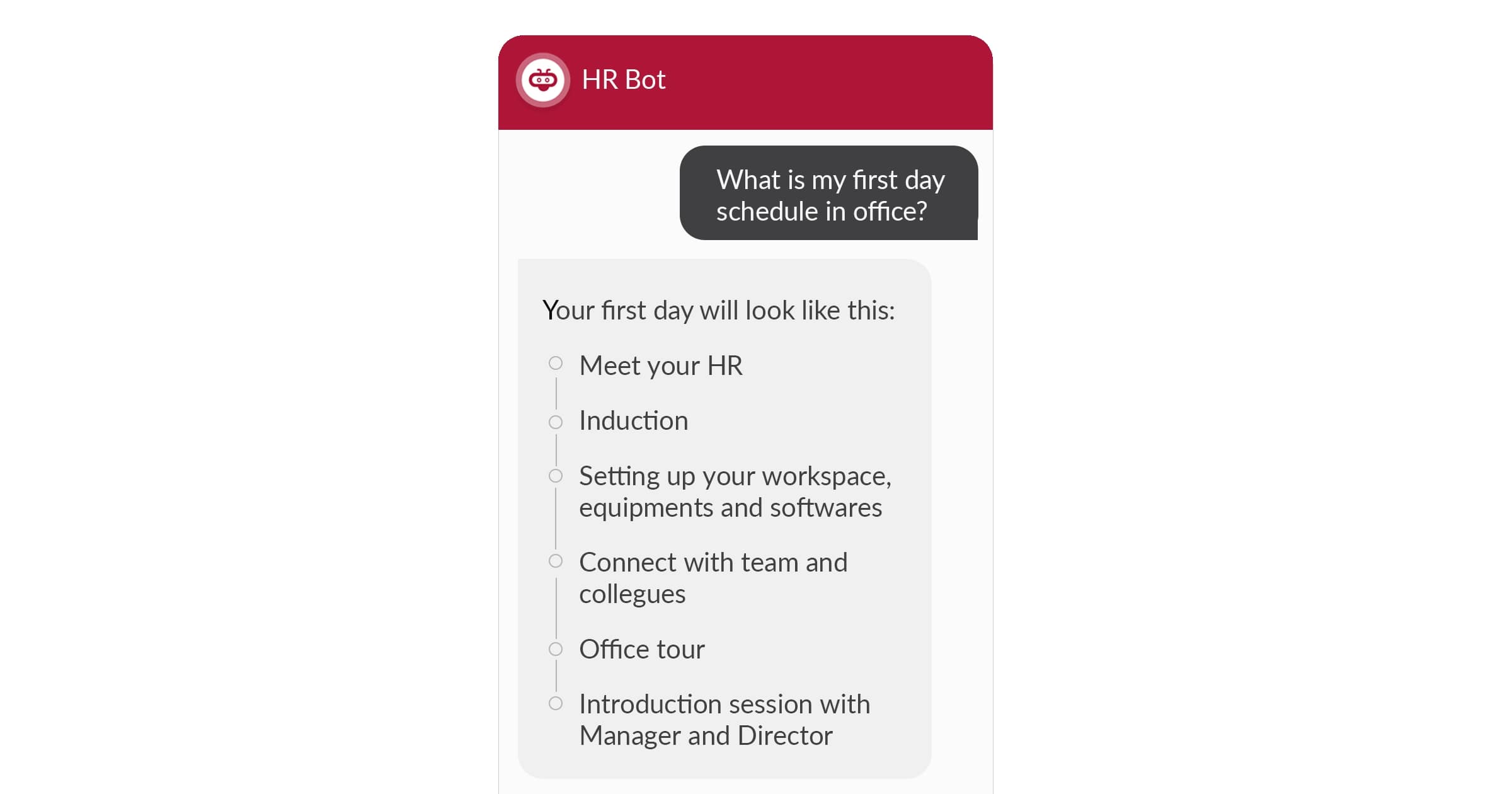 The HR department often holds different surveys like employee satisfaction surveys, surveys after certain events, or things. Your HR managers need to send out these surveys, constantly remind people to fill them out, and later process these surveys. This takes a lot of time and effort, mainly because you need to "hunt" people down and remind them about filling out these forms.
HR chatbot can take this burden off your HR department's shoulders and collect feedback engagingly by chatting with all or specific employees. For example, you want to gather feedback about a recent event you have held, and instead of sending a boring Google Form, you can design an engaging survey inside the chatbot. You can also add the element of gamification and send fun quizzes and surveys via the chatbot that will boost the completion rates. And what's most important is that you can send automatic reminders to those who haven't filled out their surveys yet.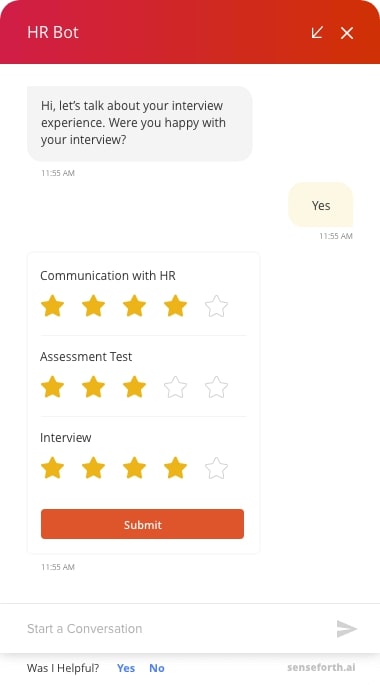 If you ask your HR manager how much time per day they spend on answering employees' questions, it's probably more than you think. No matter if the person has worked in the company for a few days or a few years, there are always a lot of questions. Many of these questions are similar and typical, so it's easily automatable. You can use your HR chatbot to answer repetitive questions about different processes, changes in the company, upcoming things, policies, rules, etc. This will save your HRs time and prevent burnout.
Chatbot for Real Estate
Chatbot for Real Estate is a great way to cut down routine work from real estate agents while providing a better customer experience. Many real estate businesses have already implemented chatbots. More than 28% of real estate businesses now use chatbots. Let's look at some use cases for a chatbot for real estate.
Chatbot for generating and qualifying leads
By answering common questions about buying or selling a house, chatbots engage with customers using a conversation that leads to conversion. While interacting with clients, bots collect contact information and data about house preferences and needs and then add the necessary data to your CRM. This enables Real Estate agents to be always prepared for personal meetings with clients as realtors can access all the details and insights that the chatbot has collected about leads organized in one place. Moreover, chatbots qualify leads by asking questions about property preferences, location, budget for buying a house, etc.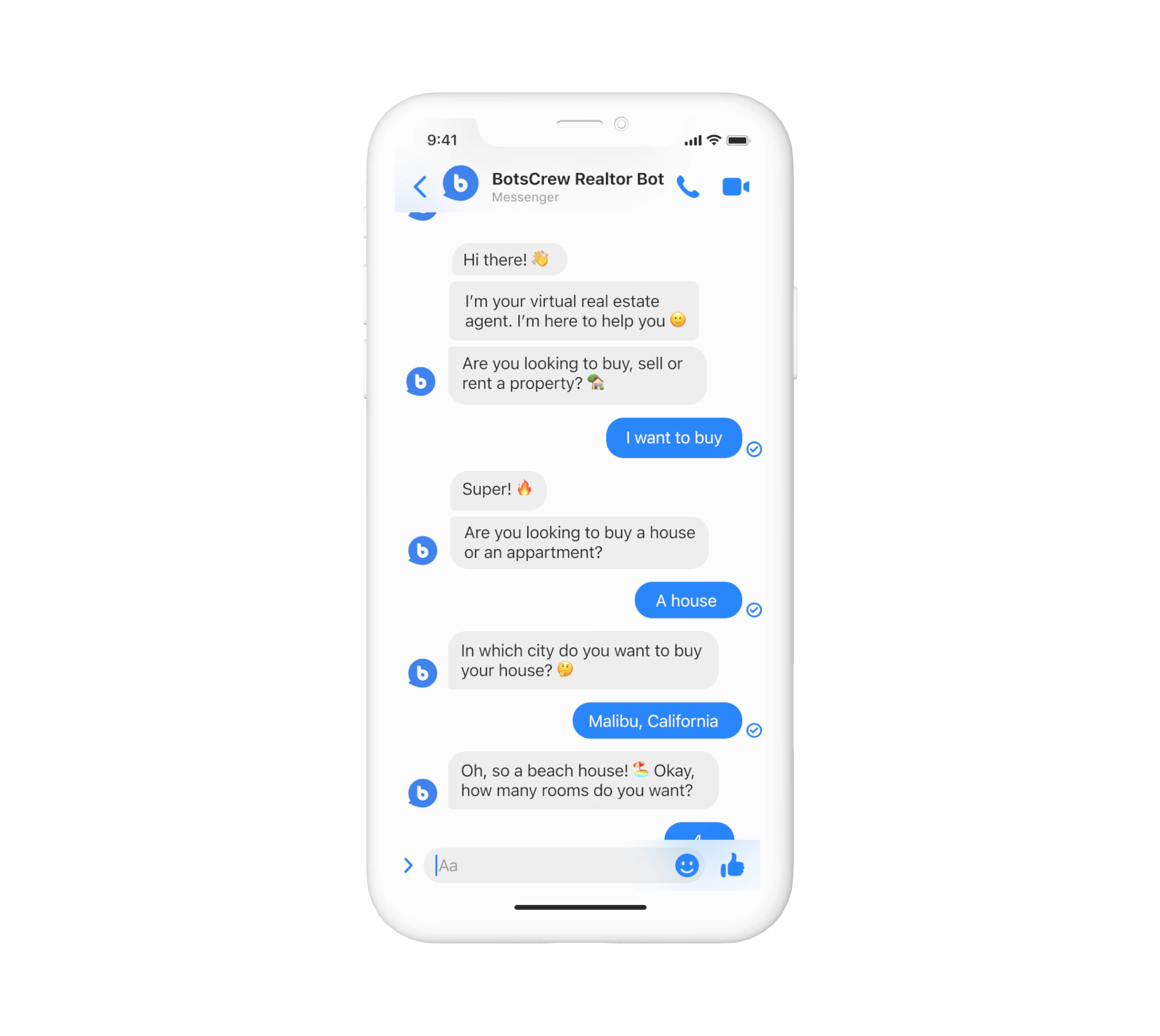 When someone buys, sells, or rents their first house or apartment, they have many questions. Usually, real estate agents need to answer those questions and lead the client throughout the whole journey. Chatbot for real estate can answer potential clients' questions, provide the necessary information, send additional engaging materials like "Buying a house checklist," etc. Using a chatbot lets your real estate agents focus on the essential and more complex tasks and spend less time answering simple questions.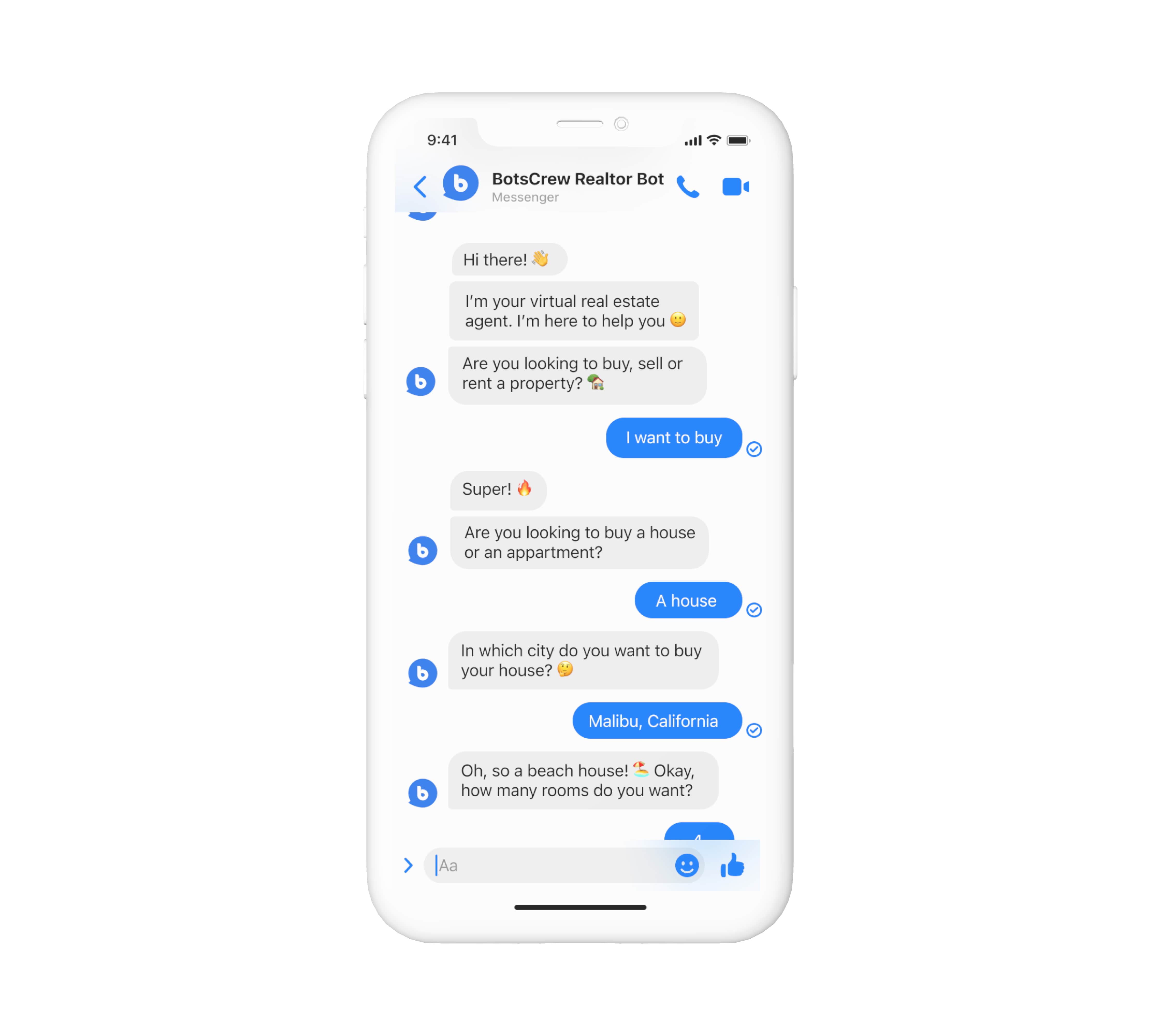 Schedule property viewing
Chatbots for real estate can schedule viewings with interested buyers, which will also help to save time for your realtors. Moreover, the chatbot can send notifications to the buyers and agents, reminding them about an upcoming property viewing.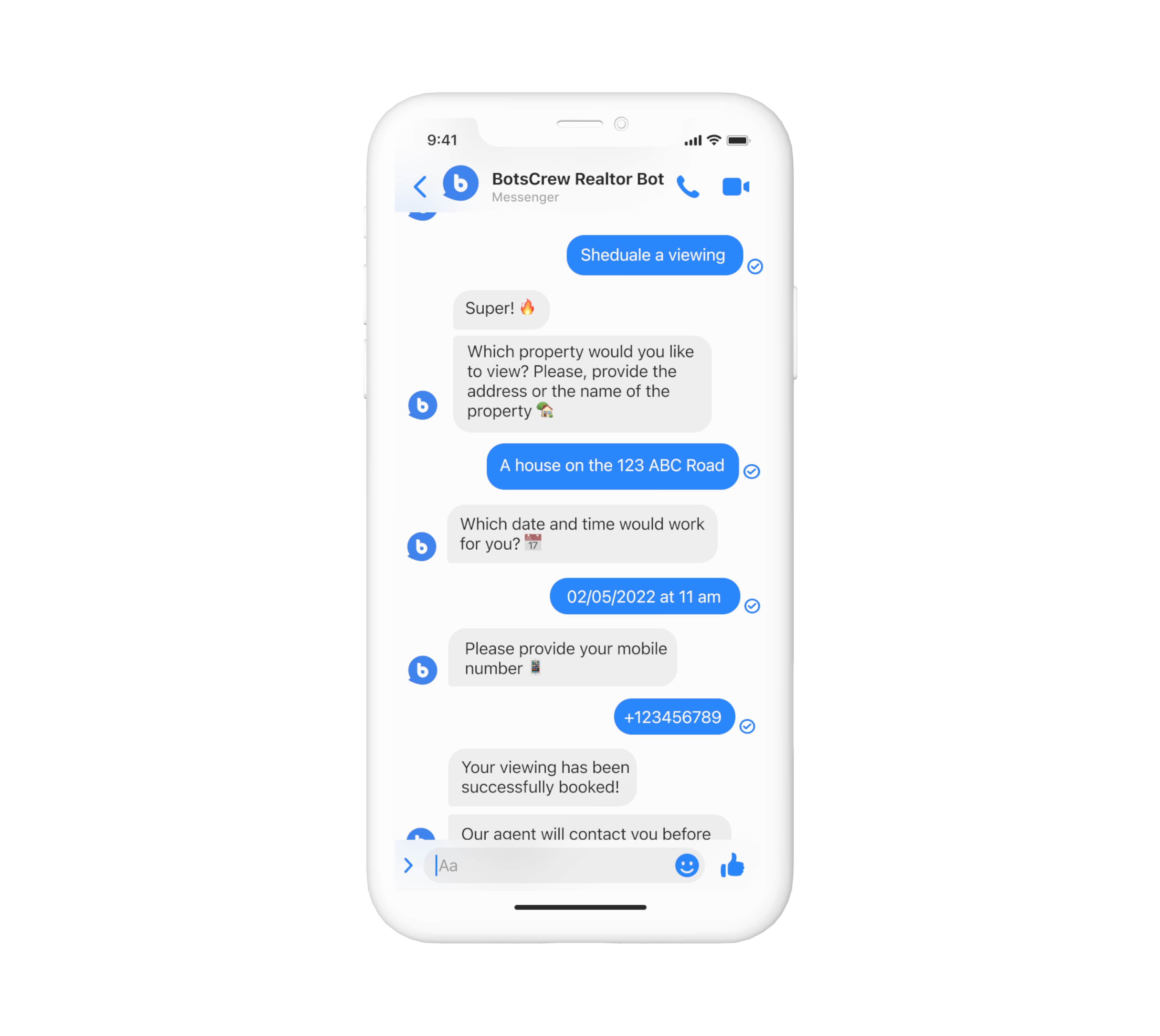 When people buy expensive products, properties, etc., they like to see all available options to compare them and find the best one. This applies to house buying and renting as well. Chatbots can showcase all available properties with details, pricing, pros, and cons so that potential buyers can evaluate them and compare them. You can even design a virtual tour feature in your chatbot so that the client can take a look inside the house.
Mortgage pre-approvals can estimate a person's creditworthiness and what their home budget can be. Chatbots can communicate with users to help them indicate if they are financially ready and meet the requirements for buying and owning a specific property. A chatbot collects and then analyzes users' information such as a credit profile, annual income, predicted loan period, monthly debt payments, and possible house expenses to determine if a person is qualified for mortgage pre-approval. After that, the bot determines if a person is eligible for a home loan and calculates the estimated loan amount.