Creative
Bot Name Generator
Stand out for 72% of customers that left your competitors because of dull and impersonal messaging*
Choose the
personality traits
How do you want your chatbot to sound like?
Where will the chatbot operate in?
Three Pillars to Find a Perfect chatbot Name
User Personas
Take a look at your customer segments and figure out which will potentially interact with a chatbot. Based on the Buyer Persona, you can shape a chatbot personality (and name) that is more likely to find a connection with your target market.
What is their motivation to visit your site/social media?
Brand Image
The mood you set for a chatbot should complement your brand and broadcast the vision of how the pain point should be solved. That is how people fall in love with brands – when they feel they found exactly what they were looking for.
How should people think and feel about your product/services?
Chatbot Purpose
What role do you choose for a chatbot that you're building? Support? Direct selling? Gathering feedback? Based on that, consider what type of human role your bot is simulating to find a name that fits and shape a personality around it.
What place does a chatbot take in the user/buyer journey?
User motivation
Get the best deals for the next vacation. Now!
Brand image
Bold, aimed to inspire the adventurous spirit
Chatbot purpose
Sell trips to California – in the least popular month for tourism
Creative
+
Travel
=
Cali Bot
*Cali = shortened from California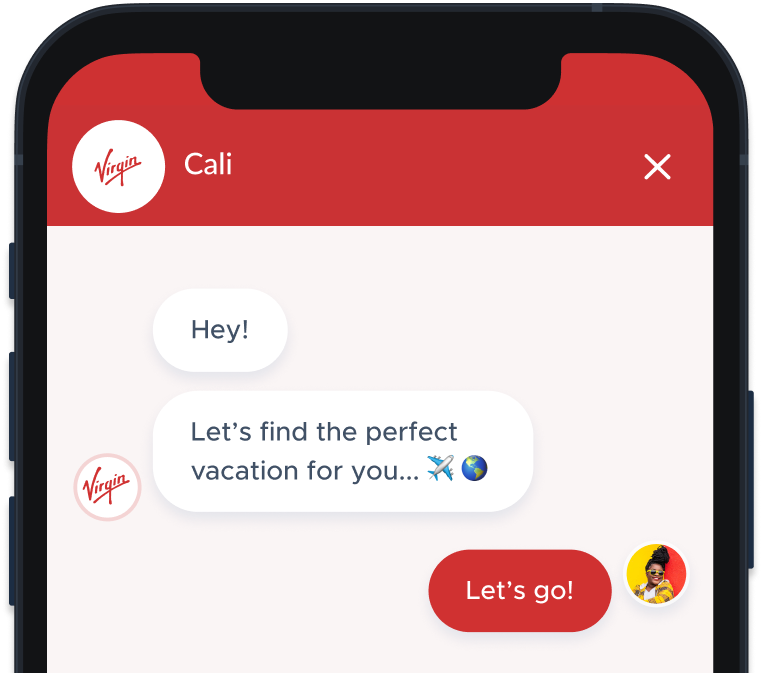 General Bot Name Tips
01
Try to find brand-related names
Make a chatbot your own by using the brand name. You could shorten the original name, put into an abbreviation, find a short name form that sounds similar to the brand name. This way, you will create a distinctive image of your bot, fully original and new to a customer. For example, Decathlon UK named the bot "Deca"
02
Stay creative with robot names
It's a common thing to name a chatbot "Digital Assistant", "Bot", and "Help". Still, keep in mind that chatbots are about conversations. People may not pay attention to a chat window when they see a name that is common for most websites, or even if they do, the chat may be not that engaging with a template-like bot.
03
Human names are universal
As you present a digital assistant, human names are a great choice that give you a lot of freedom for personality traits. Even if your chatbot is meant for expert industries like finance or healthcare, you can play around with different moods. Conversations need personalities, and when you're building one for your bot, try to find a name that will show it off at the start. For example, Lillian and Lilly demonstrate different tones of conversation.
04
Make sure to be original
When you pick up a few options, take a look if these names are not used among your competitors or are not brand names for some businesses. You don't want to make customers think you're affiliated with these companies or stay unoriginal in their eyes.
05
Keep it simple and easy to pronounce
In the eyes of most people, bots are something associated with intelligence and simplicity. When opening a chat, a name should prompt "our conversation will be fast, easy, and fully reciprocal". Simple names make bots more approachable and give your bot more chances to help visitors.
06
Impersonate purpose / experience with a name
What is the expected result from a conversation with a bot? What about your products or services? Bot name can be a personification of that. Let's say, Happily, Quickly Bot.
07
Look for creative ideas from interests / surroundings
As you scrapped the buying personas, a pool of interests can be an infinite source of ideas. Especially when they are tailored to your brand. For travel, a name like PacificBot can make the bot recognizable and creative for users.
08
Ask for feedback
Slow service, complex forms, and unfriendly contact channels create a bad patient experience. Support your patients before, during, and after their visit in a faster and more engaging way with the healthcare chatbot.
Sketch the bot name. Then,
add personality colors
Make visitors fall in love with your brand after talking to a chatbot. Check out the 8 tips to build a brand-matching and engaging personality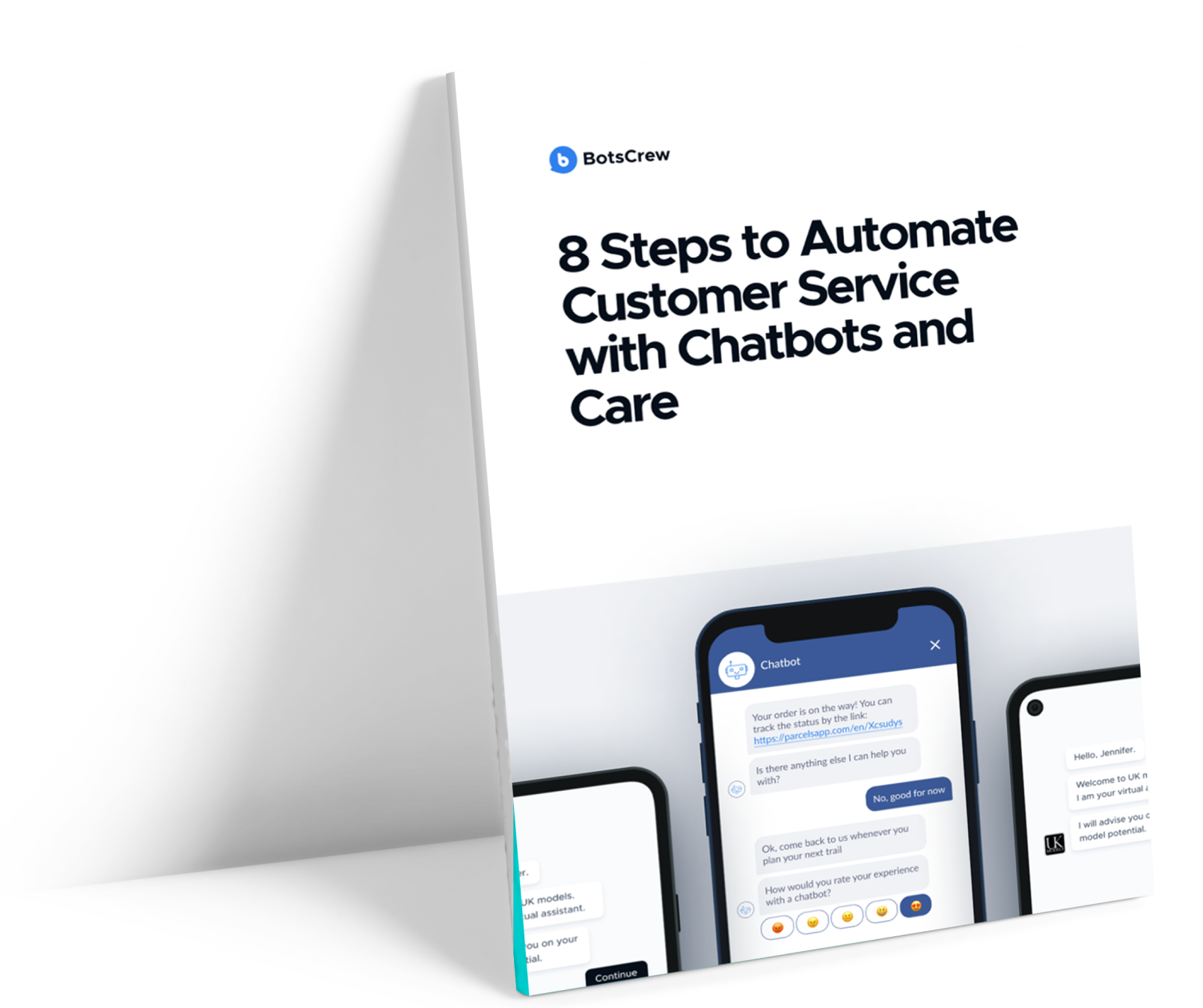 Travel
Explore geographic / attraction places
It's a great way to re-imagine the booking routine for travelers. Choosing the name will leave users with a feeling they actually came to the right place.
For example, Choose Chicago created a chatbot The Bean, named after the iconic Cloud Gate sculpture in Millennium Park. The Bean lives on the Choose Chicago website and is available 24/7 to help people discover the best of Chicago. Isn't it a great way to introduce people to a new location?
Read more about this chatbot & approach here.
Choose the name based on your travel segment
Who's most likely to book your tours and activities?
Are you offering biking tours? Your chatbot name may be based on traits like Friendly/Creative to spark the adventure spirit.
Are you selling luxury tours? That's when your chatbot can take additional care and attitude with a Fancy/Chic name.
Do you provide cruising trips for elderly people? Simple or Friendly could work.
Running business trips? Go for an Expert/Serious name.
Retail
Human names can work great
Name your chatbot as an actual assistant to make visitors feel as if they entered the shop. Consider simple names and build a personality around them that will match your brand.
For example, Function of Beauty named their bot Clover with an open and kind-hearted personality. You can see the personality drop down in the "bonus" section below.
Keep in mind your niche
Your main goal is to make users feel that they came to the right place. So if customers seek special attention (e.g. luxury brands), go with fancy/chic or even serious names.
For example, Michael Kors named their chatbot Automated Concierge. Sounds serious, yet how accurate is that for chic accessories?
Use metaphors & creative personalizations.
Depending on what role your chatbot is performing, check the function-related names for bots. Is your chatbot here to sell, inform, or promote? Or is it a friendly assistant to do a little bit of everything?
For example GSM Server created Basky Bot, with a short name from "Basket". Simple, accurate, yet catchy. It managed to automate 75% of support inquiries. How? Read the full story here.
Healthcare
Use metaphor to show the expected result
It's a quite popular choice for healthcare chatbots. The bot name can present the experience that patients will undergo. It is also memorable and creates a feeling of presence. For example, bot names like Sensely, Healthily.
Choose a simple name and add a new meaning to it
A chatbot name can be a canvas where you put the personality that you want. It's especially a good choice for bots that will educate or train. A real name will create an image of an actual digital assistant and help users engage with it easier.
Try abbreviations
Expertise is the first thing any patient expects from healthcare. How do you show it? Renown institutes use abbreviations. Try to use this idea to make the expertise stand out. What's also great, such a name will be your own and only – another point of difference from the market.
For example, Natera used a bot name NEVA, Natera Educational Virtual Assistant. The chatbot guides and educates patients about genetic testing and helps patients get reliable information faster and more conveniently. Read more about this case study here.
Legal & Finance
Create a unique perception of your services
What do people imaging when they think about finance or law firm? Mostly, a conservative and old-fashioned establishment. In order to stand out from competitors and display your choice of technology, you could play around with interesting names.
For example, Lawdroid would be something new to your clients.
Use a serious name
As easy as it sounds, name your chatbot with an actual human name. Use a bit more context to make it more vibrant.
For example, the Bank of America created a bot Erica, a simple financial virtual assistant, and focused its personality on being helpful and informative.
Try abbreviation
It's a great way to show off the expertise and the seriousness of the approach. It could be connected to your firm's name or be self-standing.
For example, a legal firm Cartland Law created a chatbot Ailira (Artificially Intelligent Legal Information Research Assistant). It's the a digital assistant designed to understand and process sophisticated technical legal questions without lawyers.
Read more about this project here.
HR & Real Estate
Consider short and original names
Make your bot approachable, so that users won't hesitate to jump into the chat. As they have lots of questions, they would want to have them covered as soon as possible. For example, names like AskHR or Estate Hero.
Human names are a great idea
Giving your bot a human name can bring the technology closer. It may be a bit unusual for a user to apply for a position or look for a new apartment via chatbot. You can remove that tension with a human name. Maya, Olivia, Angus – the freedom is yours!
Choose the name that speaks with the tone of your audience
Are you selling luxury houses? A chic name could be great.
Are you dealing with freshmen? Try to use friendly like Franklins or creative names like Recruitie to become more approachable and alleviate the stress when they're looking for their first job.
Education
Make the institution's or company's name stand out
Students value the place they study for. You may want to use it as a brand. Choose the original name or play around it: find a short option or use part of it to create a unique bot name.
For example, New Jersey City University named the chatbot Jacey, assonant to Jersey.
Use the memorable features
Are there any local stories, public figures, or famous people that students adore? You could use this name to bring more student spirit into the conversation and make them feel like they met an old friend.
For example, Georgia State University named the chatbot Pounce, the namesake of the GSU Panthers' mascot. How cool is that?
Bonus:


Name & Personality Example

Clover

Clover is a very responsible and caring person, making her a great support agent as well as a great friend. She's sociable and easy-going.

Traits: communicative, smart, active, sincere, collected, helpful.

Message examples

Latest order

Next order

My subscription

Latest order and subscription
Need help in building your own unique chatbot?
Book a call with conversational designer
Let's pick a name together! Book a call with us to discuss your chatbot idea.
Our BotsCrew chatbot expert will provide a free consultation on chatbot personality to help you achieve conversational excellence.