A chatbot is the result of human interaction with artificial intelligence: a robot that automatically responds to messages entered by the user in the chat.
Chatbots can be used for a variety of purposes: from everyday tasks to business affairs. They inhabit messengers like – Facebook Messenger, Telegram, Kik, Slack, etc., but more often – the first two platforms.
Why use Chatbot?
Chatbots make people's lives much easier – order a pizza, book tickets, generate legal documents or start learning a new language now without leaving your favourite messenger. Using them, on the one hand, is useful for customers, because they can get the information they need or take some action more simply and conveniently, and on the other hand it is beneficial for companies that can promote their brand or replace customer support with the help of chatbots. Mark Zuckerberg talked about the effectiveness of chatbots at the F8 conference in 2016 – in his opinion, they significantly reduce the time for customer service and are one of the most relevant trends to date.
Type of chatbots
There are two types of chatbots – one functions based on a set of rules, and the other more advanced version uses machine learning. Chatbot that functions on a set of rules is very limited. This bot can only respond to very specific commands. If somebody says the wrong thing, it doesn't know what it means. So this bot has clear boundaries, and it is only as smart as it is programmed to be. Chatbot that functions using machine learning has an artificial brain AKA artificial intelligence. You don't have to be very specific when you are talking to it. It understands language, not just commands. This chatbot is constantly learning. It gets smarter when it talks with people and listens to their conversations.
1

Chatbots for sales

Chatbots can be created to sell any kinds of goods your company is producing. For example, a popular Skyscanner flight search engine has a chatbot in the Facebook Messenger.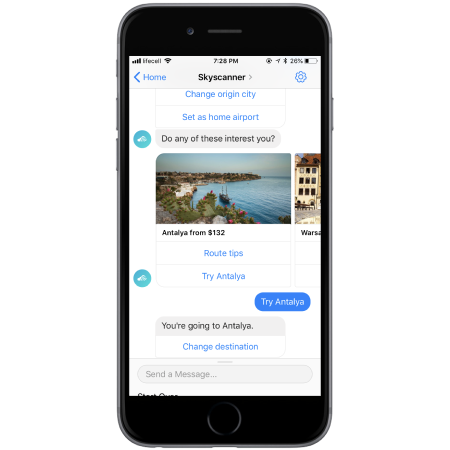 The chatbot greatly simplifies the travel experience by providing a user with the most inexpensive destinations based on a small amount of information that is provided by the person. A user needs to enter the travel dates, and the city of departure and the chatbot will instantly find you a travel destination. This eliminates manual research that wastes travelers time and nerves.
Chatbots are often used by online shops and private individuals offering their services. Bots help customers in the process of buying, they find and provide the best matching solution based on users preferences, so a person gets the perfect matching product without making many efforts.
Chatbot for sales is a great tool not only for users but for business owners as well. In sales, it plays a crucial role to provide users with instant responses.
47% of consumers are open to buying items through a chatbot, and 37% would buy items from Facebook

"As research from InsideSales.com and the Harvard Business Review shows, even if you wait just five minutes to respond after a lead first reaches out, there's a 10x decrease in your odds of actually getting in touch with that lead. After 10 minutes, there's a 400% decrease in your odds of qualifying that lead"
Ebay's chatbot – Ebay ShopBot is available on Messenger. It immediately suggests to proceed with the choice of the goods – first, you need to specify good's type (I chose guitars), then – give specific info – brand, configuration, color, cost, etc. Chatbot selects the most suitable options. After choosing a product, some bots offer to pay directly in the chat, and if the client is not ready to make an order immediately, he can return to the dialogue at any convenient moment. This is much more convenient than to search everything by yourself, having to look through multiple categories and products to find your perfect match, while chatbot can provide you with the best solution in seconds.
2

Customer Support Chatbot

55% of consumers are interested in interacting with a business using messaging apps to solve a problem

The most common practice for using chatbots is for customer service. Automating the processes of communication with customers helps to save a lot of time and effort of company's "living" employees and give them more time to solve more complex problems. The benefit of using customer support chatbot for users is that they get an immediate response. No need to wait for hours to get a response if you can write directly to business and get a real-time answer. Here's an example of a customer support facebook chatbot we've created for German company TecInStore. P.S. you can learn more about it here – TechInStore Case study.
3

Delivery service

Chatbots for delivery are extremely popular. The most common usage of this kind of chatbots is delivery service of food. It is much more convenient as you don't have to call and wait, you can write to a chatbot, see pictures of food and take your time to decide what you want. For example, Hungry chatbot (also our development) – a bot that helps users to find nearby restaurants and order food from them. Bot proposes you to place an order. Then you have to either pick restaurant or cuisine, and a bot will send you information where you can order your food.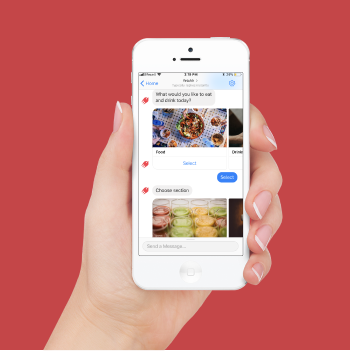 4

Organizers

Chatbots can be great helpers in everyday life – for example; they can remind you of important meetings or things like the Hello Jarvis bot does. You can use chatbots to create shopping lists or create and plan your tasks for a day in form of to-do lists with reminders.

Chatbots can be added and used in group chats to create and assign task for group members while continuing chatting.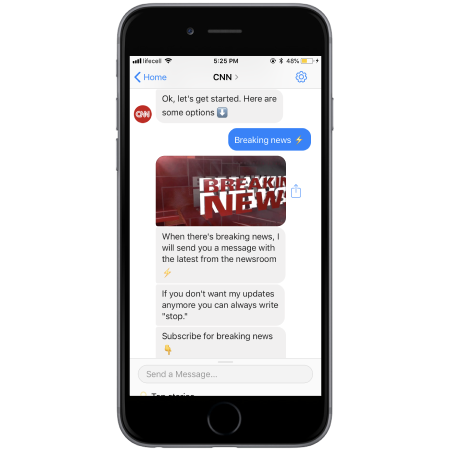 5

Media Chatbots

Chatbots are used by many newspapers, magazines and TV channels. For example, the bot from CNN shows articles on the topic chosen by the user and pleases subscriber with the news and the freshest publications.

Chatbots can also be used to distribute your content. If you have a blog or you create any material (videos, podcasts, etc.), you can advertise it with chatbot in messengers, – it's very convenient way to keep track of new releases, besides, users will have access to all recent publications and company's news so they would hardly miss something.
6

Bot-companion

Some bots play the role of a friend or a psychologist – they can always lend an ear and give actual life advice.

For example, Woebot is a chatbot that helps users monitor their mood and asks about their feelings and wellness in a form of friendly daily conversations. Chatbot provides users with helpful content like videos depending on a person's mood. Woebot works using Cognitive Behavioral Therapy and applies its techniques to help users feel better.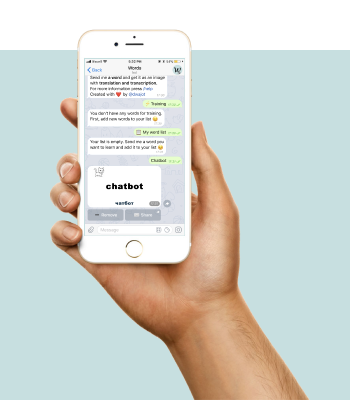 7

Educational bot

Chatbots are also created for learning – they provide educational material on the discipline they teach (small volume texts), "communicate" with students and evaluate their knowledge through testing. The creators of such bots are trying to make the "teacher" sound like a human as much as possible.

For example telegram bot Words helps you to learn new words via tests, games, etc.
8

Doctor-bot

Chatbot-doctor can advise treatment based on the symptoms of a user or find the nearest hospital, and he takes his knowledge from medical directories. In such bots, you have to input your inquiry and bot will try to answer it. Or the bot can check in with your health state. Then, of course, you should schedule an appointment with a doctor. For example - Dr. Dean chatbot. A chatbot and a custom voice-assistant device which provides information about symptoms, remedies, and supplements. Dr. Dean chatbot gives users information concerning their health conditions and ways for treatment. Also, she checks on the patient within a couple of days and provides additional remedies if needed.
9

Lawyer bot

Chatbots are being actively implemented in the legal industry as well. They save lawyers time as well as their money. Chatbots in law can assist users with consultations regarding legal questions, provide information over topics and even generate legal documents.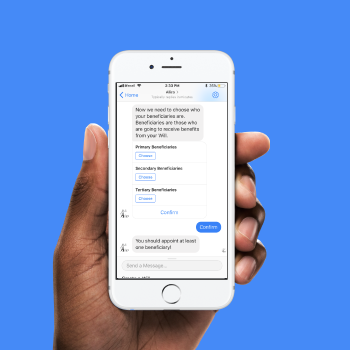 Together with Cartland Law, an Australian law company, BotsCrew created the legal chatbot Ailira for Messenger and a chatbot for a website (website widget). This chatbot in particular generates documents, provides helpful legal information and can even schedule users a meeting with a lawyer if needed to give additional consultation. Ailira frees up lawyers time and users money, as the chatbot generates documents cheaper and faster than a lawyer could. One of Ailira's key advantages is that she answers legal questions with helpful and valuable information to users in a comprehensional way. Recently, Cartland Law launched the world first law firm without lawyers in Darwin, Australia. The Law Firm Without Lawyers works based on Ailira and can provide clients with legal information and documents. With the help of Ailira in this revolutionary office, customers can determine which documents are right for them, and can get assisted with drafting those documents. Also, a human lawyer can review documents and provide legal advice if needed.
Why do you need to create your chatbot?
In spite of the fact that more and more chatbots have appeared recently, this niche is still in its infancy. So now you have an excellent opportunity to become one of the pioneers.
Here are some other reasons why you should create your bot :
- A chatbot is another marketing channel for your business and another way of distributing content.
- You can automate your work using a ChatBot . - Using bots can facilitate customer support and will give your employees time for more complex tasks.
- You can use inbound information from users for target audience segmentation.
- People tend to share a lot of information just when communicating one-on-one rather than, for example, in comments, so using chatbots can significantly increase click-through rate, engagement, and loyalty to the brand.
- Many people (if not most) will write you in a chat rather than calling, it's much faster and more convenient and does not cause any psychological discomfort..
- Facebook has added the ability to launch ads directly in Messenger. And this, in the long run, could lead to an increase in the sales funnel.
- People go from social networks to messengers, and businesses need to be done where people go. Chatbot has a huge chance of success.
A chatbot is a powerful tool that has the ability to enhance every industry that it is being implemented into. In our days everything is developing fast and to keep up with the trends and to be on the same page with the world, businesses have to adapt to changes that technologies are bringing to them. To be successful, you have to be aware of innovations and be ready to keep with the updates that world is bringing to us. Contact us and be sure to be ahead of your competitors.