SMS/Chatbot/Guide
• 8 min read
SMS Chatbot: A Complete Guide for Business (+ Use Cases)
In this article, we will cover all you need to know about an SMS chatbot in 2023 for your business.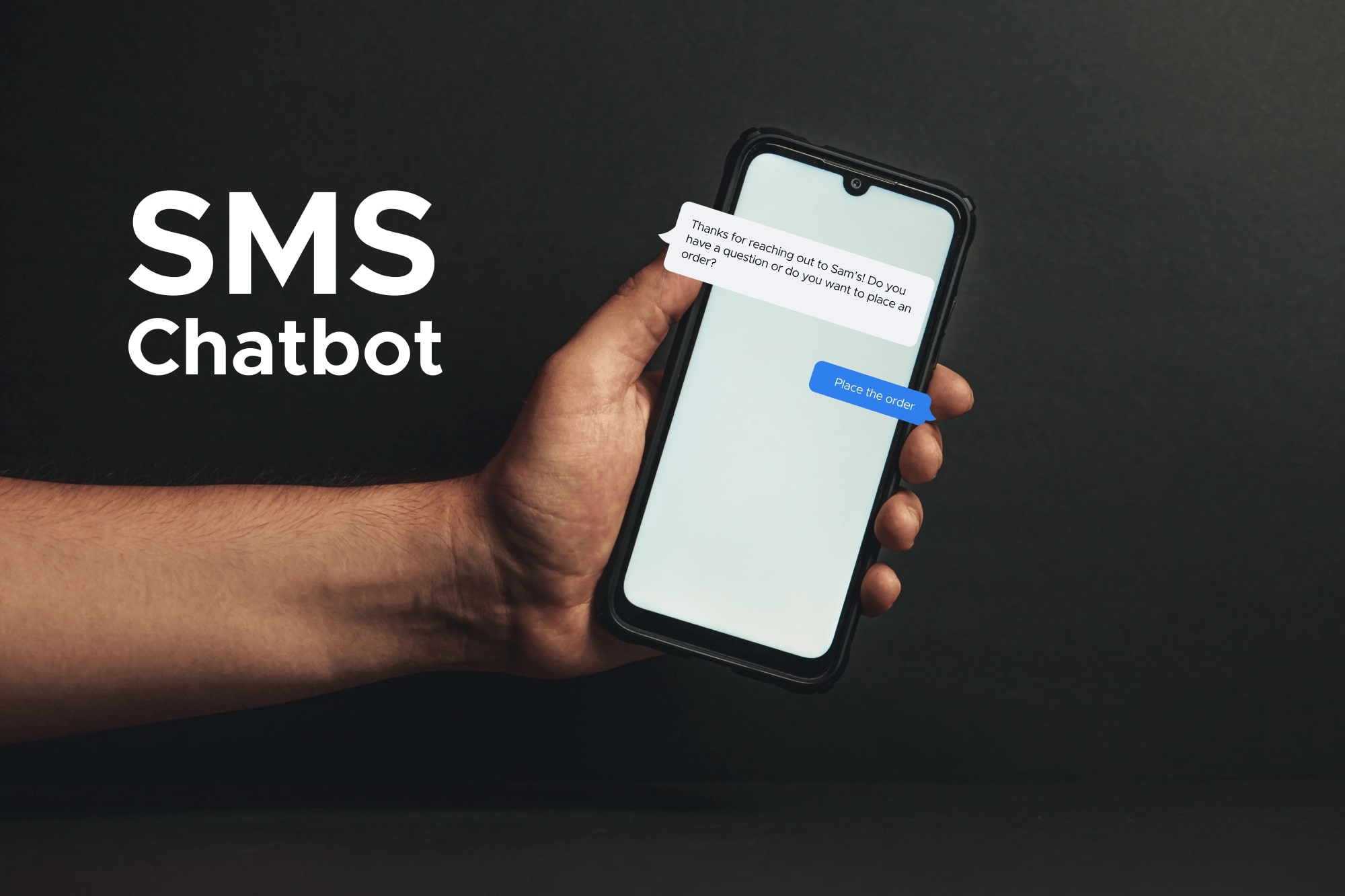 SMS is a popular communication channel adopted worldwide in 1984. Today, there are about 7.26 Billion mobile phone users in the world. This means 91.62% of the world's population can use texting without the need to install any app or have access to the Internet. 
The number of mobile users is only growing – in 2021, the worldwide sales of smartphones count up to 1.5 billion units, with an 11.4% growth year over year, according to Gartner, Inc. 
Given the coverage, no wonder SMS is actively used by businesses to provide time-sensitive offers, confirmations and shipping updates, any kinds of alerts, and transactional messages. With the adoption of chatbots, SMS marketing has moved even further than that. 
What is an SMS chatbot?
SMS Chatbot is a software application that simulates a conversation via an SMS component available on most telephone, Internet, and mobile device systems. It can process the user input and provide a logical answer and/or perform certain actions based on programming. 
In simple words, a regular SMS message sent from a business – like a promotion or a welcome message – is a common one-way communication. A chatbot, instead, provides a two-way conversation: it can ask questions, process the answer, and continue the communicational path to subscribe, qualify leads and even sell. 
Let's take a look at an example. Users may receive a text with an event invite. With a regular SMS, there would be a link to the landing page so the user can learn more and sign up there. A chatbot, instead, can actually pick up the conversation from there, provide more info, and sign-up users to attend – even if they don't have an internet connection. 
Subscribe to bi-weekly issues of 👎👍 Bad to Great Chatbot

A 200-word email with insights from people who made great chatbots before
Join 1000+ other business leaders who build successful chatbots. You'll be the first to know when we publish anything new.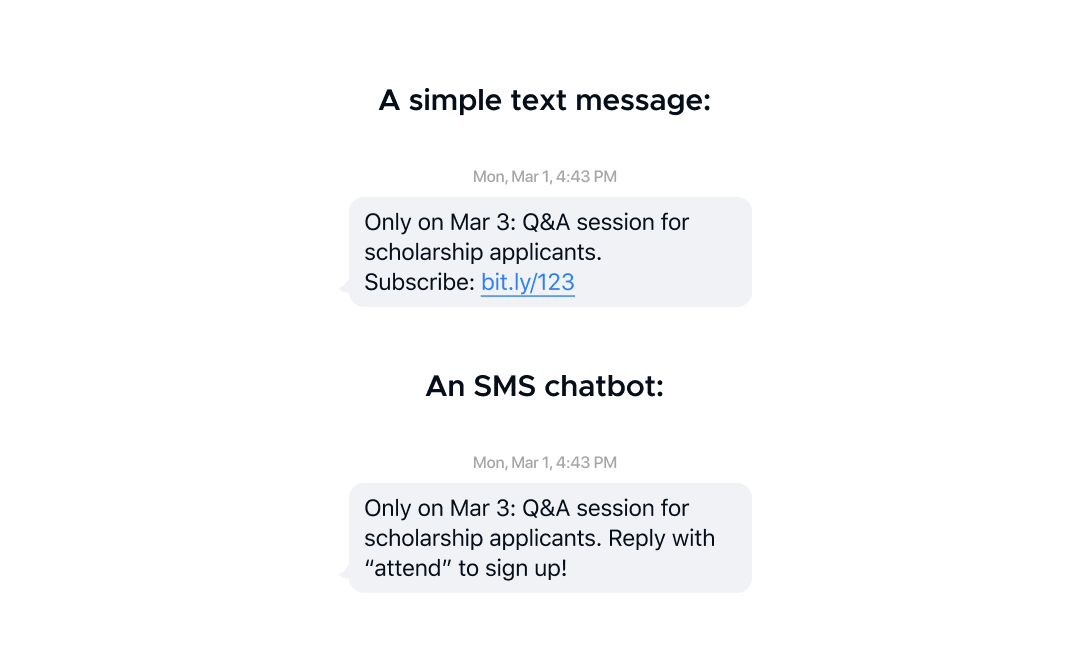 For this particular example, bringing people to react instead of asking to visit the website link increases the chances for conversion. It removes the strain of clicking a suspicious spam-looking link which is usually shortened to fit the character limit of SMS. A chatbot helps to catch the opportunity and start a conversation leading to conversion instead of just delivering the message.
SMS chatbots are used by businesses worldwide. In Australia anyone can order Domino's pizza via SMS – this is a creative way for a large multinational pizza restaurant to manage orders from returning customers. Once they've set the contact details and preferences in their account for pizza, they can order as simply as send one emoji of pizza via SMS. No need to call, visit a website or download an extra app to the phone.
Example of an SMS chatbot – Dominos Pizza: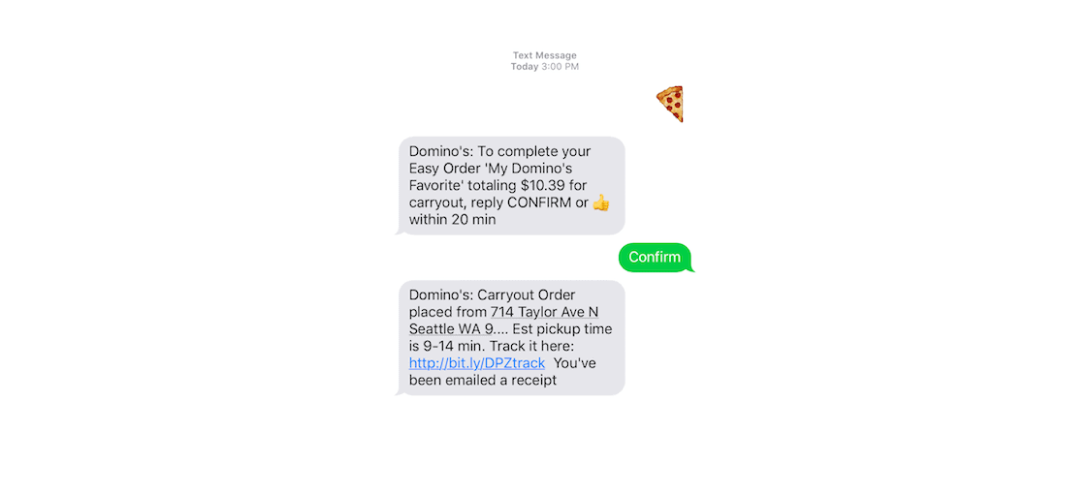 This is a part of "Dominos is Anywhere" campaign – try it out by sending a text of 🍕 or "easy order" to 88607.