10 WhatsApp Business Features You Should Know About
Together with WhatsApp chatbot, WhatsApp Business is a very powerful tool for commerce. Thanks to many new features that the platform keeps on releasing, WhatsApp is becoming a great retail place, especially during remote times. Even if you are not going to build a WhatsApp chatbot, there are many great things for you in WhatsApp for Business to take advantage of.
Let's look closer at WhatsApp Business app features that you might enjoy as much as we do:
1. Business Profile
2. Quick Replies
3. Automatic Greeting Message
4. Automatic Away Message
5. Contacts Labels
6. Message Statistics
7. Catalogs
8. Interactive Business Message
9. Facebook Shops Integration
10. WhatsApp Payments in India
1. Business Profile
Create a business profile with helpful information for your customers, like your address, business description, email address, and website. Business accounts help brands to gain a user's loyalty. A business profile gives the company a familiar "face" and identity. To have a "Verified" badge next to your company name, WhatsApp has to confirm that this is a verified business account. 
Steps to add details about your business: Go to WhatsApp Business app – Open Settings > Business settings > Profile.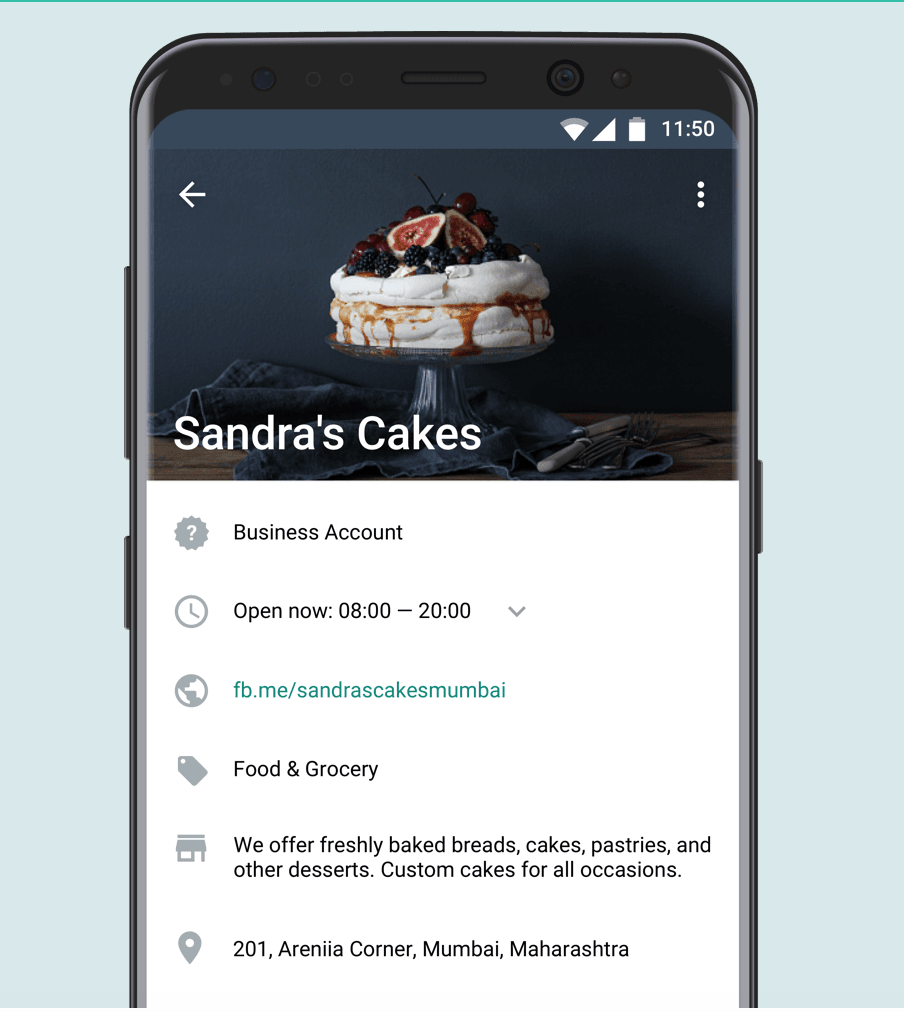 2. Quick Replies
These are frequent messages to answer common questions. Quick replies let you save and reuse messages you frequently send so you can easily answer common questions in no time. Simply press the "/" on your keyboard to select a quick reply and send.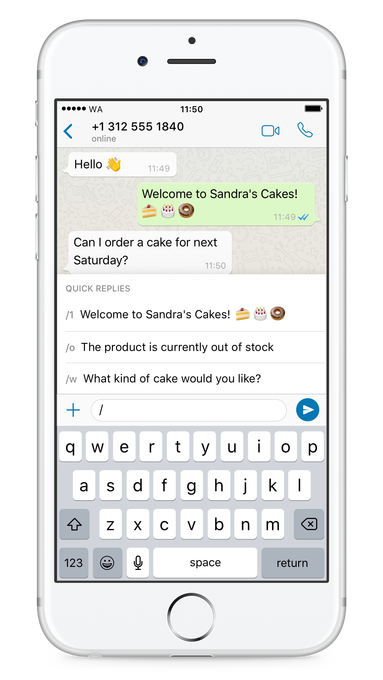 3. Automatic Greeting Message
WhatsApp for business enables you to create a greeting message that users will receive when they start a dialog with your company or after 14 days of inactivity. By sending an instant message, you welcome and introduce a company to a new potential customer with no delays and waiting time.
Steps to set up a greeting message: Settings > Business settings > Greeting message. From here, you can create a new greeting message or edit an existing one.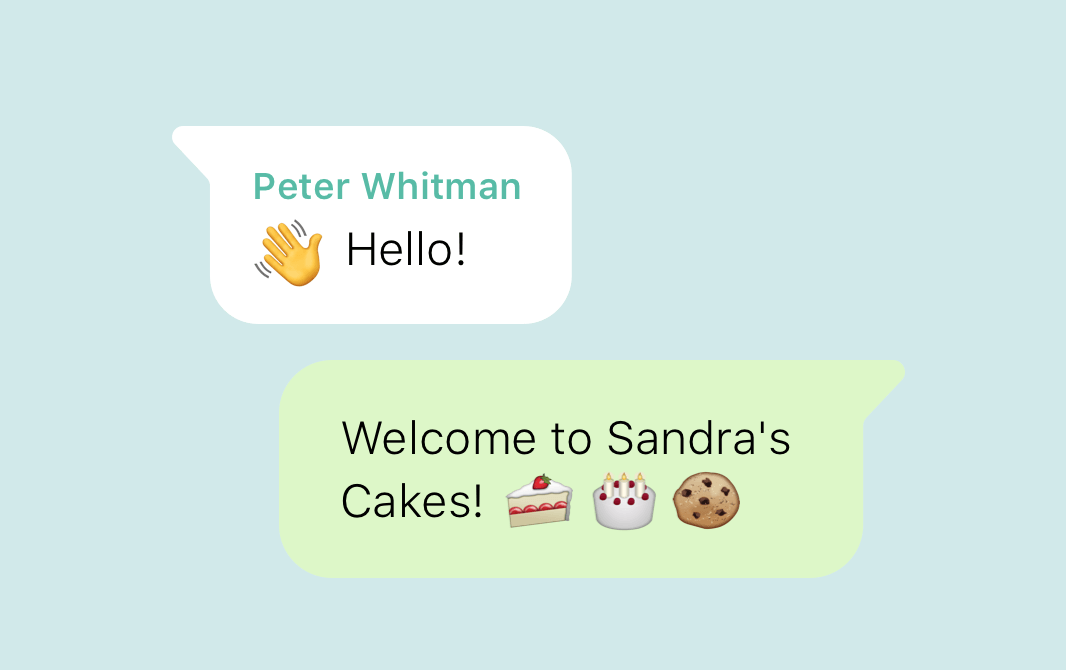 4. Setting Away Message 
Away messages are like greeting messages. They send a custom message to people who are trying to connect the company after your working hours. You can write a custom message or send your working hours. You can set up for them to activate at the chosen time.
Steps to set up an away message: Settings > Business settings > Away message > "Activate away message".
You can also edit your away message from here and schedule when you want to send this message. You can choose from Always send, Custom schedule, or after your work hours.
5. Label Contacts
Businesses can organize their contacts and categorize them with labels for easy access. This way, you can easily search through your contacts and keep them grouped and organized.
Steps to add a label to a new contact: Click the menu button on the client's chat page > choose a label and then save.
Steps to add a new label: Click the menu button on the client's chat page > click " New label" > click save.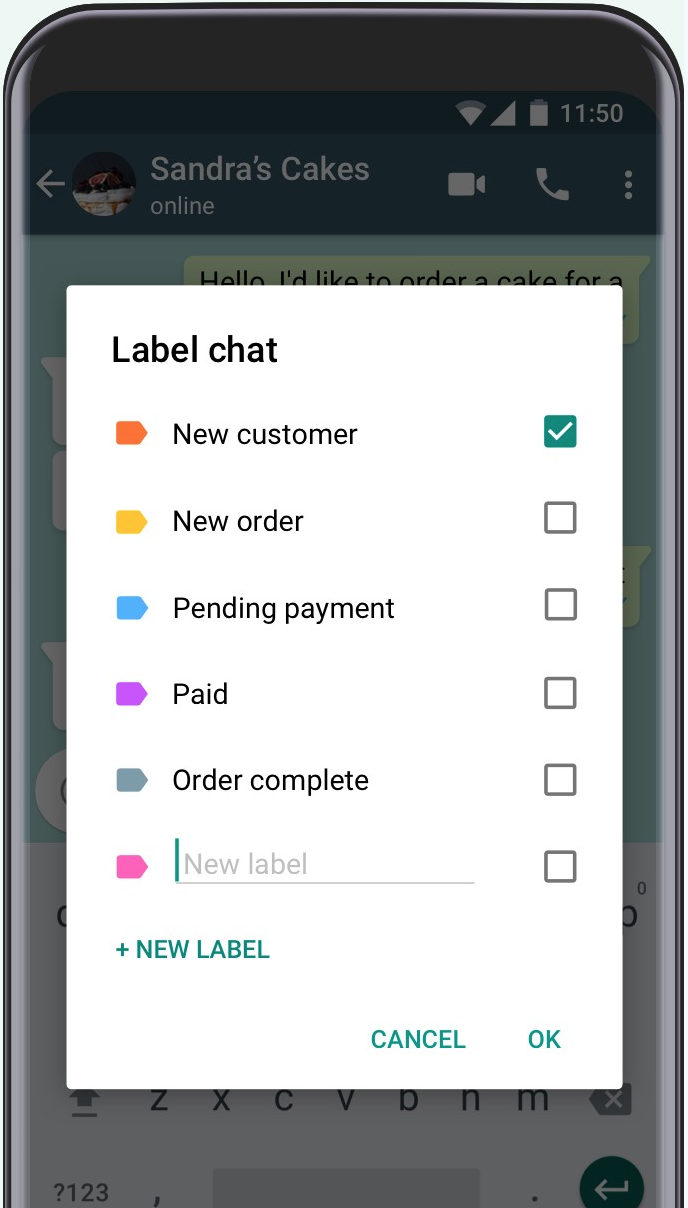 6.Access Message Statistics
WhatsApp for Business lets you access vital metrics like how many of your messages were sent, delivered, and read.
Steps to access statistics: Tap the Menu button > Settings > Business Settings > Statistics.
7. Catalogs
The other feature that will be beneficial for your business is – Catalogs. They look like this: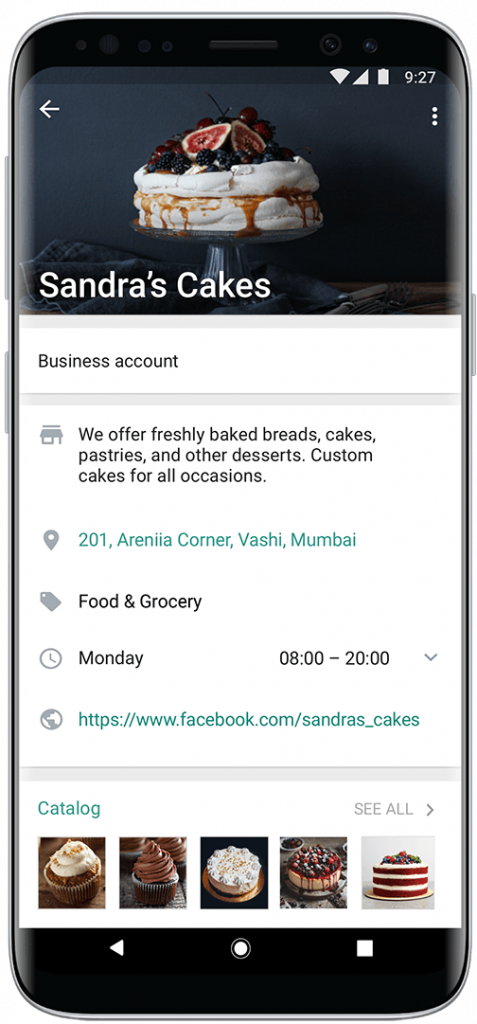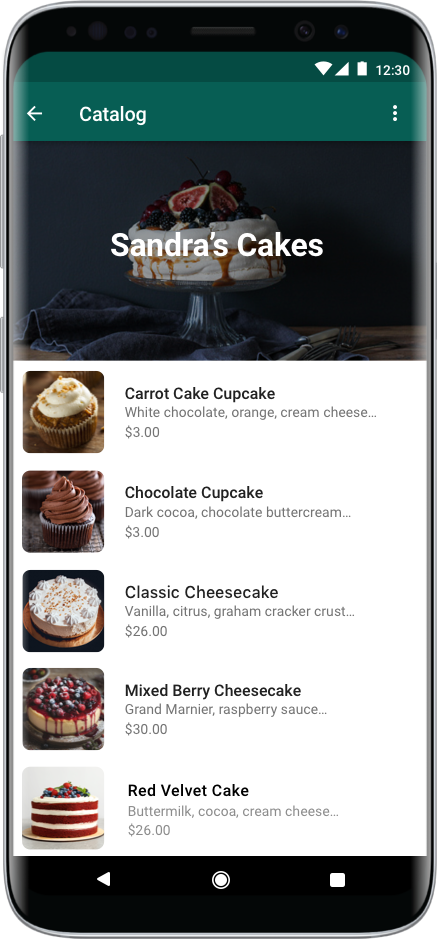 Catalogs allow your company to showcase your goods so people could easily browse and check out products they are interested in and would like to buy. With catalogs, you don't need to send every item, price, and description one-by-one as you used to do before. Now it is all conveniently grouped on your WhatsApp page, and you don't have to redirect your customers to the website or elsewhere.
For each item in your catalog, you can add information, including price, description, and product code. This is so much easier for your customers than having to ask you about each item separately or go from WhatsApp to the website.
Creating a catalog with the WhatsApp Business app takes just a few simple steps. Watch this video to get started: 
8. Interactive Business Messages
This type of message allows you to include interactive and more appealing buttons to your messages. These buttons can be of 2 types:
– CTA: by clicking this button, the user would be redirected to a particular webpage or make a call
– Quick reply: allows users to answer with the predefined options without having to type in the answer manually
Interactive buttons are great for the smooth customer journey and customer experience(CX) in general. First of all, it is much more understandable for your users what they should do. For example, let's look at this: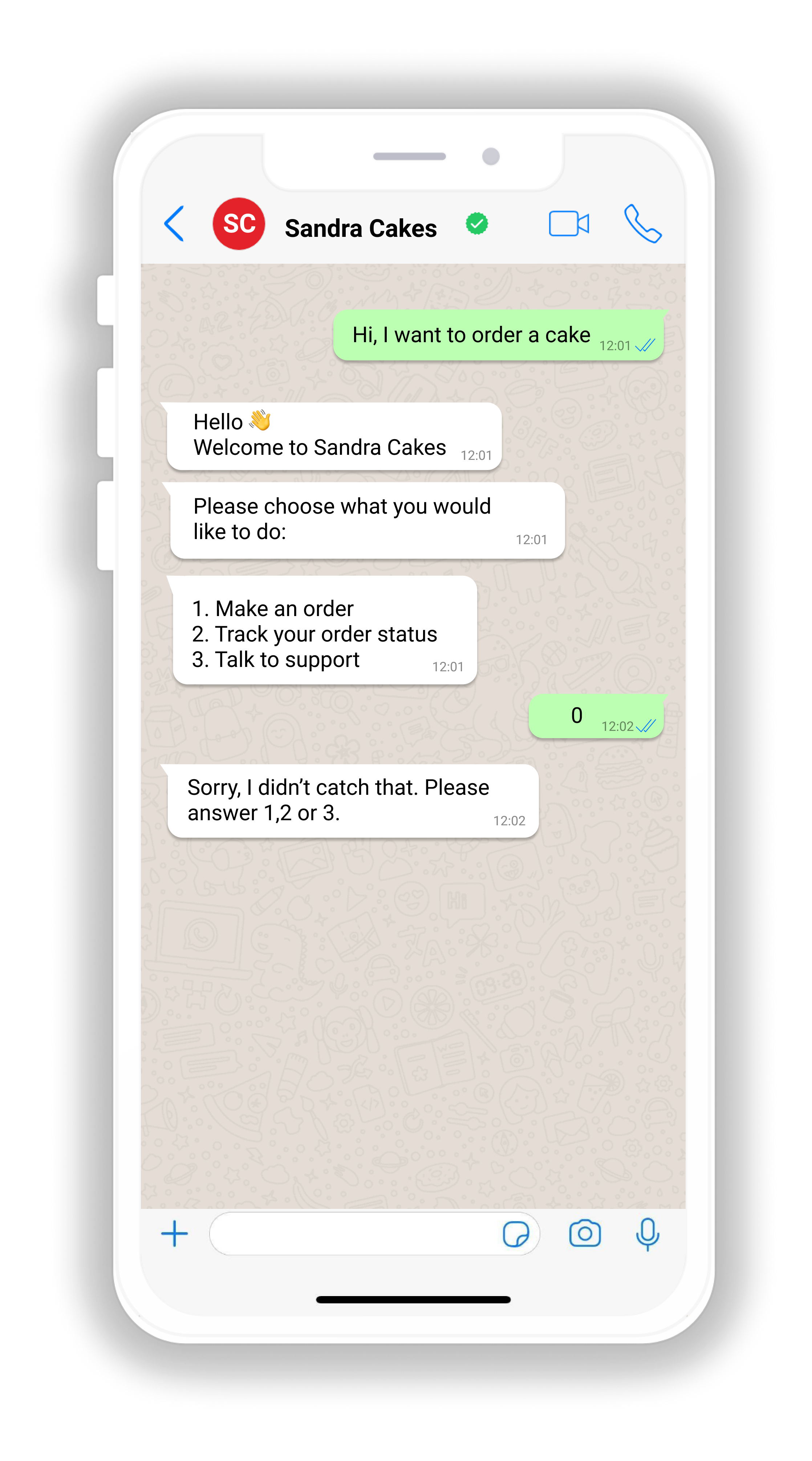 It can be quite confusing for the user. 
Should he reply with the number? Or type in "Make an order"? And if the user types in something else, the bot won't understand, and the person can drop off the conversation.
Secondly, using quick replies is much more visually appealing and faster for the client. He clicks on the right answer and moves to the next question. No typing = less effort = better customer experience.
And lastly, using CTA buttons, users can conveniently transfer between the platforms.
Let's say a person wants to book a call with your company.
Before, he had to copy the link, then go to the browser and then paste the link. And now, he only needs to click on the right button, and the bot redirects him to his destination point.
So, interactive buttons in messages are easier, faster, more understandable, and convenient for your clients. They create a smoother journey and better CX, which will lead to higher engagement rates with your company.
Take note that these are paid options. If you plan on using template messages with buttons, you will have to pay for every message you send. Here is the pricing for these messages:  https://developers.facebook.com/docs/whatsapp/pricing/
How to create Interactive Business Messages?
9. Facebook Shops Integration
Facebook Shops is a tool that allows you to create customized shopping experiences for your businesses and integrate them seamlessly across the Facebook family of apps. Through your shop, you can showcase the products and services you're selling and connect with potential customers. It's an invaluable tool for any growing business.
How to link your WhatsApp Business account to a Facebook Shop
Linking your WhatsApp Business account to your Facebook shop gives you the option to have customers who visit your shop send you a message through the WhatsApp Business app.
To link these accounts, you must:
– Have a phone number registered on the WhatsApp Business app.
Note: Phone numbers registered to WhatsApp Messenger can't be linked to a shop.
– Be an admin on your Facebook Business Manager account.
– Link your Facebook Page and Catalog in the same Business Manager account.
– Have Manage Page permissions for the Facebook Page and Manage Catalog permissions for the Catalog on Business Manager.
– Link your WhatsApp Business account to your shop
– To start, create a shop in the Facebook Commerce Manager. 
– Then, add your WhatsApp Business number to your shop and set WhatsApp as the Primary Contact Method. 
Once these steps are completed, you can set up your shop so that customers can tap the Message button on your shop pages to start a chat with you in the WhatsApp Business app.
10. WhatsApp Payments in India
"Making payments simple can help bring more businesses into the digital economy, opening up new opportunities for growth," said WhatsApp on their blog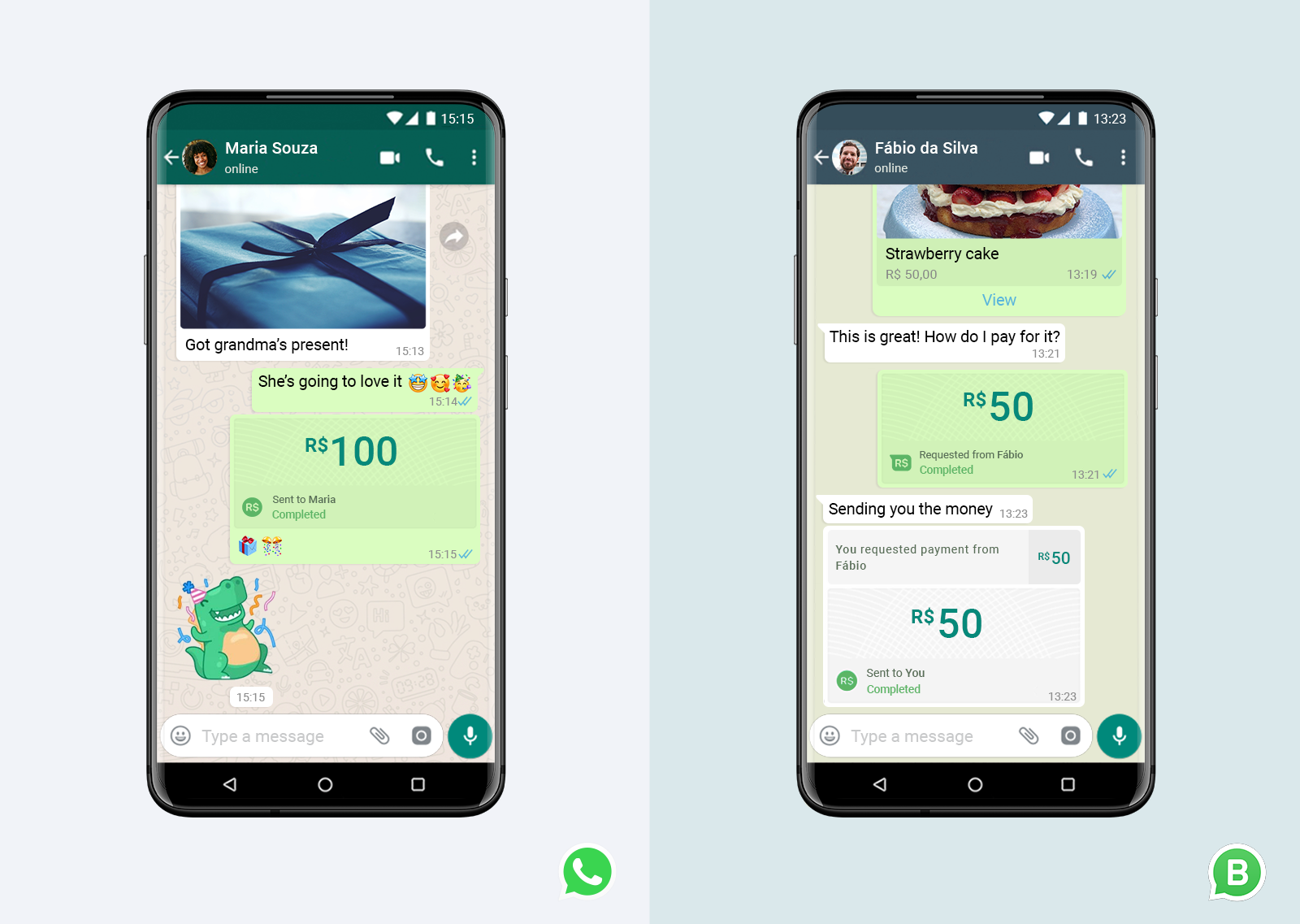 This feature makes transferring money just as easy as sending a message. This comes in handy during remote times because people can safely send money without exchanging cash in person or going to a local bank.
And don't worry about the security – WhatsApp payments are designed with a strong set of security and privacy principles, including entering a personal UPI PIN for each payment.
WhatsApp designed a payments feature in partnership with the National Payments Corporation of India (NPCI) using the Unified Payment Interface (UPI), an India-first, real-time payment system that enables transactions over 160 supported banks.
It's necessary to have a bank account and debit card in India to send money via WhatsApp. 
How can people connect with my business on WhatsApp?
There are 5 ways to do that: 
1. Request helpful information. 
When a customer needs a shipping confirmation or boarding pass, they can give their mobile number to you on your website, on your app, or in your store to send this customer information on WhatsApp.
2. Start a conversation. 
A customer may see a click-to-chat button on a website or Facebook ad to quickly message your business.
3. QR codes. 
Customers can message you on WhatsApp by scanning your business account's QR code. You can customize the pre-populated message, and your unique QR code won't expire unless you reset it or delete your WhatsApp Business account.
Check out this video to learn how to use a QR code on WhatsApp Business: 
3 easy steps to create your QR code: 
Open WhatsApp Business > Settings.
Tap Settings > Business Tools > Short Link.
Tap the QR Code to view your QR code.
4. Short Link. 
You can share a short link with your customers that they can use to start a chat with you.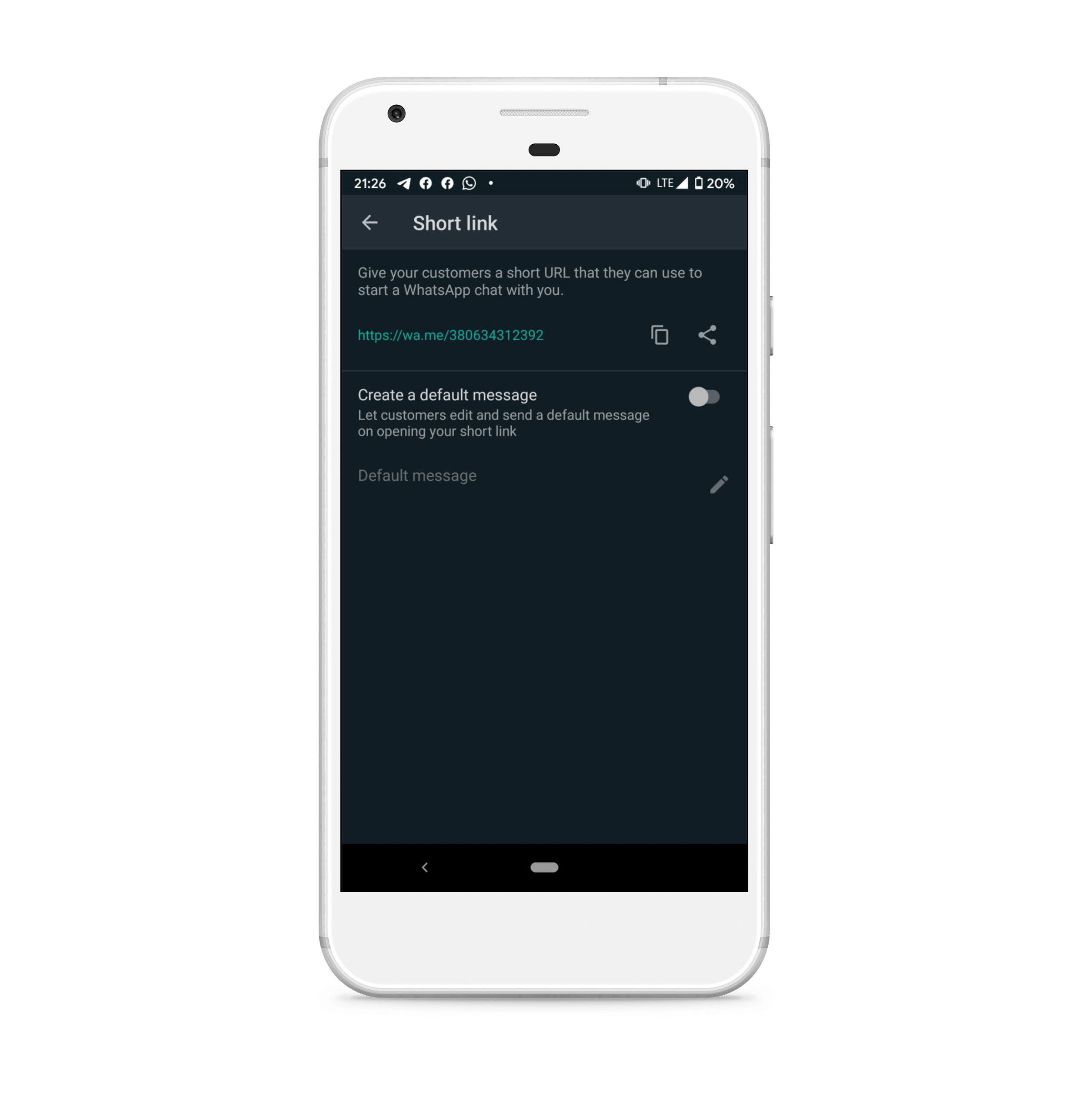 How to create a short link:
A short link for your business is automatically generated when you create an account on the WhatsApp Business app. To access this short link:
Go to WhatsApp Business > Settings > Business settings.
Tap Short link to view the auto-generated link.
Once you've accessed the short link, you can:
Tap the "Copy" button if you wish to copy the short link and paste it somewhere on your website or other Facebook pages.
Tap the "Share" button if you wish to send this link over to your customers directly. Anyone who has access to the link will be able to message you.
Tap "Create a default message" to create a message template that you will receive when the customer opens your short link.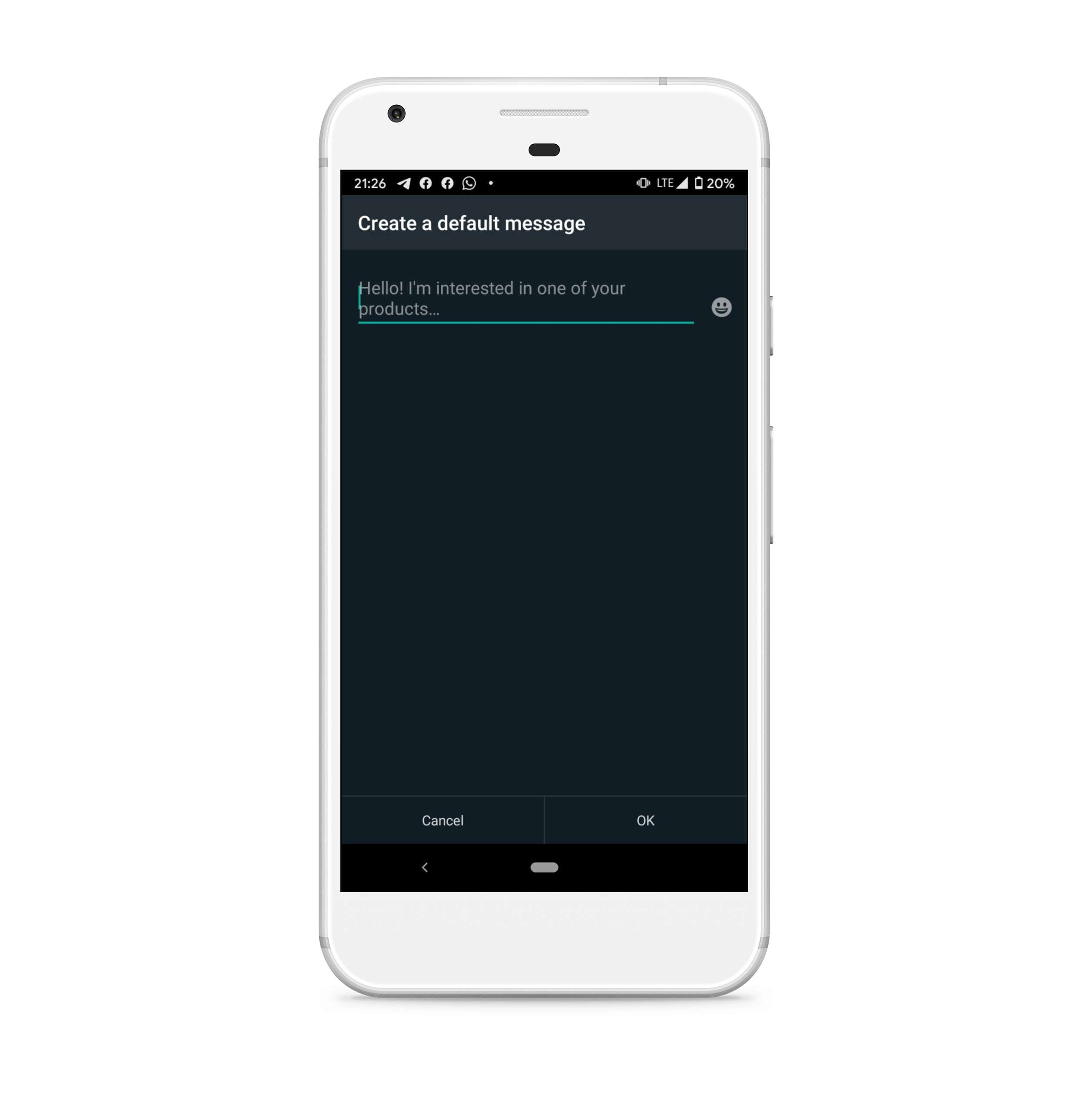 5. Share the catalog. 
You can share your products or services with new and existing customers by sharing your catalog. To make it easier for people to discover products, WhatsApp made catalogs and individual items available to be shared as links on websites, Facebook, Instagram, and elsewhere. And if people want to share a catalog or item, they can simply copy the Link and send it on WhatsApp or other places.
Here's how to share the entire catalog through Catalog Manager:
Open the WhatsApp Business app >Settings > Business Tools > Catalog.
Once you are on Catalog Manager, tap the link icon at the top right.
You can then share the entire catalog with your contacts or potential buyers anywhere by selecting any of the options:
Send link via WhatsApp Business: to share the catalog link with others over WhatsApp.
Copy Link: copies the link
Share Link: to share the catalog over email or other messaging apps.
WhatsApp is a platform that connects billions of users every day and is now granting businesses endless possibilities for reaching and engaging with its massive audience. With WhatsApp for Business, companies are now able to interact with customers on the platform they love and use WhatsApp chatbots to do it quickly and at scale.
There are many limitations to the WhatsApp platform that you should know before starting WhatsApp chatbot development. Building the bot on your own can be tricky and take a lot of time.