New WhatsApp Business Features You Should Know About
In April, WhatsApp presented a new feature for business – Interactive Business Messages. This allows companies to add interactive clickable buttons to messages from Business accounts. This could be used as a Call-to-Action (CTA) button or a Quick Reply allowing to better communicate with your clients. Also, less than a year ago, WhatsApp rolled out Catalog for Business, and Short link features that help you to better engage with your users.
Let's dive deeper into these new features. 
Interactive Business Messages
This type of messages allows you to include interactive and more appealing buttons to your messages. This buttons can be of 2 types:
– CTA: clicking on this button the user would be redirected to a particular webpage or make a call
– Quick reply: allows users to answer with the predefined options without having to type in the answer manually
Interactive buttons are great for the smooth customer journey and customer experience(CX) in general. First of all, it is much more understandable for your users what they should do. For example, let's look at this:
It can be quite confusing for the user.
Should he reply with the number? Or type in "Make an order"? And if the user types in something else then the bot won't understand, and the person can drop off the conversation.
Secondly, using quick replies is much more visually appealing and faster for the client. He clicks on the right answer and moves to the next question. No typing = less effort = better customer experience.
And lastly, using CTA buttons, users can conveniently transfer between the platforms.
Let's say a person wants to book a call with your company.
Before, he had to copy the link, then go to the browser and then paste the link. And now, he only needs to click on the right button, and the bot redirects him to his destination point.
So, interactive buttons in messages are easier, faster, more understandable, and more convenient for your clients. They create a smoother journey and better CX, which will lead to higher engagement rates with your company.
How to create Interactive Business Messages?
The other feature that will be beneficial for your business is – Catalogs. They look like this:
Catalogs allow your company to showcase your goods so people could easily browse and check out products they are interested in and would like to buy. With catalogs, you don't need to send every item, price, and description one-by-one as you used to do before. Now it is all conveniently grouped on your WhatsApp page, and you don't have to redirect your customers to the website or elsewhere.
For each item in your catalog, you can add information, including price, description, and product code. This is so much easier for your customers rather than having to ask you about each item separately or go from WhatsApp to the website.
Creating a catalog with the WhatsApp Business app takes just a few simple steps. Watch this video to get started:
WhatsApp Payments
Another huge update from WhatsApp was announced on June 15th – users in Brazil would be the first to be able to send and receive money by WhatsApp using Facebook Pay. 
"Making payments simple can help bring more businesses into the digital economy, opening up new opportunities for growth" said WhatsApp on their blog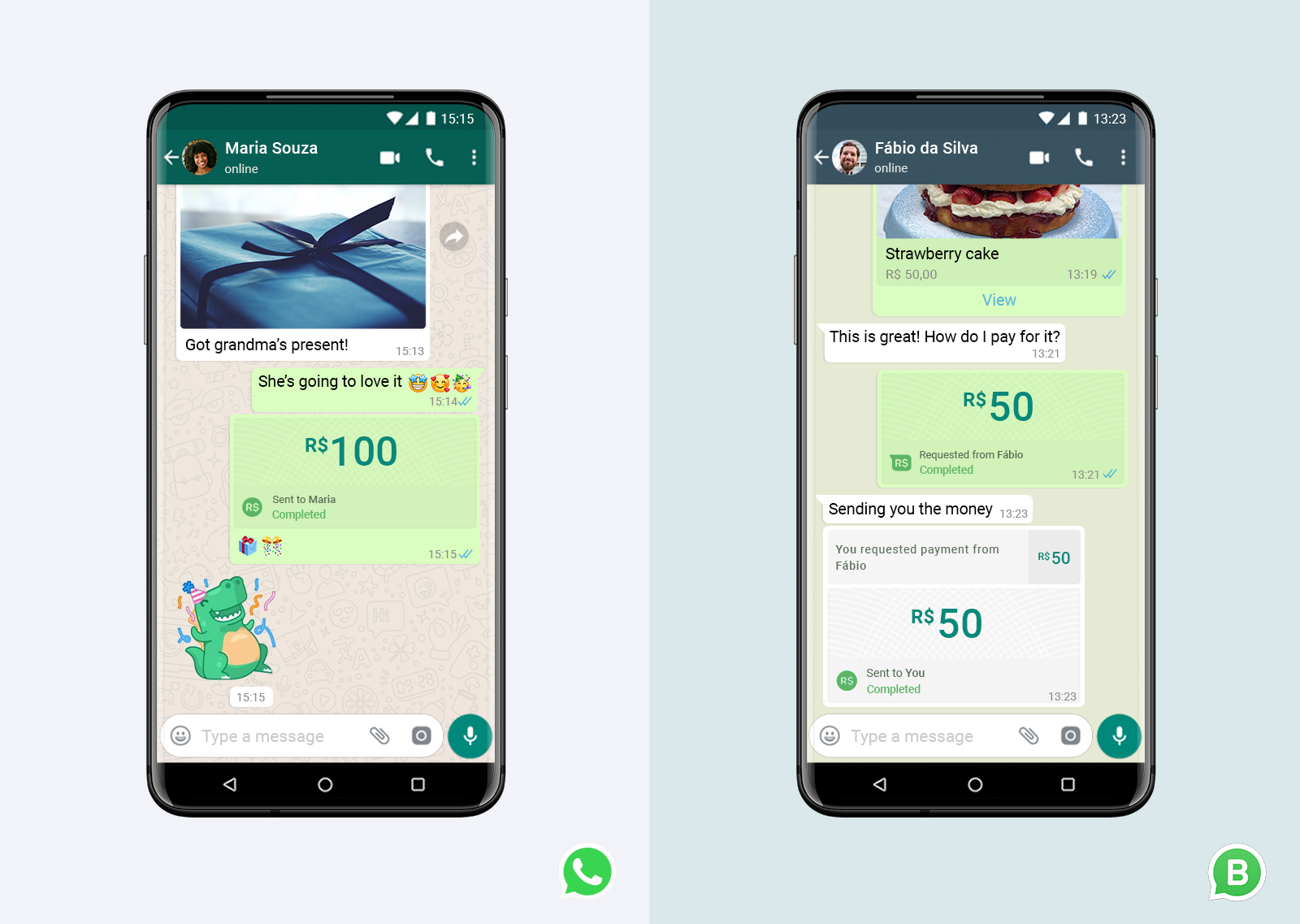 Source: WhatsApp
The process will be free for users and will cost a 3.99% processing fee to receive customer payments for businesses. The payments will work by linking up WhatsApp account to a Visa or Mastercard credit or debit card, with initial local partners including Banco do Brasil, Nubank and Sicredi. Cielo, a payments processor, is also working with WhatsApp to complete transactions.
WhatsApp uses a built payments with security in mind and a special six digit PIN or fingerprint will be required to prevent unauthorized transactions. 
And the last feature for WhatsApp for business is Short links.
You can share a short link with your customers that they can use to start a chat with you.
The short link is more appealing and looks more clickable for your users than a regular link with a bunch of different symbols and letters.
How to create a short link:
A short link for your business is automatically generated when you create an account on the WhatsApp Business app. To access this short link:
Go to WhatsApp Business > Settings > Business settings.
Tap Short link to view the auto-generated link.
Once you've accessed the short link, you can:
Tap "Copy" button if you wish to copy the short link and paste it somewhere else on your website or other Facebook pages.
Tap "Share" button if you wish to send this link over to your customers directly. Anyone who has access to the link will be able to message you.
Tap "Create a default message" to create a message template that you will receive when the customer opens your short link.
Tap "Edit" to create and set your default message
Other WhatsApp Business features
Not new but very handy WhatsApp business features are:
– Business Profile
– Quick Replies
– Setting Automatic Greeting and Away messages
– Label Contacts
– Access Message Statistics
Also, WhatsApp for Business allows companies to create chatbots that help them automate their communication with customers. Creating a WhatsApp chatbot is an excellent option if you have many customers on this platform, and you want to be able to cover more customer requests in less time and effort.
There are many limitations to the WhatsApp platform that you should know before starting WhatsApp chatbot development. Building the bot on your own can be tricky and take a lot of time.
There are many chatbot building platforms that can help you build the WhatsApp bot, but you should carefully choose your vendor as most of these platforms won't help you with your WhatsApp business approval. And without approval from WhatsApp, you won't be able to launch your chatbot.
It can be tricky to get WhatsApp approval for your company on your own. We at BotsCrew have a lot of experience with WhatsApp chatbots, and we can help you to get approval much faster. Also, we use our chatbot platform that allows us to start building and testing right in the Sandbox while waiting for WhatsApp approval. This saves time and helps our clients to launch faster. If you are interested in creating a chatbot visit our WhatsApp page to learn more: WhatsApp Chatbot Platform