Chatbot Best Practices
• 6 min read
WhatsApp for Sales: How to Sell More with Shopping Features
Using WhatsApp for business? With shopping features, you can do much more than just chat with customers. Learn how to boost your profile for sales.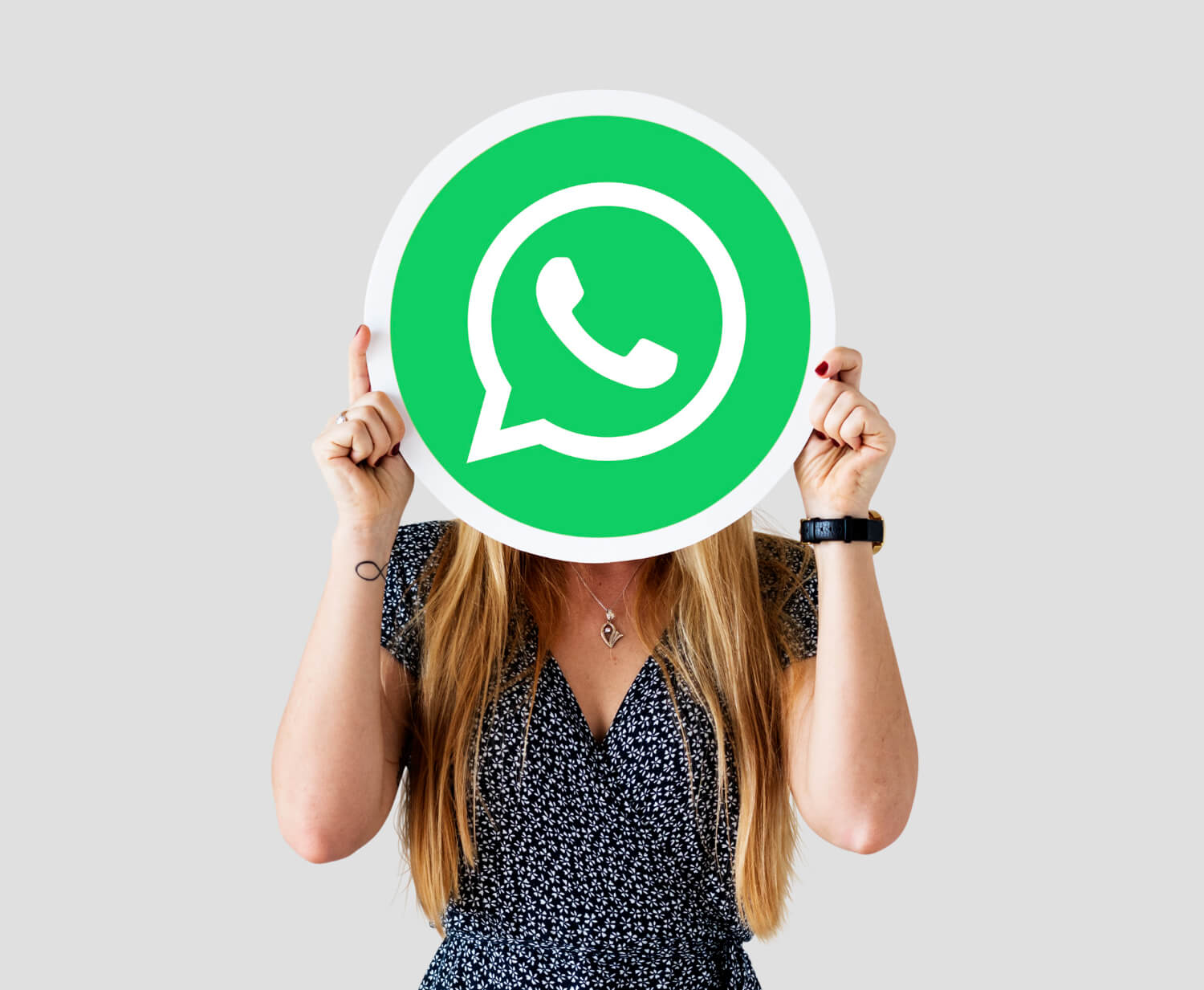 Introducing WhatsApp for sales
According to WhatsApp head Will Cathcart, approximately 175 million people send messages to business accounts on WhatsApp every day. That means WhatsApp is a primary contact channel for many business profiles. 
To help businesses cope with customer service inquiries, WhatsApp offers a number of business features. Verified business profiles, quick replies, automatic welcome messages, and contact labels – these are just a few messaging boosters for managing incoming requests. Over the last few years, WhatsApp has gone much further than that by developing and expanding shopping on WhatsApp. 
What is selling on WhatsApp? Any online store can showcase the catalog on the business profile, enable the cart, and offer products right in chat. 
Let's imagine a user messaged a business to clarify a few things about the product. Here's how the conversation changes with WhatsApp shopping: from the user side, it's easy to form the cart right in WhatsApp without a need to leave the app and do the same thing on the website. From the business side, it's a chance to improve the user-to-customer conversion rate during a conversation and gradually increase sales. 
While some features like payments are available only for certain countries, most of them are accessible for any business via the WhatsApp Business App.
In short, with shopping on WhatsApp, online stores can build an independent selling and promotion point in addition to a contact channel. Some online shops even manage to build end-to-end shopping experiences.
For example, Jio Mart implemented an end-to-end shopping experience using WhatsApp shopping features. Users can browse products, add items to their cart, and make payments – all of that is available inside the app. This way, the business keeps conversations with customers both personal and effective on the scale. Here's what it looks like: 
Feeling excited yet? Let's move on to selling on WhatsApp. 
How to set WhatsApp for selling & shopping
Once you've created your business profile and filled it with info, move on to creating a catalog. We skipped this step assuming you already have a business profile. In case you don't, check out the instructions on 12 WhatsApp Business Features You Should Know About.
Catalogs allow your company to showcase products. Customers will be able to browse from your business profile and check out products.
With catalogs, you don't need to send every item, price, and description in chat using copy-paste method. It can be placed on your WhatsApp page, and you don't have to redirect your customers to the website or elsewhere.
Open the WhatsApp Business app > Settings > Business Tools > Catalog to get started. It will be automatically created once you add items. 
Alternatively, you can connect a catalog from Facebook Shop if your items are already placed there. Check out the instructions here.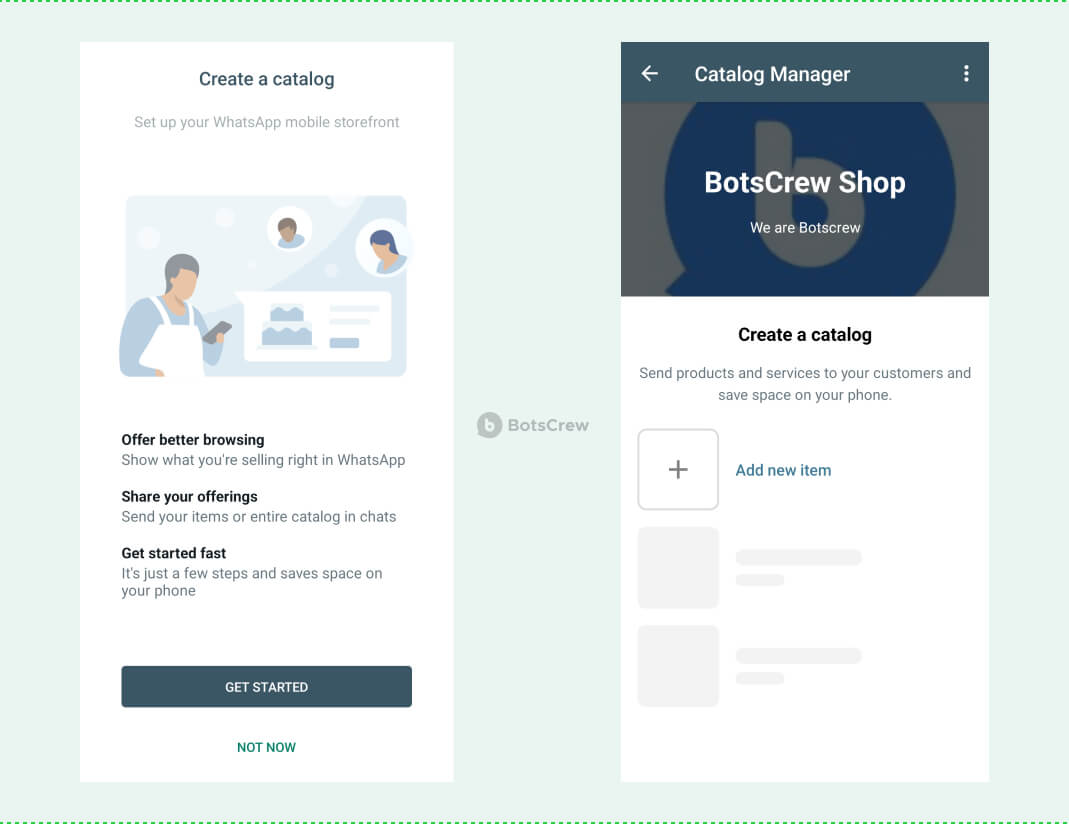 Step 2. Add product items
Items are individual cards for your products or services. For each item in your catalog, you can add images, descriptions, website URLs, and product codes. In some countries with supported WhatsApp Payments, businesses can also add the price. 
A business can add up to 500 items to the catalog. We recommend adding only your best sellers, products that are the most profitable, or any others that are in high demand for customers.
How to add a product or service to your catalog
Open the WhatsApp Business app > Settings > Business Tools > Catalog.

If creating a new catalog, tap Add new item. 

Then, tap Add Images. You can upload up to 10 images.

Provide a product or service name. You can also provide optional details such as price, description, website link, and product or service code for the uploaded product.

Tap Save.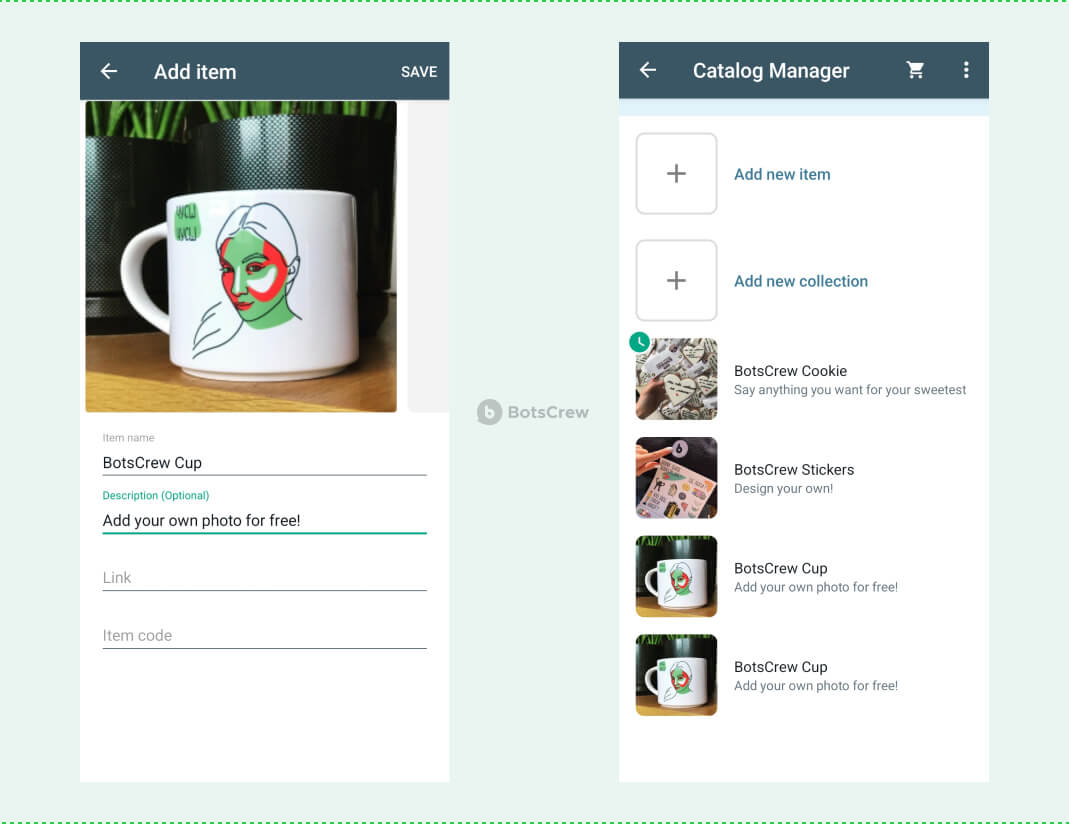 Once added, your items need to be approved. You'll see the icon with the clock showing the item is under revision. Once passed, you'll be able to access the items right away. This is done to ensure your business products meet WhatsApp requirements. Check out the list of prohibited items and business services in the WhatsApp Commerce Policy.
Once approved, you can create a collection. 
The collection is a category inside the catalog that makes it easier for your consumers to browse through and find products of their interest. Use them as product categories or sort special offers for quick access. You can create a collection once a few of your items were approved.  
How to create a collection
Open WhatsApp on your computer.

Click More | > Catalog. This opens the catalog menu.

Click Add new collection.

Enter a name for your collection.

Select the catalog items that you'd like to include in this collection.

Click Done.
Once added, your collection will be reviewed by the WhatsApp team. This process should take no more than 24 hours. When it's approved, your customers will see it in your catalog.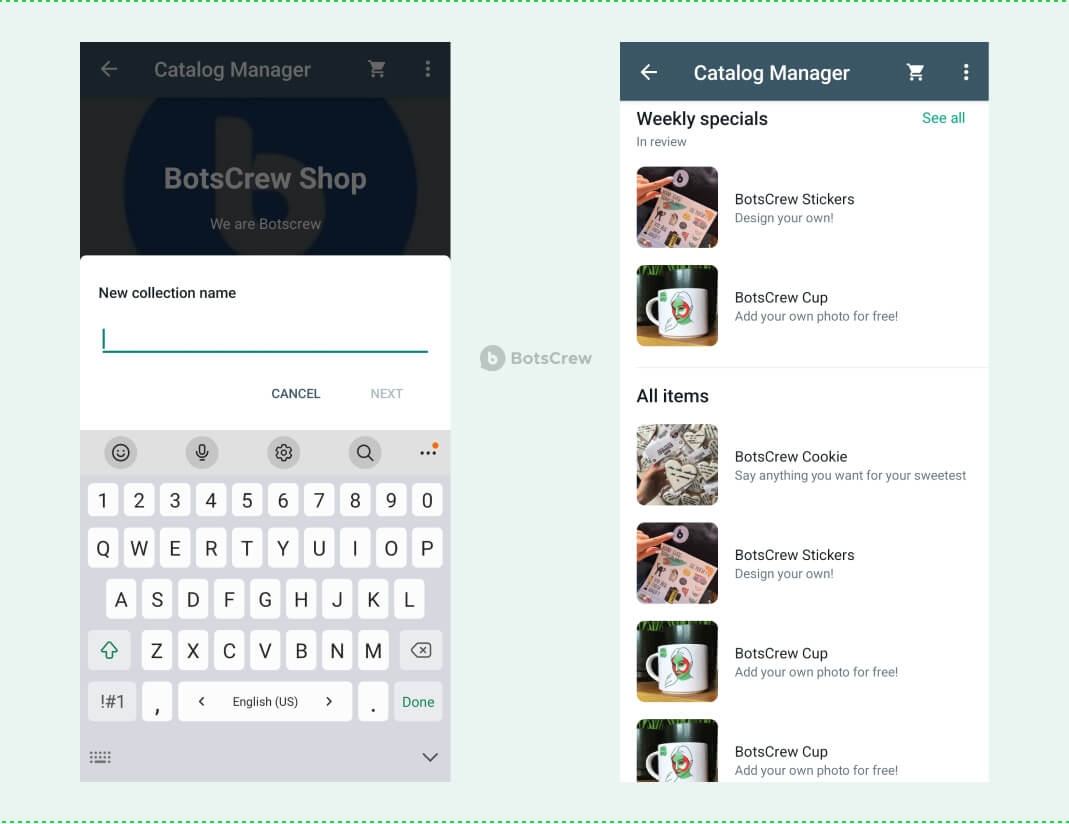 Step 3. Embrace the WhatsApp shopping features
Once your items were approved, your catalog will be live for customers. Your WhatsApp Store has just become alive!
Now, you and your users can: 
Access the catalog, collections, and cart through the business profile. You don't need to set up a WhatsApp shopping cart or catalog icons separately: they will be added to your profile automatically.
Share a catalog or collection via WhatsApp link;
View all of your items in the catalog and collections (unless you limit their visibility manually);
Form a cart and send it in chat for further processing (icon with cart will be available in the top panel on your business profile);
Send a separate product item via chat.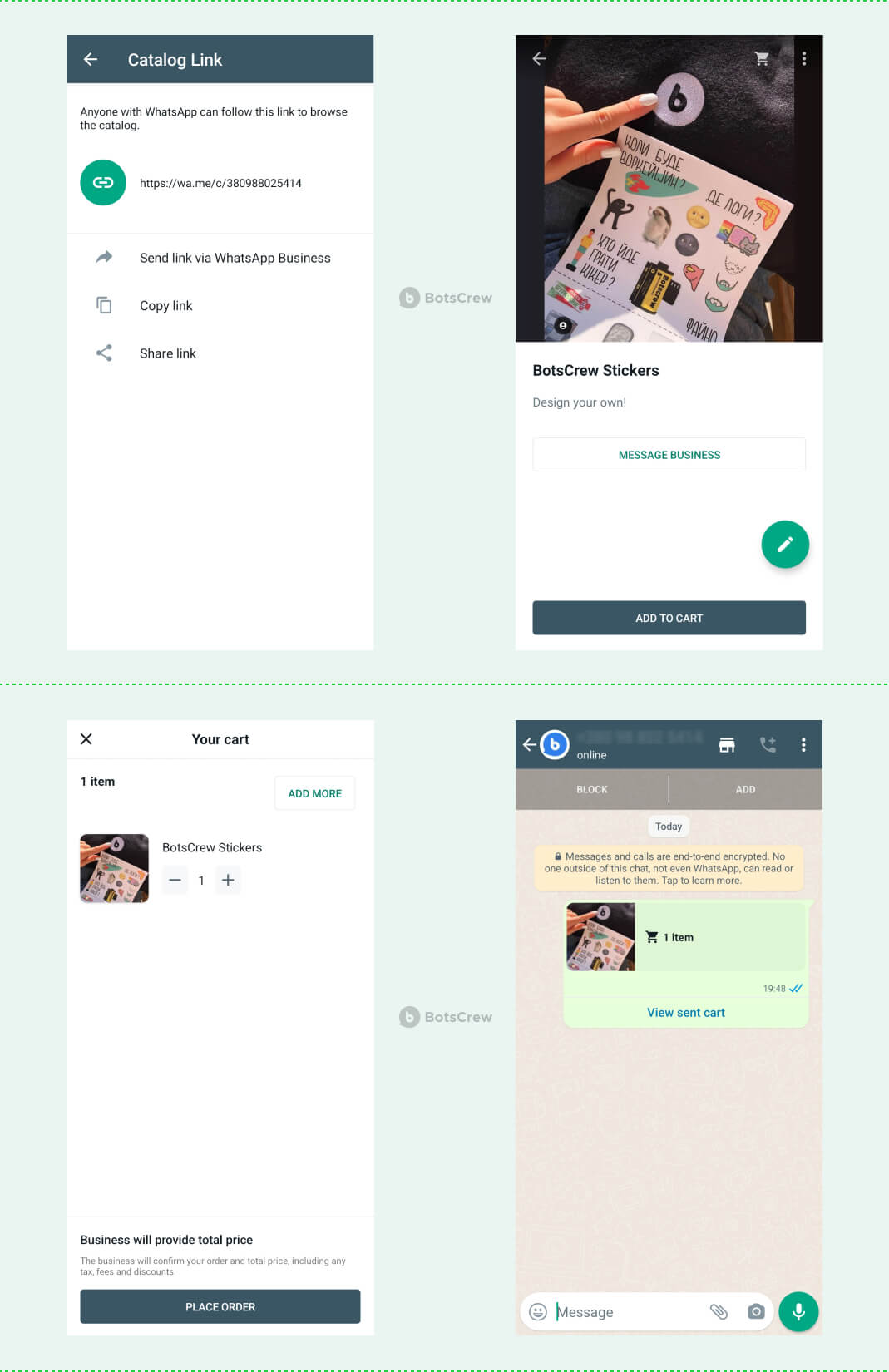 Now, you can easily accept orders from customers, send individual items, and share new collections right on WhatsApp. Three steps are enough to become processing orders on WhatsApp. 
WhatsApp does have payments available only for selected countries. In India and Brazil, users can already send vouchers and process payments without any commissions. Read more about WhatsApp payments. 
How to sell on WhatsApp Business: Best Practices
You can actually go a bit further than just adding your products to the WhatsApp profile. WhatsApp Business is part of Meta, so there are a few more things you can do to bring potential buyers to your profile.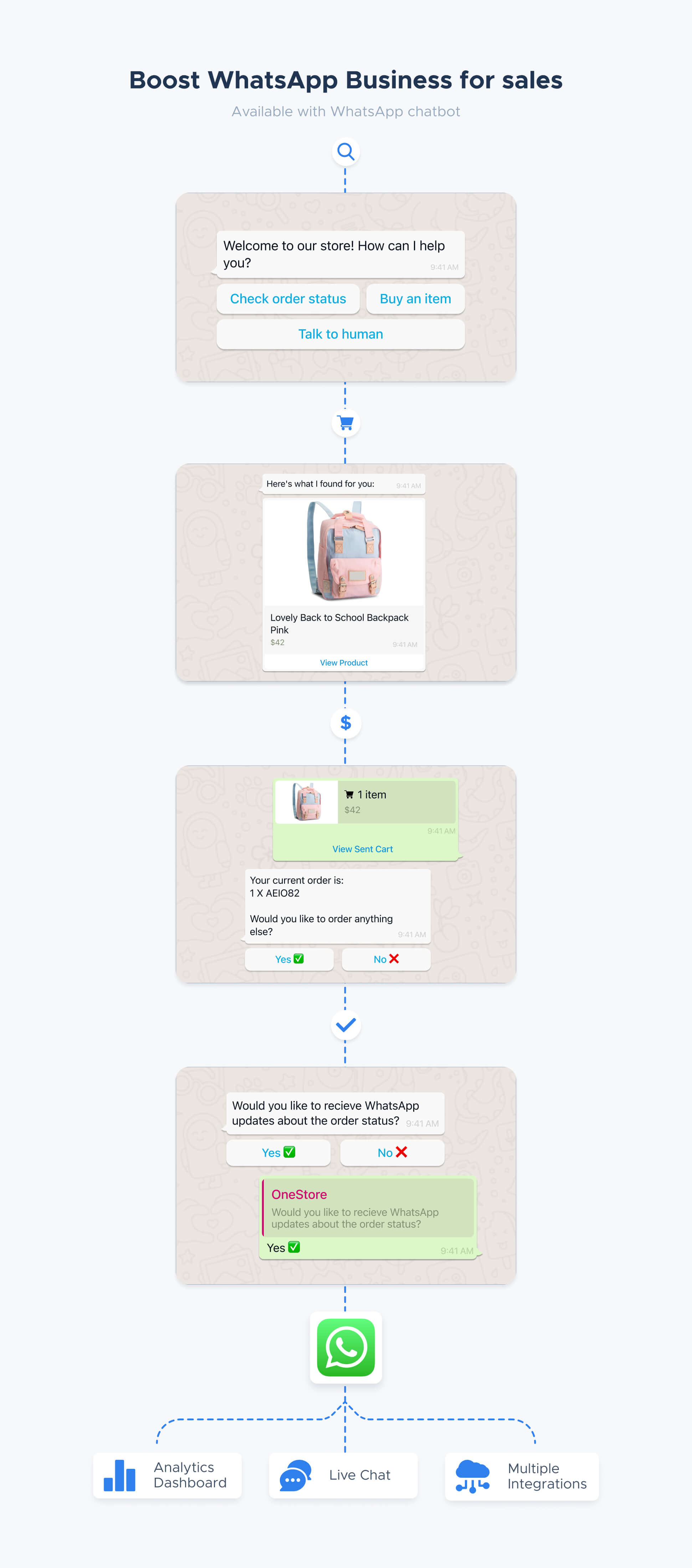 Would you like to improve acquisition, conversion, or retention? 
Jump to any section below to boost your sales.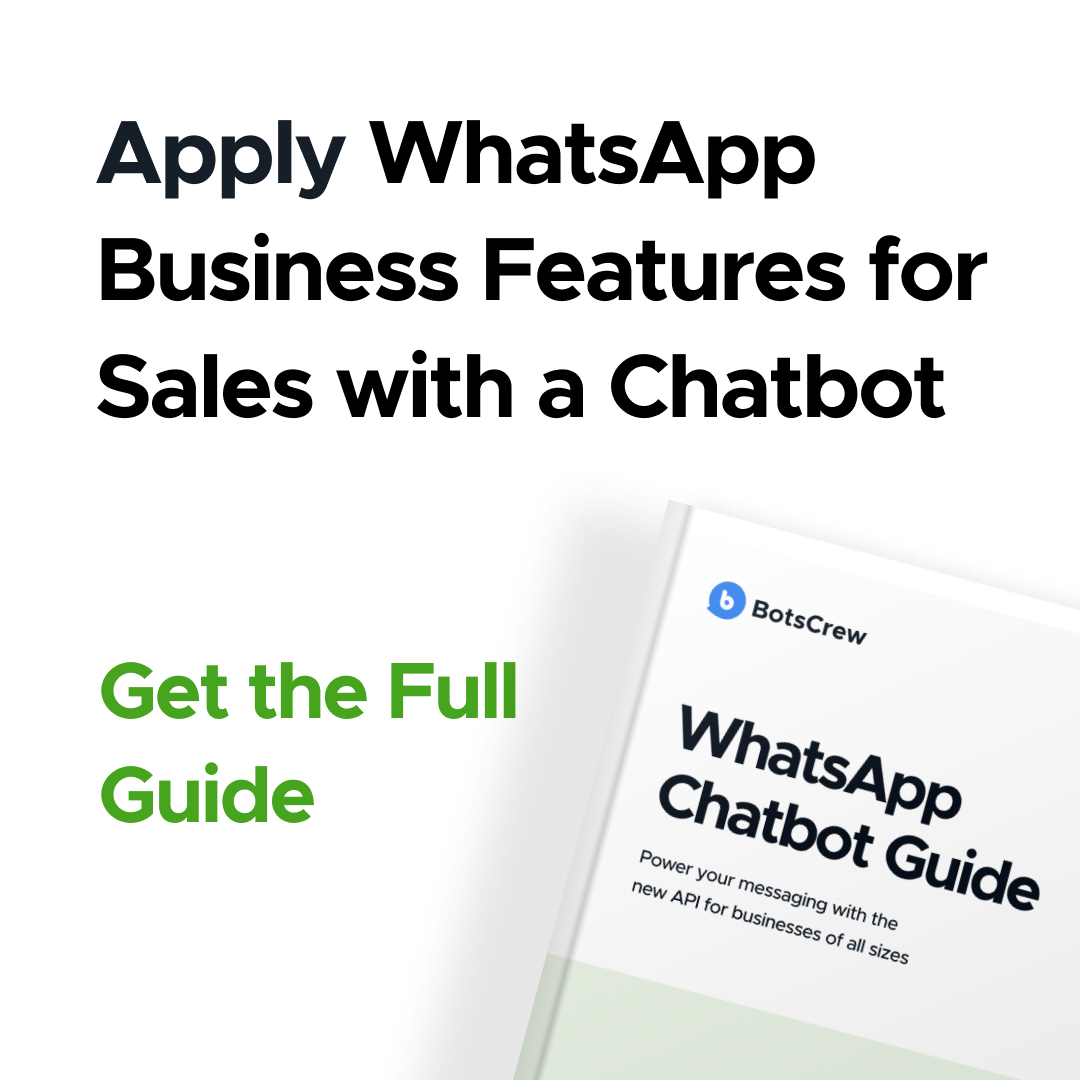 As we mentioned before, WhatsApp is one of the most widely used applications worldwide and a primary social contact channel for many business profiles. There are a number of tactics you can use to sell more to customers that have not been in touch with you yet or haven't heard about your business.
Increase visibility for local buyers with SEO-optimised descriptions
Inside WhatsApp, users can search for the local business based on geolocation. When they enter the "Discover" section, users can explore businesses within their area reached on the map. From there, your business account can pop up with contact options and many shopping features inside the app. That's a good reason to set up a business account on WhatsApp to increase online visibility for local customers.
You can optimize it by filling out your profile with contact info, adding relevant product/service categories, and completing the catalog.
Are you running an offline business, too? Or do you target local customers? You can promote your business with WhatsApp QR codes. They are easily generated inside the app and can be shared further across many channels. The WhatsApp camera can only scan official WhatsApp QR codes. 
Advertise on WhatsApp to drive potential buyers 
Click-to-WhatsApp ads are CTA (call-to-action) buttons incorporated in Facebook or Instagram's ads that redirect users to a WhatsApp chat. You can advertise your business as a whole or represent an individual product item. On Facebook, you can set a discovery audience or retargeting: this ad type leading to WhatsApp is a perfect choice to drive customers to your WhatsApp Business account and start a converting conversation. 
How can they be converting? Your customer representative can be there to answer the questions or process the order right away. With conversational AI, a chatbot can engage with customers over WhatsApp to answer their questions and complete their cart without the participation of a customer representative. 
Also, on Facebook businesses can add a contact button to "Send a WhatsApp Message". With WhatsApp shopping features, buyers can explore your products on your business profile and check in with your sales representative to learn more without leaving the app.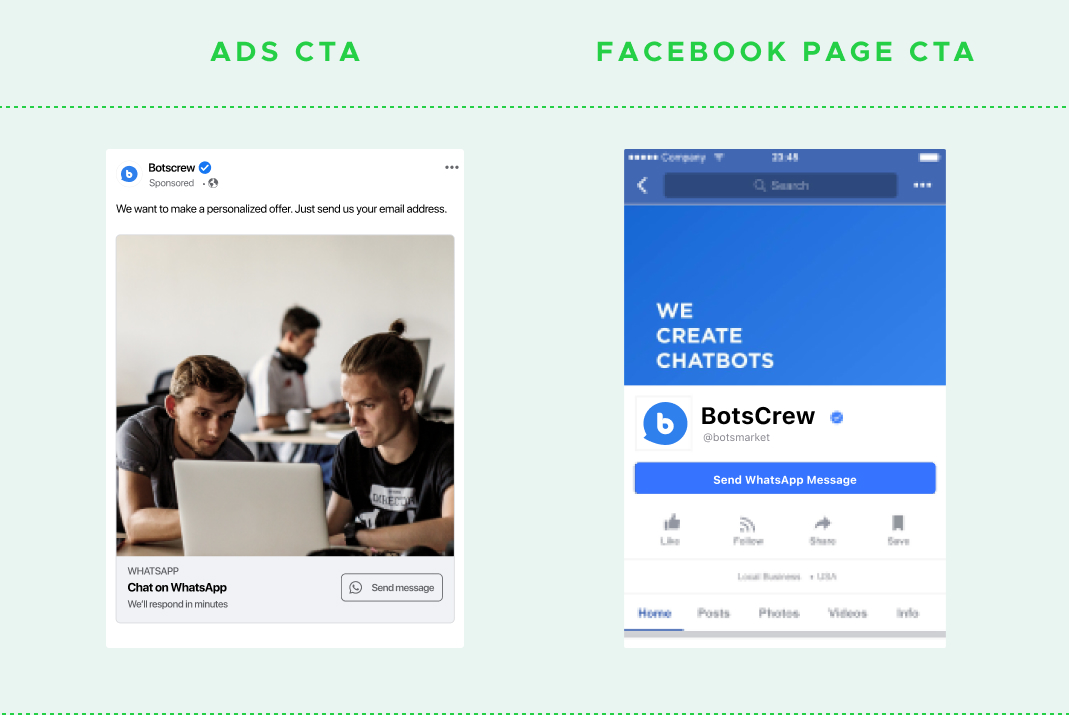 When customers turn into chat to ask questions, you can increase the chances for them to convert.
Add catalog links to the Greeting message or quick replies
You can edit out some of your quick replies or set a Greeting message with a link to a catalog. A bit advantage is that users do not have to leave the WhatsApp app to view it. So, let's say, a customer entered the chat with a question about your business. While you are processing the reply, a user can scroll through the catalog or recently added collection. 
As for quick replies, they are a great way to promote your products during the conversation. If there are any popular items or special offers, your customer support representatives don't have to spend time finding the website link or scrolling through the catalog. Simply add the links to quick replies to make them a one-click reach. 
Re-engage in the first 24-hour window
In case the customer drops off mid-conversation, you can re-engage them shortly with discount codes and promotional offers. For example, if a customer showed interest in buying a shoe from your store and dropped off mid-conversation, you still have a 24-hour window to incentivize them to complete the purchase. Why 24 hours? After that, you'll need to pay for a new message as the new conversation will be initiated. Send a broadcast message, manual or automated follow-up – we'll cover these two options in the section below. 
Retention & customer experience
Already engaged with customer on WhatsApp? You can go further to re-engage with them and drive repetitive sales.
Send converting broadcasts
Broadcasts are massive messages sent out to a large number of users who signed up for updates from a business. You can pick contact groups by their activity (e.g. abandoned cart), and send short promotional texts with a link to a product or chat. Customer segmentation will help you achieve the best results – use the information you have about customer interests, activity or messages to provide personalized offers. 
By clicking the promo message, users can view the item and form a cart without exiting WhatsApp. They can also get in touch with your support representative if they need to get a detailed answer. 
You can also connect transactional messages to your WhatsApp chats. Questions like "where is my order" are one of the most frequently asked in customer support. You can ease the load on your customer support team by implementing a WhatsApp chatbot. 
With a chatbot, customers can get an update right in the WhatsApp chat by entering the order number and receiving an automated reply from a bot. Alternatively, they can subscribe to automated updates and receive messages when their order status has changed. This feature will require a conversational AI platform to get started.