Ads/Facebook/Chatbots
• 7 min read
Killer Combination: Facebook Ads And Chatbots
In 2016 Facebook introduced chatbots to its Messenger platform. And now the potential for advertising bots is only growing.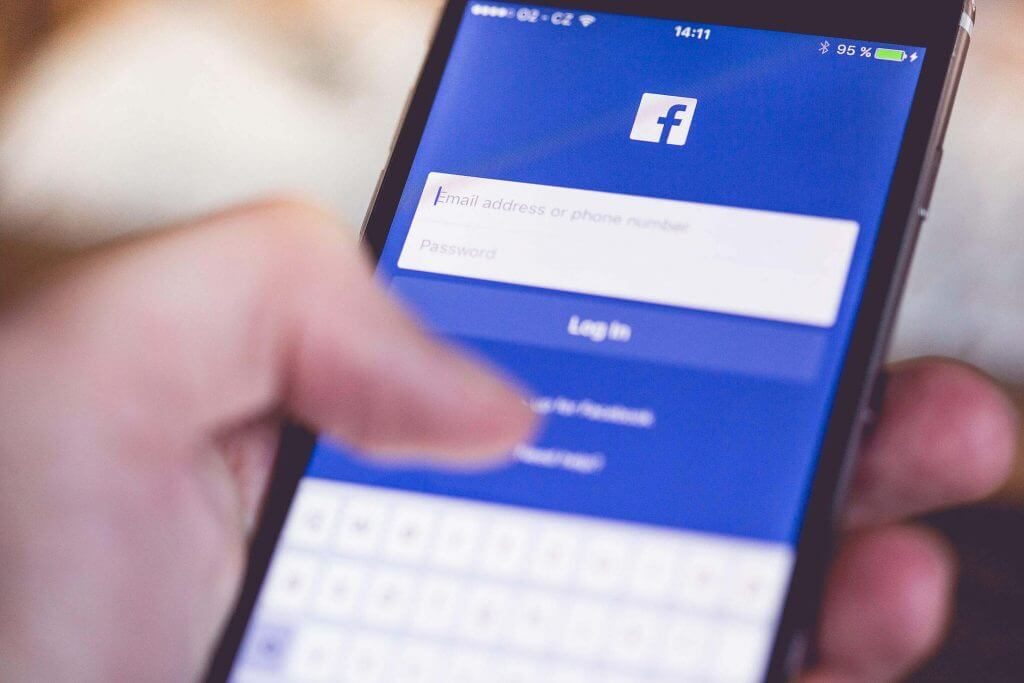 Despite TikTok, Facebook is still the world's most popular social platform with 2.91 billion monthly active users. Besides, 72% of this active audience have successfully interacted with ad campaigns, proving that Facebook is one of the go-to channels to run advertising in 2022.
The other thing that shows Facebook is a powerful platform for advertising is that it's open and click-through rates are fantastic. The average Messenger open rate is near 80-90% compared to 20% for email. And average CTR (Click Through Rate) on Messenger is 30% and emails CTR is only 3.3%.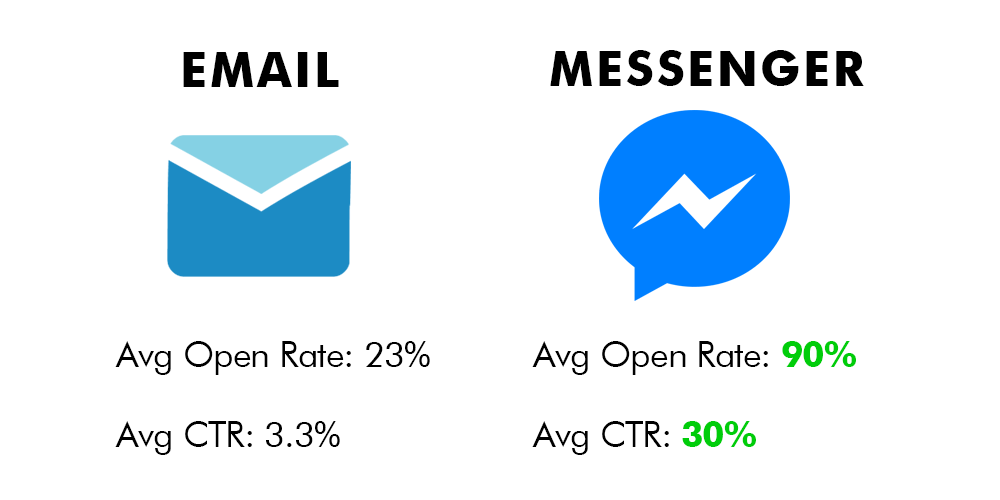 Here's what you should know about social media advertising
If you consider Facebook as a platform for your ad campaigns where the goal is to redirect people to your website, then check if your website is mobile friendly. Statistics say that 98.5% of users use Facebook on their mobile device and 81,8%  – ONLY on a mobile device.  
However, switching from Facebook to a website, (and then to another website if needed) is not the best practice as it increases the bounce rate. Nowadays, when shoppers can buy products or services without leaving Messenger, it is better to consider Facebook ads with personalized customer service. To further enhance your understanding of social media advertising, it's essential to explore the FB ads library. This resource provides significant insights into your competitors' advertising techniques, helping you to optimize your own efforts.
For that option, consider chatbot advertising.
What is chatbot advertising?
Chatbot advertising is a marketing approach to generate sales and close deals faster by automating personalized conversation between a business and a customer on websites, messaging platforms, SMS or apps. Meanwhile, a chatbot qualifies leads so employees won't spend time on people that would eventually turn out to be dead ends. A chatbot would ask a person a few questions and gather the necessary data. Moreover, if your bot is integrated with CRM, information about a lead will automatically be sent there.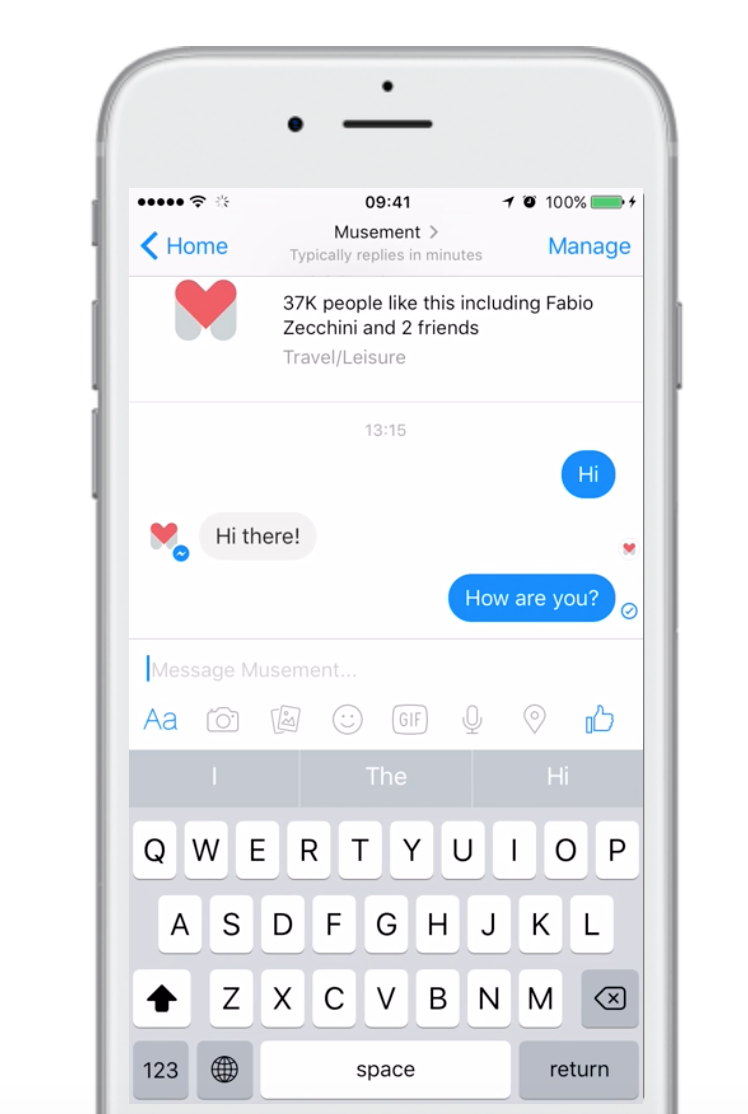 In terms of Facebook bots, there are two paths for bot incorporation in advertisement — "Sponsored Messages' ' and "Click-to-Messenger' ' ads.
You can create an ad that will appear right in the user's Messenger Inbox. This types of ads are called sponsored messages. There are no special labels or headers on the message, so it doesn't look too promotional scaring people straight away. These messages allow users to automatically communicate with a chatbot by clicking them.
Note: You can send Sponsored Messages to those users, who have already engaged with your brand.
These ads use Facebook chatbot as a destination point. For example, a user sees an ad displaying a local shop offering a discount coupon with a CTA button (send a message, learn more or get your discount now, etc). When a user reacts to this ad by clicking on the button, it instantly opens a chat in Messenger with a message from a chatbot. This gives your business the ability to communicate with your current and potential clients directly.
How can Facebook Messenger chatbots improve your advertising?
Boosting sales and closing deals faster
83% of consumers say they would shop for or buy products in messaging conversations. Using chatbot advertising creates a personalized customer experience of interacting with the brand at an individual level. With chatbot advertising, your business can start a conversation that feels natural to consumers, and 80% of them are more likely to buy from you if there is taloride experience.
Thus, sending a sponsored messages with personalization gives you a better chance at starting meaningful conversations that will convert in the end. With these ads you are not limited only to users' news feeds, you can reach back to them naturally with the direct message in their Messenger Inbox.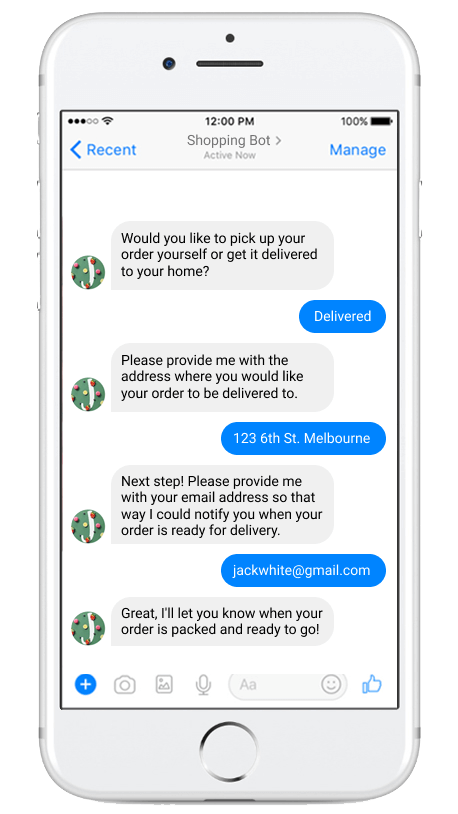 Better retargeting ads campaigns
Facebook is perfect for fast and efficient remarketing and the possibilities of chatbot advertising there are massive. Chatbots can collect information such as location, price range, gender, characteristics as well as many more marketing insights. A chatbot can ask a person a few simple questions to gather the necessary data and details about them.
For instance, previously you had a Facebook ad about your seminar. With the chatbot, you can reach people who have engaged with your chatbot before, and send them a message about a new upcoming workshop that will soon be taking place.
Decreasing the bounce rate
A great aspect about chatbot advertising is that they keep users on the same platform. You don't have to redirect users to a website or page. Chatbot can receive payments, generate documents, fill out forms, order products, schedule meetings and many other tasks.
As an outcome, it reduces the bounce rate and increases the chances of Goal Completion rate.
Instant responses and follow ups
In today's fast-paced world people love when everything is done instantly. 82% of consumers look for an immediate response from brands on marketing or sales questions. And the faster you can respond to a potential client the more likely the odds you will have to close the deal.
However, a study conducted by Harvard Business Review indicates that many companies are too slow to follow up on their leads.
Firms that tried to contact potential customers within an hour of receiving a query were nearly 7 times as likely to qualify the lead (which we defined as having a meaningful conversation with a key decision maker) as those that tried to contact the customer even an hour later—and more than 60 times as likely as companies that waited 24 hours or longer.
They can reach out to a new lead in a matter of seconds at any time. And as we already know, the faster you respond – the better chances to close the deal. People are not willing to wait hours only to receive a letter on their email.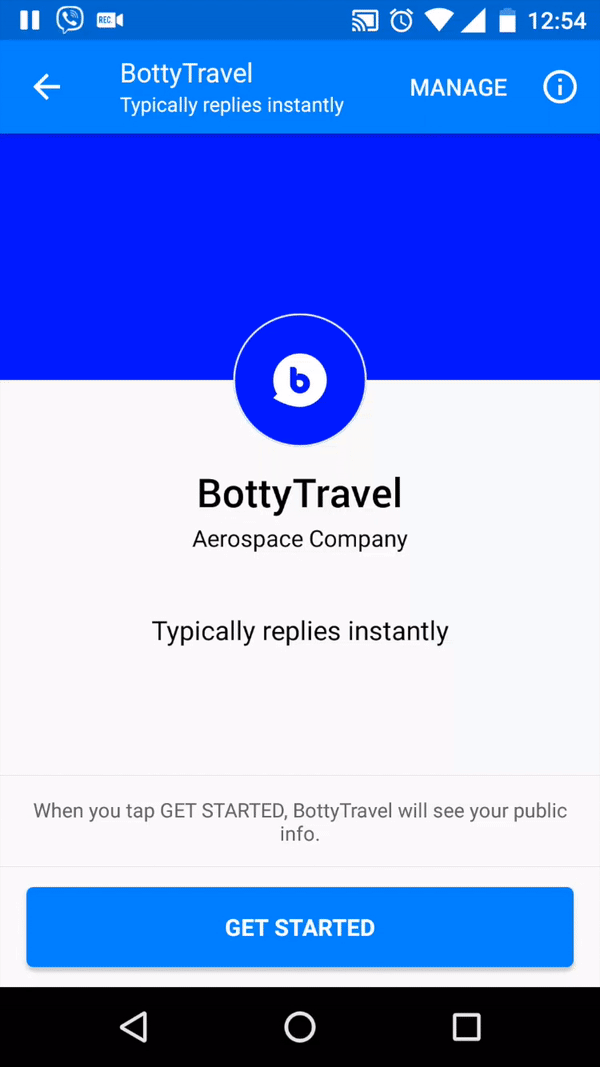 17 Steps to set up a Facebook chatbot ad
So, let's set up a click-to-messenger ad.
1. If you're creating an ad for the first time, I recommend you to create a Business Account to manage your business setting easily and in the future.  If you have one, skip this step and head to your Facebook Ad Account.
2. Go to the "Campaign" tab and click a green "Create" button in the top left corner.
You may be offered to choose between guided and quick creation. The first option is much easier to follow, and I will guide you through this one.
3. Now you see the list of objections. Choose the one that works best for you, but remember that not every objective gives an ability to use messenger as a destination.
We'll break down the "Messages" option.
4. After choosing the objective, you'll see a field where you can name your campaign, create a split test and turn on budget optimization.
Let's name your campaign. Only you will see this, so pick the name you can easily understand in the future. It's okay to leave the other two options as they are at this stage.
5. The next step would be configuring your ad set options.
Give a recognizable name to your ad set and choose a message destination. Firstly, choose add type "Sponsored message" or "Click to Message". Then choose the Messaging platform.
Currently, there are 3 options available:
Messenger
Instagram direct
WhatsApp
If you don't have a business represented in WhatsApp or Instagram, you can pass through this option and concentrate on Messenger. 
You can refer to the "Messenger Destinations" section above or see hints to help you decide with message destination. We'll stick to the "Click to Messenger" option for now.
6. Let's move to targeting.
Facebook enables a variety of targeting options, but let's start with the basic ones and then move forward.
You can start narrowing down your target audience by configuring:
Locations
Age
Gender
Languages
The way you speak with a teenager from LA differs from a 40 years old bank worker somewhere in London, so be thoughtful about segmenting your audience.
Start with the most valuable group you understand and can personalize your message for.
Hint: you can analyze your existing clients base and try to identify patterns you may apply to targeting.
7. Now you can move to a detailed targeting. Here you can choose more advanced parameters based on the knowledge or assumptions about your target audience.
Take some time to explore the available options.
It's important to remember that you can narrow down your audience or exclude a certain group from your targeting.
You may also consider that the first block contains two targeting options.
What I say to Facebook by grouping the parameters this way is:
"The audience I want to target should be interested in Men's clothing or Women's clothing or both of the options AND should be interested in Adventure travel BUT didn't move recently."
Add as many parameters as you wish, but keep your audience broad enough for Facebook to show your ad. Two to five thousand would be okay for the beginning.
8. Let's move to placements.
You can choose Automatic Placements, which is a recommended option from Facebook, or Edit Placements and select the places you want to appear.
While you may not know which placements will work best for you, it is better to create a few similar ad sets, but for different placements. This way you'll see well-performing and underperforming placements instead of an average result.
If you know your audience well and understand the platforms they use, feel free to narrow down the placement options.
You can also choose to target only mobile or desktop devices or live it as it is to target both.
9. Now you can choose your budget and schedule.
You can choose between Daily and Lifetime budget. It's up to you to decide what works best for your business. While spending your budget daily is more smooth, the Lifetime option enables more precise scheduling.
Both options give an ability to choose the Start and End dates. What's noticeable for the lifetime budget option is that you can select specific dates and hours (in your or your user's time zone) for your ads to appear.
It's a nice option if you understand how the day of your audience looks like or at least track the activity patterns on your page.
10. As soon as you're done with Ad Set configuration, you can move to the Ad section. Here you can define how the ad will appear and configure the Messenger setup. But let's start small.
Name your ad and choose an identity that will represent you on the platforms. Usually, it is your Facebook and/or Instagram page.
11. Choose the format of your ad. There are a carousel and single image/video options available. It depends on the type of business and the audience which format will work better, so it's up to you to decide where to start. As always, you can create two ads to test.
11. Choose the format of your ad. There are a carousel and single image/video options available. It depends on the type of business and the audience which format will work better, so it's up to you to decide where to start. As always, you can create two ads to test.
We'll consider a single image option as an example.
You can upload your image or choose between stock images available for free. You can also make a video out of pictures right on Facebook. For more advanced editing needs, Picsart is an excellent photo editor that can help you get the most out of your visuals.
Whatever you prefer, be picky about your visuals. It's the first interaction point between you and your audience, so make sure it won't be the last one.
12. In the Ad Setup section, you'll need to add text, headline, description, and a call to action for your ad.
You can preview your ad on different platforms and devices in the Ad Setup section. If it's hard to keep the appearance of the add equally good on different platforms and devices, you can take a few steps back and split your ad set by placements and device types.
13. The part that differs the process from the ordinary way is Messenger Setup. Here you can configure the way your bot will start a conversation with those who have clicked the ad. It is necessary to pay attention to this section and provide value right away to keep users engaged.
In this section, you can choose between creating your own welcome experience and a bot's "Get started" screen, which I do not recommend since it gives little to no context to a user came from an ad. Your welcome experience can be "Standard" or "Custom". While "Standard" is a good option for a  simple automated response, "Custom" gives broader space for tailoring your message to context.
14. Let's create a custom message.
If you have a developer, you can pass your requirements on how the welcome message should look like and ask them to send it back to you as a JSON file. After receiving a code, you need to go to a corresponding tab and replace a standard facebook template with your snippet of code.
Make sure there's nothing left from the standard template that may break the structure of your code.
Hint: Ask a developer to send you as a code snippet, not as a text message. If ignored, the quotation marks within the code will prevent it from working correctly.
Now let's talk about the visual editor.
Here you can choose between formats of the welcome message:
Text Only
Text & Image
Text & Video
15. Edit your greeting text in a corresponding field and choose customer actions that'll work best for your case. You can choose between FAQ, buttons, and quick replies. The hints in the Ads Manager will help you to decide.
I've stopped on a quick replies option. Here you can add replies to your bot and see its appearance right in the same window. Simple.
16. Now you need to connect your bot to the quick replies you've just created. You can do it by clicking a "Connect Your Bot" button and then adding a corresponding Bot Payload.
A Bot Payload is a unique value assigned to each message of your bot. By adding a Bot Payload,  you say which message of the flow a particular quick reply should return.
In case you use chatbot builders like Manychat, there should be no problems setting up your custom welcome message.
However, If you have a custom chatbot that cannot be created using simple builders, it's handy to request a list of payloads from a developer to use in the future.
If you'd like to have a platform to manage custom chatbots using a simple interface and set up ads painless, you can download our platform presentation to learn more.
17. Launch your ad and keep track of the results. Analyze, make continuous improvements, and turn off underperforming ads to optimize your spendings.
There is no need to explain how important real natural conversations with potential clients are for companies. Combination of Facebook ads and chatbots opens a new horizon of possibilities for successful advertising and marketing.