Travel/Startup/Chatbot
• 5 min read
Musement bot – one of the first travel chatbots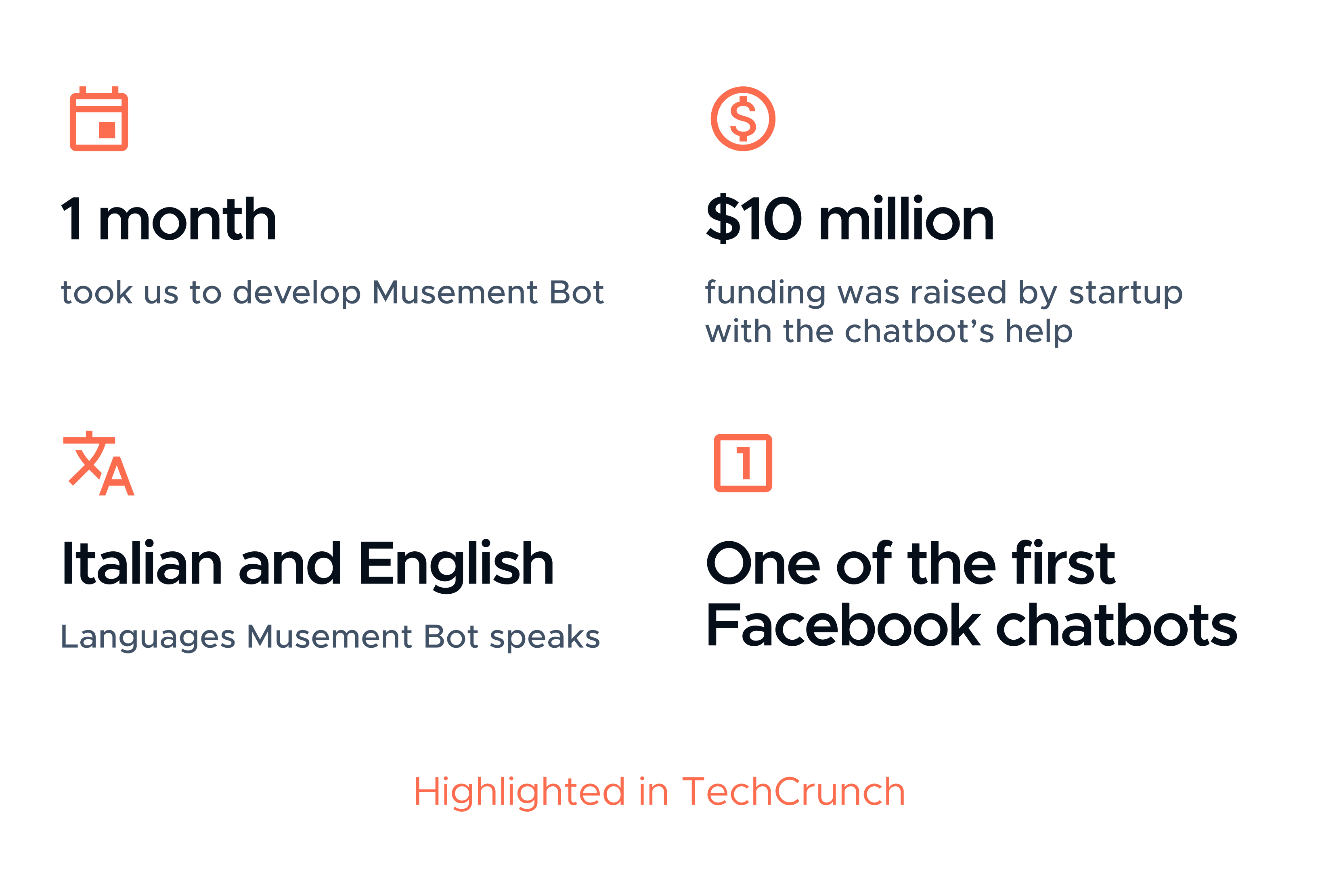 In 2016, Musement, a "digital travel companion" startup, closed $10 million in Series B funding. The critical factor for their success were partnerships the company has with major players in the travel industry. They also had launched a chatbot for Messenger.
As Alessandro Petazzi, co-founder and CEO at Musement, explains in the TechCrunch article: "Our goal was also to make a seamless booking experience across all verticals, helping consumers to discover things that are relevant to them, whether at home or traveling. Until now, this integrated experience had never been achieved and our new funding round will assist us in executing this vision even further."
Musement Bot was one of the first chatbots in the travel industry in 2016.
In this case study, we will show how we helped Musement achieve their startup success story.
Meet Musement – our first client
Musement helps travelers enjoy in-destination experiences to the fullest, sourcing local knowledge and recommendations to make the best use of time.
They launched in Milan in 2013 and have since taken root in 70 different countries. It was the new travel experience: bookings on the go, the best selections, immediate skip-the-line access to venues, events, and bespoke experiences. No wonder why they turned to new technology in 2016 – chatbots.
2016...why did they decide on BotsCrew?
We met Fabio, CTO of Musement, at the hackathon in Mallorca in May 2016. He was one of the hackathon's partners that presented Musement API for the participants.
Back in those days, BotsCrew hadn't even existed yet. But at the hackathon were our future co-founders – Max, Nazar and Oleg. They had used the API to develop a chatbot that helped them to win the first prize. At the afterparty, they got into talking and Fabio seemed very interested in chatbots.
A few weeks later, they signed the contract with Fabio, and this is how the story of BotsCrew and the first travel chatbot started.
Solution or trying new Facebook possibilities
Musement needed a new technology that would strengthen their mission to provide new travel experiences.
Meanwhile, Facebook was moving in the direction of "making brands closer to their customers." In April 2016, they announced about providing developers with API tools to build chatbots and Live Chat web plug-ins. Musement understood that today almost all of their customers are using Messenger.
We came up with the idea to develop a chatbot on Facebook that will speak English and Italian.
Additional reason for developing a chatbot on Facebook platform was that you can easily connect a chatbot with the Facebook ads. As a result, every ad visitor would be transferred to the chat with a chatbot that proposes to buy an advertised activity.
Let's look at an example:

Here's what we had created
Functionalities
Musement and the BotsCrew team decided to add the functionality of searching for attractions, things to do in any place in the world.
You can ask a chatbot anything about your chosen city: food, drink, things to do, attractions etc. Just write a simple message like, "Suggest the best coffee in Paris" and the chatbot will send you a list of the places to taste a cup of French coffee with croissants. Also, the chatbot can understand misspellings or mistakes in the locations users input.
We have used an external tool called wit.ai for the NLP (Natural language processing) part. 
After a user finds an attraction, they also can check the weather in the same area. To do so, they also need to type their request.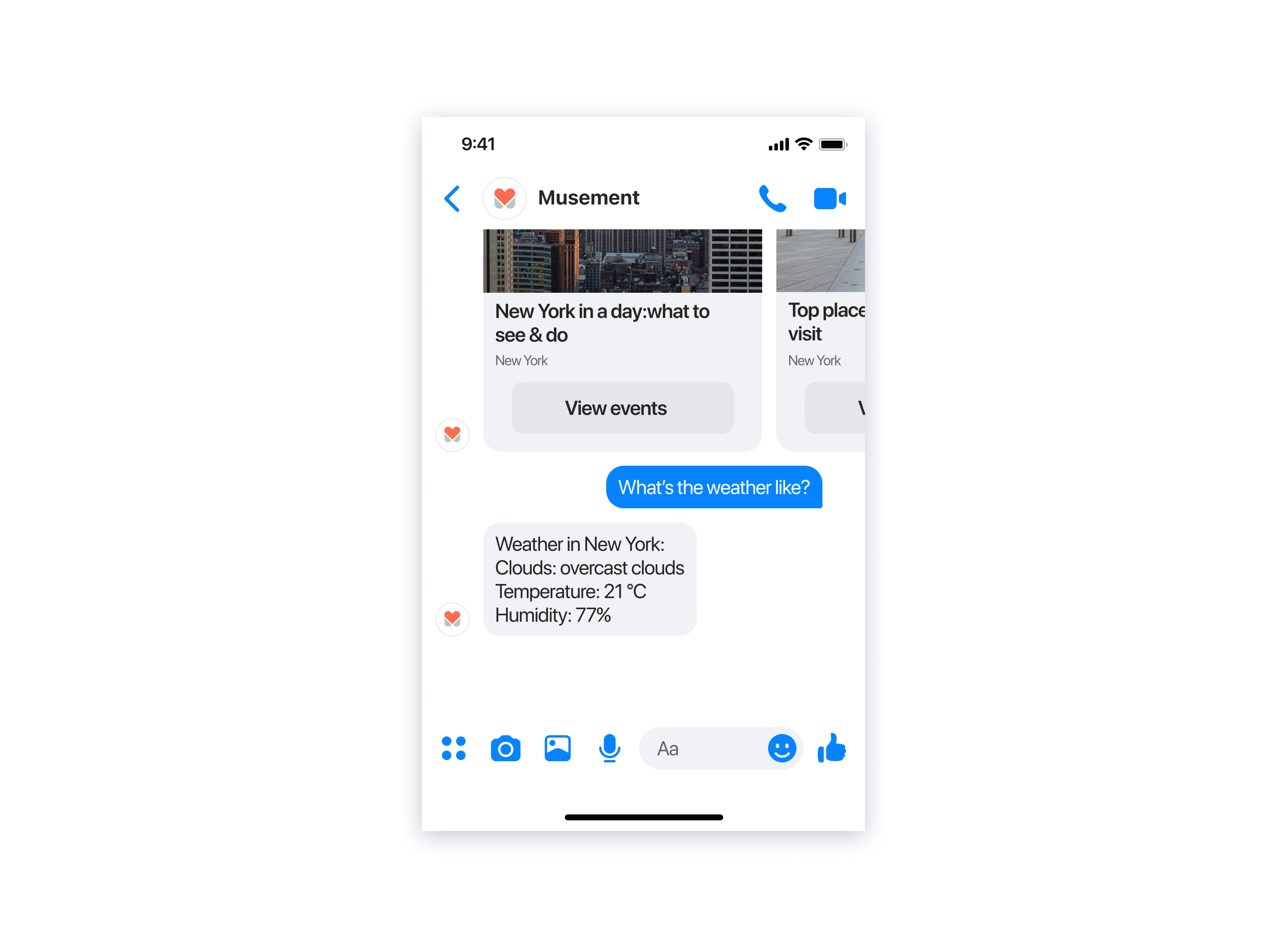 "The local knowledge and information held by Musement's experts will automatically recommend the best places to go or see in order to take full advantage of any vacation. It's an incredible early demonstration of how bot technology can be used and adapted by different sectors."