Automation in Healthcare: Top Chatbot Use Cases for Patient & Employee Experience
Healthcare/Chatbots/Article
• 7 min read
Automation in the healthcare industry with chatbots: here are the effective use cases proven by successful applications.  
The worldwide AI in the healthcare industry is forecast to reach $208 billion by 2030. Every year more and more healthcare establishments thrive to provide better, faster, and more efficient patient experience. 
How does AI help healthcare to grow and stand out among competitors? 
The applications of AI are wide enough to cover administrative tasks, diagnosis prediction, and even robotic surgery. One of such applications is a chatbot.
A chatbot uses artificial intelligence (AI) technology to simulate conversation with a user in natural language. What can automated conversations do both with patient requests and healthcare challenges?
For numerous healthcare companies, chatbots have proven to show the following benefits: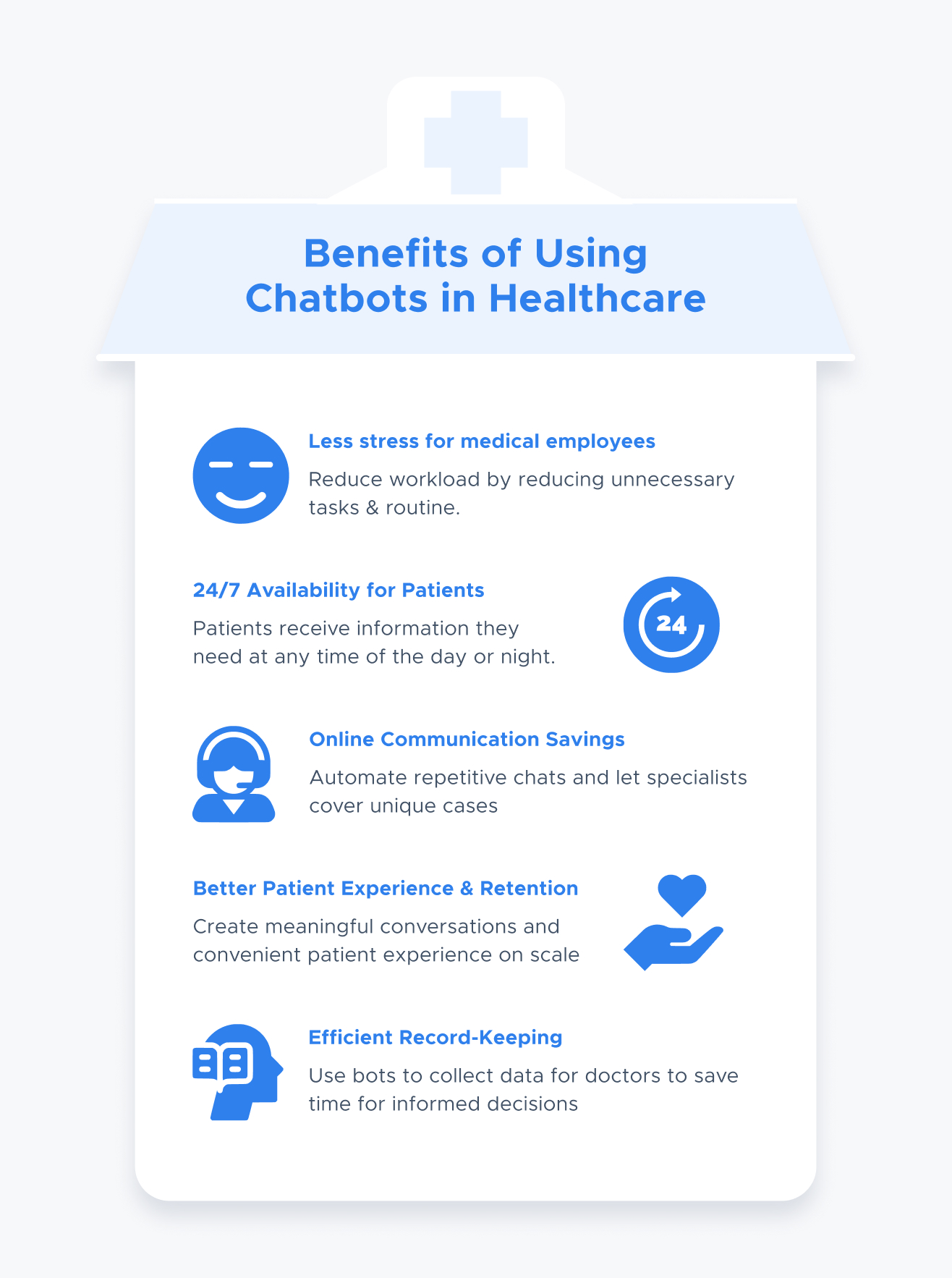 Below, we collected the most popular and proven chatbot use cases in healthcare for establishments of any size.
Chatbot Use Cases for Automation in Healthcare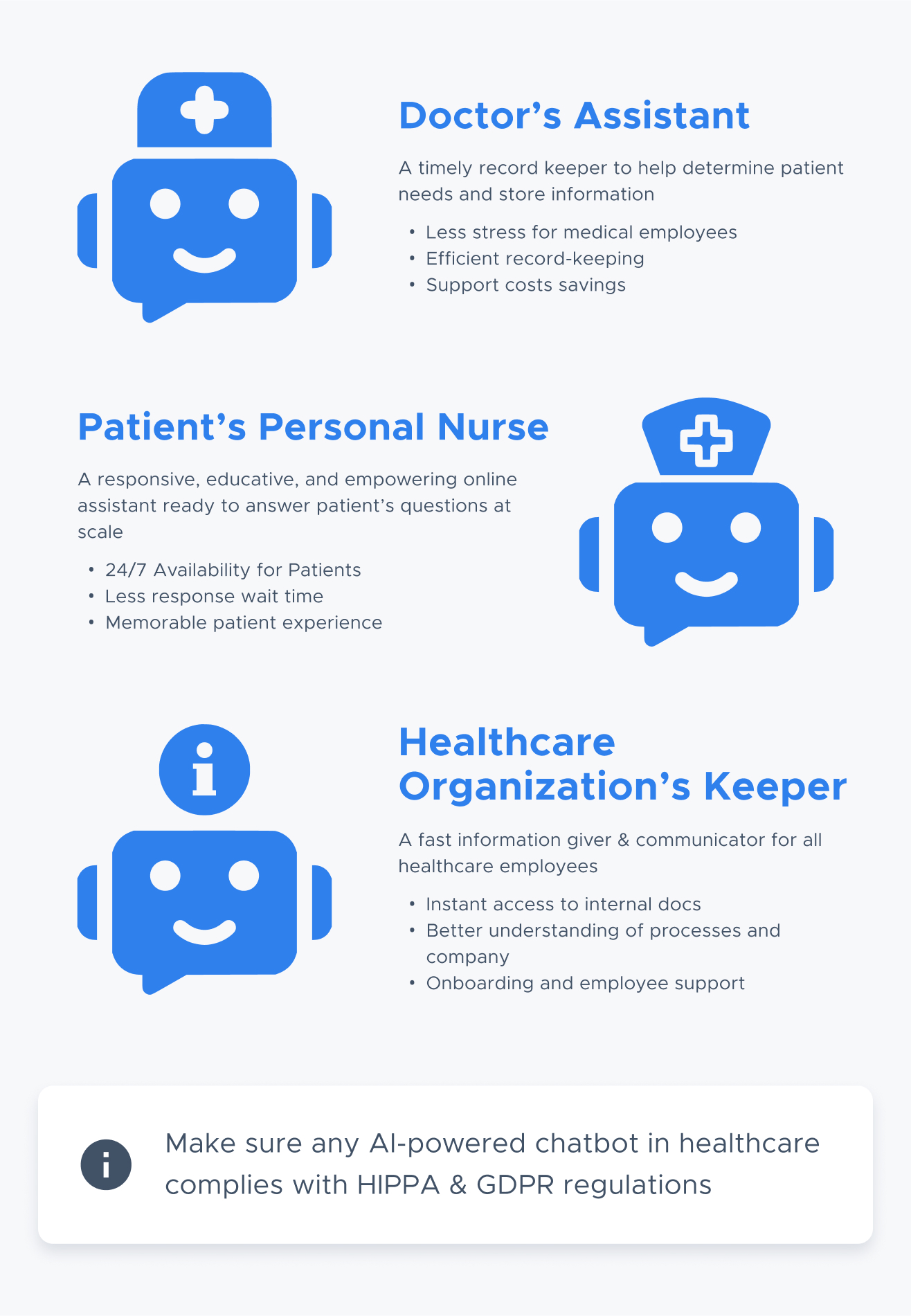 Doctor's Assistant for Administrative Work
One of the most popular applications of chatbots within all industries is the automation of routine, time-consuming, and overly repetitive tasks. Healthcare professionals often face tons of work while managing the case files and reports of the patients. Chatbots can be a administrative stress-reliever for medical staff's daily routine. 
Before the patient's visit, a chatbot can:
Make appointments;
Answer popular patient questions;
Inform about the visit;
Send reminders;
Collect symptoms and initial requests;
Perform patient triaging and direct to the right specialist;
Build conversations for better pre-visit analysis.
First of all, a chatbot, placed on the website or popular messaging channels, can chat with patients, get them to reveal symptoms, and then transmit the data to doctors. That's a new story for medical personnel that used to do all of that manually.  
Based on the input, a chatbot can ask more questions, specific to the patient's response, and do partial analysis to assist in building a treatment plan. With additional training, a bot can make advanced things like a pre-diagnosis summary for a doctor's review. It's the moment to embrace the power of AI
For example, Melody, a chatbot developed by Baidu, has been outfitted with neural networks and has been trained on medical textbooks, records, and messages between actual patients and doctors. The chatbot will keep asking questions to gather more data. That data is then compared to all the previous medical knowledge Melody has stored. After that, the symptoms and possible diagnosis is sent to the doctor, who will recommend the next steps.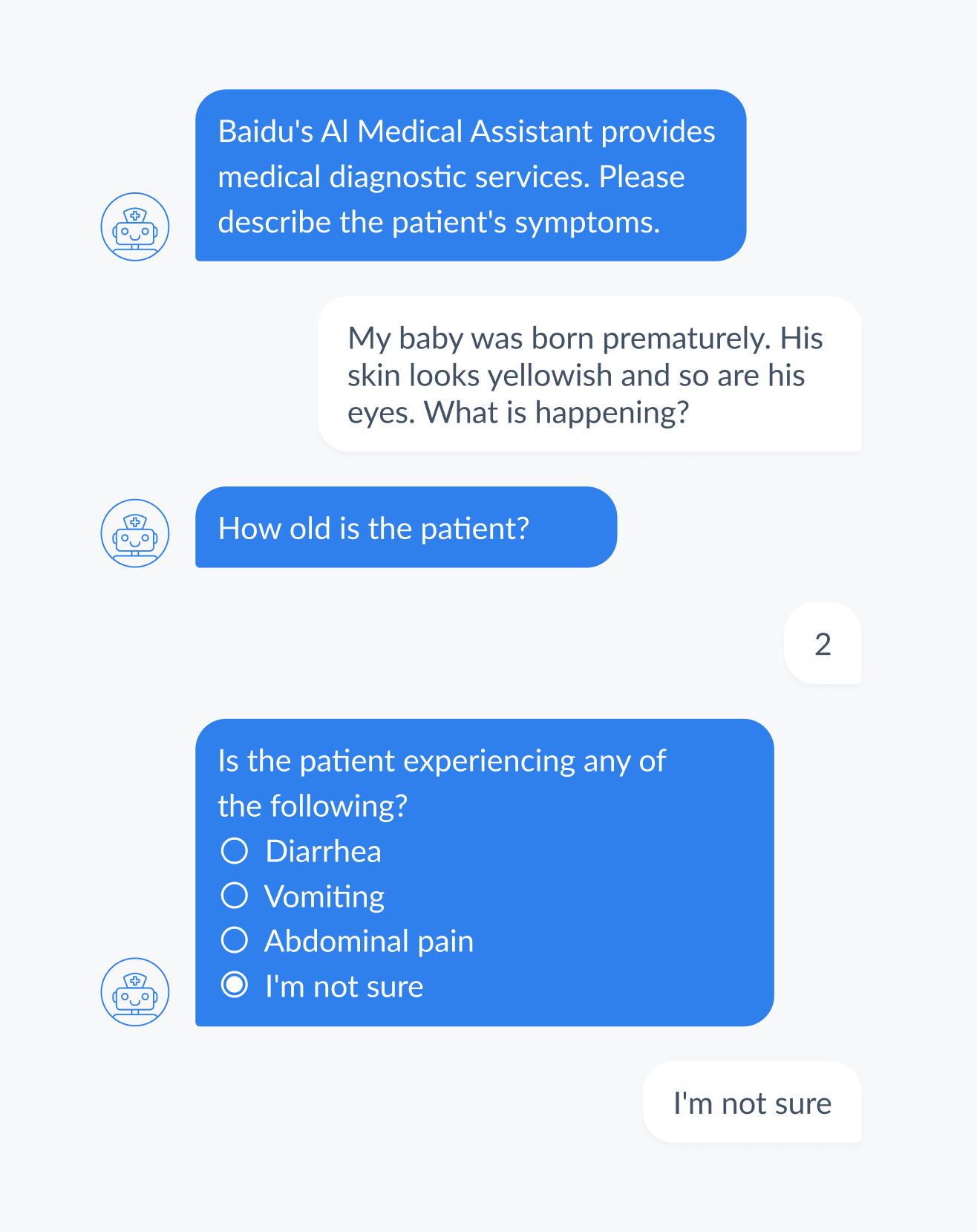 But that's not the whole story for chatbot applications. During & after the patient's visit, a chatbot can:
Complete medical stories;
Refill prescriptions;
Make next appointments;
Summaries of patient visits;
Support patient with minor requests;
Provide personalised therapeutic experience, etc.
Chatbots and voice assistants can help doctors to create documents or reports during patient's examination. In daily medical practice, voice assistants can help to fill out papers like drug prescriptions and refillings, summaries of the visit, or referral letters. This way doctors will have more time for things that require their attention.
Healthcare bots also enable medical staff to find patients' medical cards, prescription history, and previous visit reports in a matter of seconds. As sometimes emergencies happen fast and correct diagnosis is crucially important. And it is not only about finding the bunch of text but asking the exact questions like "What was the blood pressure of the patient 2 weeks ago?" Using a chatbot can be an additional way to make sure that data was collected and stored correctly. 
In the therapeutic practice, chatbot can also assist medical stuff with patient monitoring & remote care. Some patients require extended at-home monitoring, whereas health care workers deal with an increased workload. For example, a chatbot named Vik was developed to empower patients with breast cancer. It was communicatign with patients on their condition, followed by addressing their anxieties and fears, as well as reminding about the prescriptions. Vik improved the medication adherence rate of patients and showed the overall satisfaction rate 93.95%.
Patient's Personal Nurse for Better Experience
Less than 50%
of patients are engaged, as reported by more than 70% of the respondents in a survey of more than 300 clinical leaders and healthcare executives.
Just like on the doctor's side, a chatbot can be an informer and assistant for patients. No more long wait times to get a reply from a doctoror book an appointment. Deploying a chatbot in healthcare is very beneficial as it builds the first and ongoing impression for a patient and improves satisfaction.
From the patient's perspective, many chatbots have been designed for symptom screening and self-diagnosis. The automated chatbot, Quro (Quro Medical, Inc), provides presynopsis based on symptoms and history to predict user conditions (average precision approximately 0.82).
Although, the use of chatbots is not limited to FAQs or bookings. Chatbots can act as personal nurses to patients. They can:
Send patients reminders about pills and procedures;
Track their moods, diet, training, and symptoms;
Provide patients with wellness recommendations and tips;
Advise on pills and things like dosage, restrictions, suggestions, and side effects;
Educate or even replace doctor communication in particular cases.
A well-designed healthcare chatbot can ask patients about their health concerns, look for a matching physician, provide available time slots, schedule, reschedule, and delete appointments. 
All of that positively affects the patient experience. Thanks to AI, chatbot use cases can include even more significant work, like partial doctor-to-patient communication without human intervention. 
For example, Neva is a healthcare chatbot that assists the Natera company in delivering genetic education. The chatbot guides and educates patients about genetic testing and helps to get reliable information faster and more conveniently. Also, the chatbot sends detailed explanations of test results and a patient can book a meeting with a genetic counselor. 
Currently, there are more than 1000 chats with the bot, and the success rate is over 65%, which means that most of the patients that start the interaction complete the whole chatbot flow.

Chatbot as a Healthcare Organization's Keeper
Chatbots can help healthcare enterprises build a new experience inside the difficult organizational structure. Day-to-day medical employees may struggle with internal communication, finding a relevant document, or managing chaos in the mailbox. In hospitals and clinical institutions, digital assistants can cover for lots of administrative work. 
Bots help pitch ideas, send requests, submit works and track the status of its reviewing in one place without extra efforts. So, instead of running around and bombarding different departments with questions or switching between multiple platforms, employees can ask a chatbot to do it.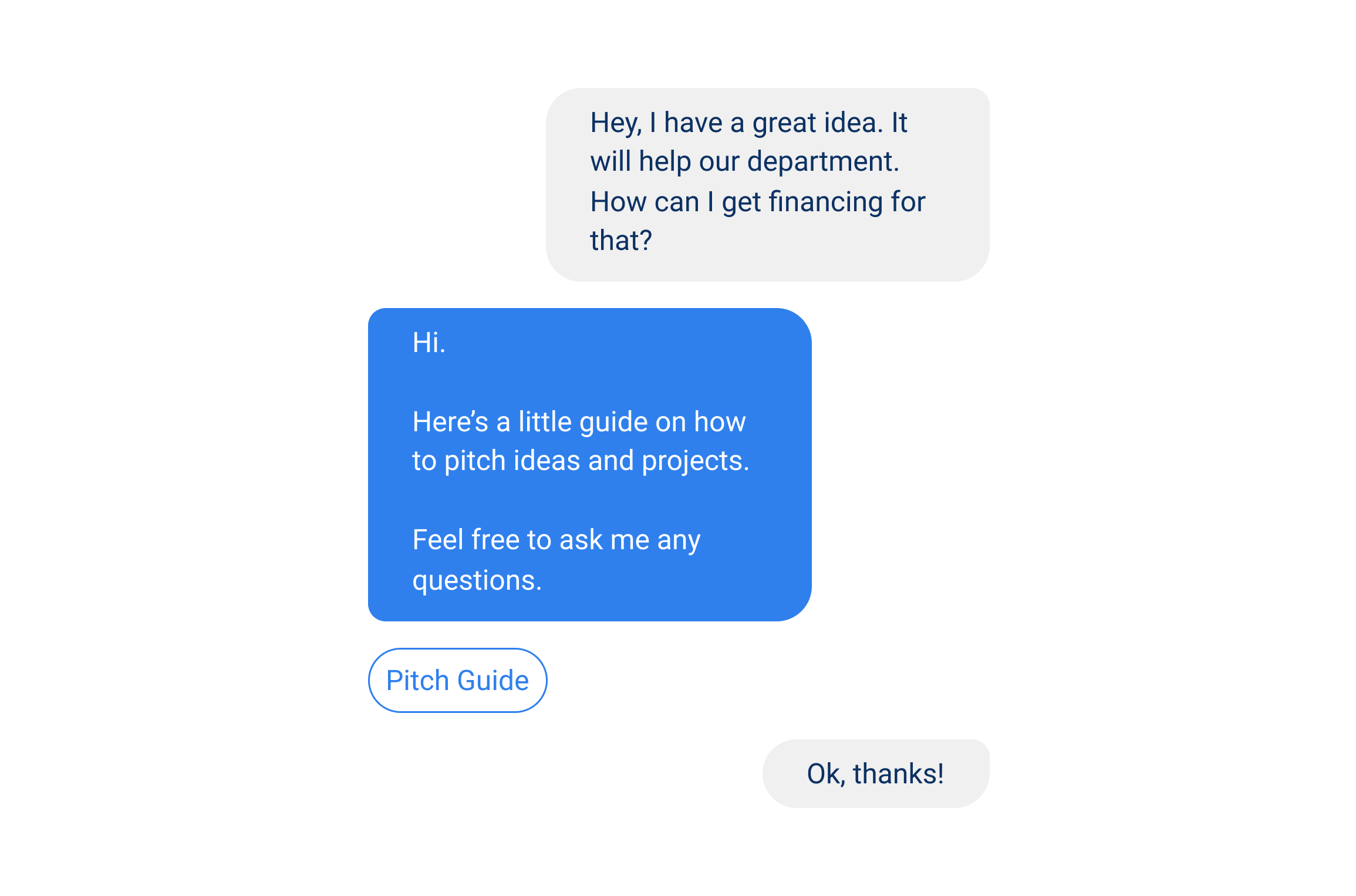 As organizational assistants, chatbots can: 
Book days off, sick leaves, and conference rooms;
Keep employees engaged and up to date with company news and relevant information;
Provide instant access to internal docs;
Send surveys to collect and analyze employees feedback;
Automate the onboarding process.
The last one is especially great time-saver for senior specialists. Usually, new employees have to fill in and sign tons of standard documents like contracts, non-disclosure agreements, legal documents, and forms. Whenever needed, chatbots can assist new employees with useful guides, documents, and tips. 
Chatbots can ask a new worker the required questions and help him fill out necessary papers. After that, a bot can provide completed documents for a person to sign or send straight to the HR department.
What about Unique Healthcare Chatbot Use Cases?
As seen from the use cases above, a chatbot is more of a toolkit for automation in healthcare. The use cases can be mixed, cover both sides of organization and acting parties, or even perform the most unusual work that hasn't been automated before. 
What matters is how establishments use these tools to drive actionable insights for clinicians and patients. The endpoint of any AI application is to make things work together in terms of money, time, and overall experience. 
What else can chatbots do for the healthcare industry? 
The main three cases described above improve the quality of care for patients and rebalance the workload for clinicians. However, the use of AI can actually revolutionize the medical practice. Some examples are chatbots for disorder prevention and health promotion. 
A recent study analyzed the effectiveness of a chatbot for eating disorder prevention. A chatbot was designed to chat with women who were at high risk of eating disorders due to some factors like concerns over body image. Using eight conversations about topics around body image and healthy eating, women were encouraged to have two of the conversations each week. The chatbot was successful in reducing women's concerns about weight and shape through a 6-month follow-up and it may actually reduce eating disorder onset.
If you're looking for a unique automation in healthcare with chatbot, you can start drafting your next chatbot idea with these steps: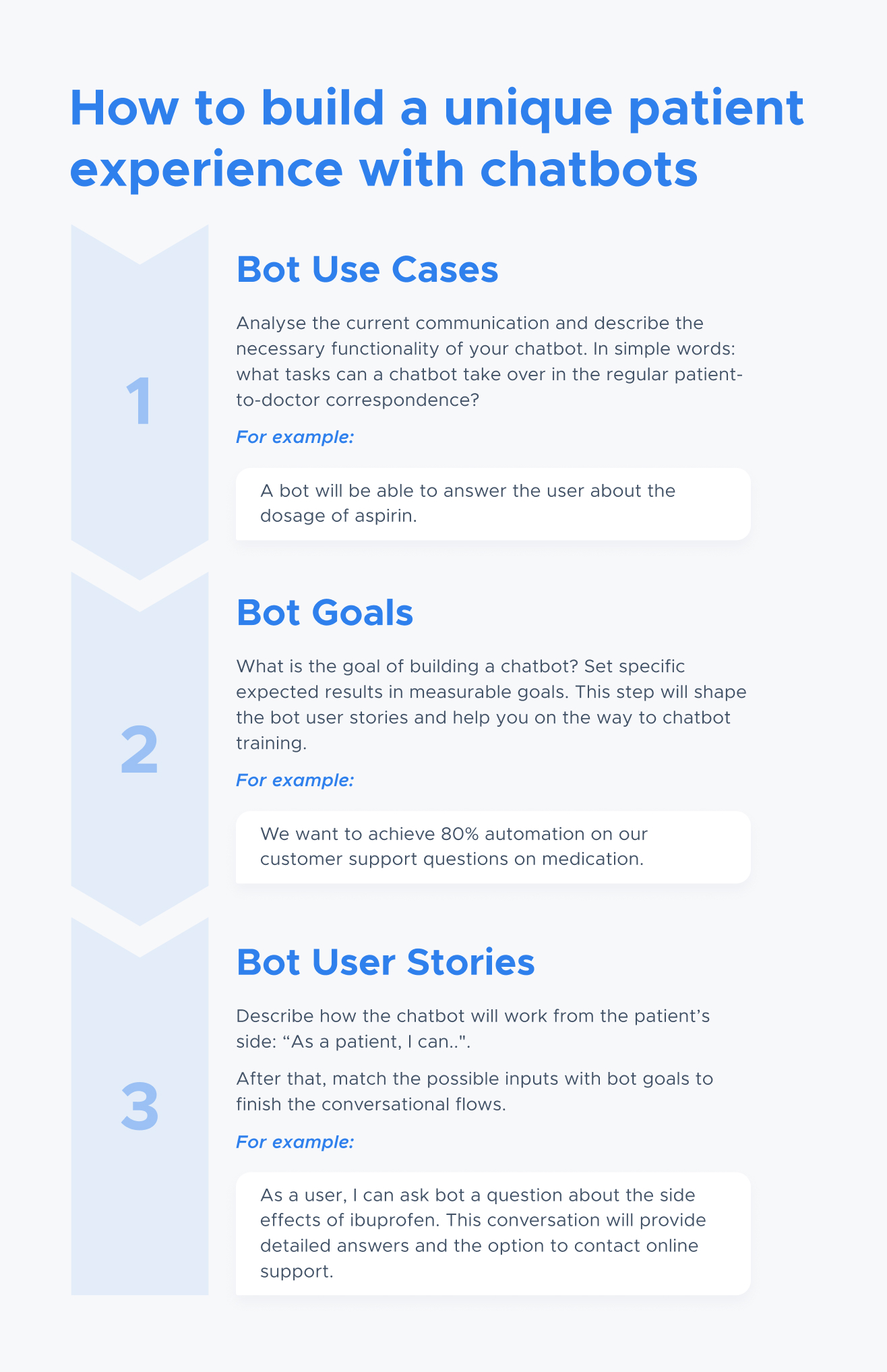 To make the idea go live, you could go along with a chatbot development company. There, AI experts can help you choose the right development approach with planned costs and predictive results. 
BotsCrew is a chatbot development company with the most flexible chatbot platform for healthcare professionals. Having worked with Fortune 500 medical enterprises, we know that healthcare chatbot development is more complicated due to differences from other industries. 
Book a free consultation with our team, and we'll share the best practices for creating a powerful chatbot, along with the support, training and maintenance of your chatbot.
Before Building Your Own Chatbot: Essential Regulations in Healthcare Chatbot Development
In the healthcare industry, security of patients' personal information is crucial. To ensure full protection of patient's data, companies should use the highest security practices like data encryption, and "on-premise" deployment. 
What is GDPR?
The General Data Protection Regulation (GDPR) is a regulation on data protection for European Union citizens. It also applies to the transfer of personal data outside of the EU area.
What is HIPAA?
The Health Insurance Portability and Accountability Act (HIPAA),  protects sensitive patient data. A company that deals with protected health information (PHI) must follow the required physical, network, and process security measures.
GDPR vs. HIPAA
The most significant difference between these compliances is that GDPR covers citizens of the EU while HIPAA is restricted to American citizens and healthcare companies.
GDPR compliance requires an active patient's consent before storing any of their personal information in the database. On the other hand, HIPAA compliance allows healthcare companies to freely process patient's data while it is being stored and transmitted with proper security standards. Unlike GDPR, HIPAA regulation doesn't give a patient a right to erase their records from a hospital's database anytime they want.