Google/Chatbot/Guide
• 8 min read
Google Chatbot: How Does Google Business Chat Work
Recently, Google launched a new feature  - Google Business Chat. And many people still have questions on how does Google Business chat work and what is a Google chatbot. Well, we will answer all of these questions in this article.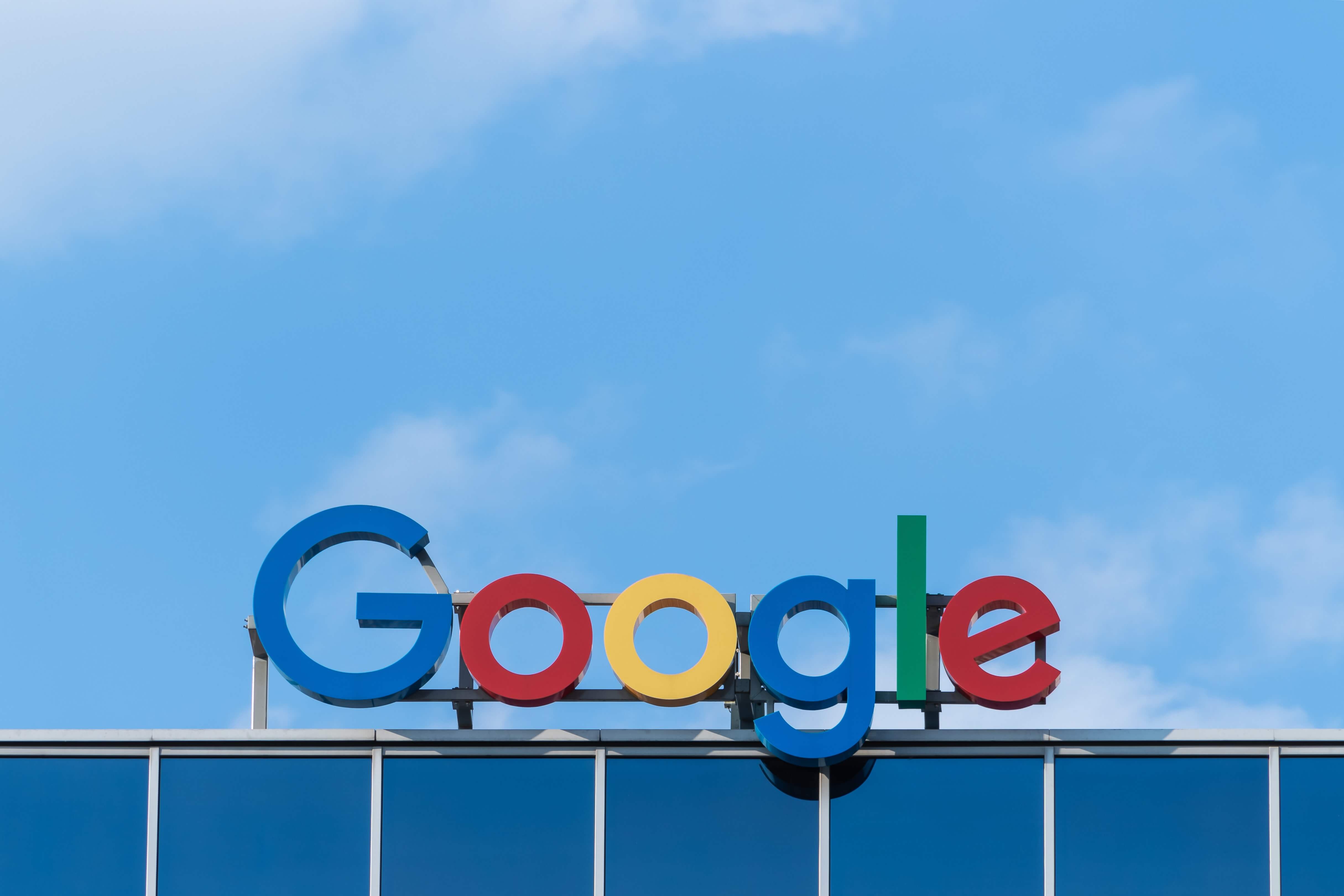 If you are looking for information, what is the first place you go?
Well, if your answer is Google, then you are not alone. 92% of people worldwide use Google for searching. This means that almost definitely your customers use Google as well.
Probably not, but what's interesting is that in 2021, Google announced the Google Business chat feature launch that allows companies to communicate with their customers on the Google Search and Google Maps results pages.
So how does Google Business chat work? And what is a Google chatbot? Well, we will answer all of these questions in this article.
What is Google Business chat, and how does it work?
Google's Business Messages or Google Business Chat is a new mobile conversational channel that can be accessed through Google Maps app or organic Google search results on mobile browsers to create rich, asynchronous messaging experiences that delight customers and drive business results. The conversation takes place on a Google messaging surface available on iOS and Android.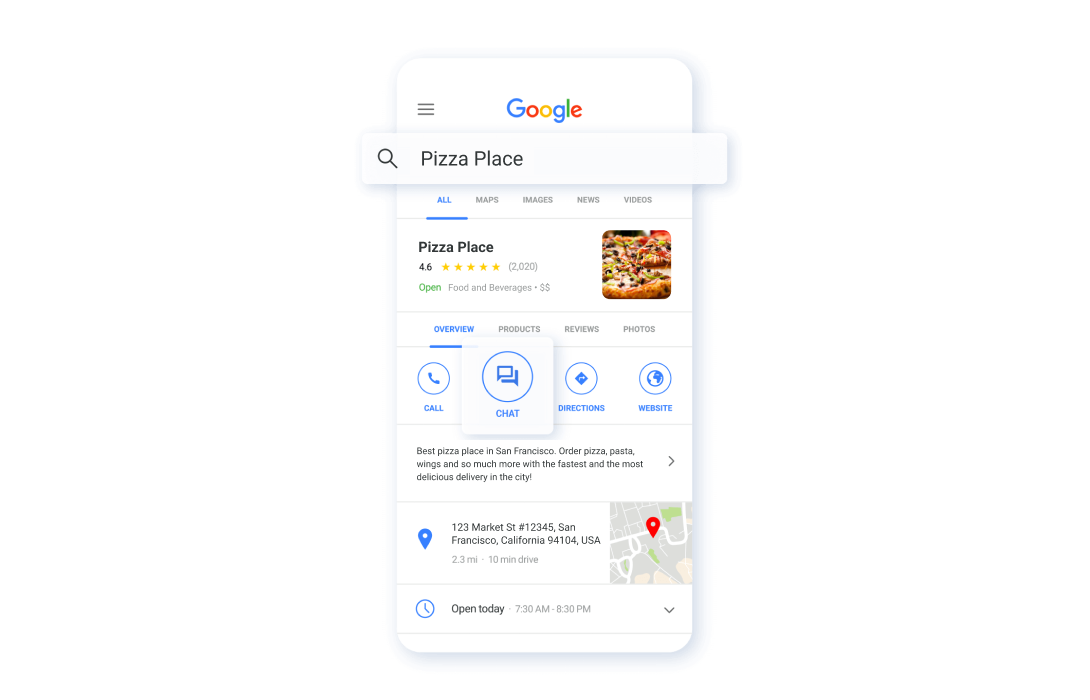 When users click on a messaging button, they start a conversation with an entity representing the brand—the brand's agent. You receive and respond to customer messages through the agent using a webhook and the Business Messages API.
When the user taps the Message button, it opens a conversation with your brand, and they receive an automated welcome message.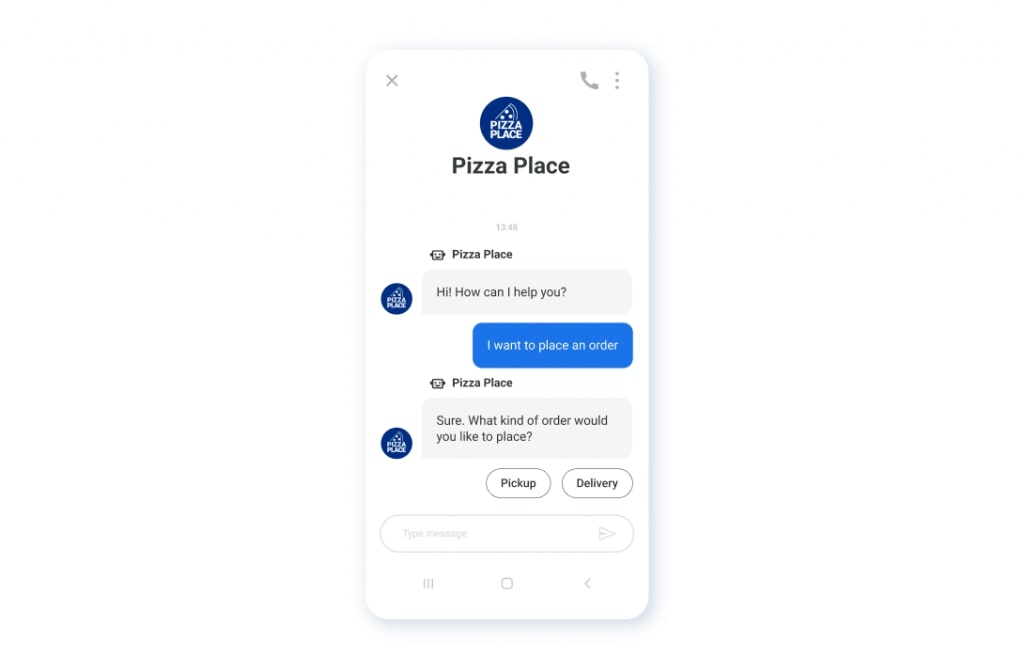 The conversation with the customer can be made through a live agent or an automated response system.
Automated response system?
Yes, the automated response system on Google is a fancy term for Google chatbot. You can create a Google chatbot to greet your customers, answer their questions and provide the support they need.
Using the chatbot, as the first line of "defense" instead of the live agent gives a few advantages. For example, you'll be able to respond to your customers in a matter of seconds. And response speed is one of the most important factors today. Here's the recent Forrester study that shows that for 54% of responders, speed plays a vital role in communication with businesses. 
Using the chatbot you can also provide 24/7 support at any time or day. And most importantly, with Business Messages automatically covering many customer inquiries in the background, businesses can focus their human agents on addressing other more complex needs. You won't be wasting your human agents' time and your money on customer queries like "What are your working hours?", "Do you work on Sundays?", "Do you X in stock?", "How long does the delivery take?" etc.
Combing all of the points mentioned above, you should consider a few things:
Do our customers use Google Search or Google Maps to find our business?
Do we have many customers messaging our support?
Are our customers messaging us at night, on weekends, holidays, expecting fast answers?
Do we have a lot of basic, repetitive FAQs coming to our customer support?
Does our store/restaurant/business operate in different locations?
If you answer yes to at least one of these questions, you could benefit from Google chatbot.
If you doubt whether you will benefit from Google chatbot or not, then ask experts. For example, you can contact BotsCrew or other companies working with Google Business Messaging to get a free consultation about whether your company will benefit from Google chatbots.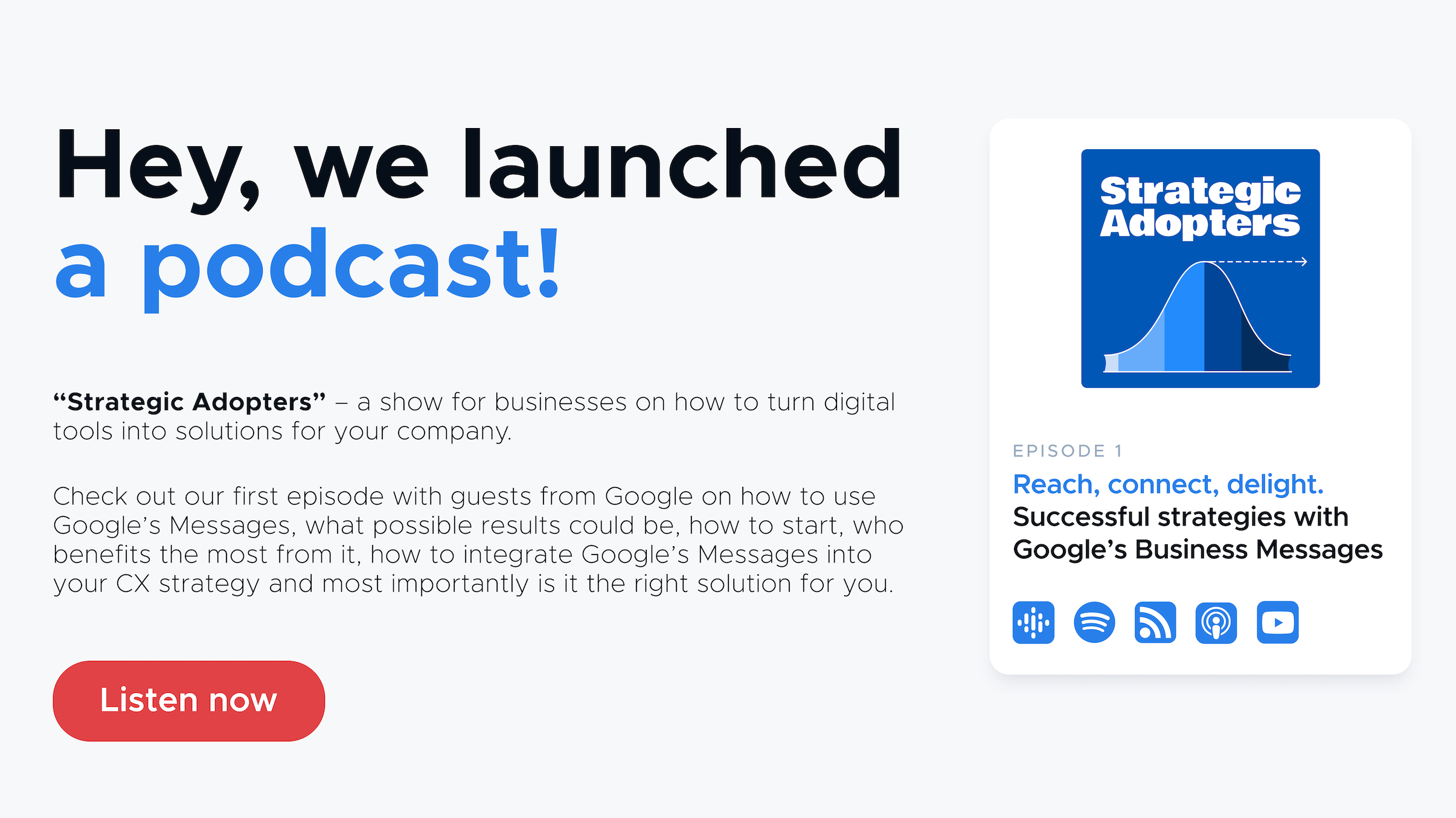 Okay, but what can you do with Google Business Messaging?
Consumers can shop, ask questions, and complete secure payment transactions within the Google Business conversation. Customers can also easily get updates such as order tracking, refunds and handle service inquiries.
The main Google Business Chat features include:
- Product photos and carousels
The main benefit: help brands to drive purchasing, scheduling, and upselling
Let's be honest, without appealing visuals it's hard to make buying decisions these days. Google Business Messaging allows you to send single product photos or photo carousels to help your customers make decisions. Using this feature, you can demonstrate clothes, accessories, hotels rooms, restaurant menus, cars, etc., and add URLs that lead to website pages. 
Main benefit: enable consumers to respond with just a tap of a button
Modern business-to-customer communication is all about speed, simplicity, and user experience. Every company wants to deliver the best conversational experience, and little things like suggested replies are a great way to achieve this. Suggested replies are the same thing as "quick replies" - they are a kind of buttons with keywords. Instead of manually typing in their request or question, the user just taps on them.
- Typing indicators, delivery confirmations, and read receipts
Main benefit: keep conversations moving along with great UX
These minor features may not sound very exciting, but they are vital for a great user experience. All of these 3 features help set expectations and keep the conversation moving along.
- The ability to send and receive emojis, hi-res images, and videos
Main benefit: ensures the personalized conversation snd better customer experience
In addition to photos and carousels, you can also share emojis and videos in your Google conversations. This is great for creating personalized customer experiences and matching your brand's tone of voice. Using videos in your Google Business Messaging can help you better showcase your product, increase conversion and engagement rates, add personality to your chats, and be a great way to troubleshoot customer service issues.
Main benefit: Resolving customer support inquiries for local business locations
This feature is very exciting for businesses that operate in many different locations. With an intelligent automation solution, brands are then empowered to provide customers with specific answers and information related to individual locations. For example, if the customer wants to know if you have a specific product in stock in a particular place or have different working schedules in different locations and others.
Let's imagine you own a grocery store chain called "X groceries". When a customer based in San Francisco searches for your store with the keywords "X groceries San Francisco" they will be provided an option to start a Business Messages conversation with that specific store and ask questions like "What time does your store close?", "Do you have this particular product in stock?", or "What is this location's COVID policy?". And you'll be able to provide answers for this specific location.
- Show expected wait times
Main benefit: set clients' expectations
Google Business Messaging allows you to show the average response time for your customer service. 
It's not hot news that people today became less patient, especially regarding everything related to the online experience. People expect to get information instantly. Website loading too long? Exit. Video is not loading? Exit. Customer support is not immediately answering? End the chat.
By showing expected wait times, you set people's expectations. Agree, it is easier to wait 5 minutes for the response when you know that it will take 5 minutes, compared to when you send a message and don't know whether someone is going to respond in 5 minutes or 5 hours.
- Option to connect with live help
Main benefit: provide smooth customer experience by providing the support your customers need
This is a must-have feature if you are using automated responses.
No matter how much you love automation or how good your chatbot is, you have to provide the option to connect with a human agent. Sometimes the automation is not the best fit for the customer or his specific request. Sometimes customers feel more comfortable talking to humans. Sometimes you need that human touch in your conversation.
Don't ignore this, and be sure to make the transition from chatbot to human as smooth as possible in the conversation. For example, don't make your customer repeat to the human agent if they previously shared the information with the chatbot. There is nothing worse than having to answer the same questions over again.
Main benefit: provide a personalized experience
Using integrations like OAth, you can pull up customers' data, authenticate them and provide more personalized answers and support, knowing who the customer is and the details of your relationship and previous history with your brand. Moreover, it can help you create different campaigns to boost customer loyalty by providing personalized offers, incentives, loyalty bonuses, discounts, or others.
Main benefit: track customer satisfaction
Send surveys to customers to measure and understand their satisfaction. Surveys appear in a dialog above the conversation and allow customers to rate their experience. If you don't want to send surveys, you can also use the details that Business Messages provides to track your metrics, such as agent response rate and the number of messages received.
Who is eligible For Google My Business?
Google My Business only allows the lists of businesses with a physical location that customers can visit. Any online businesses that do not have a physical store are not eligible for a Google My Business account.
Recently, there's been an important update from Google, which says that it is required for businesses to reply to messages coming from within 24 hours. Upon failing, it will automatically deactivate messages.
A helpful feature for this is a Business Welcome Message, a customized message you can create that customers will automatically receive when they first message you.
With AI-powered Business Messages, you can connect with your customers in their moment of need, in the places they're looking for answers—such as Google Search, Google Maps, or any brand-owned channel. 
And finally, real success stories with Google Business Messaging
Business Messages drives 85% CSAT scores for Levi Strauss
85% CSAT scores
30x more store-related questions resolved
31% product-related conversations
"Business Messages creates a stronger customer experience by enabling us to do a better job at 'hearing' shoppers, answering their questions, and uncovering new ways to delight Levi's fans." Rico Arrastia, VP Product Experience, Levi's
Business Messages, featuring a bilingual AI chatbot, helps Popeye automate 82% of conversations while expanding its online presence.
2 Languages (Chat platform and AI are fully bilingual: French and English)
82% of conversations resolved through asynchronous messaging
90% CSAT scores
100% of orders shipped the same day from Popeye's stores
"The bottom line for companies is this: You cannot afford to miss a single interaction with a customer. You're on duty every day of the year, every hour of the day. Business Messages is a great solution for this exact problem, whatever your work schedule. It supports retailers 24/7." Philippe-Antoine Defoy, Owner of 27 Popeye's Supplements licenses across Eastern Canada.
Hey, we launched a podcast!
This week, we're excited to welcome gurus of business messages from Google: Tina Prestino (Business Communications), Andreas Nita (Partner Development Manager), and Olga Zubashko (Product Manager). In the episode, they shared successful strategies with one particular tool – Google's Business Messages.
Who will benefit the most from Google's Business Messages?
How does Google's Business Messages differ from other solutions?
What are the most beneficial features of Google's Business Messages? And for pre-purchase research/pre-sales product support?
What problems businesses can solve and better not solve using Google's Business Messages?
What questions/experience should be automated and what it's better to handle with agents?
What are the first steps to integrate Google's Business Messages into customer experience (CX) strategy and workflows?
How do you keep the human touch when automation is involved?
What are some "rookie mistakes" when it comes to implementing Google's Business Messages?