5 Ways to Improve Your Customer Self-Service During COVID-19
A minute . . . 10 minutes . . . an hour later . . .
Sitting on hold, listening to the same music or operator recording saying, "We'll be right with you," frustrates customers everywhere.
What's worse, it could be costing your company.
When it comes to service, customers expect fast response times, dependability, and expertise.
Right now, many companies are struggling to provide quality service to their customers. Due to the COVID-19 outbreak, customer service representatives and receptionists have been overwhelmed by an influx of calls.
As a result, increased wait times have frustrated customers who have hurried to cancel travel plans, rescheduled doctor appointments, or needed to talk to a financial advisor.
To reduce hold times and streamline the process, self-service is a great way to boost your customer service options.
For routine questions, it can help you reduce calls while providing fast solutions for customers.
These 5 tips can help you streamline your self-service options and increase your customer satisfaction.  
– Optimize search functions so users can easily help themselves
– Utilize engaging media to demonstrate what to do next
– Highlight frequently asked questions
– Build a chatbot for 24/7 support
– Keep content updated
Follow these guidelines and you'll be able to improve your customer experience considerably.
Optimize Search Functions so Users Can Easily Help Themselves
In this day and age, everyone turns to Google when they have a question. Thanks to the easy-to-find answers, customers who turn to your website for support are likely to utilize a search feature as well.
However, not all search functions are created equal.
To help your customers find the answers they're looking for, you need to make sure your search results page is delivering precise results.
If your company has a poor internal search engine, you're likely loosing conversions, sales, and even existing customers.
You want to ensure that the top 10 hits on the results page are as relevant as possible to the user's current problem.
To provide an excellent customer experience, your search function should:
– Be easy to find on your site
– Provide curated search suggestions
– Recognize synonyms and alternative terms
– Rank results by relevancy
A good search engine helps users find what they're looking for despite misspellings, vague search terms, and alternative terminology.
You can talk to your developers about how improve your site's search support based on your business' specific needs. For example, CMS Plugins like SearchWP for WordPress can help you index all your content, so it's easy to find.
Other options include Google's Custom Search, Searchify, Tipue Search, or Swiftytype. Your developers will be able to help you select what you need to provide excellent results on your CMS.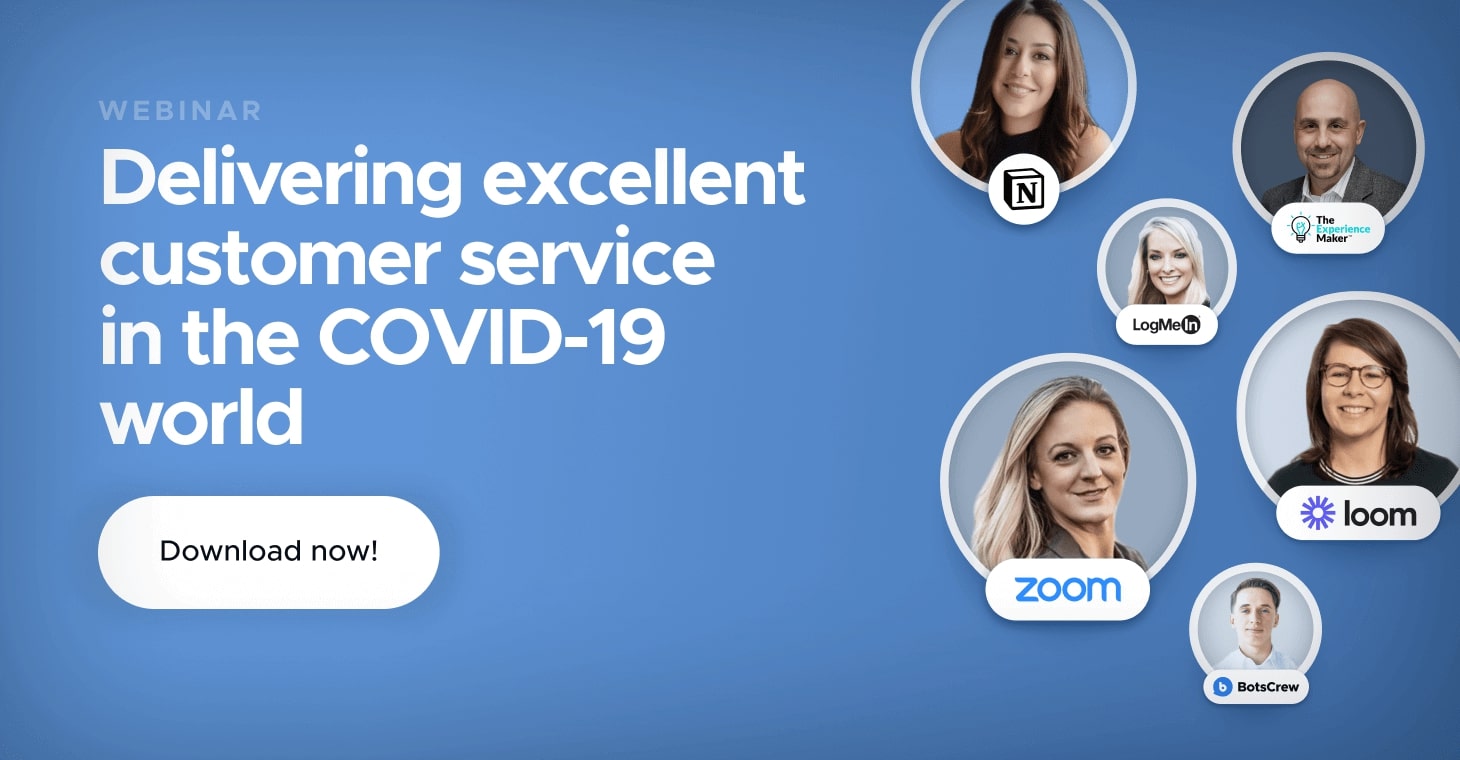 Utilize Engaging Media to Demonstrate What to Do Next
Reading paragraph after paragraph on what to do next is draining, confusing, and difficult to follow. If your customers are trying to figure out how to work your product, they will have to keep flipping back and forth between pages to figure out what to do next.
To prevent frustration, you need to make sure that the content you're providing is engaging and easy to consume.
Breaking down the process into steps makes your guide easier to follow. However, it can still be confusing for users who are less familiar with your site or product.
If your directions say "Step 1: Filter based on what your looking for," users have to find the filter options to get what they need.
To ensure your customers clearly understand what to do next, you should be using different media to demonstrate how to use your platform.
Screenshots, video, and audio provide easy-to-consume information that can walk them through each step. For visual instructions, for instance, if you are using different video formats, you might need a video converter to ensure the content is accessible across all devices. This way, you provide an uninterrupted guide for your customers. Plus, it's crucial with video or photo content that the images are clear and well-edited. Effective photo editing makes advertising more appealing and, therefore, encourages users to engage more. In this regard, you can explore options such as adding subtitle to a video. This can highlight each step or function in real time as the user watches the video. This gives them a clear visual of the task and helps them remember the steps easier.
Here, SuperOffice has done a great job labeling each step so users know exactly what they need to click on or where they can find updated settings.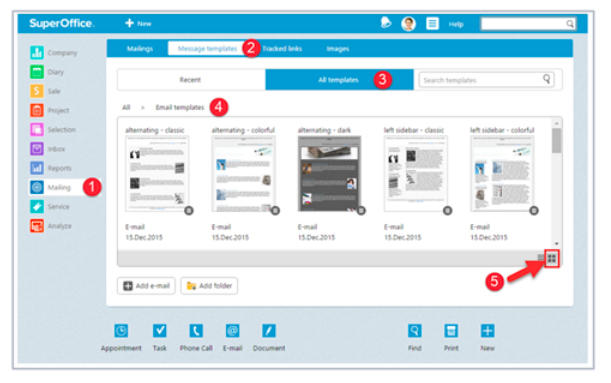 Source: SuperOffice
As a result, users know that they first need to go to the left side and select "Mailing." From there, they move on to step 2 and can choose "Message Templates" in the top bar. And so on and so forth, until the user completes all 5 steps.
You may use various images, infographics, product screenshots to guide the user through the flow. It's a great way to showcase what to do next and give actionable tips to make the best decision. You may address an experienced design studio to help you out with updating website pages, or even find a platform such as Videvo to access After Effects animation templates to get started.
While screenshots provide great visuals to demonstrate what to do next, audio is a helpful option so users can listen while turning their attention to the product or platform they're trying to figure out. As a result, they don't have to flip their attention between different pages.
Video combines the two, so it's easy for users to see what they need to do as well. As a whole, video makes it easier to grasp a concept and replicate it.
Based on what your customers need support with most, you can determine what the best option is for your product.
Highlight Frequently Asked Questions to Weed Out Common Issues
One of the easiest ways to reduce customer service calls is by addressing common questions, concerns and issues.
If your customers are regularly having issues with passwords, finding your administrative settings, or need to know how to access their bill, a FAQ page can help them find the answers quickly.
To determine what customers struggle with most often, ask your answering service or customer support team to begin tracking the questions they're asked most frequently.
Using that information, you can create a web page that helps that redirects them to the answers they're looking for.
Twitter, for example, provides information on their top questions, right below the question itself.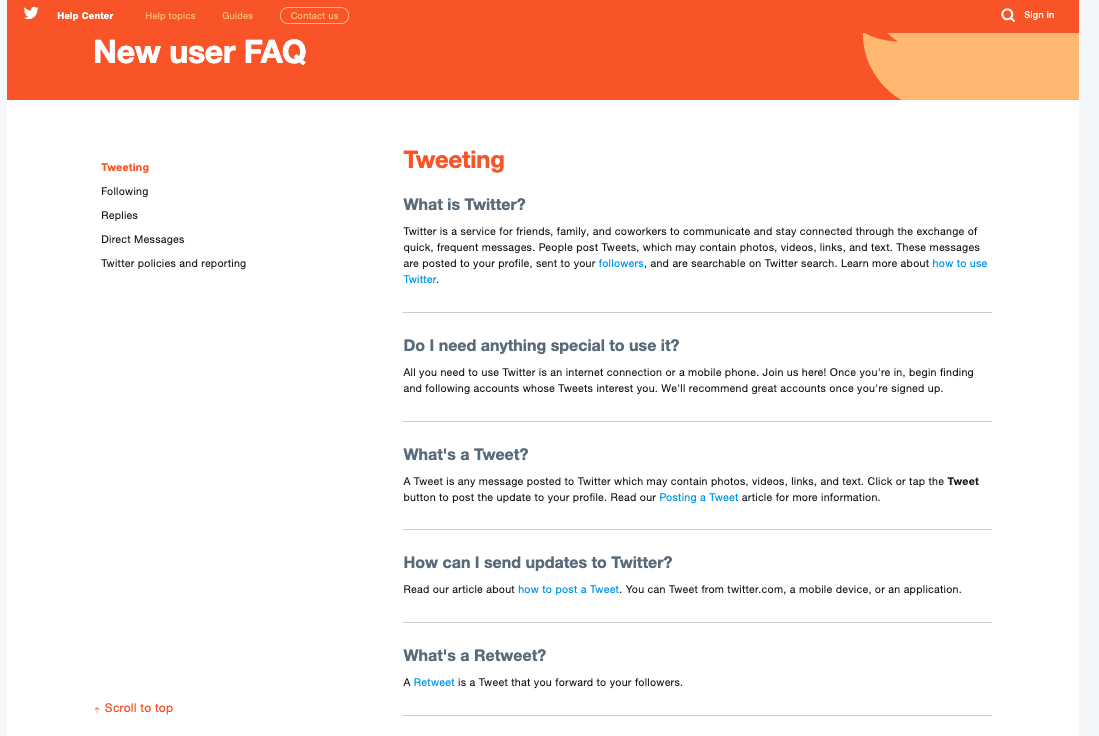 Source: Twitter FAQ
This page is particularly well-designed because it looks nice, is easy to follow and includes user search functionality.
If the answers to your questions are a little more complicated, you can include links to blog posts and how-to guides.
Build a Chatbot for 24/7 Support
Using artificial intelligence, chatbots can provide a reliable and consistent experience similar to human interaction. As a result, they free up agents for more challenging work, increasing productivity, and improving performance at your call center.
Set up correctly, chatbots can provide accurate information at any time, allowing you to provide 24/7 support for your customers.
The impact they can have is substantial; during off hours, the improved response time cuts the how long customers have to wait from hours, or even days, to just minutes.
Customers are able to ask direct questions and get accurate information right away. If not, the chatbot can easily redirect them to a page where they can find the information.
Here, a customer was able to live chat with a footwear retailer in order to find the shoe they want to order: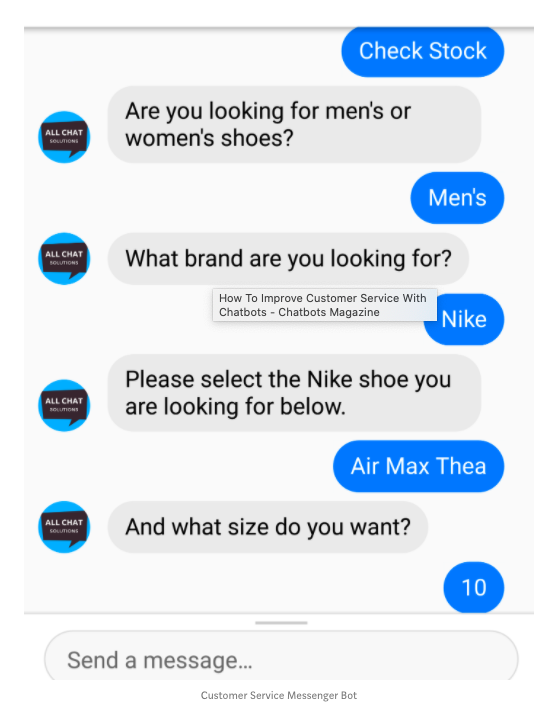 Source: Chatbots Magazine
As a result, they were able to find a solution in just a few minutes instead of endlessly scrolling through product listings.
Keep Content Updated
The most important part of providing customer self-service support is ensuring that your content is accurate and up-to-date.
With minor changes to your website or product, your information can be completely thrown off, and ultimately, become useless to your customers.
Therefore, it's incredibly important for your company to regularly review your customer support features and its copy. With every change you implement, you'll need to go over your resources and provide adjustments when necessary.
You should also consider create an additional page or section for emergency situations like COVID-19.
During the pandemic, many people are calling customer support to ask questions about hours of operations, new processes, or how your company is handling their day-to-day.
Many businesses are choosing to implement a banner at the top of their home page that users can click on to get more information on the pandemic. This helps users find the most pertinent details and facts immediately.
Be sure to highlight how they can best get in touch with a representative if they still have questions.
Customer Self-Service Can Improve Overall Satisfaction
Customer support has a huge impact on brand loyalty. Throughout the COVID-19 pandemic, hold times have increased, frustrating customers and impacting satisfaction ratings all around.
Customer self-service options can help alleviate the burden on customer support departments by helping customer find the information they need quickly and efficiently.
To ensure a smooth experience, your business needs to optimize their search functions so users can easily find the information they're looking for.
In addition to that, your content should be consumable and easy to understand. Various media, like video, images, and audio, can help walk your customers through your processes.
If your customer service representatives are consistently answering the same questions, it can be easy to compile the answers in a single resource or FAQ page. You can also build a chatbot for affordable 24/7 support.
Finally, your team need to keep your content updated to provide reliable support for your customers. Small tweaks to your product or website can throw a wrench into the step-by-step guides you provide your customers.
It's easy to provide the support your customers need by making sure they have the most recent information at their fingertips.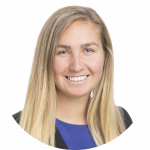 Hannah Hicklen
Editorial Associate at Clutch
Hannah Hicklen is an Editorial Associate that supports content and research efforts for Clutch — an Inc 1000 company that provides B2B research, ratings, and reviews