Customer Service Automation During COVID-19. When and How to Use it Right
"After initially reacting to an event, there is a period of recognition of the full situation and the impact of the situation. With a bit more breathing room and analysis, it is time to recognize the full impact of the crisis on employees, customers, and the business."  The Pedowitz Group
The outbreak of COVID-19 has made a massive impact on most of the businesses – from grocery stores to luxury goods brands. Due to coronavirus quarantine and self-isolation, retailers are closing their physical stores and moving their service online. And with the more people staying at home, the demand for online ordering and delivery is booming.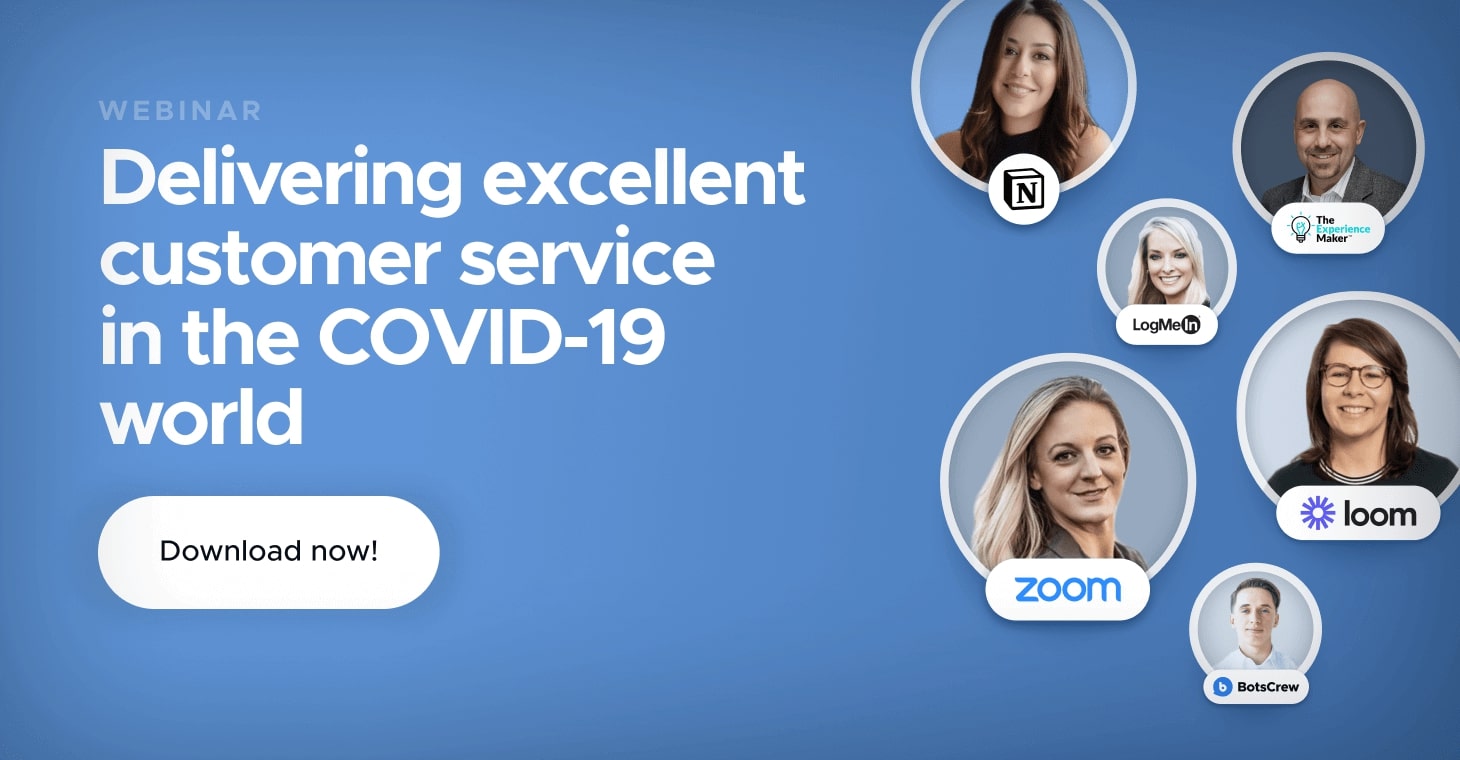 Ordering and delivery increase during Coronavirus outbreak
Many companies have been reporting that they are limited in delivery services right now, and some clients might receive their orders with a few day delays. Some big companies are announcing large-scale hirings to keep up with the huge increase in orders and deliveries. For example, Amazon plans to hire an additional 100,000 warehouse and delivery workers, along with raising the salary by 2$/hour. And Walmart announced its plans to hire 150,000 new workers through the end of May. At the same time, Jooble indicates that with the COVID-19 outbreak Americans slowed down job search, with a 12% decrease in the number of job seekers open for work. 
Instacart – grocery-delivery service reported to The San Francisco Chronicle that "This past weekend, we saw the highest customer demand in Instacart's history in terms of groceries sold on our platform," 
And the wholesale, retail giant Costco said that "We are currently experiencing a monumental surge in our sales and foot traffic in the warehouse. In response, we are opening the seasonal hiring period to increase the size of our staff and ease the pressure throughout this busy period."
Not only grocery retail has been experiencing a growing delivery demand. Domino's, Papa John's, and Pizza Hut are together hiring more than 50,000 new employees due to the coronavirus quarantine.
"We've been a lot busier," said Domino's delivery driver and pie maker Noah Reedy to WQOW. "We're up 21% overall in sales. As a delivery driver, I'm in and out the door all the time, which is great because people are very appreciative of us and we're very appreciative of them. It's every little pizza boy's dream."
What people are buying during the quarantine
New research by Nielsen has shown that people are not only stockpiling emergency supplies and groceries but also starting to think beyond emergency items. "In the U.S., sales of aerosol disinfectants, for example, were up 19%, while air cleaners and purifier sales were up nearly 3% in the week. Longer-term, we expect similar ripple sales in hand and body lotion—simply because an increased focus on hand washing and disinfecting will have a negative effect on the skin."
Based on Nielsen Spectra demographic matching, Nielsen found that top potential cross-merchandising products include disposable diapers, baby food, and baby needs.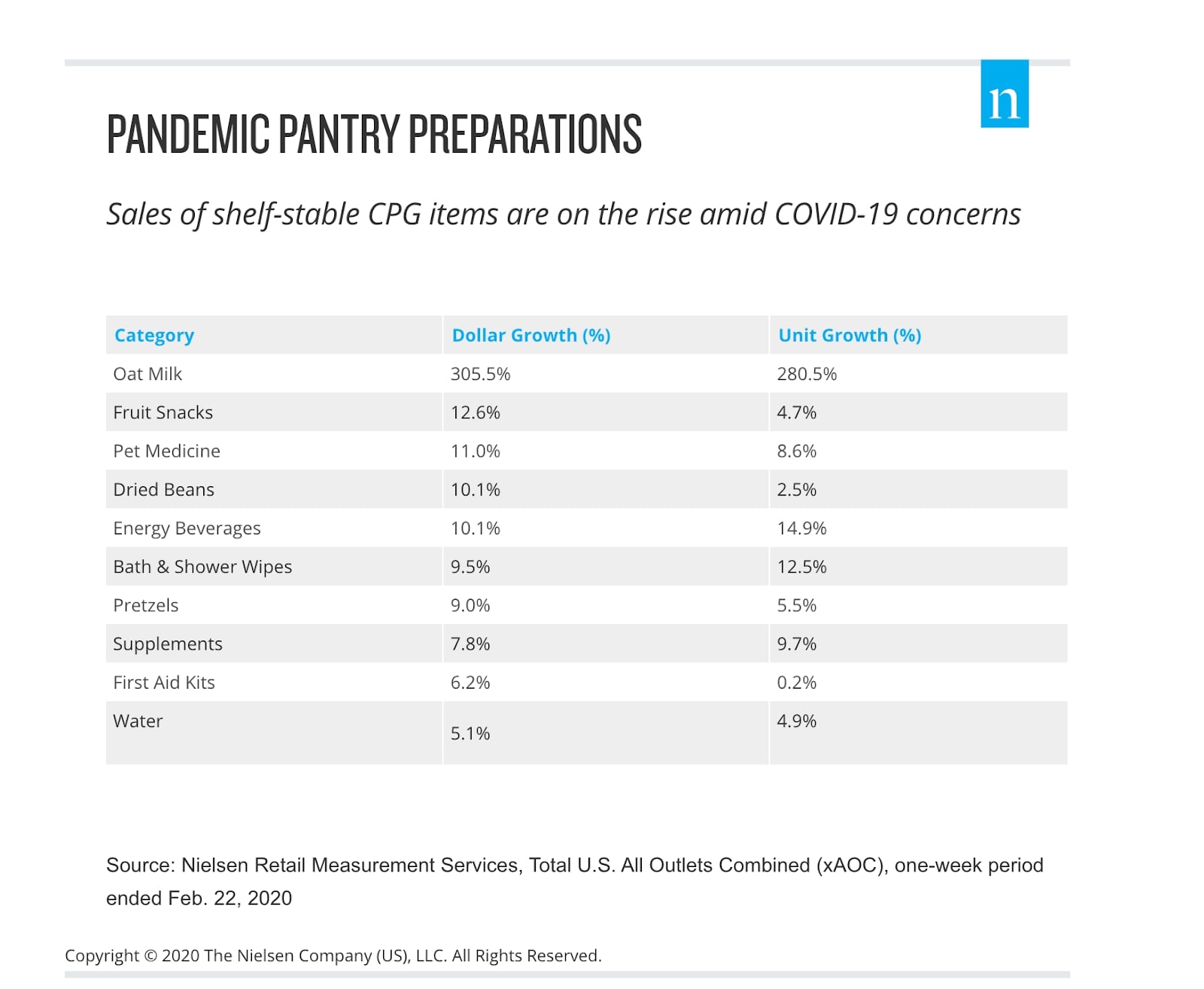 Meeting the rising demand with the right resources
Not only delivery and ordering processes are experiencing growing pressure, but customer service and other client-facing departments are also struggling. Due to coronavirus online shopping spikes, more people are contacting support with the repetitive questions about ordering, delivery, and working process during COVID-19.
While retail giants like Amazon, Walmart, etc. are opening huge hirings, there is another way to meet growing online demands. Many companies have started looking at automation as a life vest for their services. Smart automation solutions like chatbots can help companies meet their clients' needs online without having to hire extra workers, extending working hours, or raising salaries.
When life gives you lemons – make a lemonade
With the current COVID-19 outbreak, brands can use this as a possibility to automate their services that will be beneficial not only now but also bring results in the long-run. Here are the top retail chatbot use cases during COVID-19:
Ordering
"Online grocer Fresh Daily experienced 321% sales revenue increase in the seven days of CNY"
Chatbots can chat with clients to help make the purchasing decisions and give advice and answers about the product they want to buy. The chatbot can collect the required data from the customer, like their delivery address, contact, and payment information. Additionally, chatbots provide instant answers to multiple people at once. This means that brands can assist many more customers in a shorter time, which leads to a significant rise in the sale rates.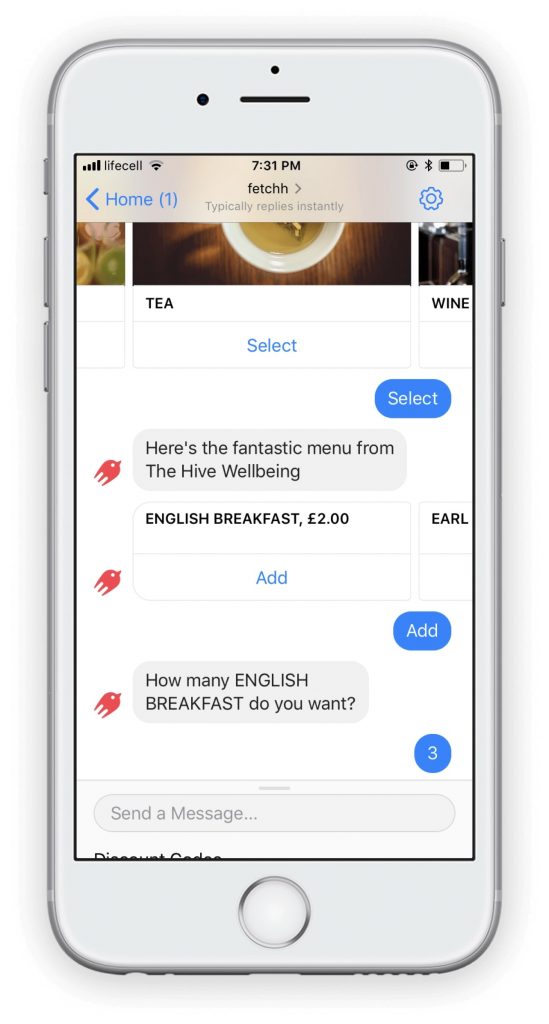 "$112billion projected value of chatbot eCommerce transactions by 2023" Juniper Research
Delivering
Chatbots in delivery can answer clients' questions about delivering during coronavirus and help customers track their orders. This allows brands to reduce the number of repetitive questions like "Are you delivering during quarantine?" "Or do you have contactless delivery?" etc. Also, it takes more time for a client to receive the order because delivery services are swamped right now. "Carrefour saw a 600% increase in vegetable deliveries during the CNY period". And chatbots can help clients monitor their deliveries in real-time and know exactly when they'll get their parcel. Moreover, chatbots can help businesses save around 30% of customer support costs.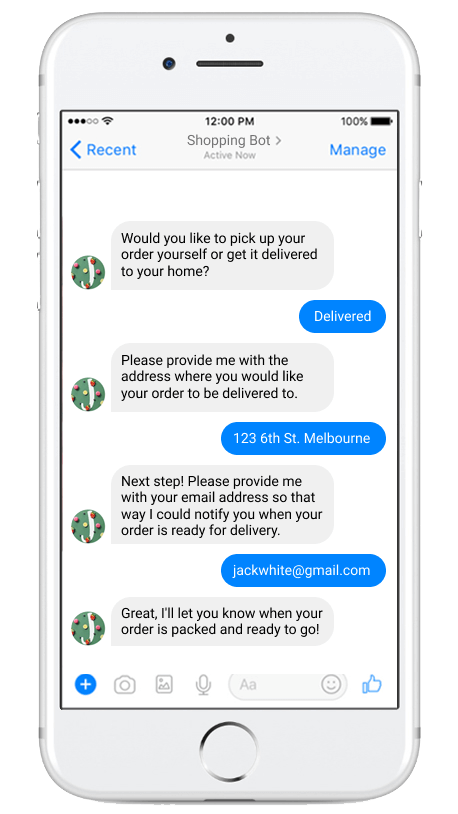 Picking up
Many companies are experiencing a shortage of delivery personnel. And some companies don't provide delivery services at all. So, these brands can use chatbots to collect orders from customers, and when it's ready, the bot can notify the client that he can come and pick up his order. Customers won't have to call and wait; they text a chatbot, see pictures of products, and make an order by themselves. This way, you'll save a fortune on delivery while keeping your business alive during COVID-19.
Learning about the product
Combining with virtual reality, companies can create digital fitting rooms, where customers can "try on" products they like. Using a phone camera, clients can put on makeup, try on clothes, or even see how cars will look like in real life without leaving their homes.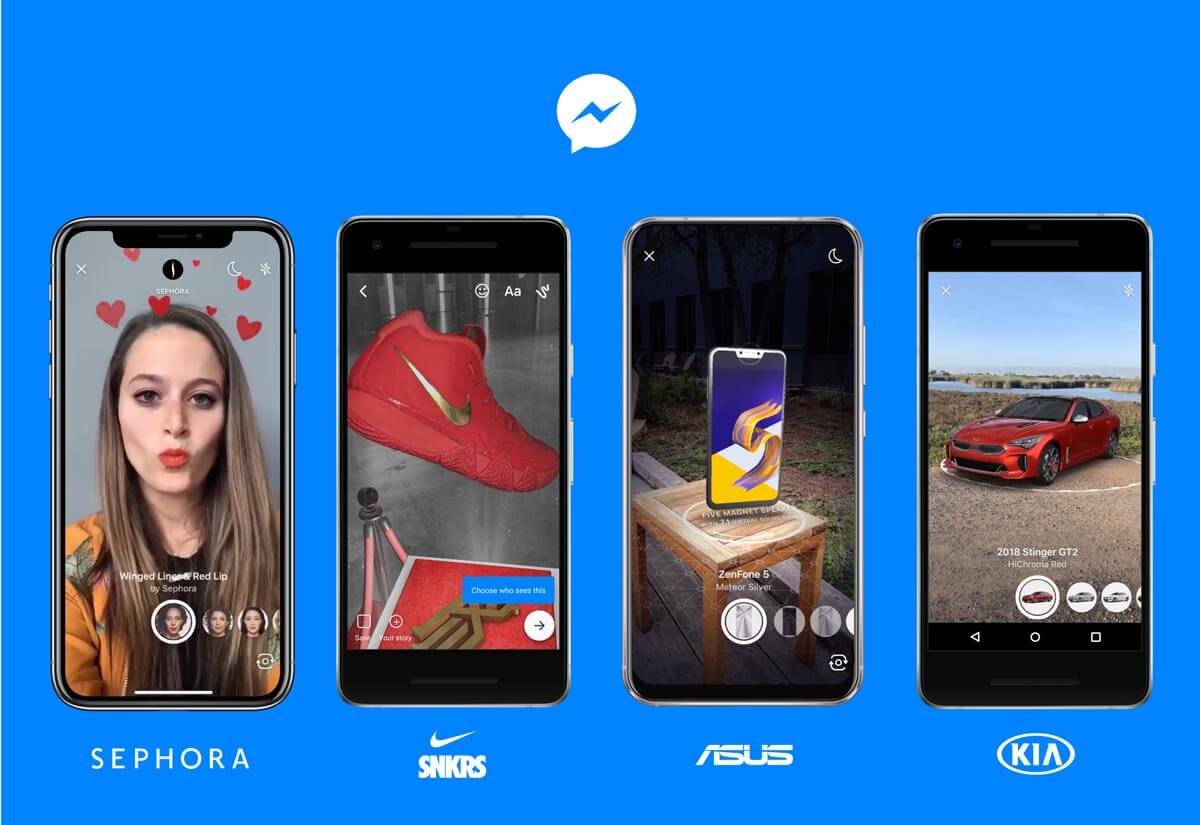 With the current COVID-19 outbreak, there is no other way for a brand to live, other than transferring all their service online. More and more customers are fully transitioning to e-commerce, so brands have to follow their clients to meet their needs digitally. However, not all companies are ready for this kind of shift. And to be able to meet the growing amount of online orders and deliveries, companies need to consider implementing automation. By using smart automation and chatbots, companies can save on operational costs, hiring and training new employees. Moreover, they can expand their services to 24/7 without having to raise the salary for their human agents.