Chatbot For Canadian Real Estate Company
An automated Real Estate Virtual Assistant that takes care of users, educating and guiding them through the complicated buying process.
Client
Startup from Canada
Branch
Real Estate
Technologies
Dialog Flow, NLP, Java, MySQL, Spring
An automated and efficient Real Estate Virtual Assistant was created to help people find their dream house. ReVA connects users seeking on buying a home with agents that are selling these houses. In short, ReVA simplifies the interaction between buyers, realtors, and brokers.
One Canadian Real Estate company, in particular, saw a problem in how things were conducted in Real Estate. The problem had lain where agents would need to set aside an excessive amount of time solely on answering questions of potential buyers that were browsing for homes and not yet ready to buy. On the other hand, buyers didn't have an alternative source where they could find the expertise when searching for a house. While seeking a solution for the Real Estate industry's growing issue, a Real Estate company contacted BotsCrew, the global leader in chatbot development.
The Canadian Real Estate company banked upon BotsCrew to create a tool to make the home buying process much more convenient for both agents and buyers. Due to the combination of client's expertise and BotsCrew's technological work, a game-changing solution for the Real Estate industry has been brought into motion.
A chatbot solution is divided into two parts:
ReVA is always on, working 24/7 and is equipped with the knowledge she needs for engaging directly with buyers. It is the best source of information about real estate-related inquiries from mortgage financing to legal closing procedures. ReVA keeps up with all previous conversations with users and can pick up and continue chatting from where previously left off. The chatbot is always there to guide a buyer through the entire home buying process.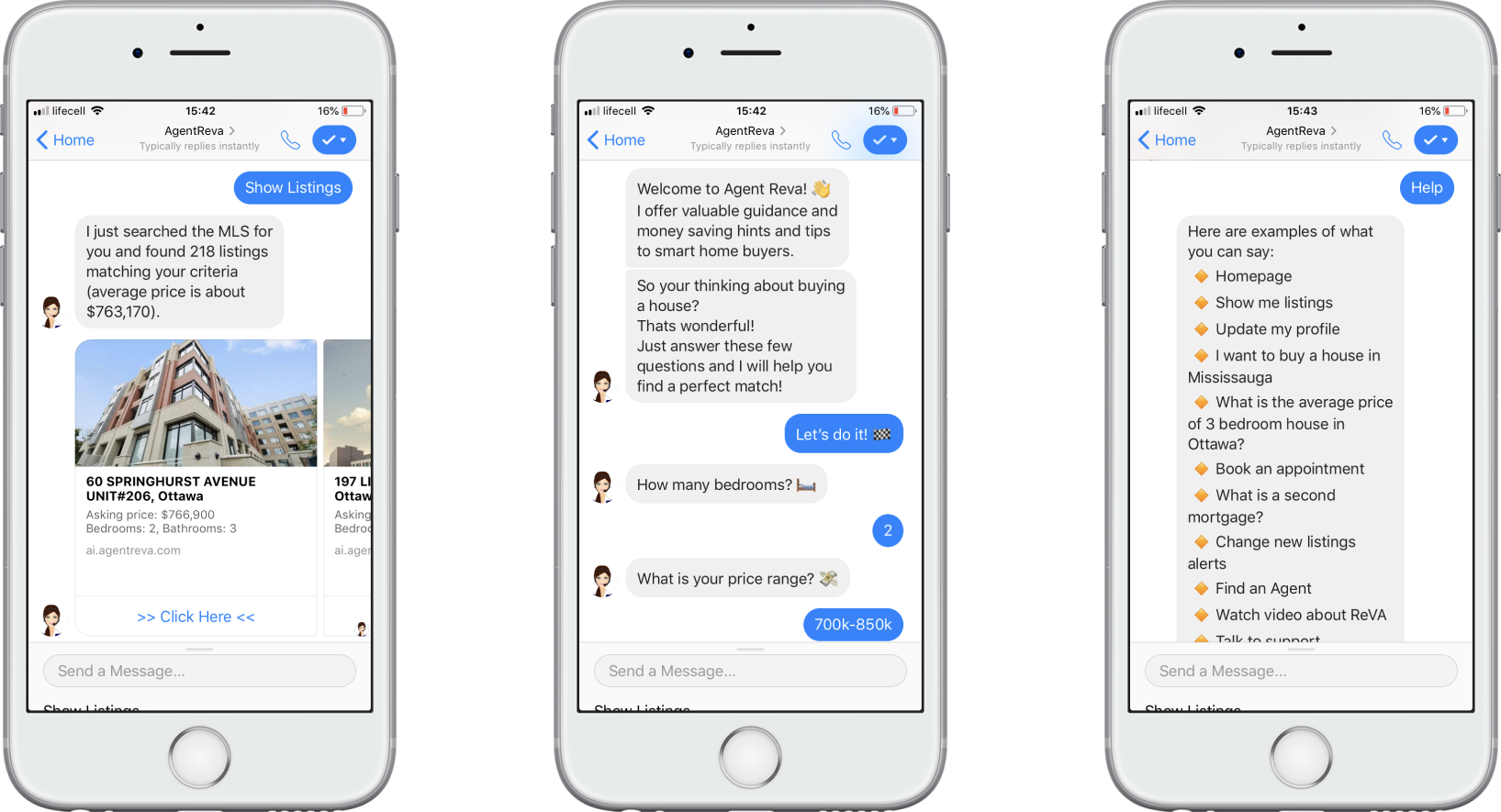 Implement ReVA into the real estate business, and she will immediately help agents to connect with qualified home buyers who are ready to purchase. ReVA is a real estate tool that benefits customer service as well as conversation rates. This chatbot guides qualifies and educates clients while their agents rest easy. The chatbot gives Real Estate agents time for larger actions that require their attention, and they can be sure that their clients are being taken care of. And when the client is ready to buy – the agent will receive a notice from ReVa about booked showing or call with the qualified lead.
The development process started with a thorough discussion of the idea. The Canadian Real Estate company shared their knowledge of the Real Estate industry, and BotsCrew brought in-depth technical expertise to the table.
BotsCrew was tasked with creating a valuable tool that would be helpful for buyers and clients. That is why we created a natural, understandable UX design so users could intuitively know how to use the chatbot. Our team of UX designers worked out a design that is beautiful in its simplicity so any user could immediately understand how to interact with the chatbot. BotsCrew worked out an engaging bot flow that would be attractive and informative to her users.
We developed a unique calendar to simplify the process of booking meetings for both buyers and agents. Our team enabled ReVA to send notifications about new homes and ping agents when the chatbot senses a hot new prospect. ReVA takes organized notes and keeps track of older conversations so the agent could easily access necessary information from any specific client.  
BotsCrew's Q&A team was devoted to ensuring that our final product is perfect from start to end. BotsCrew trained and tested the chatbot to effortlessly provide users with the relevant responses in a simple language. Our Q&A department focused on making sure that the chatbot gives clients a smooth experience and valuable information for making the house buying process painless and simple.
BotsCrew and the Canadian Real Estate company created a top-notch tool to change the status quo in the Real Estate industry. ReVA provides a countless range of advantages such as qualified lead generation for agents, massive savings in terms of training that would have been spent on customer support. The chatbot takes care of users, educating and guiding them through the complicated buying process and this in no time leads to a significant boost in conversion rates.