Chatbots in marketing: 6 examples on how to WOW your customers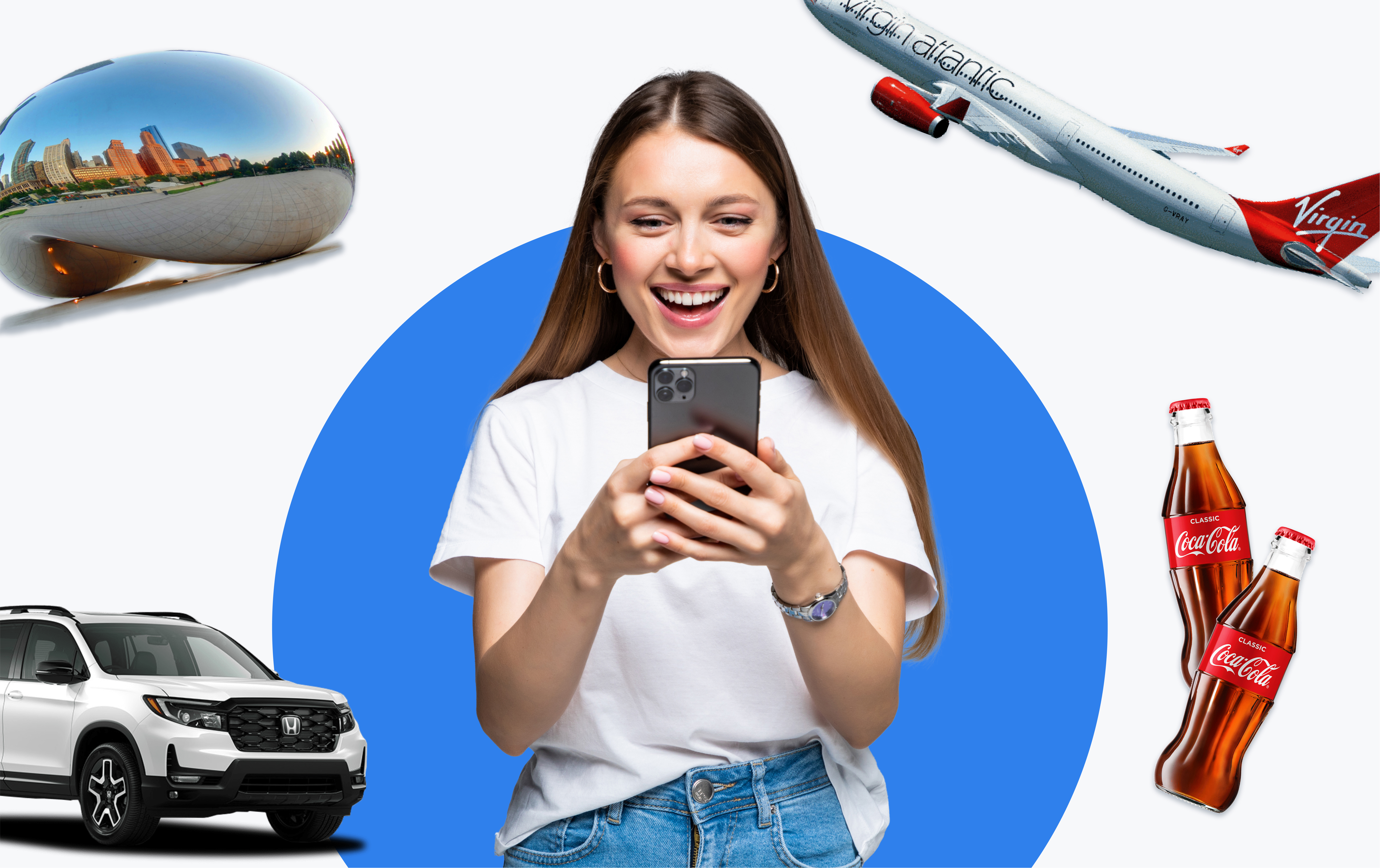 We often see that people have a limited understanding of chatbots' abilities. The customer service space created a stereotype that chatbots are just an automated "Where is my order?" conversation that may have some sort of AI.
Wrong. As a custom chatbot development company, we can say that you can do a lot with chatbots, especially with chatbots in marketing.
A marketing bot is a conversational form of automation that advertising agencies or businesses can use to generate more leads, drive engagement, reengage customers, or raise brand awareness.
You can use marketing chatbots to raise awareness of your brand, to influence your customers' decision-making process, to present the most boring information in a fun way, to build a buzz around the new product, and just to show that your brand is for the younger generation too!  
And how can, eww, those chatbots do that?
Imagine, you can gamify how customers receive discounts, or you can make a virtual representative of a city that suggests some hidden gems, or you can turn your product into a sales agent that sells itself!
Keep reading to find out real, successful examples of marketing chatbots that brought WOW experience.
Direct a horror-style campaign using a chatbot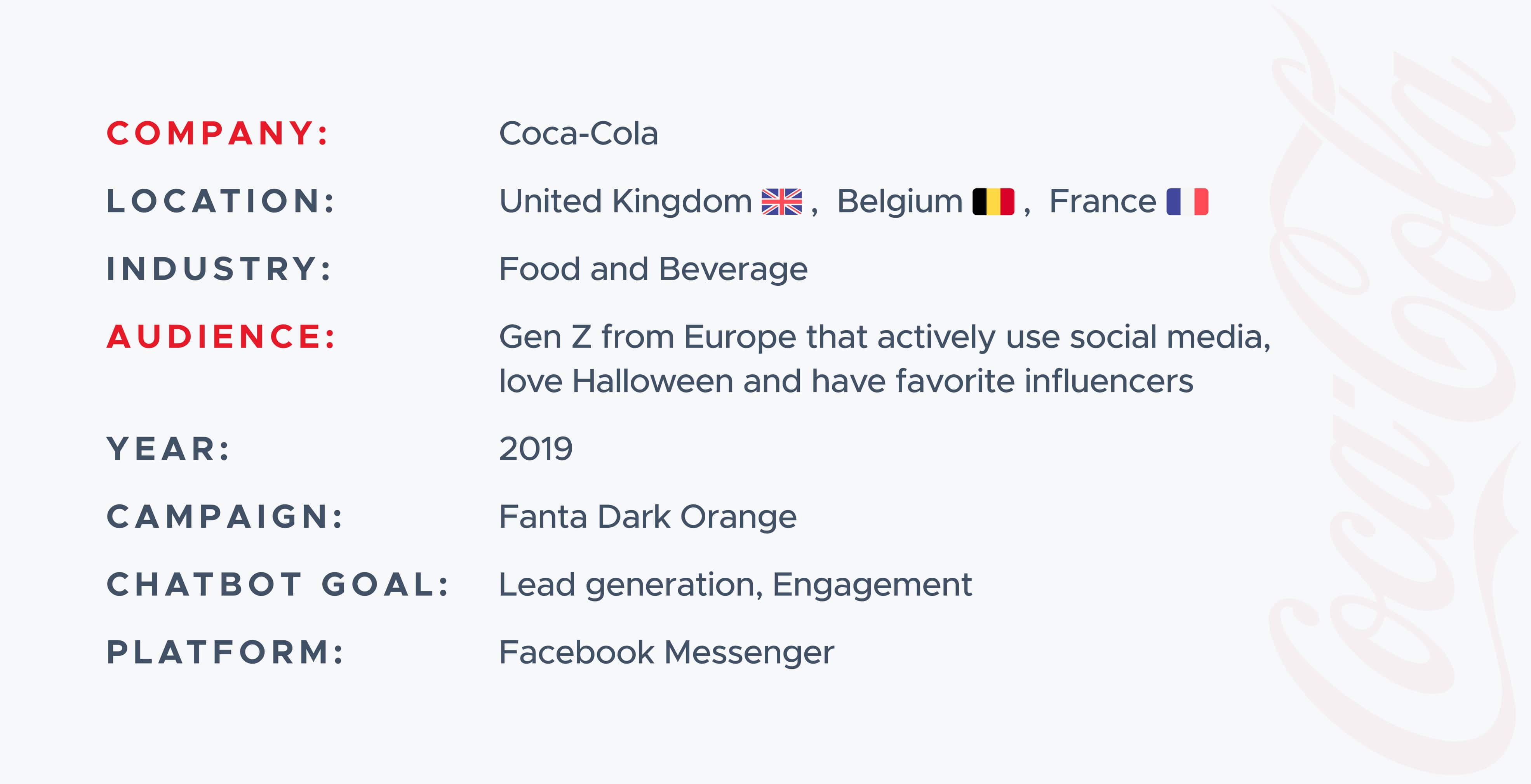 Halloween is one of the favorite holidays for brands, so we wanted to start with this scary story of how Coca Cola was bringing a new Fanta drink to the market.
Ogilvy Social.Lab developed a "Social at Heart" campaign that united YouTubers, Snapchat Lenses and an interactive chatbot to give teenagers chills during Halloween. 
"The campaign was launched by two Belgian influencers, via 7 episodes of a miniseries on their YouTube account. The influencers received an old VHS videocassette with frightening images of professor Evilami and his orphanage. One of the influencers got kidnapped by the professor and had to be rescued by the other influencer. Ogilvy Social.Lab developed a retargeting strategy to send personalized teasers for the next episodes, based on the time viewers watched the previous episode."
So, what was the role of a marketing bot here?
In short, Fanta bot was used for gamifying the customers' experience.
Fanta bot sent codes for a free bottle of new Fanta, BUT to get them, the users followed a story where they had to examine murals and curiosities to complete puzzles with interactive elements from professor Evilami. The chatbot was designed in the way, like you were talking to the professor: he was sending worrying messages, and a user had different options on how they could move the story. Thus, the chatbot was capturing those who already watched the series and awarded them with a new bottle of dark Fanta.
The "Fanta Haunted by the dark" campaign received a bronze award in Eurobest 2020, in the category Media. Besides, the chatbot in itself was a huge success.
The average duration of the conversation was almost 8 minutes and around 70% of users followed the story right through to its hair-rising conclusion.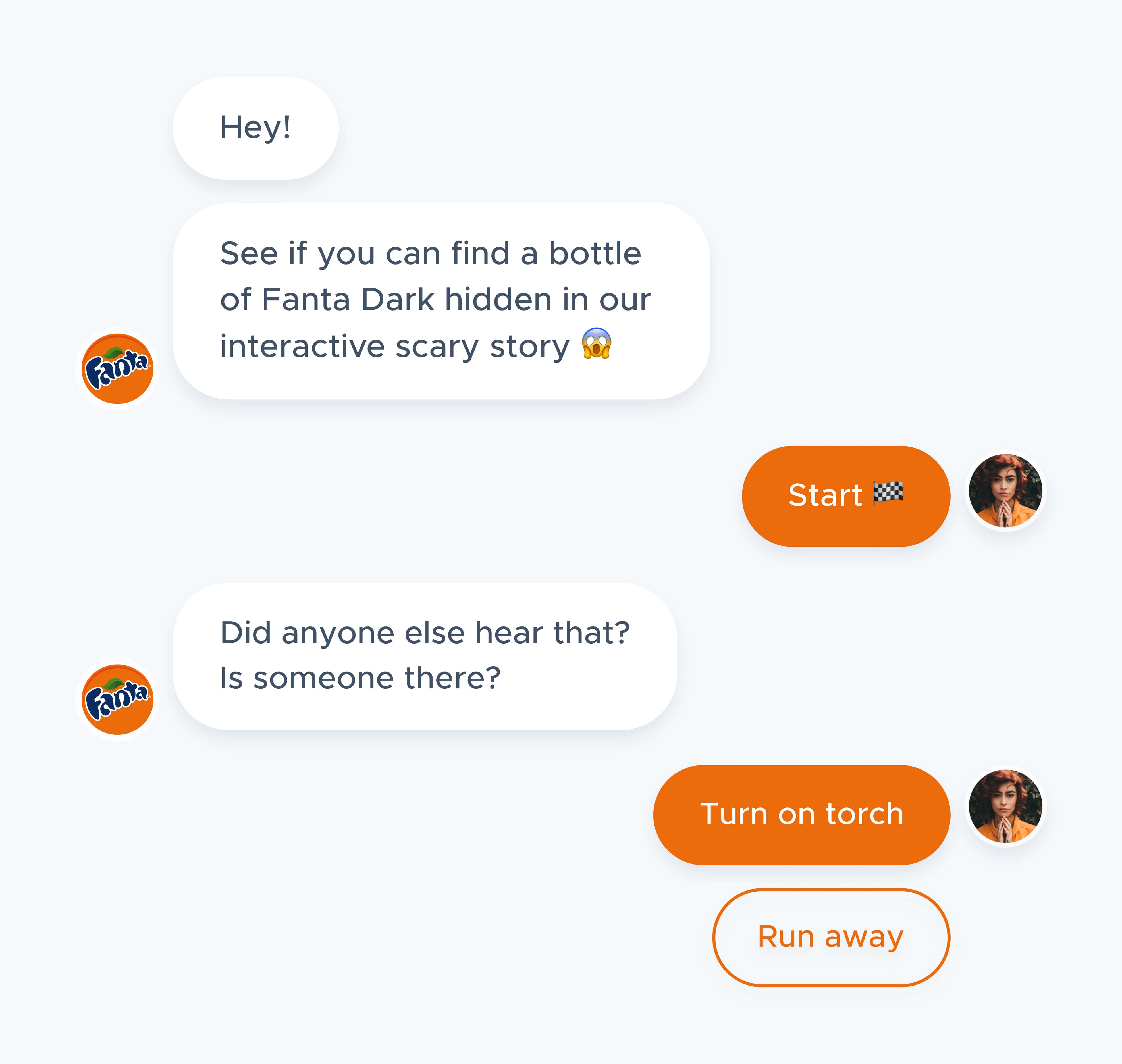 Honda Harvey, the car that sells itself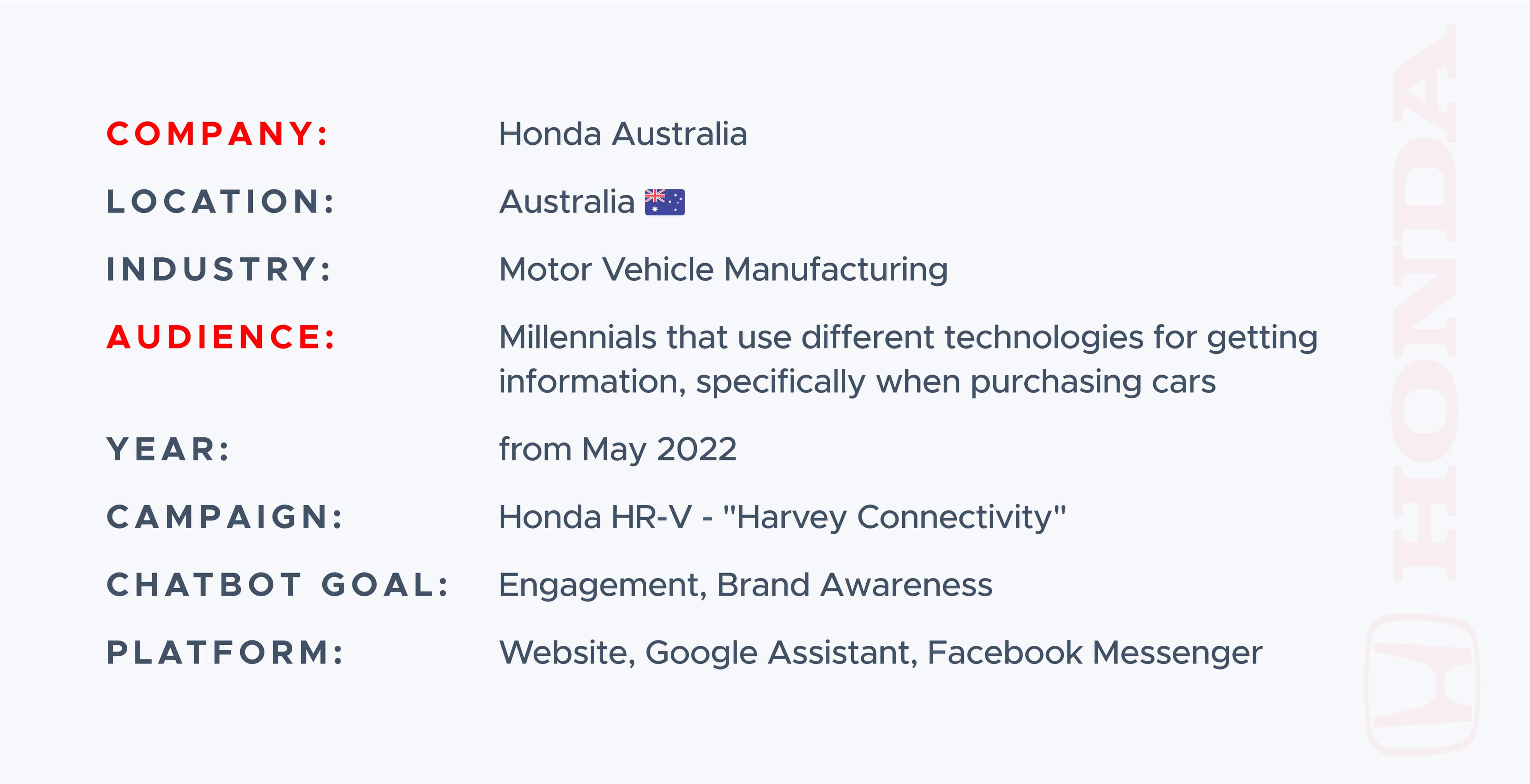 There is an old battle on the chatbot field – what's better text or voice chatbots?
Honda Australia decided to do both for their first chatbot experience.
They hired  a communication company called Leo Burnett. Knowing that Honda Australia was open to new fresh ideas, Leo Burnett decided on a different advertising approach than what is usual in the manufacturing industry. They ended up with the creative idea of an alive car that sells itself, and to achieve that, Leo Burnett thought about the most common chatting tool – chatbots.
"In a world with voice-activated vacuum cleaners and talking toasters, why should cars be left out of the fun?"
Users can access the chatbot, Honda Harvey, via a web portal (voice and text available), Facebook Messenger (only text), and Google Assistant (only voice).  They can ask Honda Harvey about its fuel economy, boot capacity, hybrid engine, favorite dad joke, dating advice – anything – and it will answer back. Users can chat with the chatbot  using buttons as conversation topics or type their questions. Each answer, even if the question is not related to the new Honda HR-V, will be covered with a response that includes information about the new car. Talking about Honda Harvey's voice, comedian Sam Taunton was brought on board to help create the human sound across a wide range of emotions. 
Honda Harvey is still a fresh chatbot, and the company didn't share how effective the engagement campaign was. However, the campaign itself sparked interest in many media like The Drum. So we will keep an eye on this AI chatbot, and later share the final results.
Subscribe to our newsletter to stay updated on the successful chatbot stories
You can have a chatbot test drive here.
A chatbot that speeded up a new motorbike purchase by over 14x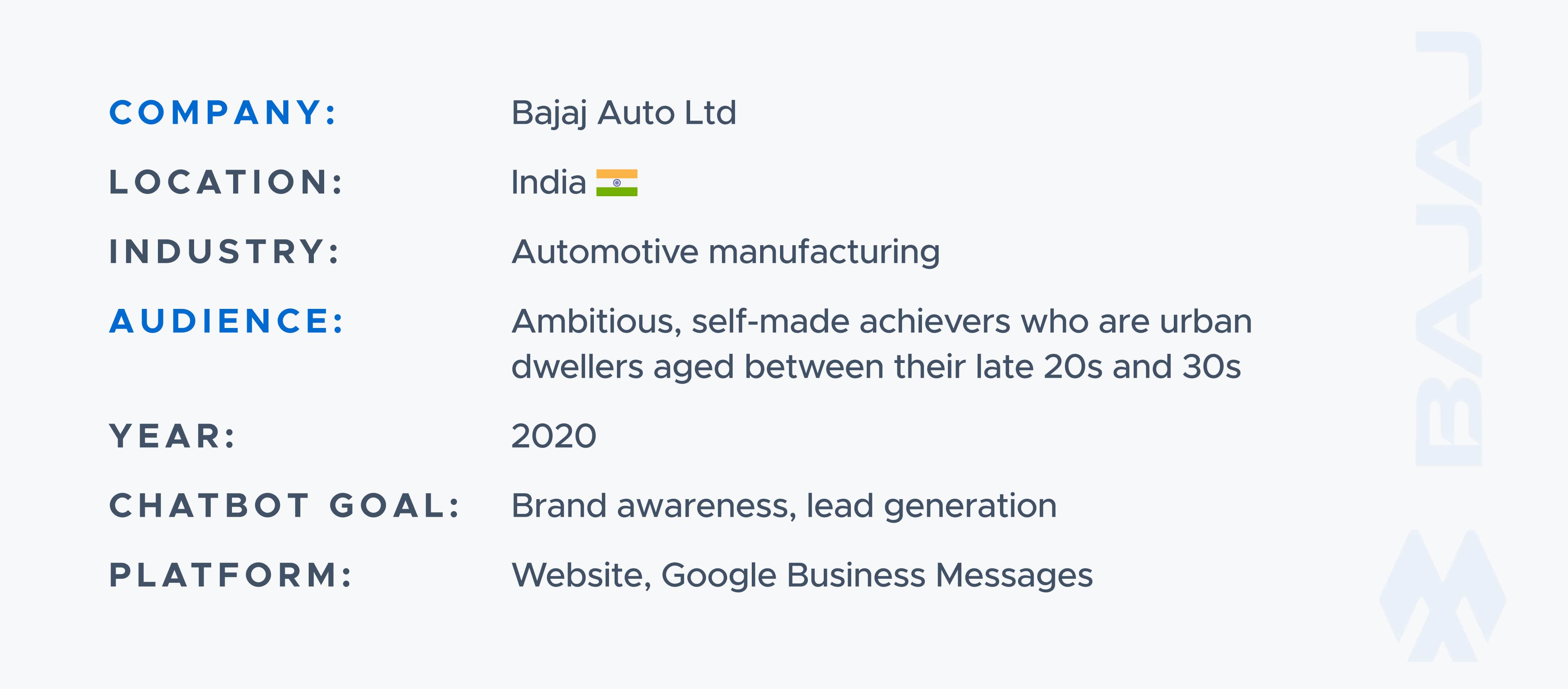 Chatbots in marketing are great for creating a buzz around new products. But can you get something more than just an excited audience?
Bajaj Auto decided to take more steps with marketing chatbots, and not just raise brand awareness within potential customers, but shorter their buying journey.
Similar to Honda Australia, they placed great importance on the successful launch of their new motorbike, Pulsar 125.
Motorbikes have a long and complex customer journey. Moreover, the process has a messy middle in itself, when users seek a personalized experience that could answer their own specific questions. The typical research timeline for a new bike purchase spans many months and that users average an estimated 900+ digital interactions before coming to a decision.  So, the company needed to develop a uniquely informative and natural experience for the audience and ultimately assist them in making a final decision.
They came up with the idea of a website chatbot with a great personality and quite interesting visual representation that is not typical for website chatbots.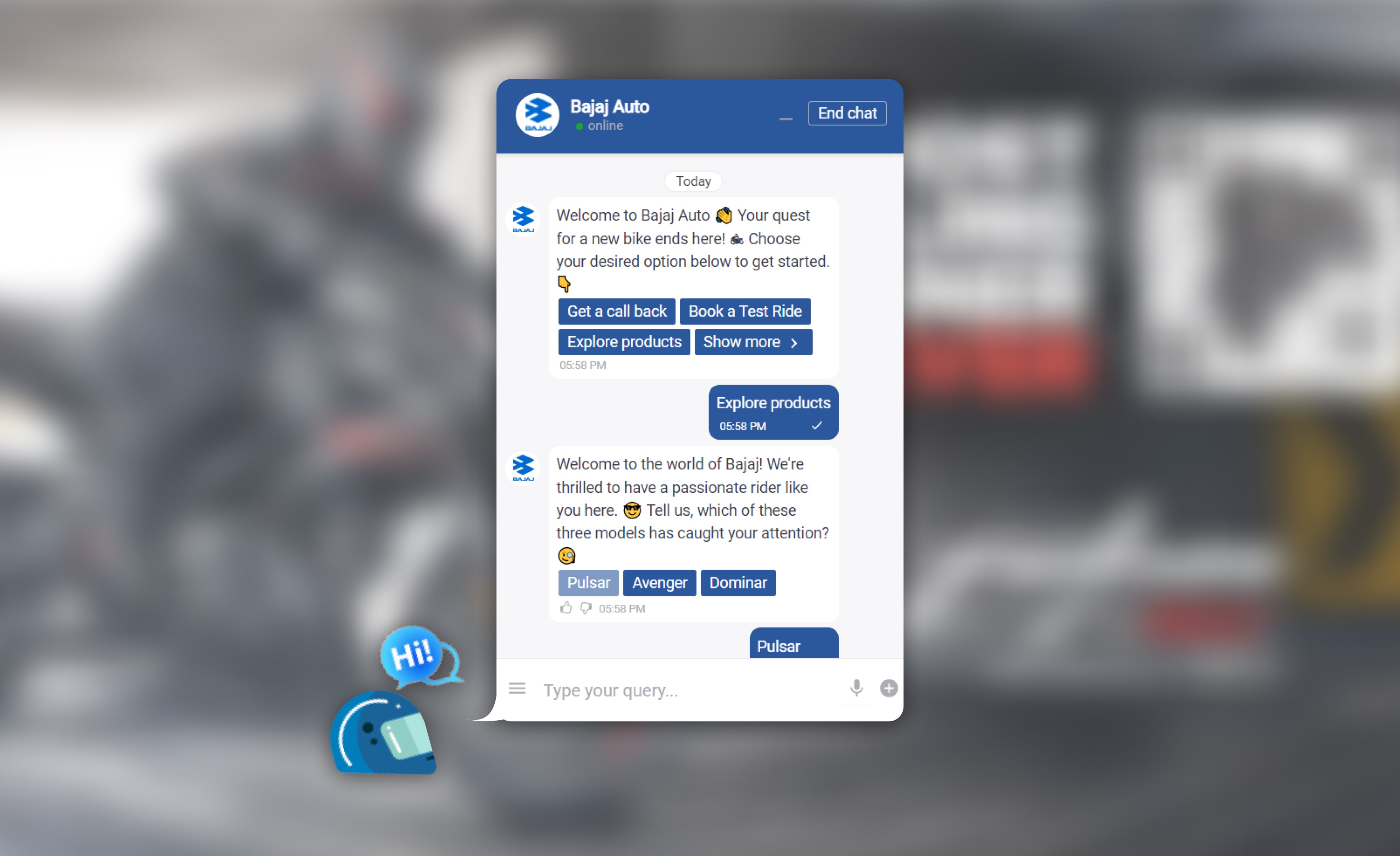 With a chatbot, you can book a test drive, explore products, get a call back, find out about prices or dealers.
Talking about the campaign results, Bajaj Auto wanted to stand out from the competition, so they used Search Intent as the overarching measure of brand popularity when compared to their competition. With the chatbot launch, Bajaj Auto's keywords outperformed its competition by 80%. And that when India was thrust into COVID-19 lockdown!
Also in the first 2 months, the chatbot talked to 34,000 unique users, engaged in over 300 hours of automated chatbot conversation, and Bajaj Auto even saw a whopping 14.3x increase in lead conversions.
The # 1 selfie spot in Chicago became self aware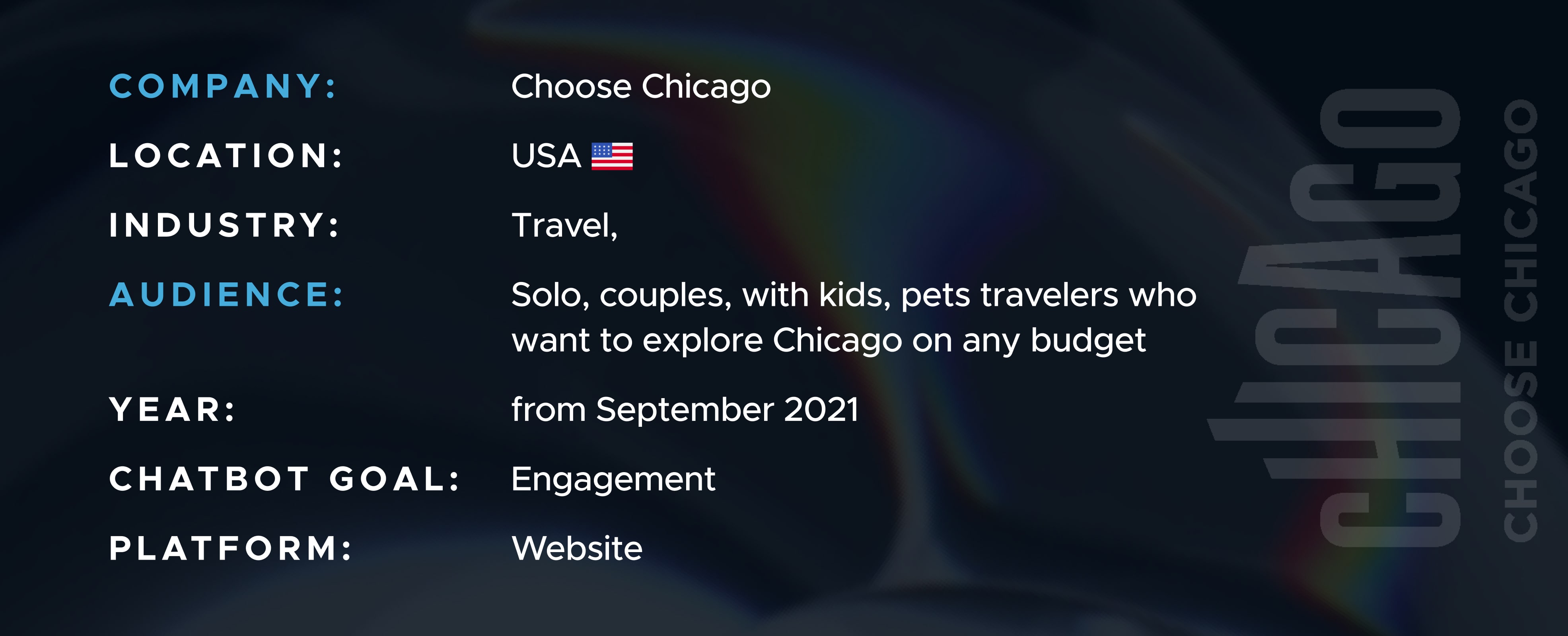 Not only humans care about self-development, it turns out that famous sculptures want to improve too.
The Cloud Gate, the famous reflective sculpture in Chicago's Millennium Park, is a popular photo taking spot in The Windy City. However, it's often referred to by its nickname, "The Bean." But now, this pet name has taken on a whole new meaning - as a virtual travel advisor.
The Bean's (a chatbot) goal is simple – helping human visitors explore beautiful Chicago. This chatbot is an example of powerful AI abilities with knowledge on 63 topics  and features that helps website visitors get the most from information about events, museums, restaurants, and, of course, COVID-19 regulations.
Actually, the original idea behind The Bean was to help travelers find information about the reopening of Chicago as quickly as possible. Now you can ask The Bean about a particular museum, get a map on how to get there, and even the list of restaurants near that museum or any spot you choose to go to. Also, it has conversational elements responding to your most tricky questions like, "Do you like New York?" Apart from that, The Bean shares updates on the upcoming festivals and makes sure you find a place to stay. Also, as Chicago is open to everyone, so is The Bean, as it can be used with screen readers.
From the launch in August 2021 to September 2022, 139,883 people talked to The Bean and rated the chatbot favorably, around 4 stars out of 5.
The Bean is the first chatbot on Earth to present a whole city.
By the way, if you plan to visit Chicago soon, talk to The Bean here. 
The Californian travel buddy for dudes' engagement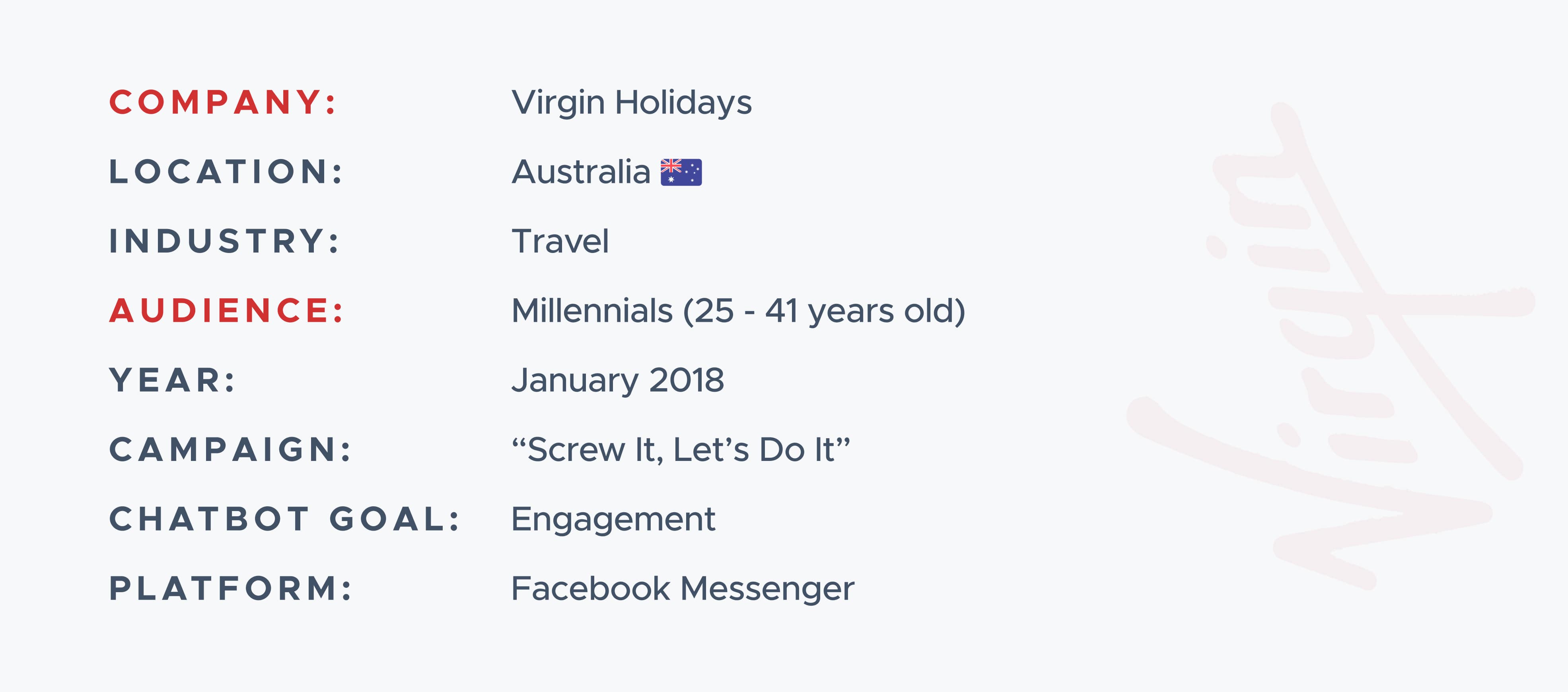 Meet Cali bot – your friend that will help shake away Monday's blues by focusing on the positive and fun things that are happening in the world.
Cali bot talks and sounds like a true Californian with their common slang words, expressions, and optimistic vibe. Why Californian? With its marvelous beaches, hills, optimistic vibes, and a bunch of amazing activities, sunny California is a perfect place to visit in January.
But why should people talk to this marketing bot?
Well, a chatbot was the core of Virgin Holiday's campaign "Screw It, Let's Do It."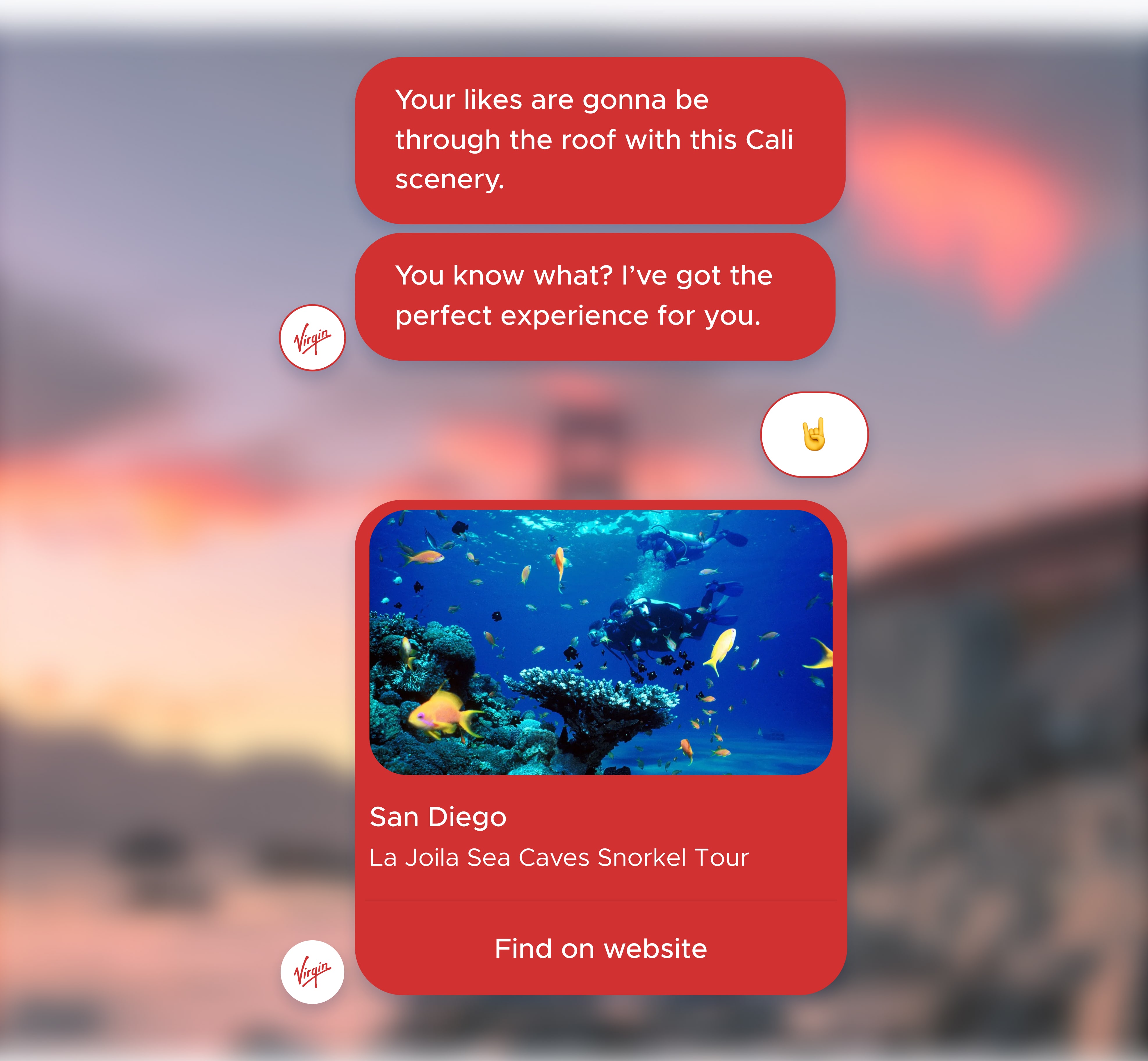 The campaign itself was aimed at encouraging people to look at January as the perfect month for grabbing opportunity and adventure. For this campaign Virgin Holidays slashed the prices of over 200 activities from its holiday packages to just 1 $ – basically the price of a chocolate bar. The sale had taken place on Sunday 21st January only and the only communication channel was a chatbot.
After the launch, Cali bot had massive success with the audience, beside it had sold 281 travel activities, Virgin Holidays received the award for the "Screw it, Let's do it" campaign.
The AI chatbot that scared to death paralegals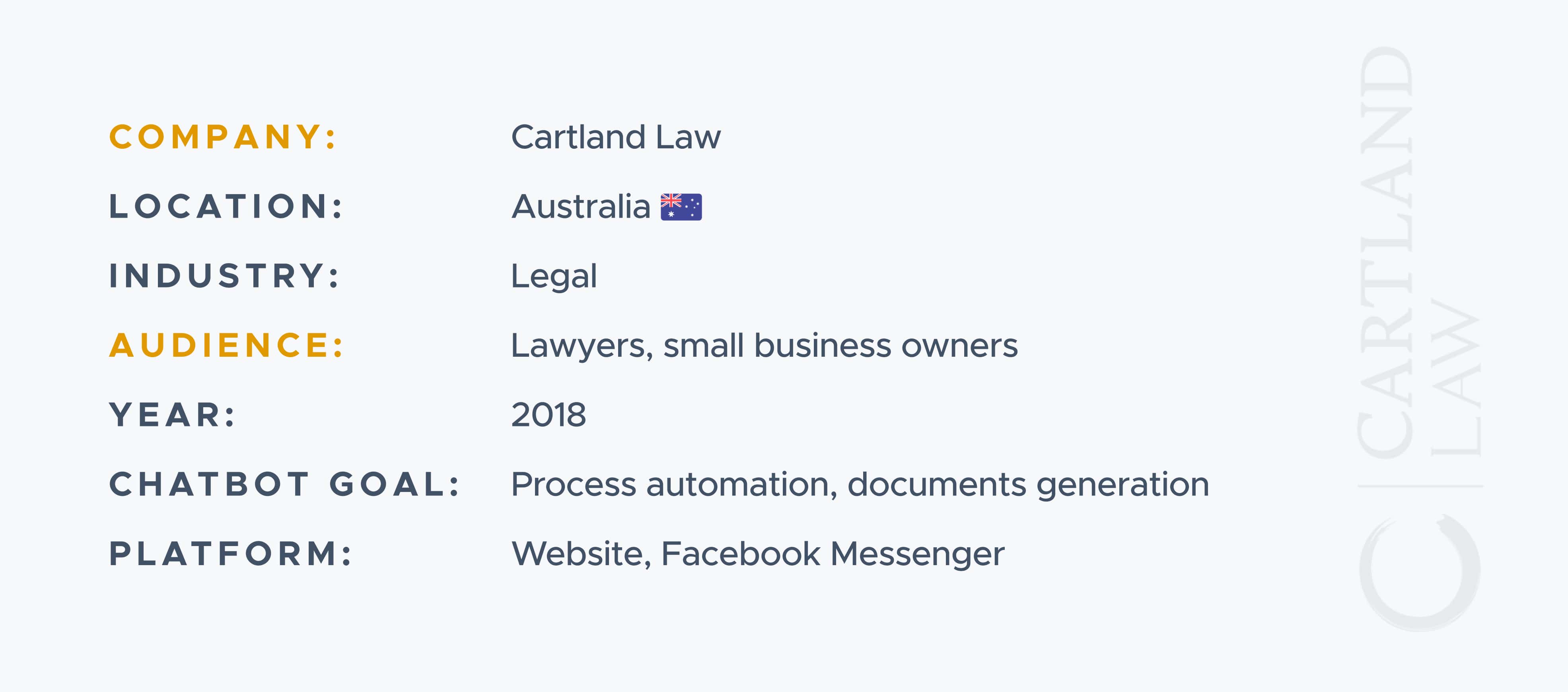 This chatbot wasn't planned to be used for marketing campaigns but its success made it possible for Adrian Cartland become famous in the legal space and work on creative legal projects while AIlira is in charge of repetitive, boring cases.   
Talking about this chatbot, the major problem that Adrian Cartland, the founder of Cartland Law, saw in the law industry was that lawyers were spending a large portion of their time performing frequently repeated tasks. He had an innovative vision for the legal industry – to merge legal information research and the automation of documents.
With Ailira, you can get answers to any legal question from Australian law. Besides, a chatbot can generate documents, Generating a Will and Creating a Business. Here's how it changes the legal industry in comparison to humans.
Of course, Australian media were hung up with a chatbot that has its own office and personal human assistant. There were tons of media mentions, and the ABC News even made a funny test.
In a case study, a paralegal was invited to compete against Ailira on a complex legal tax task. ABC News asked a complicated tax question of both the Paralegal and Ailira. The results were striking, Ailira found an answer in 30 seconds while the paralegal struggled to keep up.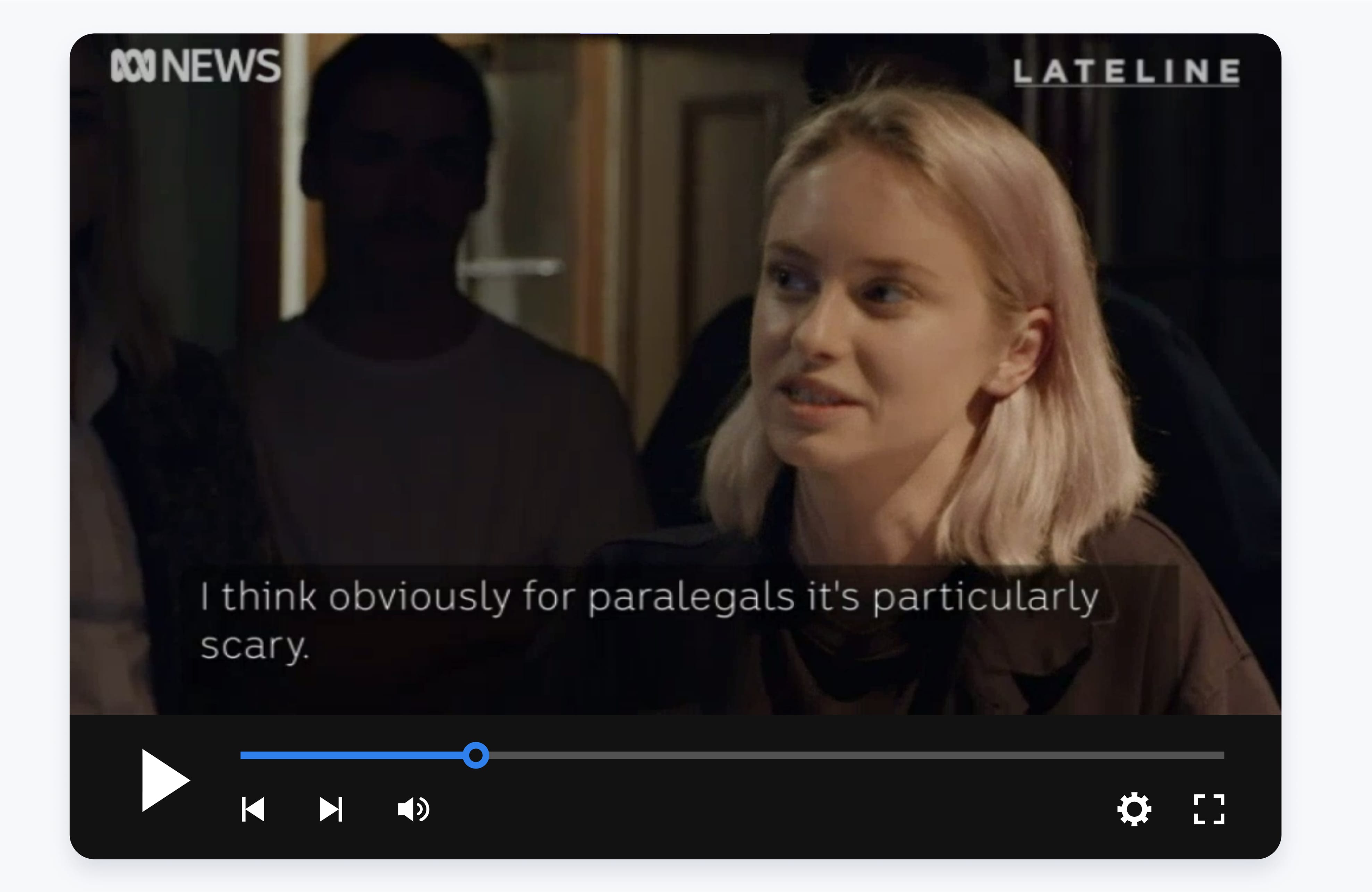 Summary: Benefits of using chatbots for marketing
Why are these examples of marketing chatbots winning customers' hearts? The answer is simple – the experience.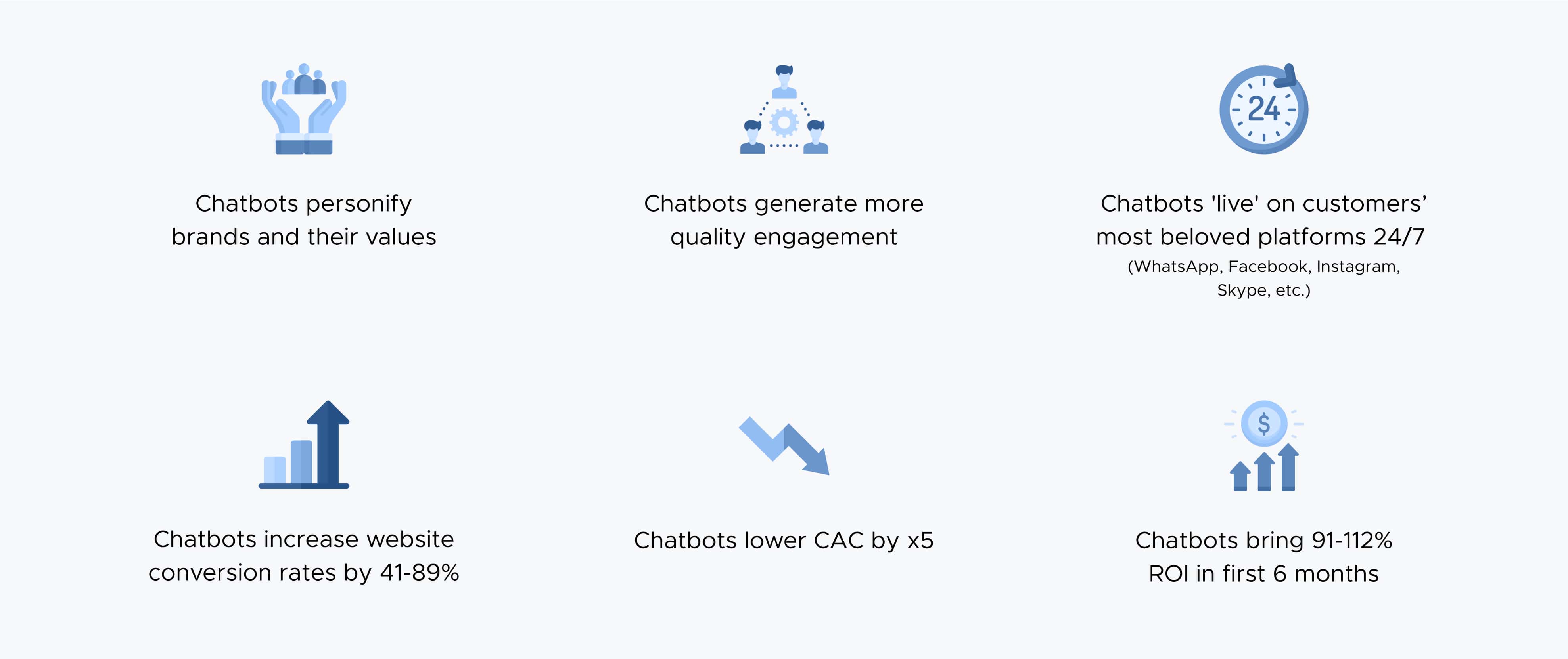 How to start using chatbots for your marketing strategy?
Everything starts with an idea. Firstly, it's better to decide what you want to do with a chatbot or what problems your company has that can lead to the opportunity of trying a chatbot. Marketing chatbots can be great utility for the craziest marketing ideas. However, before jumping into the development process, we encourage you to have several meetings with chatbot vendors to know what is technically possible to implement.
Also, regarding the timeline, some chatbots like Fanta bot, Cali bot are quick to develop if they don't require any integrations, additional languages or AI abilities. Meanwhile, chatbots like Choose Chicago with different features, AI and integrations can take several months to develop. Besides, if you want to build a marketing chatbot with great AI abilities, like Honda Harvey or Bajaj Auto, the pricing won't be the cheapest.
Put these factors into your chatbot consideration before deciding on chatbots or a marketing campaign, or brand relaunch.  
But chatbots in marketing are definitely worth the try!